In the past, I've printed out the pages for my old holiday planner and kept them in my binder on my desk to reference every couple of days during the holiday season, but I found myself using them less and less. I needed something that I could take with me and reference or update at any time I needed to.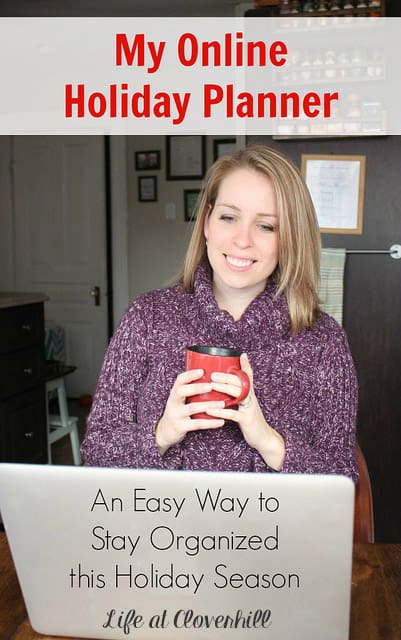 Over the past year, while planning the wedding, I really started to keep track of things digitally. My hand written to-do lists have been replaced with Notes on my iPhone and my beloved day planner has switched to an online calendar. It just made sense to start doing my Holiday Planner this way too. It gave me the ability to access it on any computer AND on my phone – which was key. If I'm out shopping and I see something that is just
perfect
for someone on my Master Gift List, I can check it off. If I'm at the grocery store, I double check my Master Shopping List to see if I need to stock up on anything. No more running out of clear tape in the middle of wrapping – ha!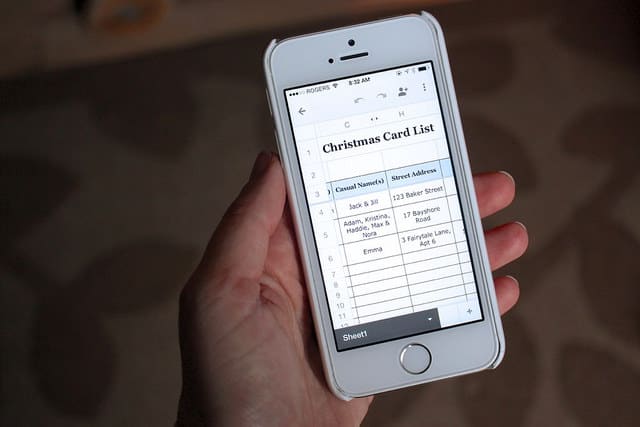 For each of the pages I've created, there is a Google Drive version that you can use with your Gmail account (on your computer, phone or iPad) AND a Microsoft Excel version that you can use on your computer. I've put formulas into the spreadsheets that will tally up your budget for you, give you your actual costs and even count out how many Christmas cards you need to order.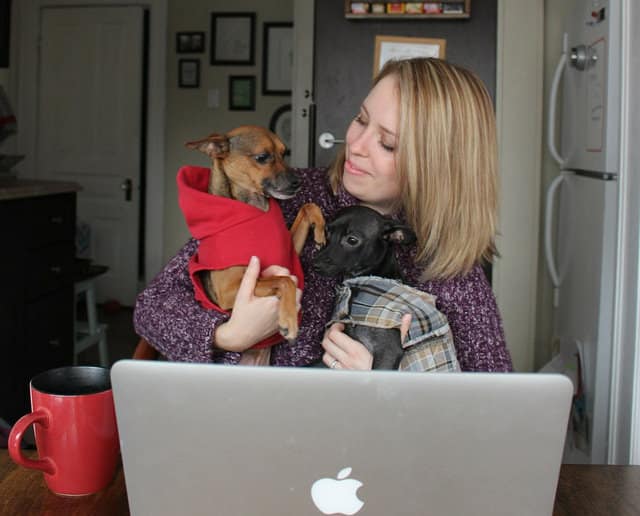 Being organized means that I get to spend more time hanging out with the ones I love (like these crazy nutbars) and less time stressing out.
(Psst – Be sure to check out Monday's post on 10

Things to do Right NOW to Get Ready for the Holidays

for more ways to cut down on holiday stress!)
There are 10 templates to help you get organized this holiday season and the great thing is that these can be used year-after-year:
Christmas Card List

Master Gift List
Master Shopping List
Holiday Budget
Holiday Traditions
Holiday Party Planner
Holiday Menu Planner
Holiday Baking Planner
Holiday Craft & Homemade Gift Planner
Home To Do Checklist
Christmas Card List
Google Docs Version  ·  Microsoft Excel Version

The Christmas Card List is one of the files that I use all year round. I had always used a printed list, but when we were doing the wedding planning this past winter, I moved everything into a digital list. Now I reference it all the time! Whenever I hear about someone changing their address, I can instantly change it in my list.

I've also added a section at the end where you can check off if you sent or received a card from your recipients.
Master Gift List
Google Docs Version  ·  Microsoft Excel Version

For me, this is probably the most important list. I've been making a Master Gift List for at least five years now and it has been so helpful with planning out gifts and keeping track of how much I'm spending. I really strive to get as much of my shopping done as early as I can and having this list on hand is so helpful. Bonus – if you use the Google Docs version you can share it with your spouse to work on the list together.

I've also added a feature at the bottom that will automatically calculate your budgeted costs and actual costs.
Master Shopping List
Google Docs Version  ·  Microsoft Excel Version
This is where I put all those little things I need to buy along the way – gift wrap, clear tape, batteries, etc. You can even copy the grocery list from the Holiday Baking Planner and your supplies from the Holiday Craft & Homemade Gift Planner in here too.

Holiday Budget
Google Docs Version  ·  Microsoft Excel Version
I'll admit that in the past I haven't been too strict with a holiday budget. I'm usually pretty frugal, so I'm not worried about going over budget, but I've decided to use the tracker this year, just to see how much we generally spend on the holiday season.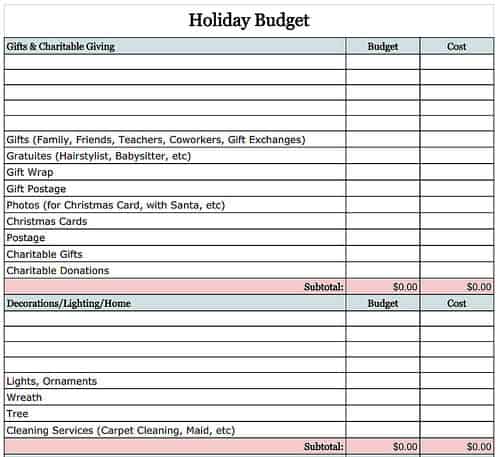 When I started putting this together, it made me realize all the little things that you need for the holiday season, that really add up quickly. I've made subsections for Gifts & Charitable Giving, Decorations/Lighting/Home, Travel and Food/Entertaining.

There is also a subtotal in each section – which automatically calculates for you. At the bottom of the page there is also a Total Budget and Total Cost section.
Holiday Party Planner
Google Docs Version  ·  Microsoft Excel Version
We're not having a party this year, but in past years when we have, this would have been so helpful. The guest section even tallies all the total number of guests attending!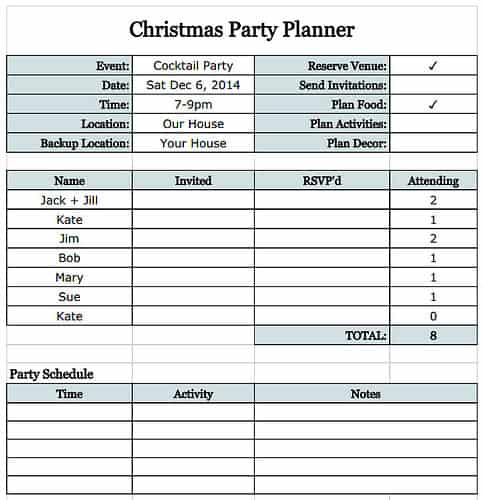 Holiday Traditions
Google Docs Version  ·  Microsoft Excel Version
Every family has their own favourite traditions for this time of year, whether it's going to a festive play, sharing movies and books you love to revisit or even your little guy's school recital. Jot them all down in here – and if you're looking for some new ideas, check out the Holiday Activities in my Holiday Guide!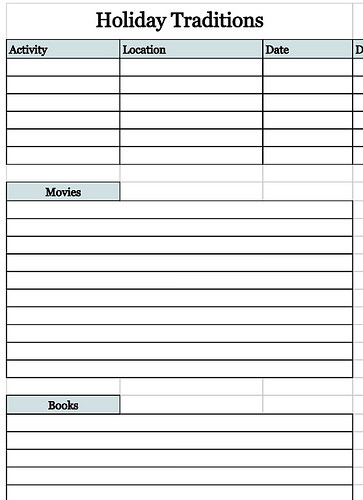 Holiday Menu Planner
Google Docs Version  ·  Microsoft Excel Version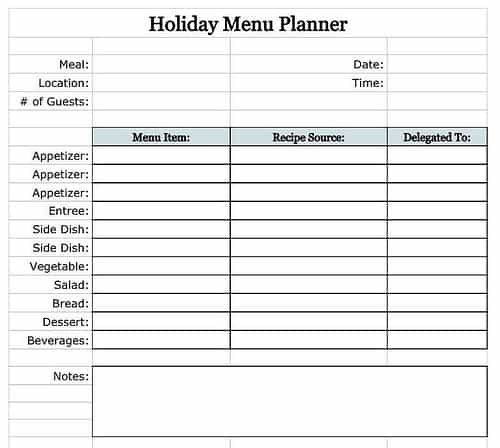 With the help of this holiday menu planner, you'll be able to keep track of what dishes you're serving and who is bringing them. Bonus – you can share the Google Docs Version with other people!  Send this around to your family to have everyone pick their dish and sign up for it OR if you and your mom are hosting a big Christmas dinner together, you can both input the information into the same document. This makes it much easier to split the workload and keep everyone on board.
Holiday Baking Planner
Google Docs Version  ·  Microsoft Excel Version
Baking and making goodies goes hand in hand with the holidays, but it's easy to get overwhelmed by all the commitments, new recipes you want to try and those family favourites you love.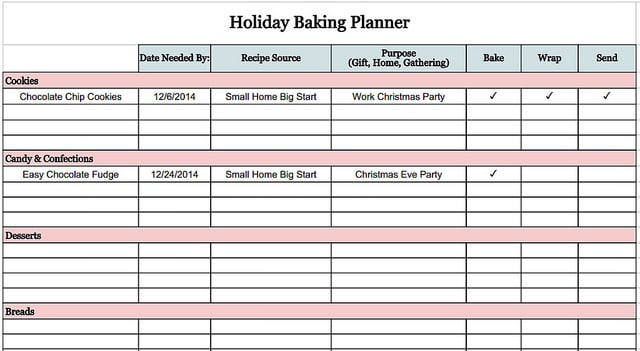 This handy little planner helps you keep track of what you want to make, what it's for and when you need it by!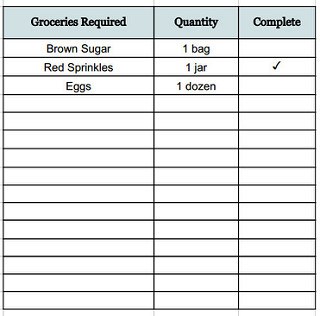 On the right side of the page I've also added a section for your grocery list!
Holiday Craft & Homemade Gift Planner
Google Docs Version  ·  Microsoft Excel Version
I always get so inspired this time of year to make gifts for others or come up with new crafts to decorate our home with – but it's easy to lose track of time and be rushing at the end. I've definitely been up at midnight the week of Christmas sewing stockings and gluing glitter on ornaments. This list helps you keep on track with what you realistically can do this year so you can set aside the time to work on it. Check out the Holiday Guide for some homemade gift ideas and projects that you can make this Christmas.

Home To Do Checklist
Google Docs Version  ·  Microsoft Excel Version
With company coming over during the holidays, it's a given that there are going to be things around the house that you want touched up or projects that you've been putting off. You can keep track of them on this list and track your progress.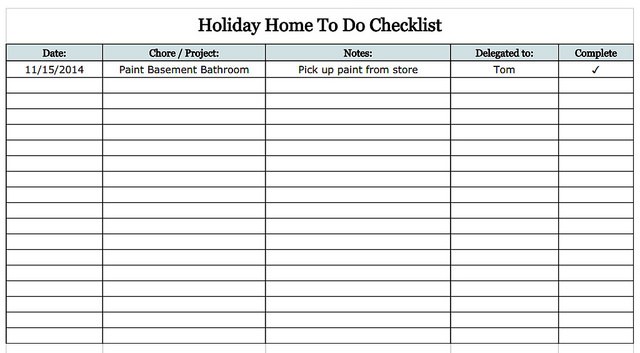 /  /  /
A few tips to help you make the most of your planner:
1. To start out, give yourself an hour of uninterrupted time to put together your planner. Make a cup of coffee (or in my case, peppermint tea), put on some relaxing music and start working on your pages.
2. Make the time to update your list every couple of days. I usually do this while I'm watching TV in the evenings. If I went shopping after work or ordered some goodies online, I'll pop them into my Master Gift List. If I'm on Pinterest and find that perfect holiday cookie recipe for an upcoming party, I plug it into my Holiday Baking Planner. This is also the time to check on your progress and what you have left to do
3. Get friendly with your calendar. I'm trying to fit in as MUCH holiday prep as I can in November, so that I can truly enjoy December, which means that I need to do some planning in my calendar to accomplish this. If I put down some crafts or homemade gifts on my lists, I make sure I've put a reminder in my calendar to pick up supplies, and another reminder in my calendar to start it next Sunday while I'm catching up on Downton Abbey. (priorities, folks!)
/  /  /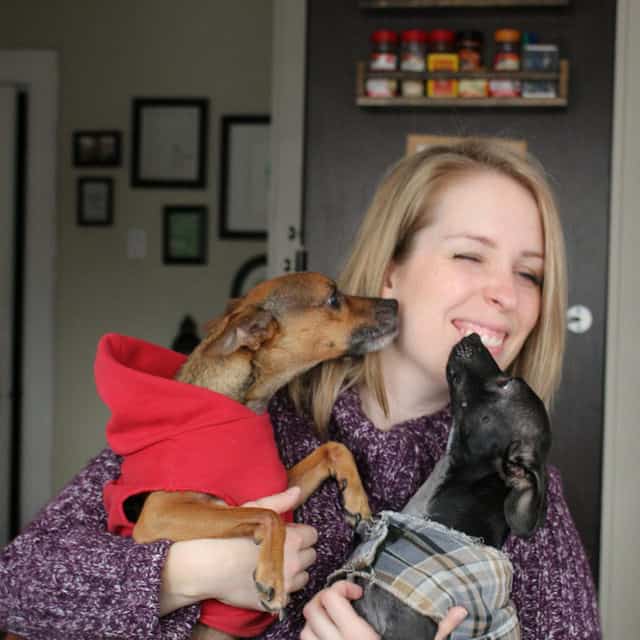 I hope you find this Online Planner helpful! If you have any questions, feel free to leave them in the comments below!