Six Week Bran Muffins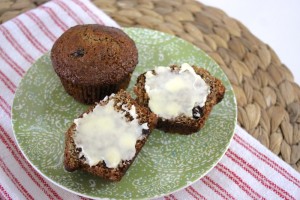 4 cups bran flakes
2 cups wheat germ
2 cups boiling water
1 cup butter
1-1/2 cups granulated sugar
1-1/2 cups brown sugar
4 eggs
4 cups buttermilk
5 cups flour
2 tbsp baking soda
1 tbsp baking powder
1 tsp salt
2 cups raisins (optional)
In a large bowl combine cereals with boiling water and let stand.
In a stand mixer, cream together butter and sugars. Add in eggs one at a time and mix well. Mix in buttermilk.
In another bowl, combine remaining dry ingredients with raisins.
In a large pot, mix together the cereal mixture, dry ingredients and wet ingredients until just combined. Cover tightly and store in the refrigerator for up to six weeks. Let stand at least 24 hours in refrigerator before baking to let the flavours develop.
To make muffins: Fill muffin tin cups ⅔ full and bake at 400°F for 15-20 minutes. For mini muffins, adjust time.
Optional: Make muffins plain and add in raisins, berries, chopped apples or any other additions you'd like for each small batch.