Gingerbread Cookies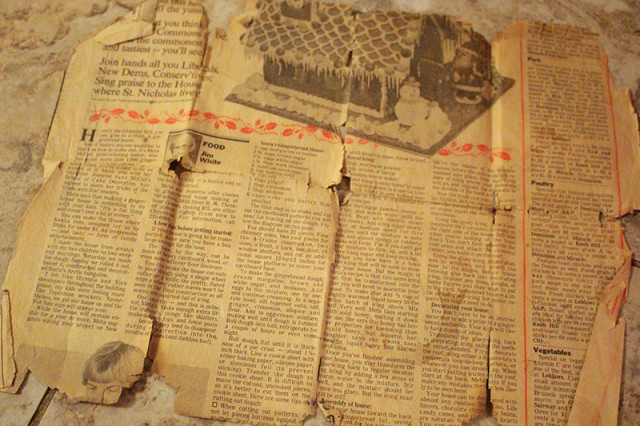 1 cup butter
1-3/4 cup brown sugar
1-1/4 cup white sugar
1-1/2 tbsp dark molasses
5 medium sized eggs (approx. 4 large eggs)
2 tsp baking soda
½ tsp salt
1 tbsp ginger
1 tbsp cinnamon
1 tbsp allspice
6 cups cake and pastry flour, unsifted
In a stand mixer or a large bowl with a hand mixer, cream together butter, sugars and molasses. Add eggs to the mixture, one by one, and continue creaming.
In a separate bowl, sift together soda, salt, ginger, cinnamon, allspice and flour. Add dry ingredients to wet ingredients, mixing well until dough is formed. It will be quite thick and slightly sticky.
Divide dough in half and shape each half into a disc. Wrap each disc tightly in plastic wrap. Refrigerate for at least three hours or overnight. Dough can be kept in the fridge for up to 5 days.
Preheat oven to 350°F and line a baking sheet with parchment paper. Generously flour the counter, rolling pin and your hands with flour.
Roll a disc of dough flat until it is the thickness of a pie crust – about ¼" thick. Cut dough into shapes and place cut shapes onto the prepared baking sheet, leaving an inch between all the pieces. Re-roll dough scraps until all the dough has been cut with shapes. Repeat with the remaining disc of dough.
Bake cookies for 7-9 minutes. Smaller shapes will take less time. If you like them crispy, make them thinner and bake for more time, and if you like them chewy like I do, roll them thicker and bake for less time.
Cookies are good at room temperature for a week, while baked cookies can be stored in the freezer for up to three months. Unbaked cookie dough discs can also be frozen for up to three months and thawed overnight in the refrigerator.
GINGERBREAD HOUSE TIPS: Roll chilled dough 1" thick right onto the parchment lined baking sheet. Cutting it and then trying to transfer it could prove difficult. Use paper templates to make your shapes and cut with a sharp knife. Remove excess dough between the shapes and re-roll it to make more shapes. Bake house pieces for 20-25 minutes or until dough is done. Allow to cool.