Classic Sour Cherry Pie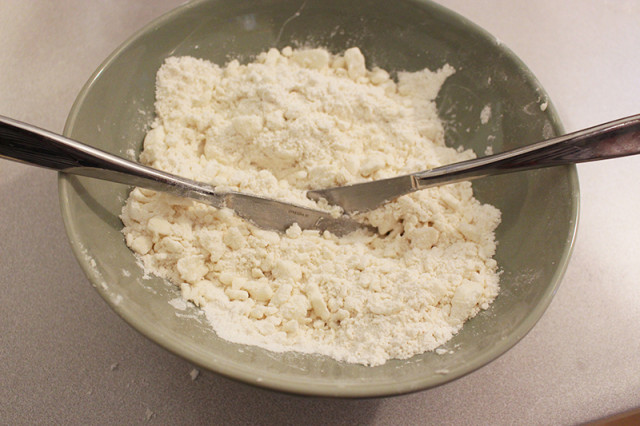 FOR PIE CRUST
2-1/2 cups flour
½ tsp salt
1 cup shortening, chilled
6 tbsp ice water
FOR FILLING
4 cups sour cherries, washed and pitted
1 cup sugar
¼ cup cornstarch
1 tbsp water
1 tsp lemon juice
1 tsp vanilla
¼ tsp salt
FOR TOP
1 tbsp milk
1 tbsp sugar
In a medium mixing bowl, whisk together flour and salt.
With a pastry blender, or two knives, cut in the chilled shortening into the flour until the mixture resembles coarse crumbs.
Drizzle in 2-3 tbsps of ice water over flour mixture and toss with a fork. Continue to add water, one tbsp at a time until the dough starts to come together.
Gather up dough to form into a ball, cut in half. Wrap in plastic wrap and chill for at least 30 minutes.
Meanwhile, prepare the filling.
Wash sour cherries and pit using a chopstick or blunt end of a skewer.
In a medium mixing bowl, whisk together sugar, cornstarch, water, lemon juice and vanilla until smooth. Add to saucepan with cherries. Bring to a boil over medium heat, stirring frequently. Once it comes to a boil, cook for two minutes while continuously stirring. Set off heat and allow to cool, stirring occasionally.
Preheat oven to 375°F.
Take one dough ball from fridge and roll out on a clean floured surface into a 14-inch round. Wrap around rolling pin and carefully unroll over 9-inch pie plate. Press gently into bottom and sides of pie plate.
Pour cooled cherry filling into the prepared pie crust.
Roll out the second pie dough into a 12" round. Using a fluted dough cutter, a pizza cutter or a sharp knife, cut the crust into approx. ¾" wide strips.
To make the lattice top, start by placing one strip vertically and one piece horizontally. Fold back the bottom half of the vertical strip, and add another horizontal strip. Fold the vertical piece back down. Repeat with the top half, adding another horizontal strip. Fold back the top and bottom horizontal pieces on one side, then add another vertical piece. Repeat on the other side. Continue vertically and horizontally until the lattice design is complete.
Press down the strips into the crust edge. Using a sharp knife, trim any excess along the edge of the pie plate. Crimp the edge with your index finger pressing into the space between your other index finger and thumb, continuing around the entire rim.
Place pie on a foil lined baking sheet, to catch any drips.
Brush dough with milk, then sprinkle with sugar.
Bake for 30 minutes, then rotate in oven and bake an additional 20 minutes or until crust is golden.
Allow pie to cool for at least 3 hours before serving.