Classic French Onion Soup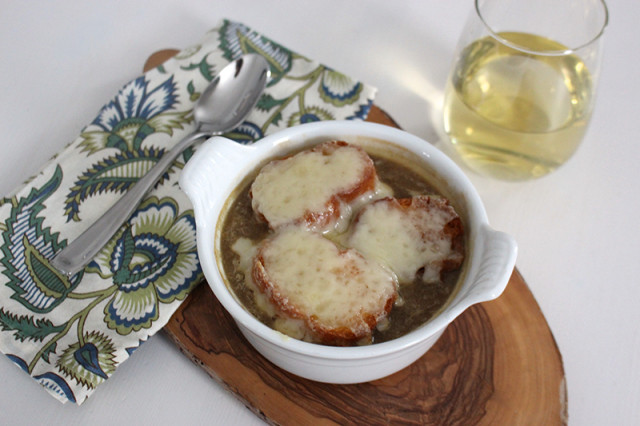 Author:
Amanda - Life at Cloverhill
2 lbs onions (approx. 6-8 medium sized onions), peeled and thinly sliced
2 tbsp butter
2 tbsp olive oil
½ tsp salt
½ tsp pepper
½ tsp sugar
2 tbsp flour
½ cup white wine
6 cups beef broth
1 bay leaf
½ tsp dried thyme
salt and pepper to taste
baguette
grated Gruyere or Swiss cheese
Peel skin off onions, cut in half and slice into thin even half moons.
In a large dutch oven or heavy-bottomed stockpot, melt butter with the oil over medium-low heat. Add the onions and stir to coat. Cover and cook on low heat for 15 minutes.
Remove the lid, add salt, pepper and salt; stir to combine. The sugar will help the onions caramelize.
Turn the heat up to medium and cook onions, uncovered, for 40-60 minutes until the onions are deeply browned. Stir every few minutes to keep them from sticking. If they start to burn or scorch, turn down the heat. Caramelization happens through slow even heat, not from burning.
Stir in the flour and cook for a minute. Stir in wine to deglaze the pan using a wooden spoon.
Add stock, bay leaf and thyme. Bring to a simmer, then reduce heat to medium-low, partially cover the pot and simmer for 15-20 minutes. Discard bay leaf and season to taste with salt and pepper.
While the soup simmers, heat oven to 400°F. Slice the baguette into 1-inch thick slices and arrange on a baking sheet. Bake for 6-8 minutes, until the bread is toasted and golden around the edges.
Switch oven to the broiler.
Divide the soup into oven-safe bowls and place on a baking sheet. Top each with a slice or two of the toasted baguette and sprinkle with grated cheese.
Place on an oven rack about 6 inches from the heat and broil for 2-4 minutes until the cheese is melted and bubbly. Remove carefully and let cool for a few minutes before serving.
Recipe by
Life at Cloverhill
at https://lifeatcloverhill.com/2018/01/classic-french-onion-soup.html