Dairy Free Sugar Free Cocoa Coconut Banana Bread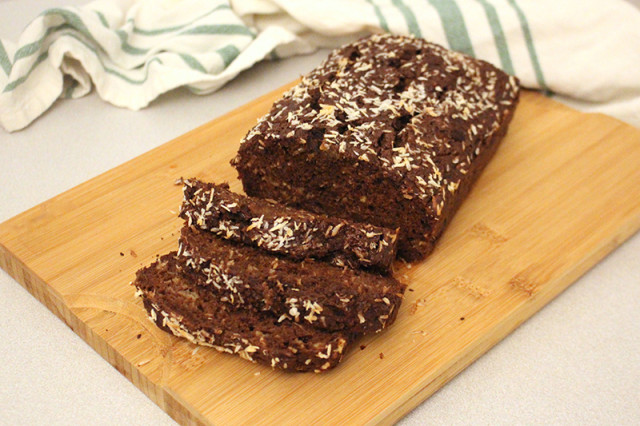 Author:
Amanda - Life at Cloverhill
6 very ripe bananas, peeled and mashed
¼ cup coconut oil, melted
2 eggs
2 tsp vanilla extract
1-1/2 cups flour
½ cup cocoa powder
¾ tsp salt
¾ tsp baking soda
½ cup shredded unsweetened coconut (optional)
optional topping - shaved bittersweet chocolate and extra shredded coconut
Preheat oven to 350°F.
In a medium bowl, lightly mix together the flour, cocoa powder, salt and baking soda with a fork.
In a large bowl, mash bananas until all the large pieces are gone. Add in coconut oil, eggs and vanilla extract; stir to combine.
Add dry ingredients to wet ingredients and mix until combined. Stir in shredded coconut if using it.
Pour batter into a greased loaf pan lined with parchment paper. Sprinkle the top with shaved chocolate and extra coconut.
Bake for 50-60 minutes, or until a toothpick inserted in the centre comes out clean.
Let cool for 5 minutes in the pan and then remove to a rack to allow it to cool completely before slicing.
Recipe by
Life at Cloverhill
at https://lifeatcloverhill.com/2018/01/dairy-free-sugar-free-cocoa-coconut-banana-bread-2.html