Orange Dark Chocolate Shortbread Cookies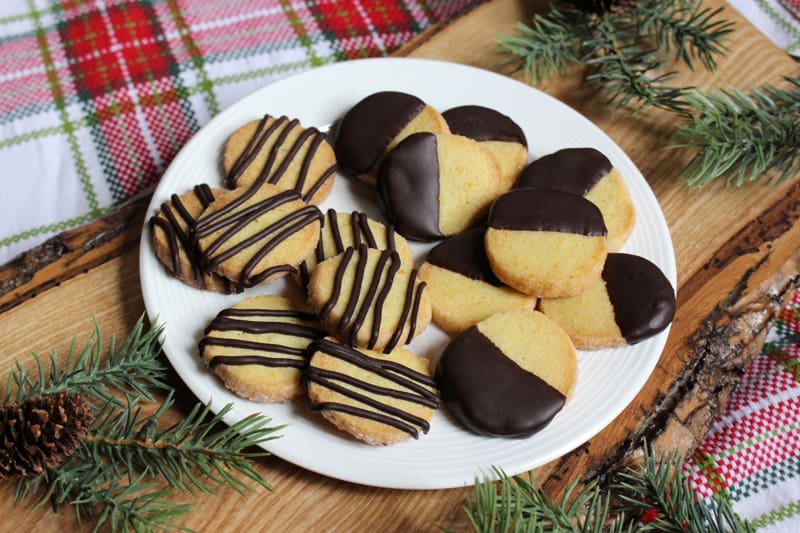 Author:
Amanda - Life at Cloverhill
¾ cup sugar
2 tbsp orange zest (approx. 1 large orange)
½ cup butter, softened
1 egg
1-1/2 tsp pure vanilla extract
2-1/2 cups all purpose flour
¾ tsp salt
2 tbsp coarse sugar for rolling, optional
8 oz dark chocolate squares or chips, optional
In a medium bowl, combine sugar and orange zest with a fork until fragrant.
In a large bowl using a hand-held mixer or stand mixer fitted with a paddle attachment, cream together the butter and orange sugar on medium until light and fluffy. Add egg and vanilla, and beat until combined.
In a medium bowl, whisk together the flour and salt.
With the mixer on low, slowly add dry ingredients into the butter mixture. Mix until combined and a stiff dough forms.
Divide dough in half and place each half on a piece of plastic wrap. Use your hands to form and roll two 1-½ inch thick logs. Sprinkle logs with coarse sugar and roll to coat. Wrap logs tightly in the plastic wrap and place on baking sheet. Freeze logs for 1 hour or until firm. (You can stop here and freeze them to make another time. See notes below.)
Preheat oven to 375°F. Line a baking sheet with parchment paper.
Remove dough logs from the freezer and unwrap. Slice dough into ¼ inch thick slices and arrange on the baking sheet, approximately 1 inch apart.
Bake for 16-18 minutes or until cookies are just golden at the edges.
Allow cookies to cool completely on wire racks before decorating.
Melt the chocolate slowly in a double broiler or in a heat safe bowl over a simmering pot of water. Stir until completely melted and smooth. Do not allow any water or moisture to touch the chocolate. Just one drop can cause the chocolate to become thick and grainy.
You can decorate the cookies by dipping or drizzling the chocolate.
Dipped: Dip each completely cooled cookie halfway into the chocolate. Remove the excess by pulling the cookie across the edge of the pan. Place onto a parchment-lined baking sheet. Place the baking sheet into the refrigerator to help the chocolate set.
Drizzled: For a more controlled drizzle, place melted chocolate in a heavy plastic bag and snip off a tiny piece of one corner so you can use it as a pastry bag. Arrange cooled cookies on a parchment-lined baking sheet. Drizzle chocolate over the edges and tops of cookies. Place the baking sheet into the refrigerator to help the chocolate set. Cookies stay fresh in an airtight container at room temperature or in the refrigerator for up to 1 week.
Cookie dough logs, baked cookies and chocolate-dipped cookies freeze well for up to three months.
If baking from a log, allow to thaw for 30 minutes on the counter before you slice and bake. Continue to Step 6.
Recipe by
Life at Cloverhill
at https://lifeatcloverhill.com/2018/12/orange-dark-chocolate-shortbread-cookies.html