Chocolate Zucchini Sheet Cake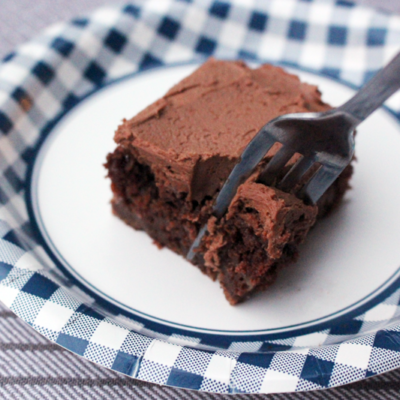 Author:
Amanda - Life at Cloverhill
3 large eggs
1-1/2 cups sugar
¾ cup buttermilk (or ¾ cup milk + 1 tbsp lemon juice or white vinegar)
½ cup melted coconut oil or vegetable oil
2 tsp vanilla
2 cups shredded zucchini
1-1/2 cups flour
½ cup cocoa powder
1 tsp salt
1 tsp baking soda
¼ tsp baking powder
Preheat oven to 350°F. Grease a 9x13-inch metal baking pan.
In a large bowl, mix together eggs, sugar, buttermilk, oil and vanilla.
Stir in zucchini.
In a medium bowl, whisk together flour, cocoa powder, salt, baking soda and baking powder.
Add dry ingredients to wet ingredients, and mix until just combined.
Pour batter into the pan and spread evenly.
Bake for 25-35 minutes or until a toothpick comes out clean
Let cool completely before adding Chocolate Buttercream Frosting (recipe below).
Recipe by
Life at Cloverhill
at https://lifeatcloverhill.com/2019/09/chocolate-zucchini-sheet-cake-chocolate-buttercream-frosting.html