Cinnamon Raisin French Toast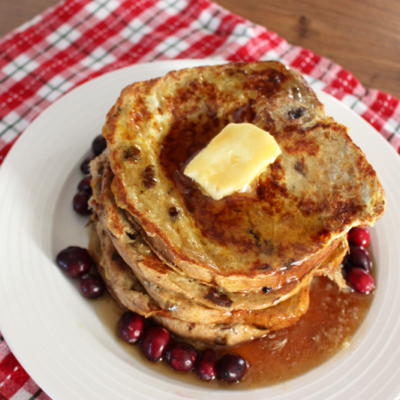 Author:
Amanda - Life at Cloverhill
4 thick slices of homemade Cinnamon Raisin Bread
4 eggs
½ cup milk
2 tbsp butter
In a small bowl or measuring cup, whisk together eggs and milk until well combined.
In a large skillet, melt butter over medium heat.
Pour egg mixture into a shallow dish such as a pie plate or platter. Dip each slice of bread in egg mixture, soaking both sides.
Place in pan, and cook on both sides until golden.
Serve hot with your favourite toppings: maple syrup, butter, whipped cream, icing sugar or fruit.
Recipe by
Life at Cloverhill
at https://lifeatcloverhill.com/2019/11/cinnamon-raisin-bread-french-toast-hamilton-beach-bread-machine-recipe-giveaway.html