Sausage Parmesan Stuffed Mushrooms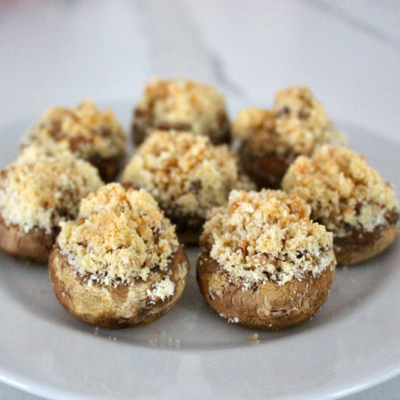 Author:
Amanda - Life at Cloverhill
1 lb ground sausage (often found as a tube in frozen meat section)
2 lbs medium white mushrooms, stems removed and reserved
1 clove garlic, minced
4 ounces cream cheese, cubed, softened
½ cup + 2 tbsp bread crumbs, divided
½ cup grated parmesan cheese, divided
1 tbsp olive oil
Preheat oven to 350°F. Finely chop enough mushroom stems to measure 1 cup; discard any remaining stems. Use a small spoon to scoop out some more from the mushrooms to make room for the stuffing. Place mushrooms, rounded-sides down, on lightly greased shallow baking pans.
In a large skillet over medium-high heat, saute sausage, chopped mushroom stems and garlic for 8-10 minutes or until sausage is thoroughly cooked. Drain.
Stir in softened cream cheese. Mix in ½ cup breadcrumbs and ¼ cup parmesan cheese until combined. Spoon mixture into the prepared mushrooms.
Mix remaining breadcrumbs, parmesan cheese and oil. Sprinkle over mushrooms.
Bake 25-30 minutes or until mushrooms are tender and topping is lightly browned.
Unbaked stuffed mushrooms can be made ahead earlier in the day and kept in the fridge. Pop into the oven before guests arrive.
Unbaked stuffed mushrooms can be frozen as well. Arrange in a freezer-safe container in a single layer and freeze. No need to thaw before you bake them. When you're ready to use them, they can go straight from the freezer to a greased baking dish. Add 5-8 minutes to the baking time.
Recipe by
Life at Cloverhill
at https://lifeatcloverhill.com/2019/12/sausage-parmesan-stuffed-mushrooms.html