Sweet and Savoury Butternut Squash Soup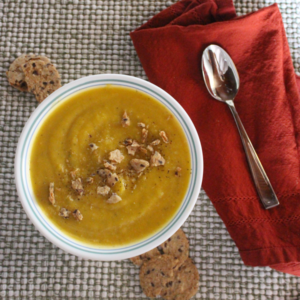 Author:
Amanda - Life at Cloverhill
2 tbsp olive oil
1 medium (about 3 lbs) butternut squash, peeled, seeded and chopped
1 large apple, peeled and chopped (McIntosh or Granny Smith are what I usually use)
1 large onion, diced
1 large carrot, diced
2 stalks celery, diced
4 cloves garlic, peeled and minced
1 tbsp freshly chopped sage (or 1 tsp dried sage)
½ tsp salt
¼ tsp pepper
pinch of ground nutmeg
2 cups vegetable stock
optional seasoning: cayenne pepper for more heat
optional garnishes: cream, coconut cream, sour cream, freshly ground pepper, seedy crackers, pepitas
Over medium heat, warm oil in a large dutch oven. Sauté squash, onion, carrot and celery for about 6-8 minutes. Add garlic and sauté for another minute.
Add in sage, salt, pepper, nutmeg and vegetable broth.
Bring to a simmer and cook for 20-30 minutes or until squash is tender.
Remove from heat and puree with an immersion blender or allow to cool slightly before pouring into a traditional blender.
Optional: Serve with a swirl of cream, coconut cream or sour cream. Sprinkle with freshly ground pepper, pepitas or crushed seed crackers.
Recipe by
Life at Cloverhill
at https://lifeatcloverhill.com/2020/10/the-perfect-butternut-squash-soup.html