Roast Turkey Breast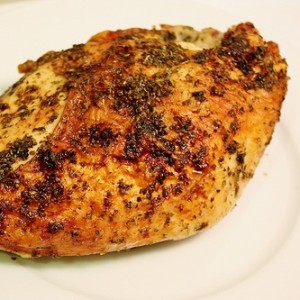 1 bone-in skin-on turkey breast half (about 3 lbs)
2 tbsp butter, melted
2 tbsp olive oil
½ tsp dried oregano
½ tsp dried basil
1 tsp salt
1 tsp pepper
Preheat oven to 400°F. Place turkey breast on a baking rack on a rimmed baking sheet.
Mix together melted butter, olive oil and spices. Brush over turkey.
Roast turkey breast for 30-60 minutes, until a thermometer inserted into the center reaches 170°F.
Let turkey breast rest for 15 minutes. Slice.