Apple Crisp in a Mug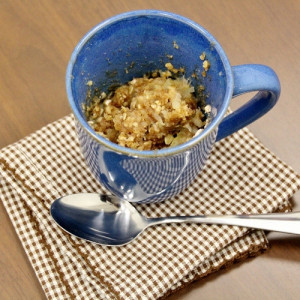 1 small apple, peeled and cut into thin slices
2 tbsp quick oats
2 tbsp flour
1 tbsp brown sugar (or 1 packet of stevia)
1 tbsp butter
¼ tsp cinnamon
pinch of salt
Peel the apple and cut it into thin slices. I find that thinner slices cook evenly in the microwave. Place slices in a microwaveable mug or small bowl. Microwave for 60 seconds.
Meanwhile, combined the remaining ingredients and crumble together with a fork.
Stir the cooked apples and then sprinkle the topping on top. Microwave for 30 seconds. Stir and then microwave for an additional 30 seconds.
Allow to cool for 5-10 minutes and then top with a of ice cream or a dollop of whip cream.