Chocolate Chip Skillet Cookie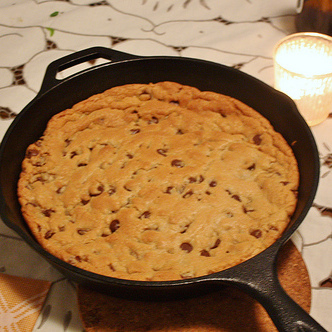 6 tbsp butter, room temperature
⅓ cup packed brown sugar
½ cup granulated sugar
1 large egg
1 tsp pure vanilla extract
1 cup all-purpose flour
½ tsp baking soda
½ tsp salt
1 cup semisweet chocolate chips
Preheat oven to 350°F. In a large bowl, combine butter and sugar with a wooden spoon. Stir in egg and vanilla. Stir in flour, baking soda, and salt. Stir in chocolate chips. Transfer to a 10-inch cast-iron skillet; smooth top.
Bake until cookie is golden brown and just set in the center, 18 to 20 minutes. Let cool 5 minutes.
Serve with a scoop of vanilla ice cream.
Recipe by
Life at Cloverhill
at https://lifeatcloverhill.com/2013/11/chocolate-chip-skillet-cookie.html