Individual Mini Mason Jar Apple Crisps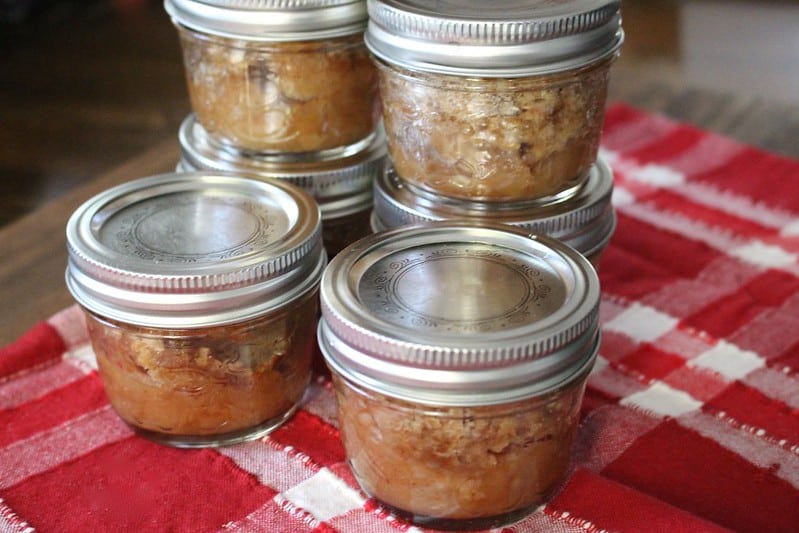 Author:
Amanda - Life at Cloverhill
5 apples, peeled, cored and sliced
¼ cup brown sugar
½ tsp cinnamon
½ cup rolled oats
½ cup flour
⅓ cup brown sugar
¼ tsp cinnamon
¼ tsp salt
6 tbsp butter, cubed
Preheat oven to 375°F and grease ten 4 oz mason jars. Place the jars on a large rimmed baking sheet. This will make it easier to fill them and also put them in the oven.
In a mixing bowl, combine filling ingredients. Evenly distribute the filling into the jars.
Reuse the mixing bowl to combine the oats, flour, remaining brown sugar, cinnamon and salt. Cut in the butter until it form a course meal. Divide the oat mixture into each of the jars. Bake for 20-25 minutes or until golden brown.
Allow the jars to cool for 10 minutes before touching. If you want to refrigerate them, allow the jars to cool completely before adding the lids on top. Once sealed, the jars will stay good in the refrigerator for 3-5 days or in the freezer for up to 6 months.
To reheat, microwave in 30 second intervals until warm. You can also reheat them in the oven, just be careful that you don't put a freezing jar into a hot oven and risk the glass breaking. Allow the crisps to thaw in the fridge during the day and then put them in the oven to reheat when you're ready for dessert that night.
Add a dollop of vanilla ice cream or whipped cream on top for good measure!
Recipe by
Life at Cloverhill
at https://lifeatcloverhill.com/2014/09/individual-mini-mason-jar-apple-crisps.html