Easy Individual Ricotta Tiramisu Jars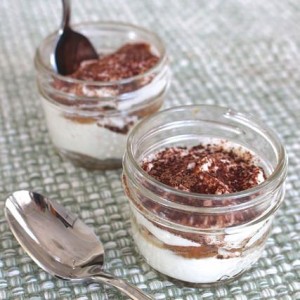 Author:
Amanda - Life at Cloverhill
15 Nilla vanilla wafer cookies (or ladyfingers)
1 cup ricotta
3 tbsp cream cheese, softened
¼ cup sugar (or 2 tbsp Truvia Baking Blend)
½ cup coffee
1 tbsp cocoa for dusting
In a stand mixer, blend together ricotta, cream cheese, sugar (or Truvia Baking Blend) and 1 tsp of the coffee for 2-3 minutes.
Meanwhile, soak cookies for 1-2 sec in remaining coffee, and place one in the bottom of each jar.
Scoop ricotta mixture into a large freezer bag, cut off the corner and use as a piping bag. Pipe a layer of the ricotta mixture into each jar.
Top with another layer of soaked cookies. Break up a few into smaller pieces to fill the area. Add a final layer of the ricotta mixture and use a small spatula or spoon to smooth the tops.
Chill in fridge 2 hours or ideally overnight. Dust with cocoa before serving.
Store in the fridge with the lids on for up to five days.
Makes 6 servings in 4oz mason jars. This recipe can be easily duplicated for more jar, or to fit in a pan.
Recipe by
Life at Cloverhill
at https://lifeatcloverhill.com/2015/01/easy-individual-ricotta-tiramisu-jars.html