Grilled Tandoori-Style Chicken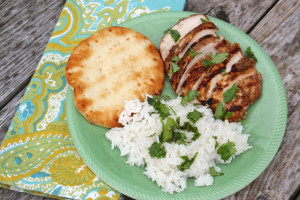 4 boneless skinless chicken breasts
½ cup plain yogurt
3 garlic cloves, chopped
2 tablespoon lemon juice
1 tablespoon cilantro leaves, chopped
1 tablespoon garam masala
1 tablespoon onion powder
1 tablespoon paprika
1 teaspoon cumin
1 teaspoon ground coriander
1 teaspoon salt
½ teaspoon ginger
¼ teaspoon cayenne pepper
⅛ tsp ground cloves
⅛ tsp ground cinnamon
⅛ tsp ground nutmeg
Combine all marinade ingredients in a large sealable plastic bag and knead to combine. Add chicken to bag and allow to marinate at least 30 minutes.
Heat grill to medium heat. Remove chicken from bag and place on hot grill. Discard marinade. Cook chicken on the grill 5-6 minutes on each side or until cooked through. Allow to rest for 10 minutes, then slice thinly with a sharp knife.
Serve with your favourite Indian side dishes such as basmati and naan (Indian flatbread). For an extra touch, drizzle the chicken with fresh lime juice and grill the bread before serving. The leftovers are great in sandwiches too.
Recipe by
Life at Cloverhill
at https://lifeatcloverhill.com/2015/06/grilled-tandoori-style-chicken.html