Roasted Raspberry Rhubarb Sauce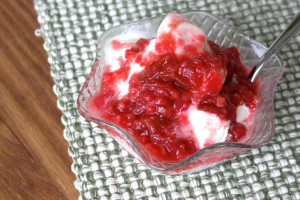 4 cups diced rhubarb
⅓ cup granulated sugar
2 tbsp honey
1 tsp vanilla
2 cups raspberries
1 tbsp butter
Preheat oven to 350°F. Grease baking dish. Place diced rhubarb, sugar, honey, and vanilla in baking dish and stir until ingredients are combined. Roast rhubarb in oven for 30 minutes, stirring every 10 minutes.
Stir in raspberries and butter. Roast for an additional five minutes. Let mixture cool in pan for a few minutes before serving. Refrigerate sauce in a jar for up to two weeks.
Serve over ice cream, on angel food cake with whipped cream or stirred into your morning oatmeal.
© Copyright 2015 Life at Cloverhill
Recipe by
Life at Cloverhill
at https://lifeatcloverhill.com/2015/06/roasted-raspberry-rhubarb-sauce.html