Cranberry Clementine Bread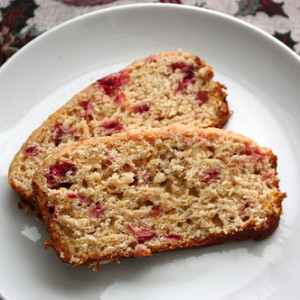 2 clementines
1 cup cranberries, rinse and drained
½ cup orange juice
2 tbsp butter
1 cup sugar
1 egg
1 cup all-purpose flour
1 cup whole wheat flour
1½ tsp baking powder
½ tsp salt
½ tsp baking soda
Preheat oven to 350°F
Zest the clementines. Peel and segment, crushing them a little when you add them to the bowl.
Chop the cranberries or puree them with clementine pieces in a food processor.
Heat orange juice in a microwave for a few seconds in a large microwavable bowl or heat in a small sauce pan (if you don't have a microwave like me).
Add the butter and sugar and stir until the butter melts and the sugar is all dissolved. Stir in the chopped fruit and egg.
In a medium bowl, stir together the flour, baking powder, salt and baking soda.
Add the dry ingredients to the wet ingredients and stir until just combined.
Pour into a greased loaf pan. Bake for 35-45 minutes or until a toothpick inserted in the center comes out clean. Let cool for 10 minutes and then remove from pan to cool completely on a wire rack.
Recipe by
Life at Cloverhill
at https://lifeatcloverhill.com/2010/12/cranberry-clementine-bread.html