Caramelized Pumpkin & Squash Seeds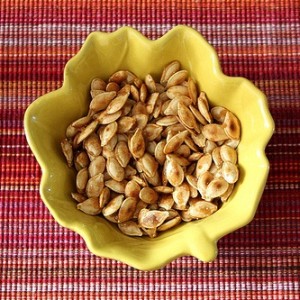 1-1/2 to 2 cups fresh pumpkin or squash seeds
olive oil cooking spray
2-3 tbsp brown sugar
pinch of kosher salt
Clean and pat dry seeds.
Put seeds in a dry non-stick frying pan over medium heat. Toast them in the pan, constantly shifting them around so that they roast evenly and don't stick to the pan.
When they start to pop and peel, take one out and taste it (make sure it's cool enough first). If it's crunchy it's done.
Turn the heat down to low and spray the seeds with olive oil cooking spray.
Sprinkle sugar into pan. Stir seeds while sugar melts and sticks to the seeds.
Turn heat off and sprinkle with salt. Let cool and serve!
Recipe by
Life at Cloverhill
at https://lifeatcloverhill.com/2010/10/caramelized-pumpkin-squash-seeds.html