Peaches and Cream Baked Oatmeal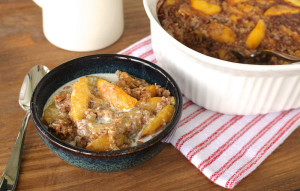 2 cups oats
¼ cup brown sugar
2 tsp cinnamon
1 tsp baking powder
½ tsp salt
2 cups milk (or split it half milk and half cream for a richer dish)
1 egg
2 tbsp melted butter
2 tbsp honey
1 tsp vanilla
3 cups fresh sliced peaches
1 tbsp brown sugar
optional: maple syrup and milk for serving
Preheat oven to 375°C.
In a 2 quart baking dish, mix oats, brown sugar, cinnamon, baking powder and salt.
In a mixing bowl or measuring cup, whisk together milk, egg, melted butter, honey and vanilla.
Pour wet mixture or dry mixture and stir to combine.
Fold in peaches. Sprinkle the top with 1 tbsp brown sugar and bake for 30-35 minutes.
Serve hot and drizzle each serving with maple syrup.
To reheat, add a splash of milk and microwave until warm.
Recipe by
Life at Cloverhill
at https://lifeatcloverhill.com/2015/08/peaches-and-cream-baked-oatmeal.html