Dutch Apple Pie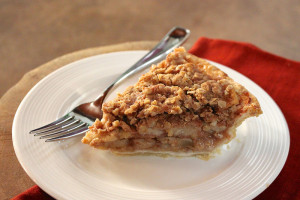 1 - 9" pie crust
6 cups slice and peeled apples
⅓ cup sugar
2 tbsp flour
1 tbsp cinnamon
1 cup rolled oats
⅔ cup all-purpose flour
½ cup brown sugar
¼ cup butter, melted
1 tsp cinnamon
Preheat oven to 375°F. Make pie crust or used a store bought crust.
In a small bowl, mix together sugar, flour and cinnamon. Sprinkle mixture over apples in a large bowl and toss until coated. Pour into pie shell.
In the same bowl, mix oats, flour, brown sugar and cinnamon. Cut in butter until it resembles a coarse crumble. Sprinkle over filling.
Bake for 50 minutes. Let rest for 30 minutes before slicing.
Serve with vanilla ice cream.