The kitchen is the heart of the home, and as a result it can see the most traffic and mayhem. I've found that there are some easy ways you can combat clutter and have a fresh, clean kitchen!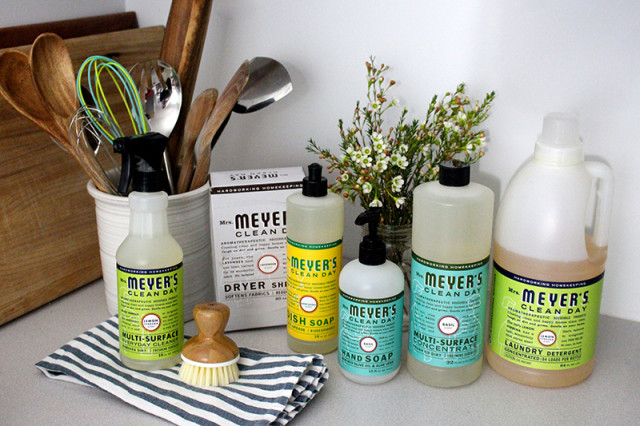 A big part of my clean routine is using good products. I've loved Mrs. Meyer's Clean Day for years and I'm so pumped that they've arrived in Canada this month! Whenever we'd go to the US, I'd always stock up on the essentials to bring back home. I can't be the only one who brings home cleaning products, right? I'm very happy that I can get them at our local shop instead.
Everything from Mrs. Meyer's Clean Day smells so good thanks to the essential oils and they are biodegradable, phosphate-free and not tested on animals. We're on a septic tank out here in the country and are very careful about what we put down our drains. I also like using products that are safe to use with a baby and dogs running around here. You never know who is going to lick our floors. Want to try out these products for yourself? Check out the giveaway at the bottom of the post!
5 Tips for a Clean Kitchen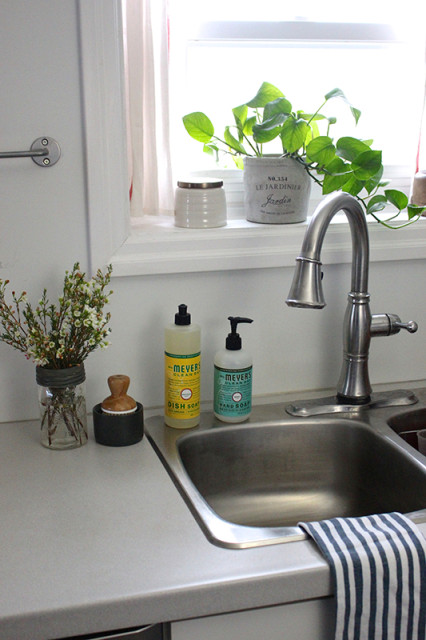 1. Clean As You Go – When I'm cooking or baking, I sometimes feel like I'm pulling out every pot, dish and spoon. I've found it really helpful to keep the dishwasher cleared so that I can pop the pieces in as soon as I'm done using them. If the sink is cleared, pots can go right in there for a good soak before they start to dry and make it more difficult to clean. I keep Mrs. Meyer's Clean Day Dish Soap, and Mrs. Meyer's Clean Day Hand Soap by the sink for quick cleans up and because I love the retro bottles.
2. Keep your Counters Clear – The more your have on your counters, the easier it is to keep adding to the mess. If you do have things you need to keep on the counter, try to corral them. A basket for incoming mail helps keep paperwork at bay, and a tray beside the stove can hold oils and seasonings you use daily.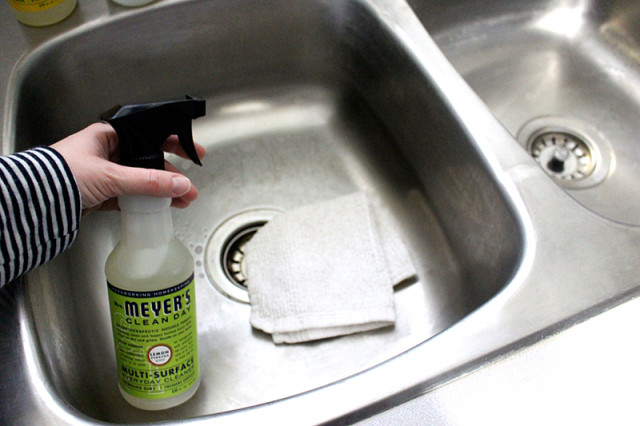 3. Clean your Sink After Washing the Dishes – I keep a stack of simple bar cloths under the sink right beside my Mrs. Meyer's Clean Day All-Purpose Cleaner. After I've finished the dishes, I give the sink a quick spray and wipe it all down. That way I know the next time I go to use it, it's all clean. We also have hard water here from our well, and keeping up on the cleaning helps prevent mineral stains from showing up on our surfaces.
4. Keep it up Throughout the Day – I find it much harder to keep the kitchen clear during the day now that I'm home to mess it up. If I keep on it by putting our breakfast and lunch dishes in the dishwasher right away and washing the soup pot at lunch instead of leaving it for after dinner, it helps the whole kitchen look tidier. It's also makes prepping for dinner much easier when I'm not trying to work around a pile of dishes.
5. Do the 5 Minute Nighttime Clean Up –  There are many nights where we finally get Lucy to sleep, have watched a show and are ready to head up to bed, but the kitchen is still a mess. As tired as I can be, if I take just 5 minutes to tidy up the kitchen, it makes a huge difference to our mornings. I'm not coming down to a messy kitchen to deal with. The day can start fresh! It doesn't take much time to wipe down every surface with Mrs. Meyer's Clean Day All-Purpose Cleaner, and give the floors a quick sweep. The ice cream bowls go in the dishwasher and we put all the dishes in the drying rack away. Trust me – you'll be so glad you did it the next day. Something about a clean kitchen in the morning keeps me motivated to continue it throughout the day.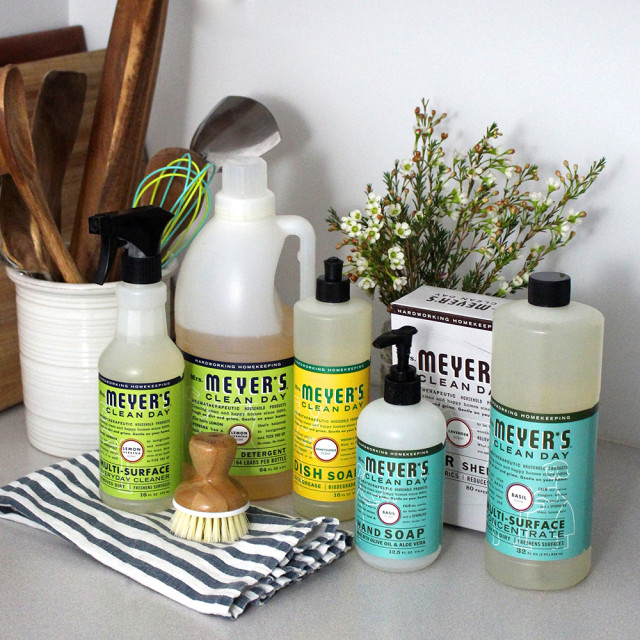 I'm so excited to give one lucky reader the chance to try these great products as well! Any Canadian residents over 18, can enter below for the Mrs. Meyer's Clean Day Prize Pack ($30 value) by February 3rd.
Disclosure – Mrs. Meyer's Clean Day sent me their products to review, which was awesome because I already loved them. They're also sending one lucky winner the prize pack. All opinions are my own.