Ready to start the New Year with a cleaner, more organized home? Join me for a 31 Day January Declutter Detox.

First off, I want to say that I have always struggled with clutter in our house. I find it hard to part with things that might be useful or have meaning and I can freeze up when faced with making decisions about what to keep. However, over the last few years I've been working on it. I used to be all about organizing until I realized that it just meant I was shuffling stuff around rather than dealing with it.
For the last few years, I've done a January Declutter Detox. Every day of the month I take anywhere from 15-60 minutes and try to tackle a new area in our home. Even though I've done this the last two years, the sneaky thing about clutter is that it creeps back in all the time. Everyone needs a tune up.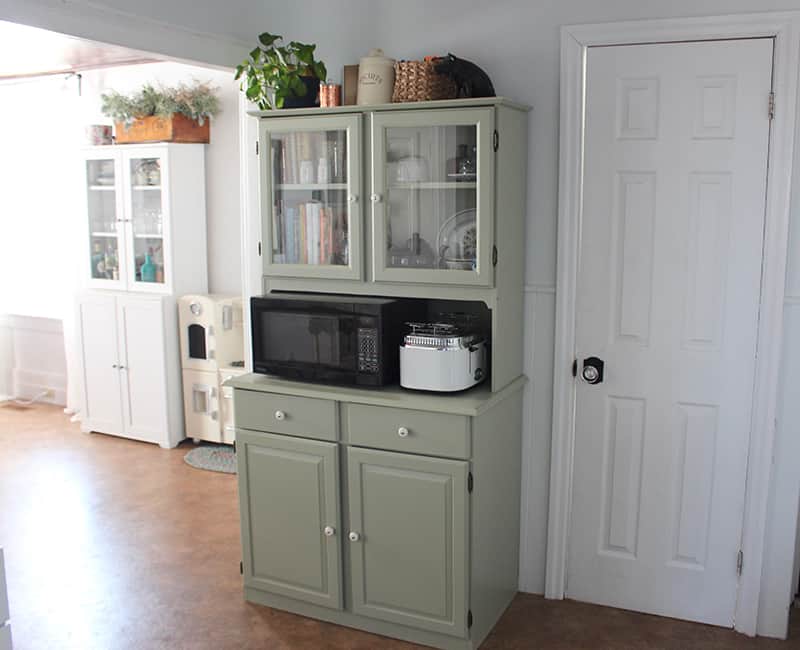 Here in Canada, January can be a cold, dark month. It's easy to get into a winter slump, which is all the more reason to put this lull to good use. There is a slower pace and quieter weekends after all the excitement of the holiday season. Use that to your advantage to set the tone for your home year-round.
Wouldn't it be great to start the New Year off with a less cluttered, more organized, cleaner home?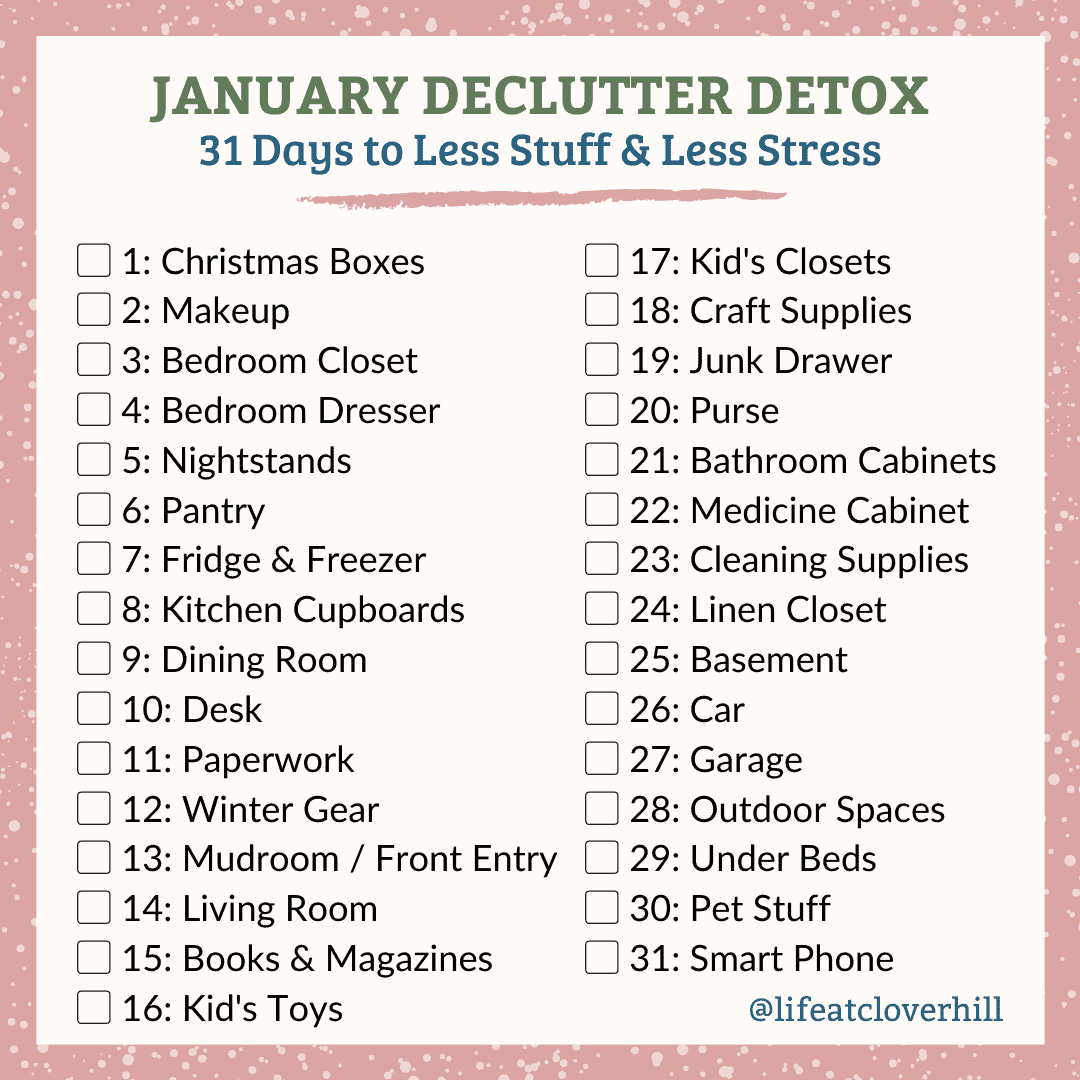 Save a copy of this handy Checklist above to make it easier to track your progress. I like to keep mine on my phone and tick off each day (using the Markup feature when you edit a photo on an iPhone).
How to Tackle Decluttering Each Space
I have a full post dedicated on How to Tackle Decluttering Each Space on the checklist.
How the Decluttering Detox Works
Every day in January, there is a new space in your home to go through and declutter. You can follow along with the checklist by the days listed or pick whichever thing on the list you'd like to do each day.
The Goal is to Declutter Not Just Organize. So often when we organize, we move things around and it feels like we've done something but there is still that same amount. And all that stuff needs to be managed, which takes away from time you'd otherwise be able to spend with family and friends. I try to keep that in mind when I'm making decisions.
Share your Checklist as you go. There is something about putting this out there that makes you feel more accountable. I'll be sharing my January Decluttering Detox on

Instagram

and I'd love for you to join me. Save the image above as a checklist you can use on your social media. And don't forget to tag me so I can cheer on your progress!:

@lifeatcloverhill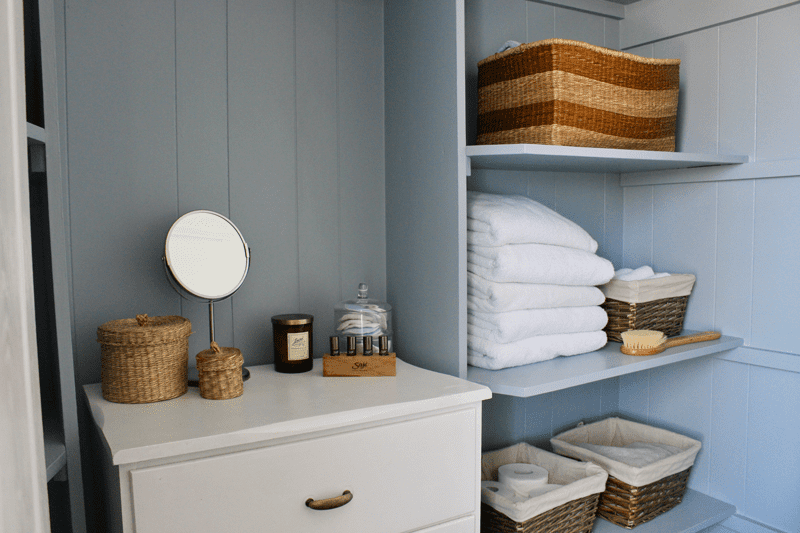 Tips for Decluttering Throughout Your Home
Give as little or as much time to this project as you can – If you only have 15 minutes you can devote to this every day, then that's great. If you can focus on the task as hand, even for that little bit of time, you can make a serious improvement in your home. If you have more time on the weekends, then maybe take on more or double up on a day's task. And if you can't finish it all in the month, take longer. There is no right or wrong way to do this. The goal is to improve the clutter in your house not trying to reach perfection, so just keep that in mind.
Set up Area for Donations, Recycling and Garbage – As you go through each space, you'll need to figure out what to do with the things you no longer need. Drop off donations regularly throughout the month to keep them out of your new clean space, and take care of garbage and recycling too.
Keep Cleaning Supplies On Hand – Whenever I'm decluttering a space, I keep clean rags, spray cleaner and a handheld vacuum with me. If I'm clearing out a drawer or cabinet, I give it a vacuum and wipe down while I'm at it.
It Gets Easier As You Go – I'll admit that the first few days are tough. It can be hard to get motivated, but once you have that momentum, each day gets easier. You'll start to see the improvement in your home and feel the weight being lifted off you.
Click Here for MORE Tips & Motivation for Decluttering (and How to Make Your Efforts LAST!)
I hope you find this January Declutter Detox helpful! Don't forget to follow along on Instagram too!