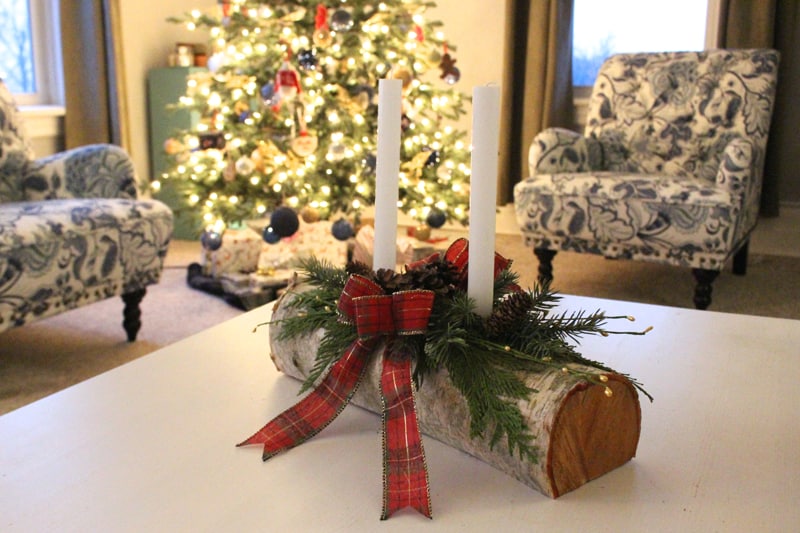 Happy Winter Solstice! It's the longest night of the year and I thought it would be fitting to share a Christmas centrepiece that's inspired by it. Since Medieval times, it has been a tradition in Northern European and Scandinavian countries for a specially selected log to be brought into the home. The "yule log" was thought to be a celebration of the return of the sun and longer days ahead.
I can remember my great grandmother had a log like this and we had one when I was a kid that came out every Christmas. Its a beautiful way to celebrate the season and incorporate natural elements into your holiday decor.
I had the pleasure of sharing this festive craft with the lovely folks on Rogers TV this week and there is a video at the bottom of the tutorial.
Yule Log Christmas Centrepiece
What you'll need:
birch log (approx 4″ in diameter and 16″ long)
tapered candles
greenery (real and faux)
wired ribbon
floral wire
decorative berry picks
pinecones
bandsaw
drill + drill bit
hot glue gun + glue
fresh flowers + floral adhesive (optional)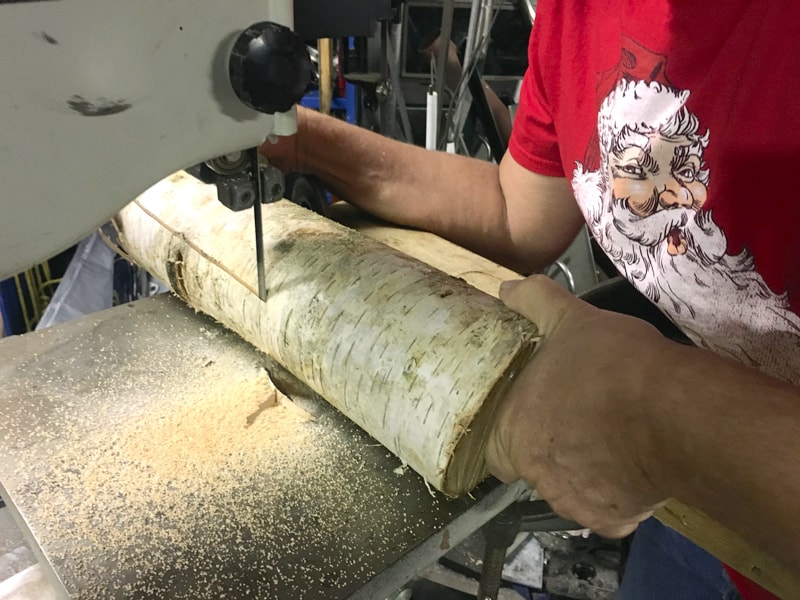 A friend of ours is an arborist and kindly gave me some silver birch logs from a tree they'd taken down. (I also used some thinner branches in my front planters this year.) The logs were about 4″ in diameter and 16″ long. To keep them from wobbling on the table, my dad helped me remove a thin slice from the bottom of each log with a bandsaw.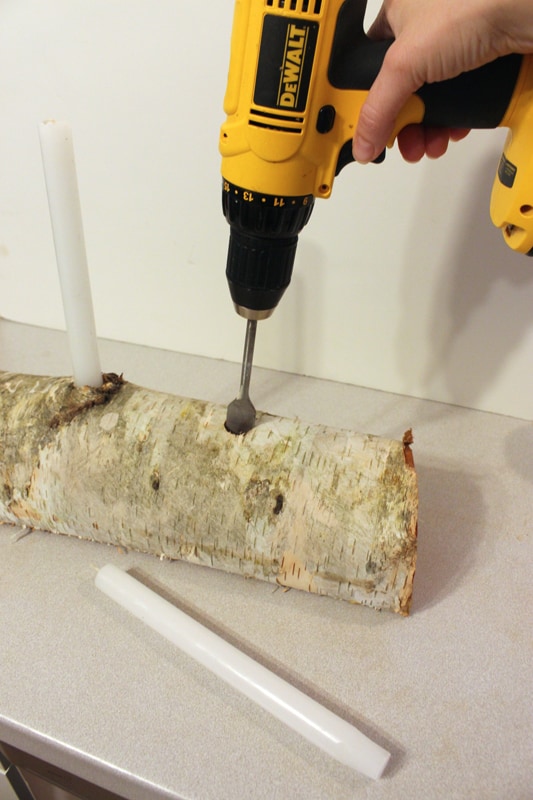 To make holes for the candles, I measured the same distance in from each side and drilled holes roughly the same size as each candle. If it's too tight, you can pare the ends down with a knife.
If one candle is taller than the other, you can cut the bottoms off a little to make them even. A dap of hot glue on the bottom of each candle can help keep them in place too.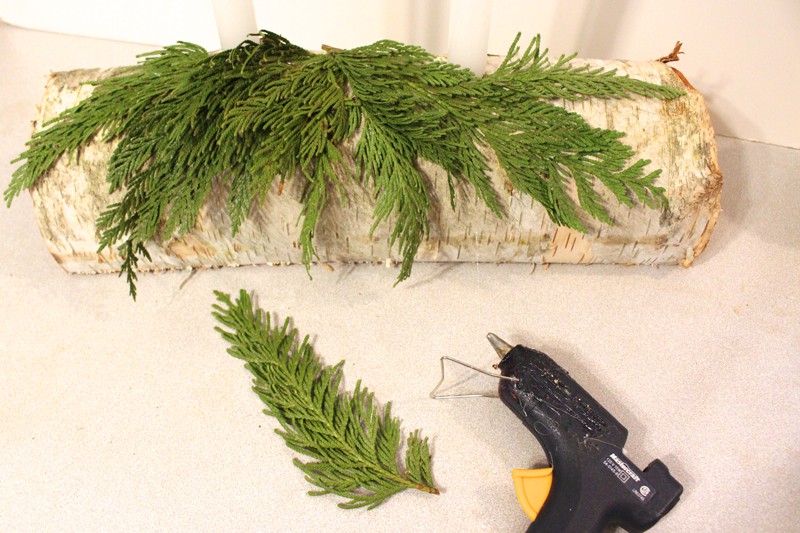 Using a hot glue gun, start adding layers of greens to the log, working from the middle outward. Fresh greens like this cedar will dry up throughout the season, but still keep their shape. if you use faux greens, you can keep the log for years to come.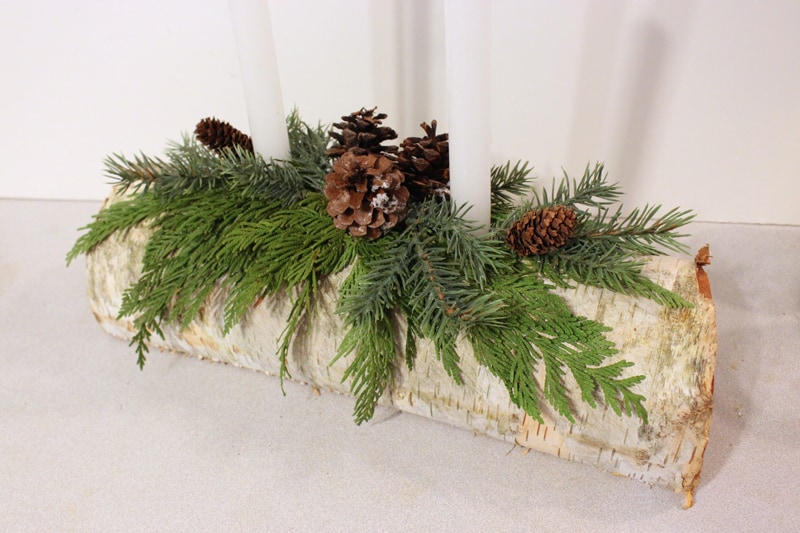 I added a layer of faux greens on top of the cedar, along with pinecones that were lightly dusted with glitter.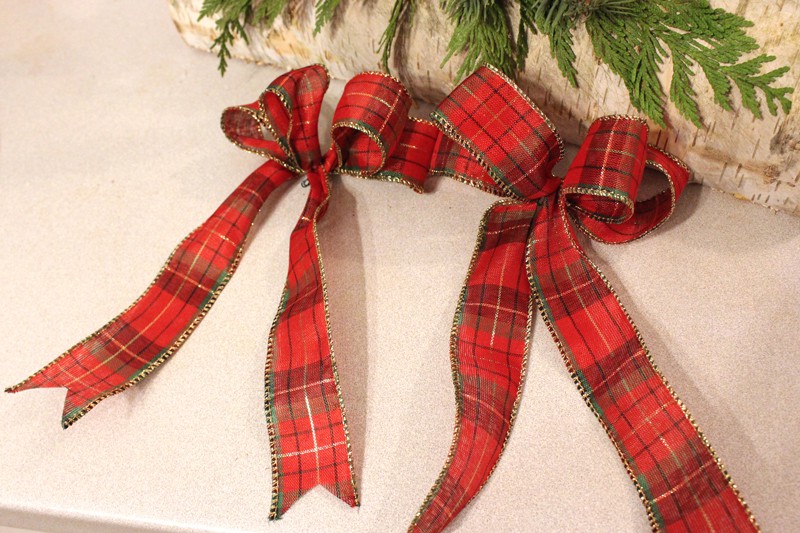 Next up I added some wire ribbon I made into bows. You can see how I did those in this tutorial on How to Make Floral Arrangement Bows.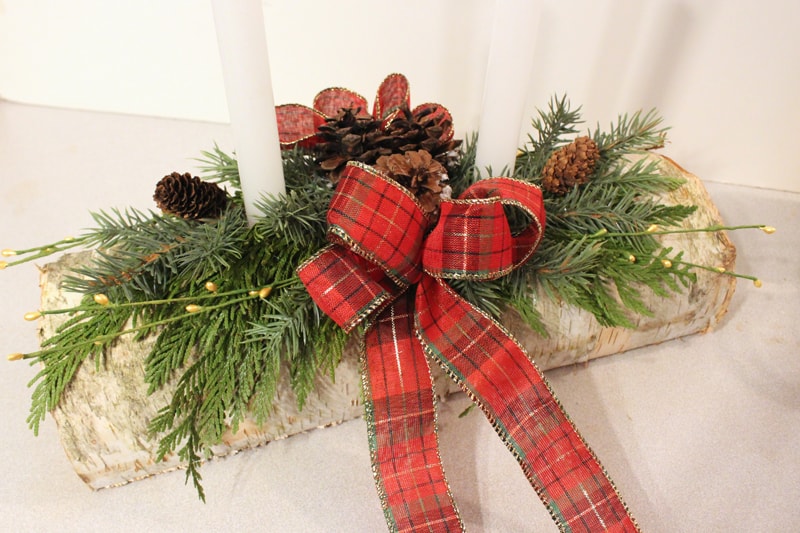 I hot glued the bows (one on each side), along with some glittery berries on picks. You can really add whatever you like – red berries, more glittery balls, even fresh flowers. If you were to use fresh flowers, I'd suggest adding them on for the evening of your holiday dinner, as they won't last long. You can apply them with a floral adhesive.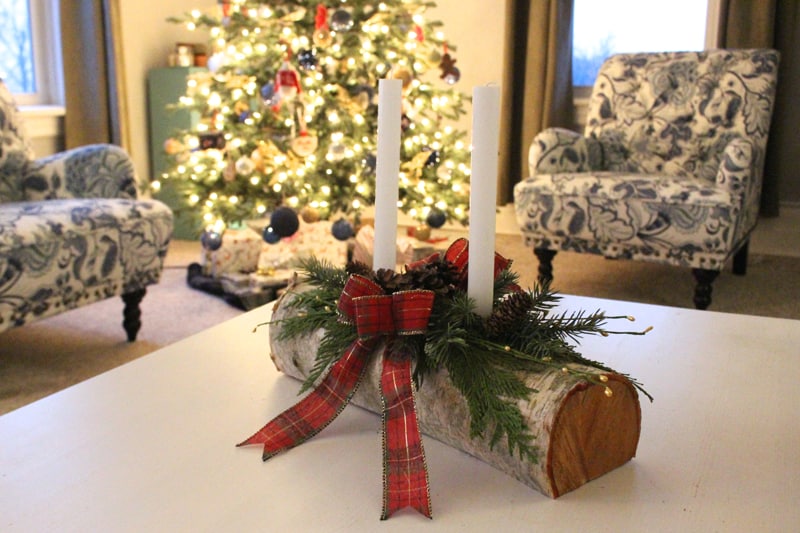 I love the natural elements of this festive Yule Log Christmas Centrepiece. Keep in mind that you should never leave the candles burning unsupervised as these elements are flammable.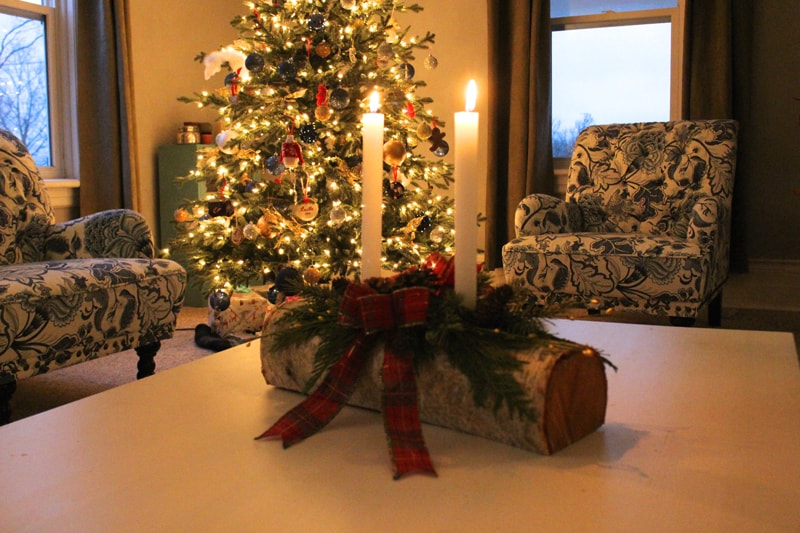 When evening falls and you light the candles, it really adds such a lovely glow to the holiday season.