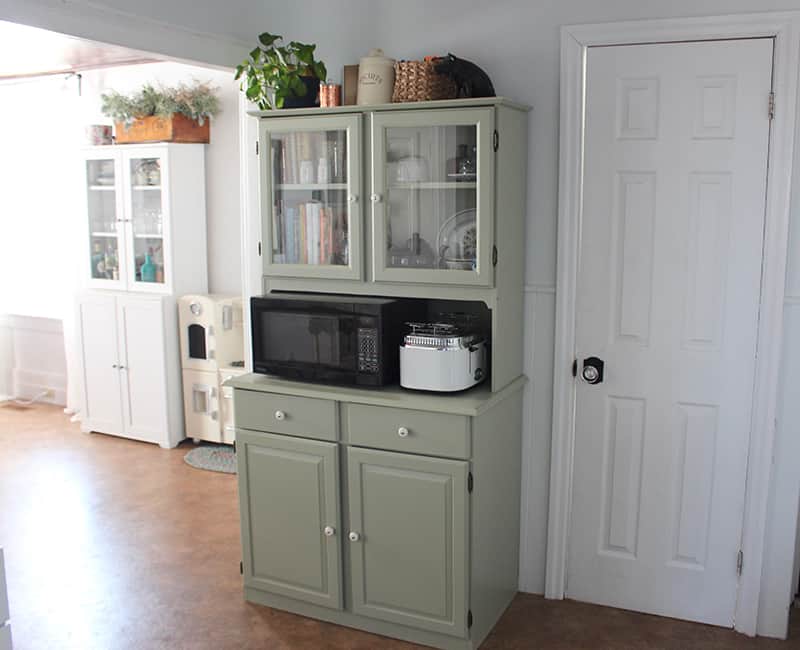 A few months back, when I was 8 months pregnant with Rosie, I got the idea in my head that we needed a new kitchen hutch. Something that would give us closed storage and add a little colour to our all-white kitchen.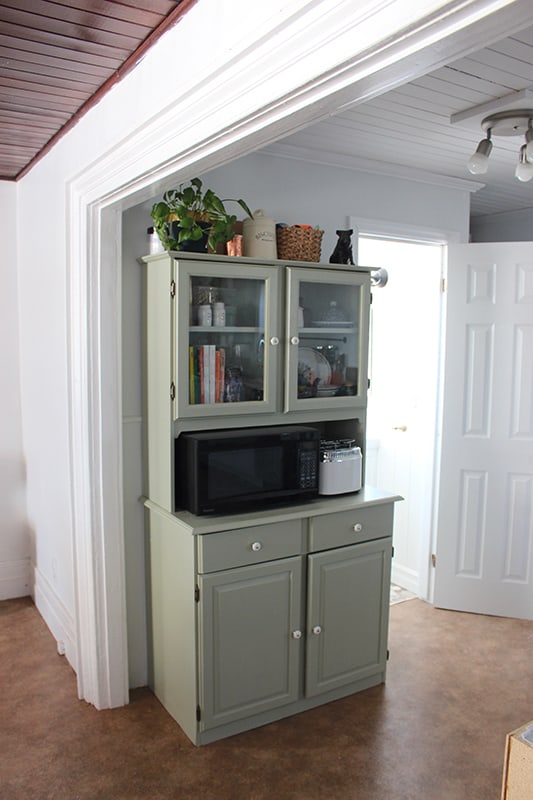 We've tried various different storage methods here and it now feels like we've finally got it right – plenty of space to store larger items below, keep smaller items up top and a work surface for our commonly used appliances.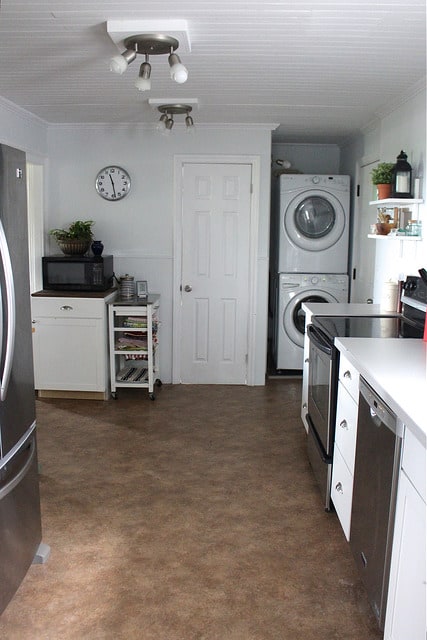 Back when we first moved in three and a half years ago, we took the extra cabinet base from when we installed the dishwasher and set it over by the powder room door, until we figured out what to do with it. It didn't take long to realize that our farmhouse kitchen had surprisingly less storage than our apartment kitchen had. We ended up using the cabinet for the microwave, taking the wooden signs we'd made for our wedding and flipping them over for a temporary countertop. A little kitchen cart we had in the apartment dining room was tucked in beside it too.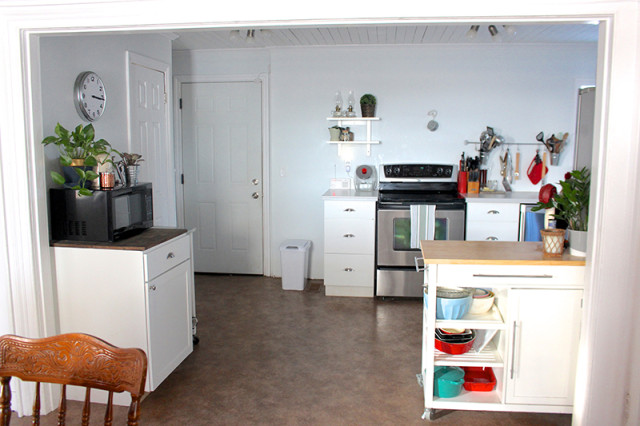 Then last year we decided to rearrange the kitchen, and where that old kitchen cart from my first apartment is jutting out, we're taking some of the same bases in the rest of our kitchen and making a peninsula. We're also going to be adding a backsplash along the main wall, and new flooring and lighting if the budget allows.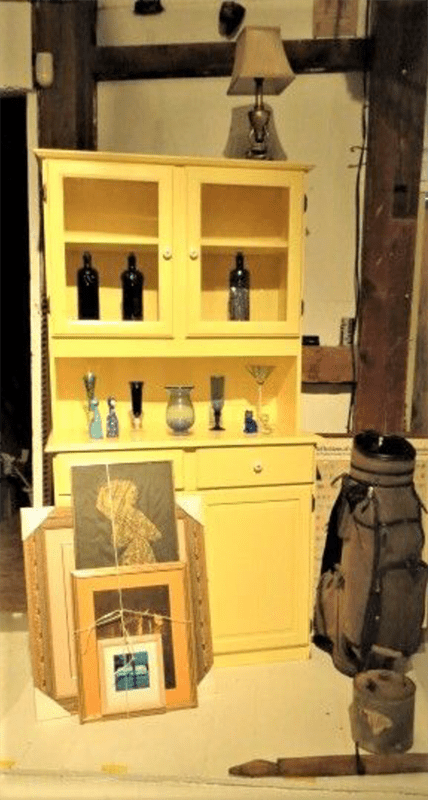 All summer I was looking for a hutch to fit in the kitchen, when I spotted this photo on a listing at a local auction. We met up with my in-laws, who love a good auction. The cabinet had been painted a sunny yellow at some point, but I knew I could give it a makeover with a little elbow grease and some fresh paint. My father-in-law used his auction skills to help me get it for $65, well within our budget. Yay!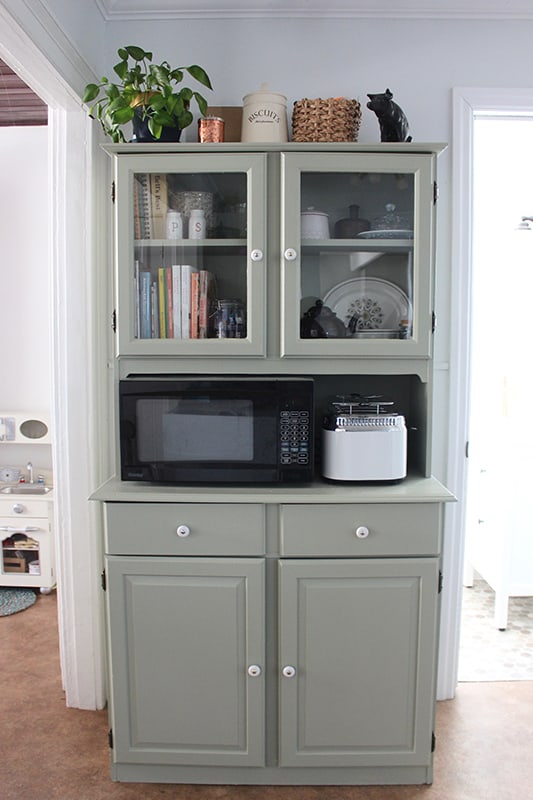 I already had the paint on hand, leftover from another project. It's Behr Marquee "Sage Wisdom". I started by removing all the cabinets and hardware, and then giving everything a light sanding and cleaning.
Seeing as I was pregnant at the time, Garrett helped me with the painting and we did it in the backyard where everything was well ventilated. After letting it dry for a few days in the garage, we brought it into the house to finish curing.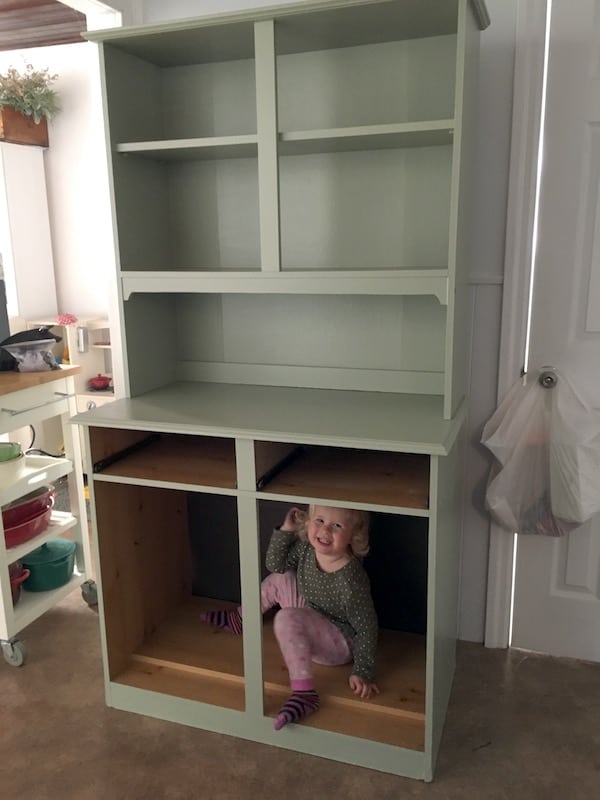 Lucy was a big help when we were putting the doors back on, ha!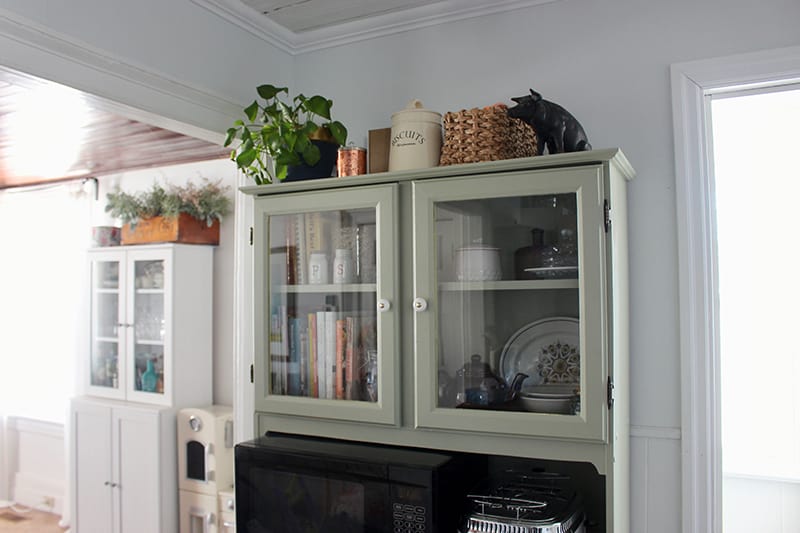 The kitchen hutch turned out great and I'm head over heels for this sage green colour. There are a few spots where we scratched the finish when we were putting it back together. I'm planning to do the touch ups on the first warm spring day when I can open up the windows.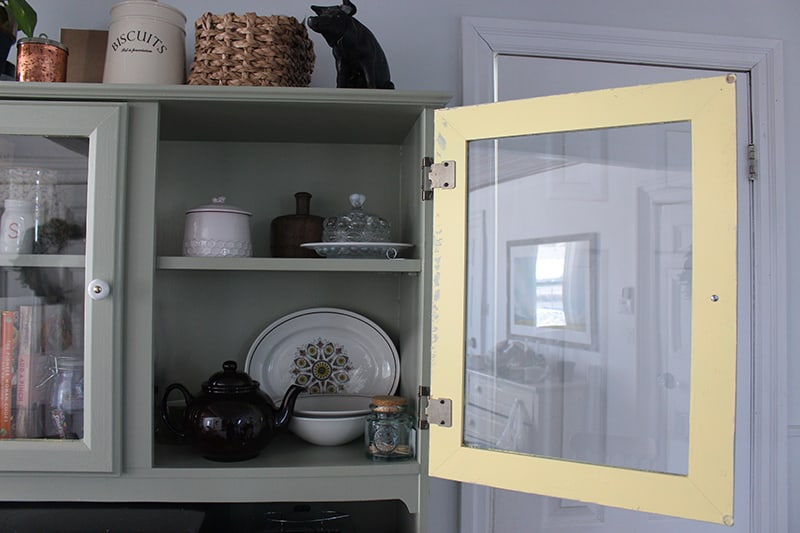 Garrett and I taped off the inside of the windows when we were painting but BOTH forgot to actually paint them – oops! That'll be another thing we do in the warmer weather. You can't see it anyways, unless the doors are open, and in the meantime it's a great reminder of how much some fresh paint updated the piece.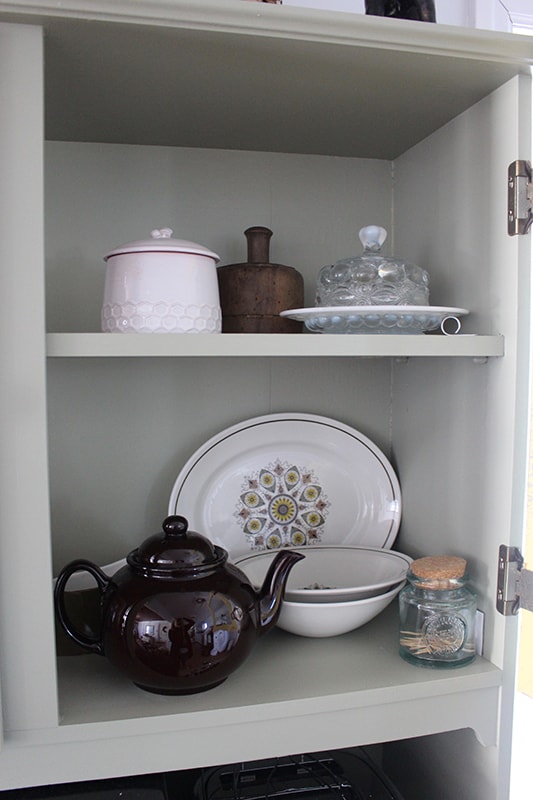 I love being able to display my brown betty teapot and vintage pieces.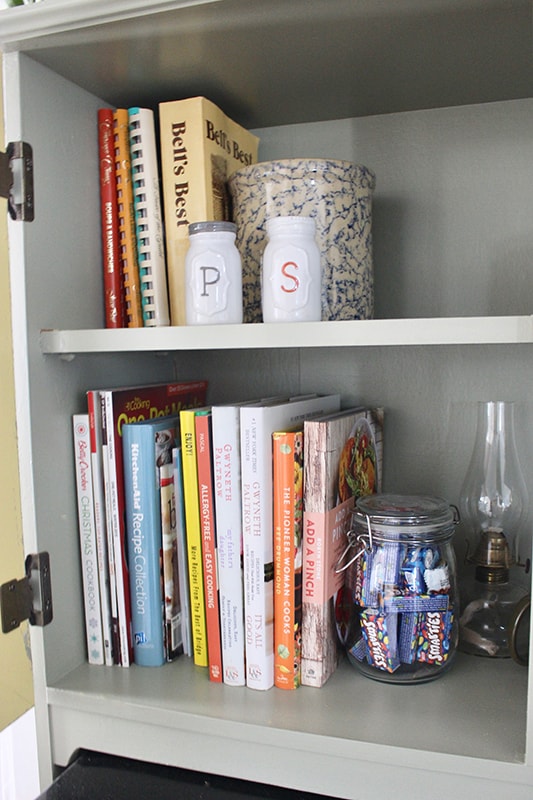 The other side holds my cookbook collection, oil lamps and the jar of smarties that we use as potty training bribes, ha!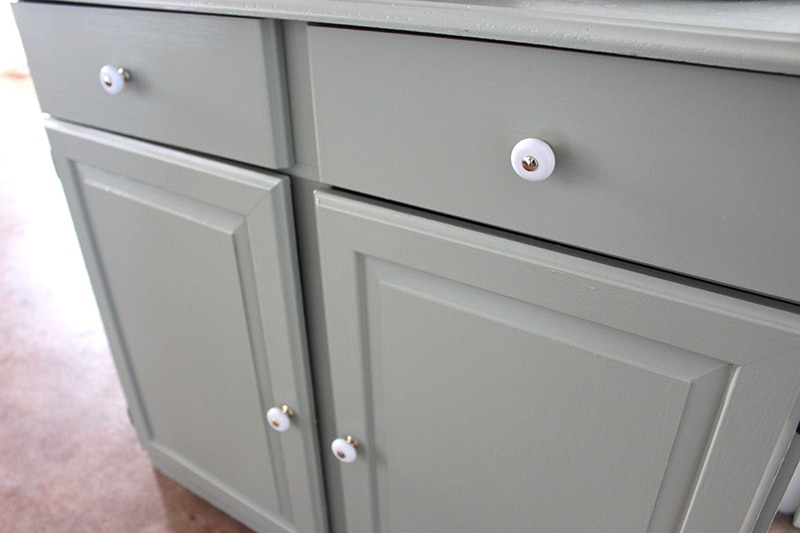 I've kept the original cabinet hardware on for now, but I've debated giving them an update too. Maybe a dark pewter or oil rubbed bronze.
The two drawers have been handy for storing things like placemats, napkins, candles, kids' bibs and wash cloths.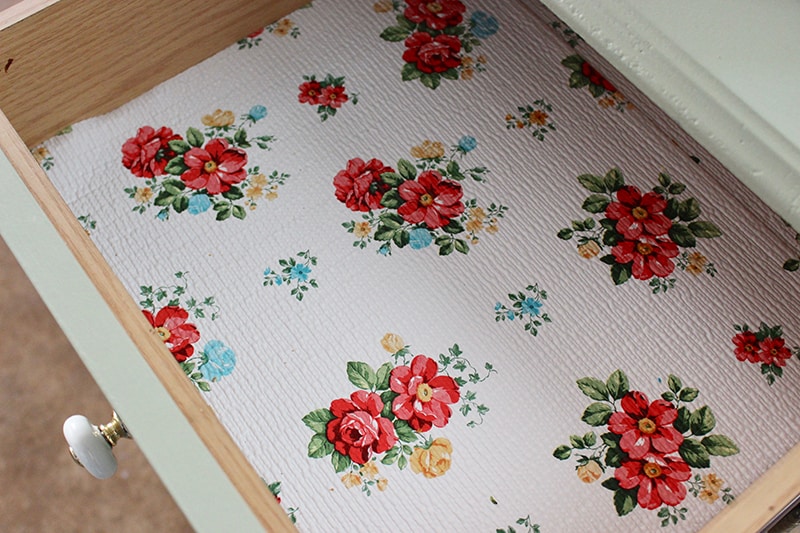 I found this cute vintage-inspired drawer liner from the Pioneer Woman line at Walmart.
In the bottom cupboards, I'm able to store all our larger bakeware, dutch ovens, mixing bowls and baby bottle supplies. Whoever had previously painted the cabinet hadn't done the greatest job with painting a clean edge on the inside of the door, so we did out best to cover it up. It's one of the things I'm hoping to touch up in the spring as well.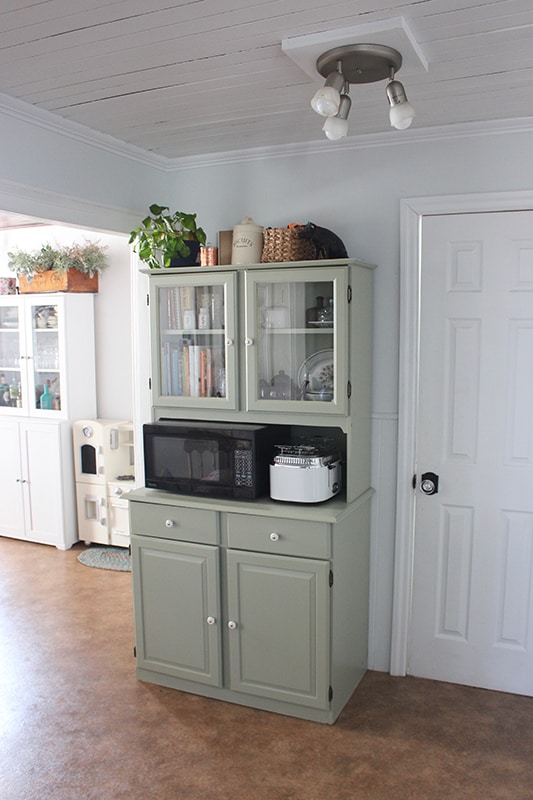 Overall, I'm so happy with how this kitchen hutch makeover turned out and all it took was a can of paint! We're hoping to start the rest of the kitchen renovation this spring and spruce the place up even more. All our renovations in this farmhouse have been done bit-by-bit, with our focus on figuring out what works best in the space and creating a budget around that. If we'd done everything at once, I'm sure there would be things that we would have regretted.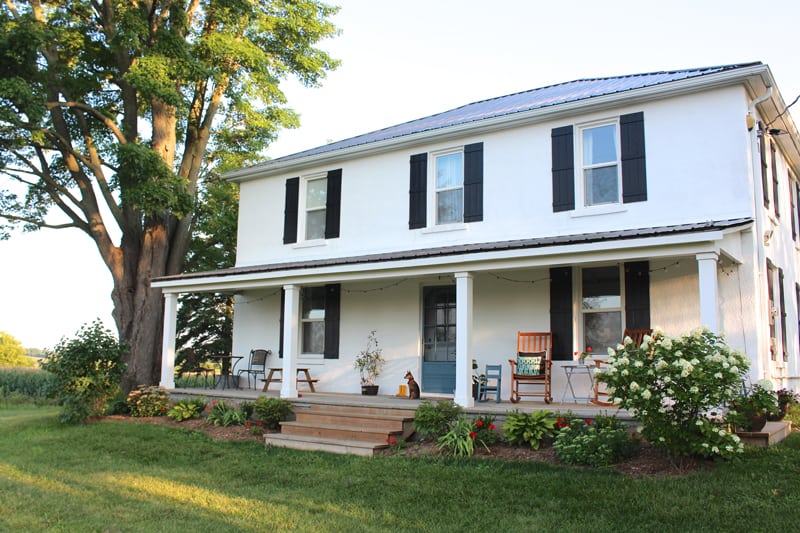 Click Here for More Posts on the Farmhouse