This Braided Apple Puff Pastry combines buttery puff pastry and a sweet gooey cinnamon apple filling. If you're looking for an easier upgrade to traditional apple pie, this recipe is definitely it!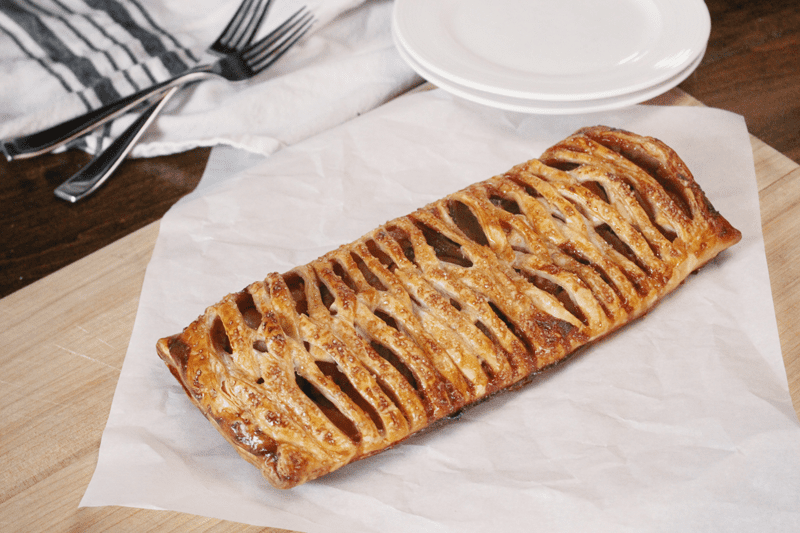 My family hails from Ontario's Apple Country on Georgian Bay, which means apples are not a fall treat but a year round cold storage staple. I've shared some of my favourite apple recipes before, but today I have a new recipe that has become a favourite weekend treat over the last year. Braided Apple Puff Pastry only has a few ingredients that can be kept on hand for when you're looking for a dessert that looks special but takes minimal effort.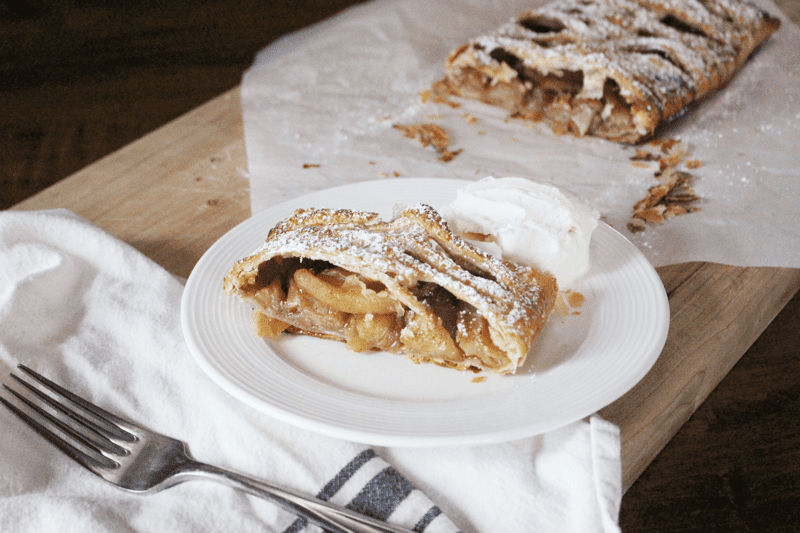 Will you just look at this thick apple cinnamon filling in buttery flaky perfection? This is a dessert you can whip up for company or treat your family to on a weeknight. I like to do an egg wash with coarse sugar on top before baking, or sprinkle it with icing sugar for a snowy look (which the kids love). Icing sugar also hides any imperfections in the braiding, which I think is half the charm of this simple Braided Apple Puff Pastry.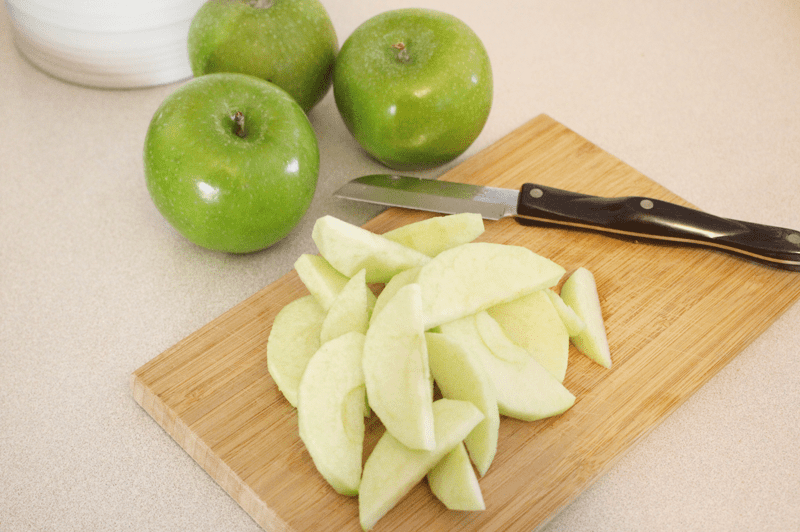 The Best Apples for Baking
Apples come in many flavours and colours but there are definitely some that are better for baking than others. When picking an apple for baking, we're generally looking for a crisp apple that will hold up to the heat, with the right sweet-tart flavour.
Granny Smith is the gold standard for baking with its firm fruit and tart flavour. It's robust enough to keep its structure during the baking process while still having a strong apple flavour when paired with sweetness from sugars. Added bonus that it is readily available year round.
Jonagold

has a sweetness that is amplified during baking, but these apples don't store well long term. They're best enjoyed right around the time of harvest.

Honeycrisp

is very crisp and holds up its shape while baking. You may need to add less sugar due to its stronger sweetness.

Braeburn

has the sweet-tart flavour, holds up well and already has a cinnamon flavour to it, making it a great choice when baking.

Golden Delicious

has a sweet mellow flavour and holds up well to heat.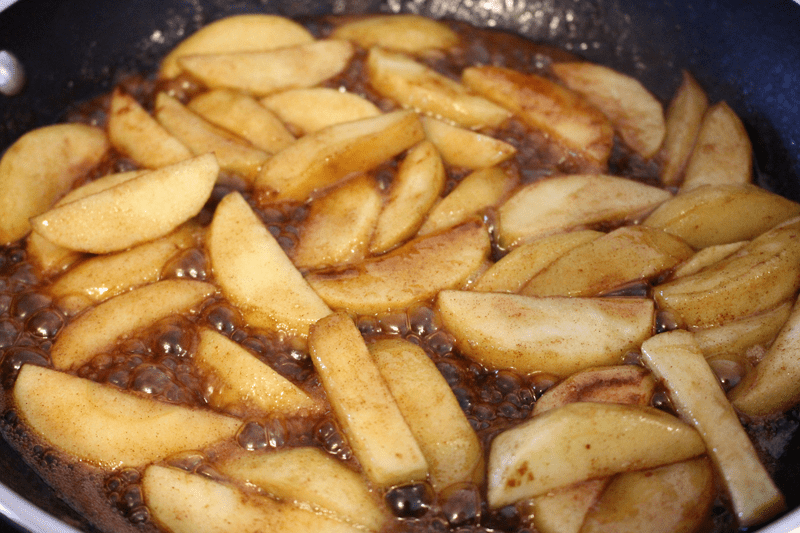 Making the Apple Filling
This filling is crazy easy – just thickly cut apples, butter, brown sugar and cinnamon. What more could you want in an apple filling? By partially cooking everything n the frying pan before adding it to the pastry, most of the liquid will have already evaporated. You won't need to worry about a soggy bottom on your puff pastry and you'll be left with nice chunks of apples in a thick syrup.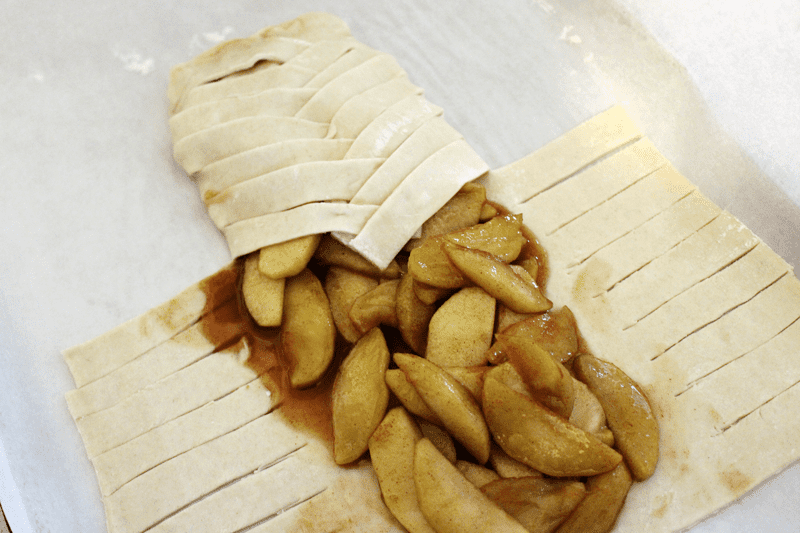 How to Braid Puff Pastry
Braiding the puff pastry may look complicated at first glance, but it takes just minutes to do. For best results, allow the filling to cool slightly before starting this step, as piping hot filling will start to soften the puff pastry and make it harder to braid.
Start by rolling out the thawed puff pastry into an 11″x11″ square, on a piece of parchment paper dusted with flour.
Using a sharp knife, cut horizontal slats in the puff pastry along both sides, cutting into just under a third of the way from each side. Brush strips with cold water. This will help with the pastry strips binding to each other while you "braid".

Arrange apples and syrup down the middle of the pastry (it's okay if the syrup spreads a bit).

Starting at the top of the pastry, alternate folding the strips of pastry into the middle. Press the seams at the top and bottom of the pastry.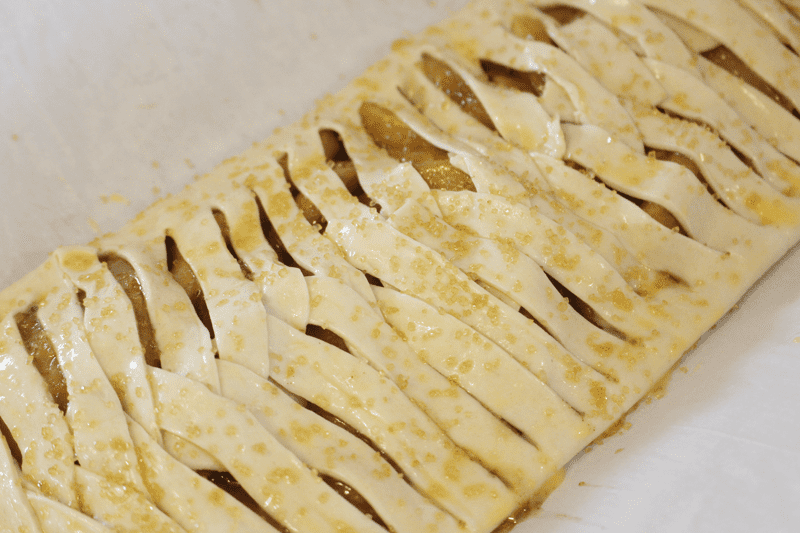 Brush with beaten egg for a nice golden crust. You can also sprinkle the top with coarse sugar for lovely texture and crunch.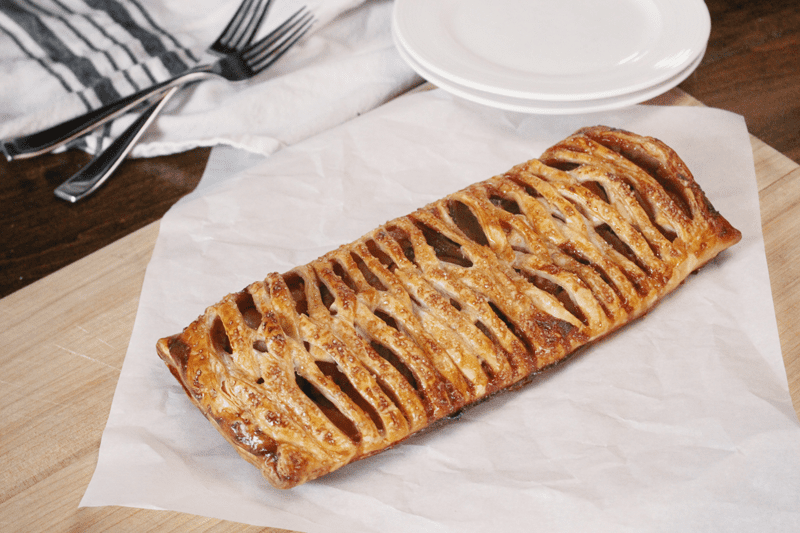 Bake at 400°F for 15-20 minutes, or until golden brown. Let rest for 5 minutes before serving warm with ice cream.
You can also do a light dusting of icing sugar for a different look – my kids love it when there is "snow" on top.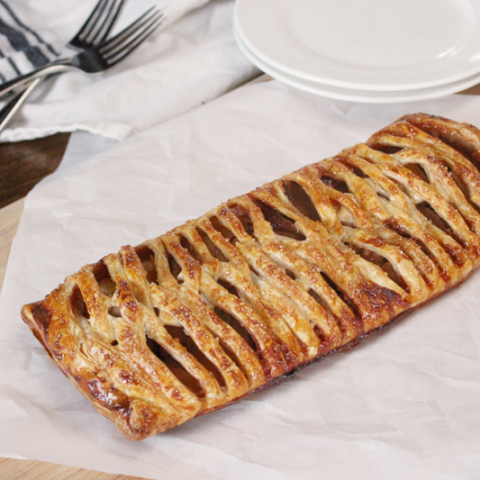 Braided Apple Puff Pastry
Ingredients
2-3 Granny Smith apples (approx 1 lb), peeled and cut into thick slices
1/4 cup packed brown sugar
2 tbsp butter
1/4 tsp cinnamon
1 sheet thawed frozen puff pastry (half package)
1 beaten egg
cold water
optional: coarse sugar or icing sugar
Instructions
In a large frying pan, heat butter until melted. Add apples, brown sugar and cinnamon, sauteeing for 7-8 minute or until apples are softened and a syrup forms. Allow to cool slightly while preparing the puff pastry.
Preheat oven to 400°F.
On a sheet of parchment paper lightly dusted in flour, roll out puff pastry into a 11"x11" square.
Using a sharp knife, cut horizontal slats in the puff pastry along both sides, cutting into just under a third of the way from each side. Brush strips with cold water.
Arrange apples and syrup down the middle of the pastry (it's okay if the syrup spreads a bit).
Starting at the top of the pastry, alternate folding the strips of pastry into the middle. Press the seams at the top and bottom of the pastry.
Brush with beaten egg. Optional: Sprinkle with coarse sugar.
Bake for 15-20 minutes or until golden brown. Let rest for 5 minutes before serving warm with ice cream.
Optional: Sprinkle with icing sugar before serving