As I mentioned last month, we've got some fun interior renovations lined up this year at the farmhouse, including our main floor powder room, and I'm so pumped to be able to give you a sneak peak today.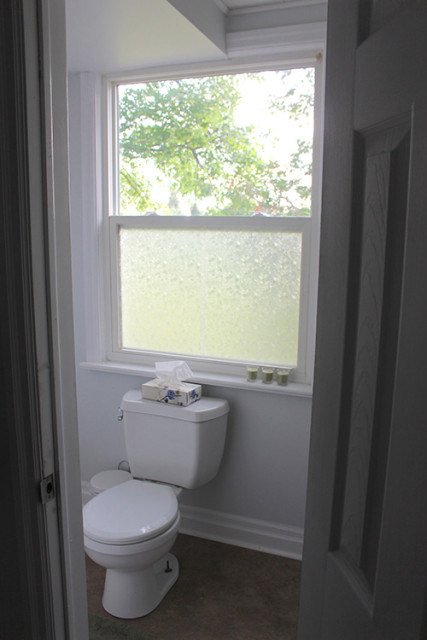 In my Farmhouse Progress Tour, I shared what our powder room currently looks like. It's right off of the kitchen and has a huge window which lights up this small space but is also located right behind the toilet.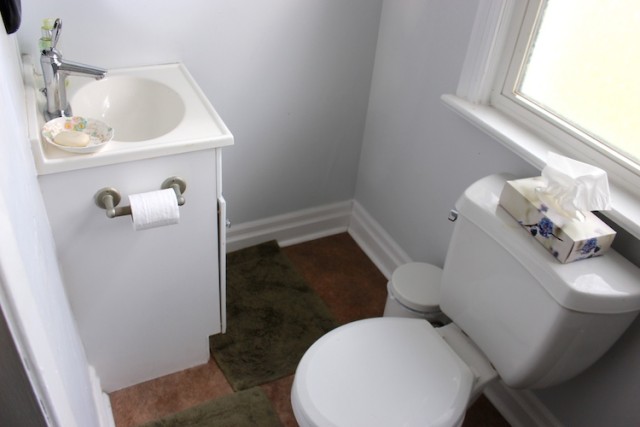 The configuration of the room also makes it really cramped for guests to manoeuvre around and there is very little storage space for keeping things like our first aid kit and cleaning supplies on the first floor. We're doing all the demo ourselves, along with replacing some drywall and installing new woodwork, and we have a plumber coming in to help us move the toilet to the left wall and install the new vanity to the right.
I love how light and bright this room is and I'd really like to keep that feeling with the new design while adding in some features that fit our farmhouse style.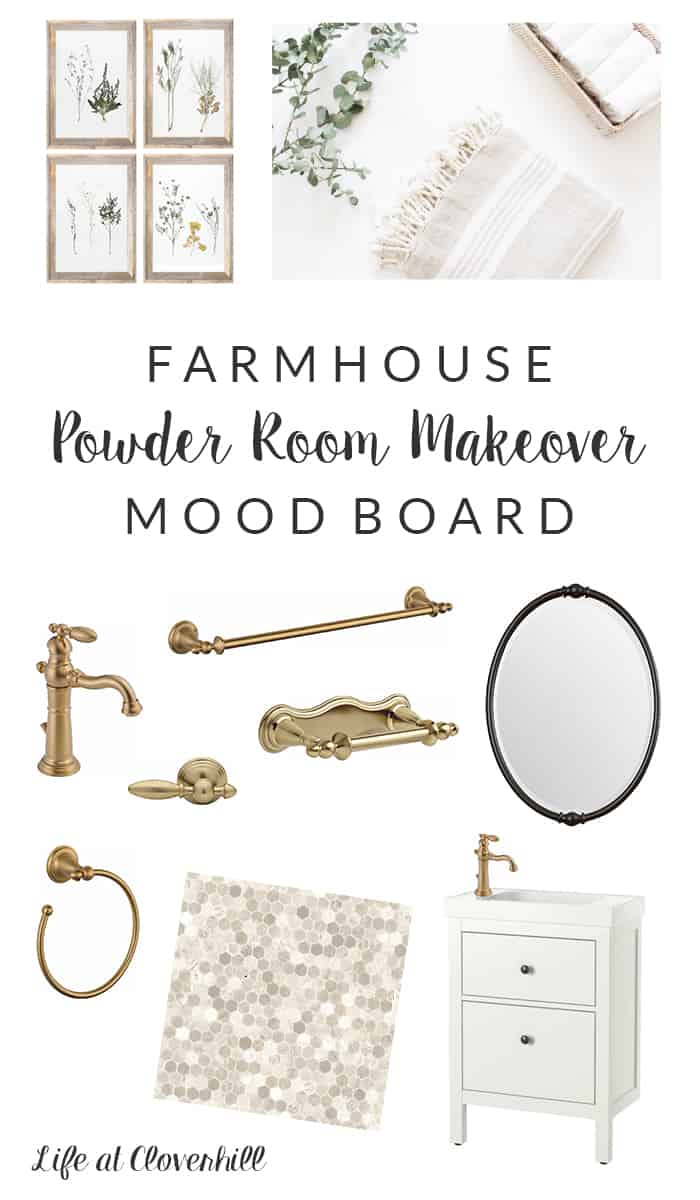 We absolutely love our Delta Touch2O Faucet in our White Farmhouse Kitchen, so I knew right away that we'd be using them again. This time I'm going with the Delta Faucet Victorian Single Handle Faucet in the positively stunning Champagne Bronze finish. This piece is really going to stand out in such a bright room and I love how it fits in perfectly with the era of our century home while still working with the more contemporary vanity. The entire Victorian line is gorgeous, so I'm using the Towel Bar, Towel Ring, Toilet Paper Holder and Tank Level to create a cohesive look throughout the space. This may be a small room, but I think these pieces will really make it stand out.
The room has a very cramped configuration, which is where this shallow vanity cabinet will come in handy. I love how the trough-like sink pairs well with the faucet as well.
Along the walls, we'll be doing a panelling wall treatment (more on that in the coming weeks). We're limited in what we can do for flooring in there, but thankfully there are some pretty great vinyl flooring options these days, and we're opting for this hexagon tile pattern.
A new mirror, botanical prints and the turkish towels we picked up on our honeymoon road trip will round out the look. I'd love to add some storage shelves behind the toilet for holding a few plants and a basket of extra toilet paper rolls as well.
We've still got plenty of work ahead of us with this powder room makeover, but I can hardly wait to see the end result. Be sure to follow along on Instagram and Facebook for more updates.
Disclaimer: Although this post has been generously sponsored by Delta Faucet, the opinions and language are my own, and in no way do they reflect Delta Faucet.