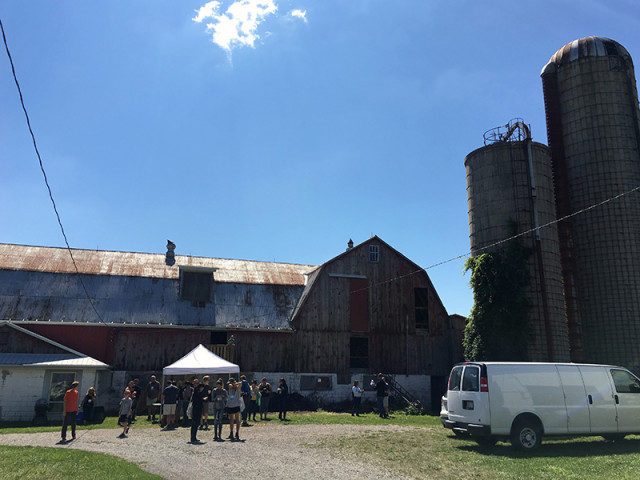 Earlier this week I had the chance to do something that really pushed me outside of my comfort zone with our Cloverhill Flowers business. As many of you know, this is our second year and I still feel like we have so much to learn. Our friend Janet from Country Cut Flowers couldn't attend the second day of the Association of Specialty Cut Flower Growers (ASCFG) 2017 Growers Meeting and kindly offered me her spot. I was equal parts nervous and excited, but as soon as I got there I met so many lovely people who loved flowers just as much as we do. Some I'd known through the wonderful world of social media, but others were new faces. A big hello to some of the lovely folks I got to meet in person throughout the day – Janis of Harris Flower Farm, Melanie of Dahlia May Flower Farm, Jenn & Bob of Wendalane Farms, Amber of Petals Flower Co., Heidi of Stems Flower Farm, Christy of Wild Blossom Hollow, Jenny of Flowerwell, Katie of Flower Fields Forever and Jennifer of Fair Fields CSA.
Scattered throughout North America are flower farms producing local flowers that can be found at farmers market, grocery stores and more and more we're seeing progressive thinking florists seeking locally grown flowers. Like local food, local flowers support business people in your community, creates jobs and leaves a very small carbon footprint because they're not needing to be flown or trucked great distances. There is a map on the ASCFG where you can find local flowers near you.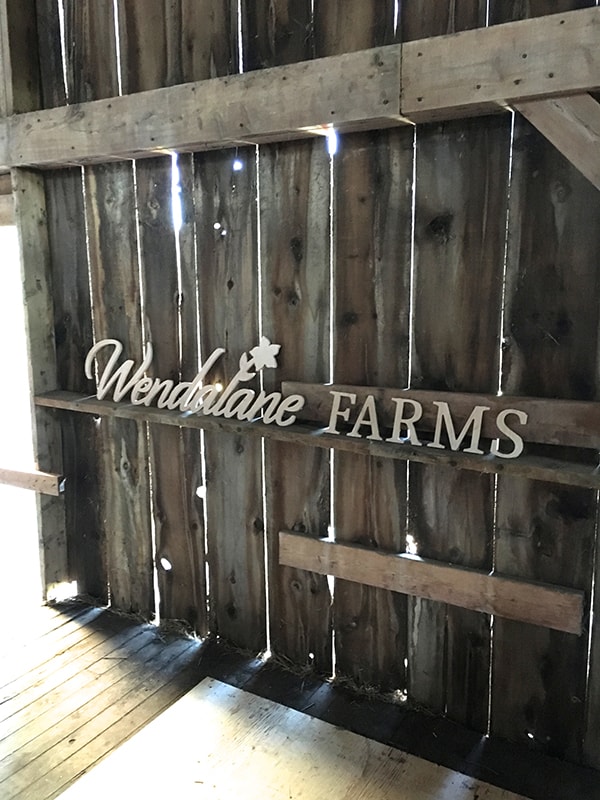 Our first stop of the day was a visit to Wendalane Farms in Wellandport, Ontario for a tour of the property by owners, Jenn Feddema and Bob Gerryts.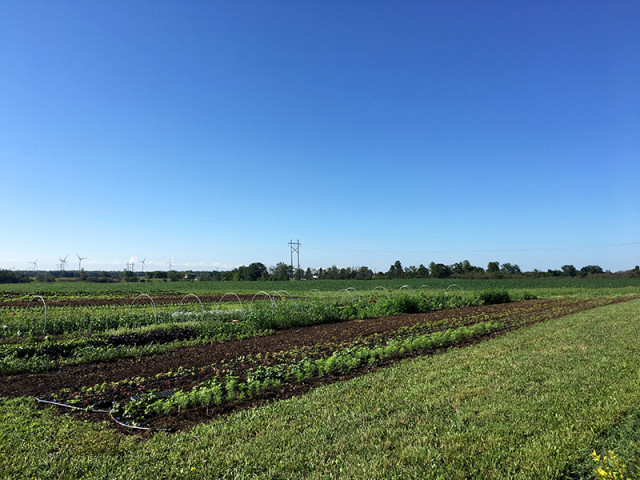 Our flower operation is still very small scale, working on just under a quarter acre of land, so to see such a large operation was very inspiring.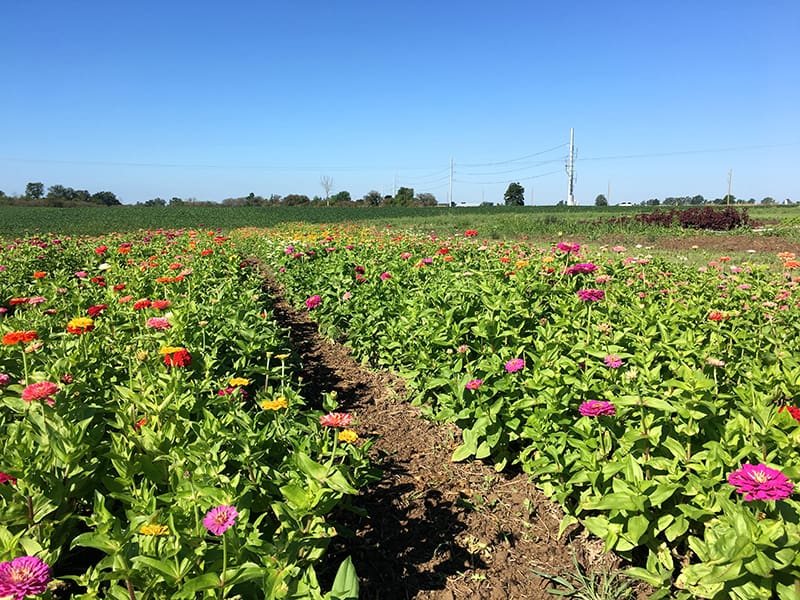 They had hundreds and hundreds of zinnias – which has quickly turned into one of my favourite seasonal flower for it's great colours and long vase life.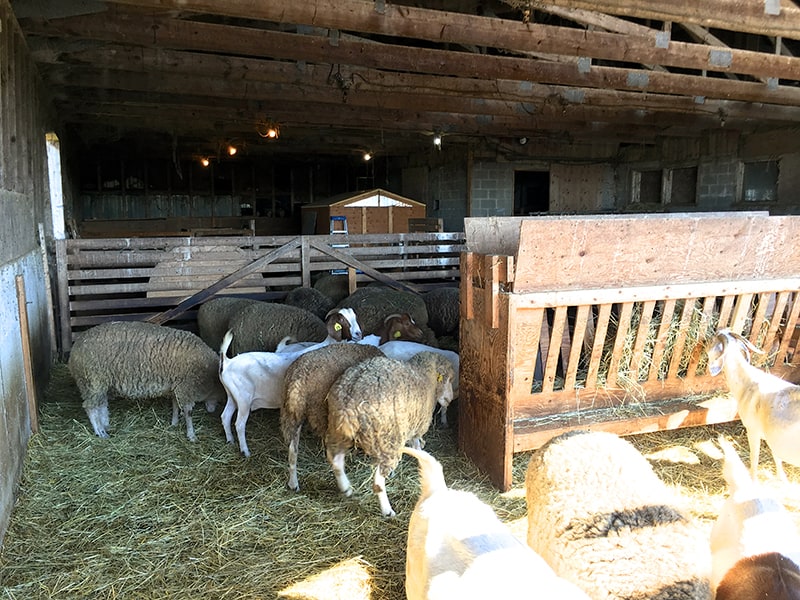 These cute goats and sheep provide the manure for the flowers.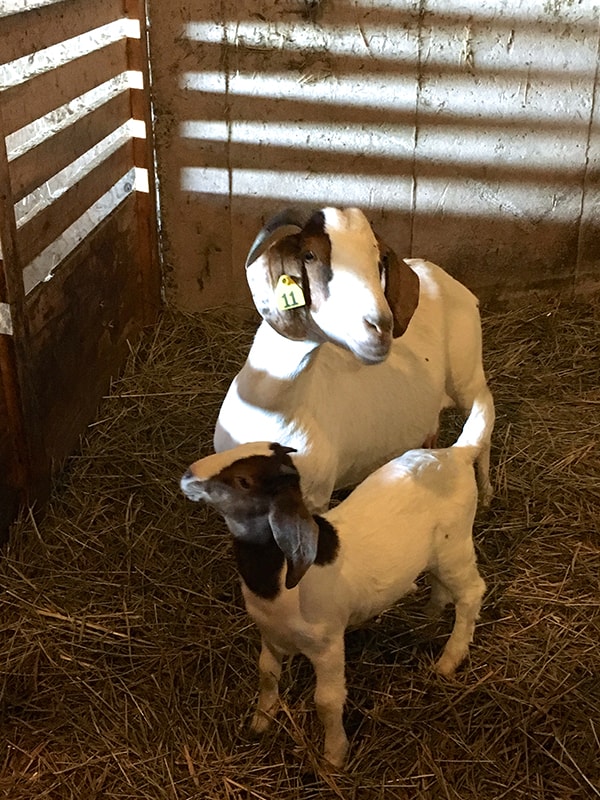 They plan their breeding season so that new babies are born in the spring or fall, and don't interfere with the busy summer season. This little guy was so cute…and was born with just one ear!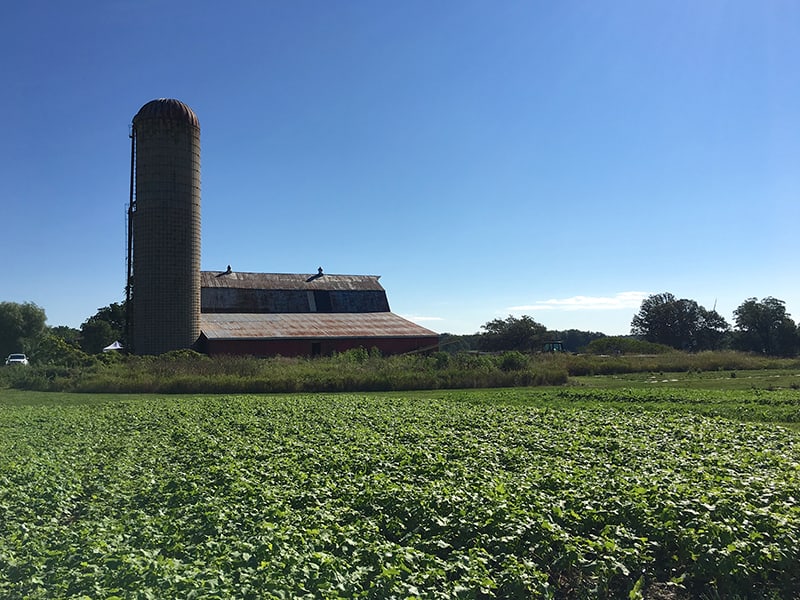 Touring the property was great to see how they farm, and I really appreciated their candid remarks about what worked and what didn't. I often think that our mistakes are just from being so new to the business, but it was refreshing to hear that even 13+ year veterans to the business can have their struggles each season.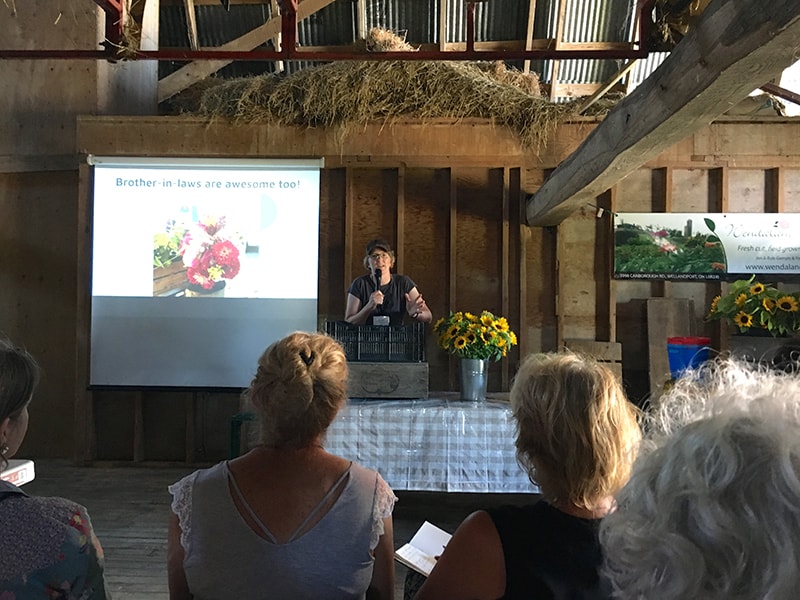 After the tour, we headed into their barn for a talk by Jenn and Bob about working at farmers markets. The market we sell at is only in it's second year, so it was helpful to hear about not only what would work for our booth but great suggestions on how our whole market could improve.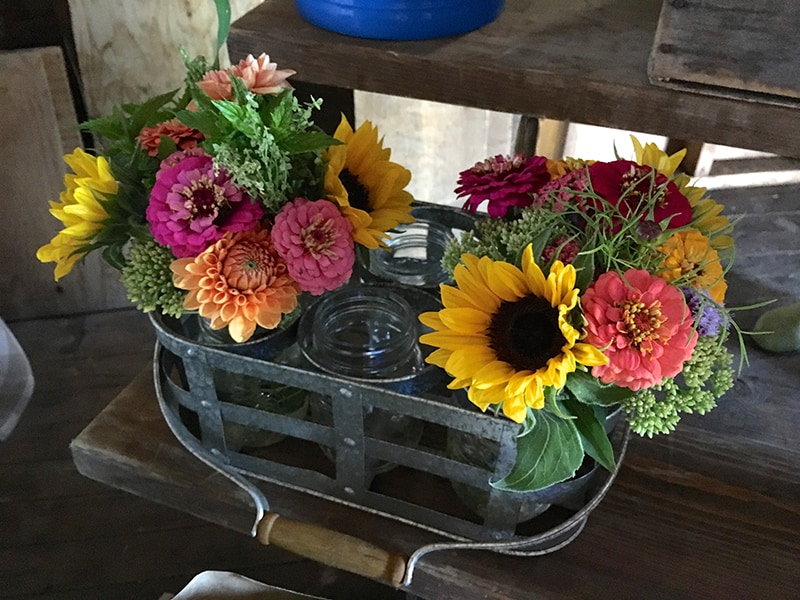 Even though they're only a couple of hours away from us, I couldn't believe how much farther ahead some of their flowers were, including these large zinnias and colourful dahlias. It gave me hope about what we have hopefully coming to our field soon.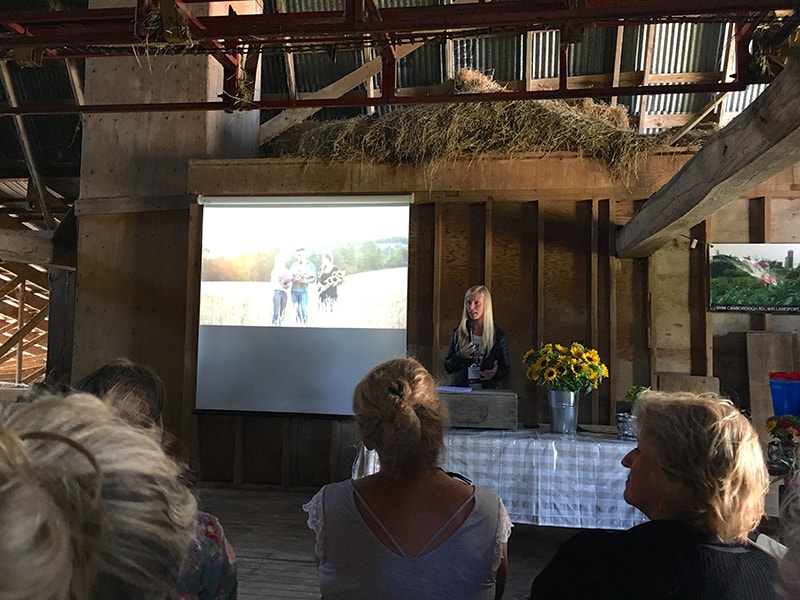 The next talk was about social media strategies, led by Melanie Harrington of Dahlia May Flower Farm from Trenton, Ontario. Melanie has a beautiful Instagram feed that is huge success. Folks drive almost two hours each way from Toronto to visit her farm stand and pick up flowers.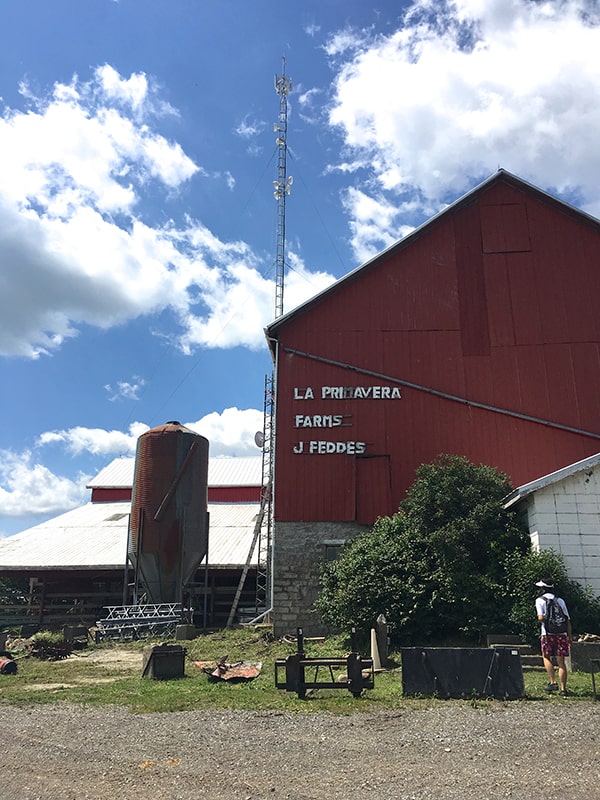 After a lunch break, we all met up again at La Primavera Farms in Dundas, Ontario.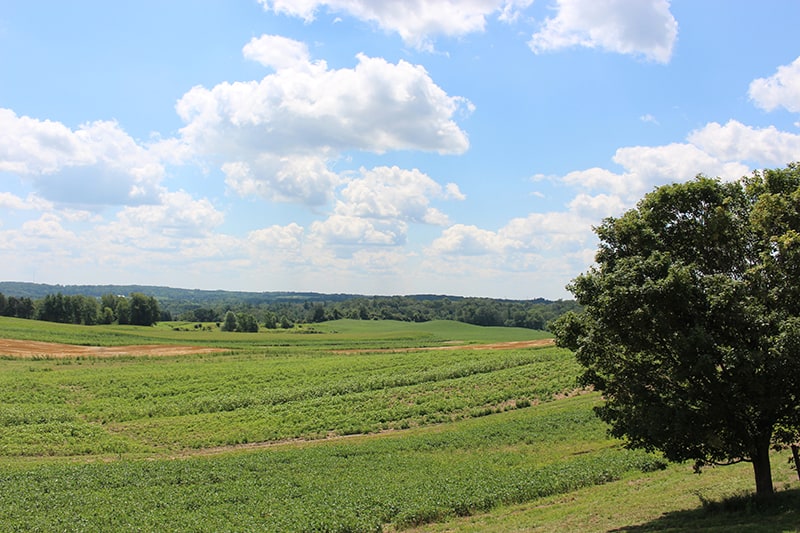 Just look how stunning it is there.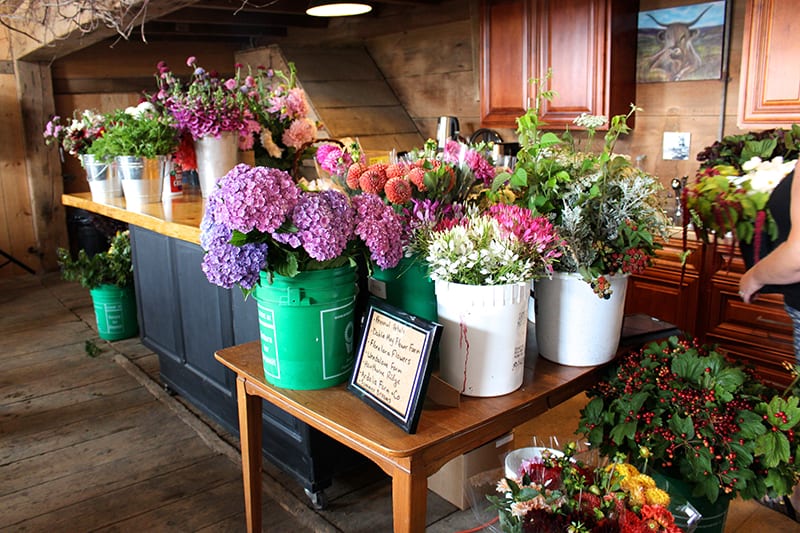 We started the afternoon in their large barn, which was filled with buckets of locally grown blooms. It was fascinating to see all the different varieties of flowers that can be grown in Ontario.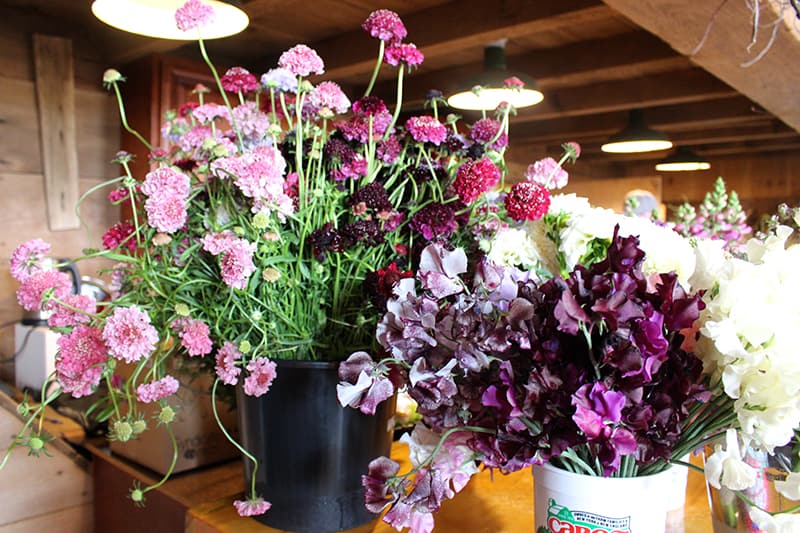 Scabiosa and Sweet Peas are two of my favourite blooms we attempted this year.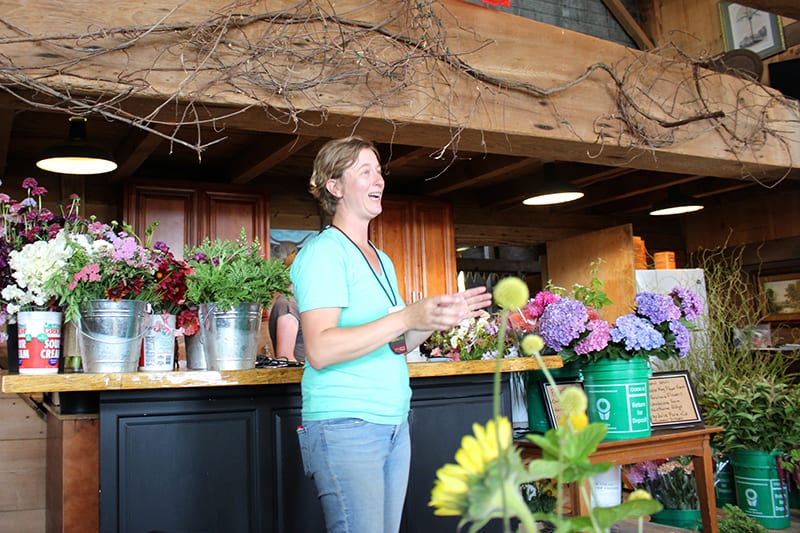 We were welcomed to the farm by Joanne Feddes of La Primavera Farms. She gave a little background about this father-daughter run business and how they handle the pressures of selling wholesale, farmers markets, weddings and social media.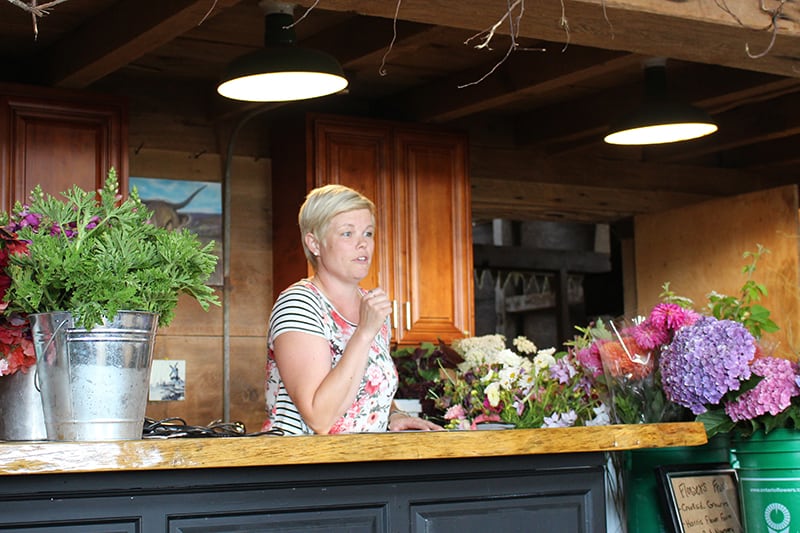 Next up was Jessica Dreyer of Fleurish Design Studio of Niagara, Ontario. She gave a great talk on her experiences doing wedding design work.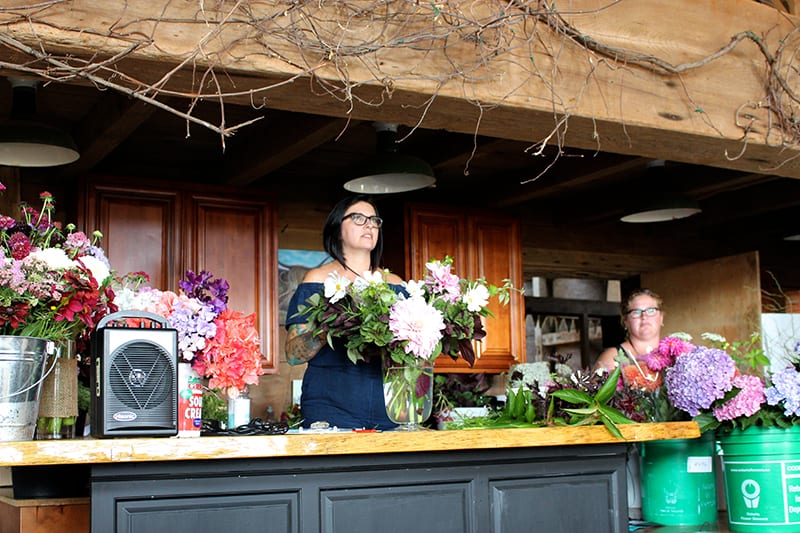 A real highlight of the afternoon was getting to watch a floral design demonstration by Carole Charbonneau of Flower Towne from Sudbury, Ontario. It's always fun to see how other people come up with designs and how their creative process works.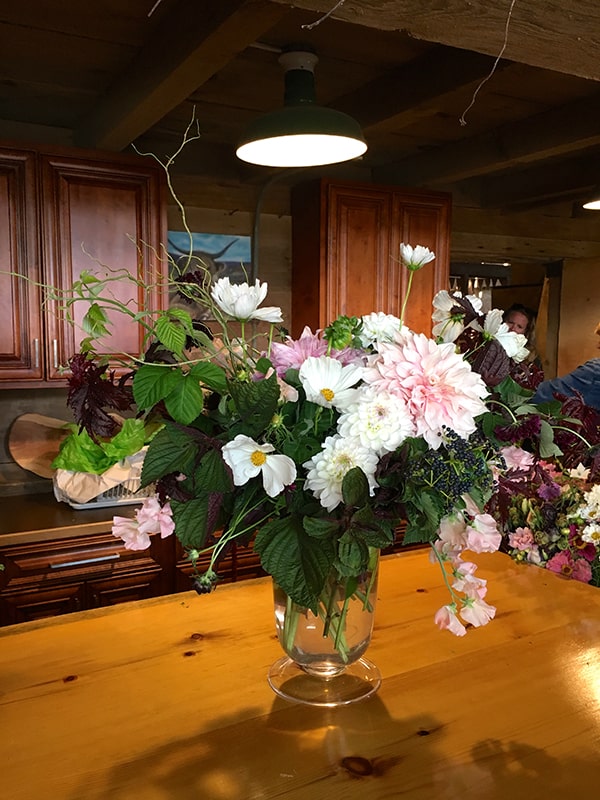 Just look at this finished product! Dahlias, cosmos, sweet peas, scabiosa and more.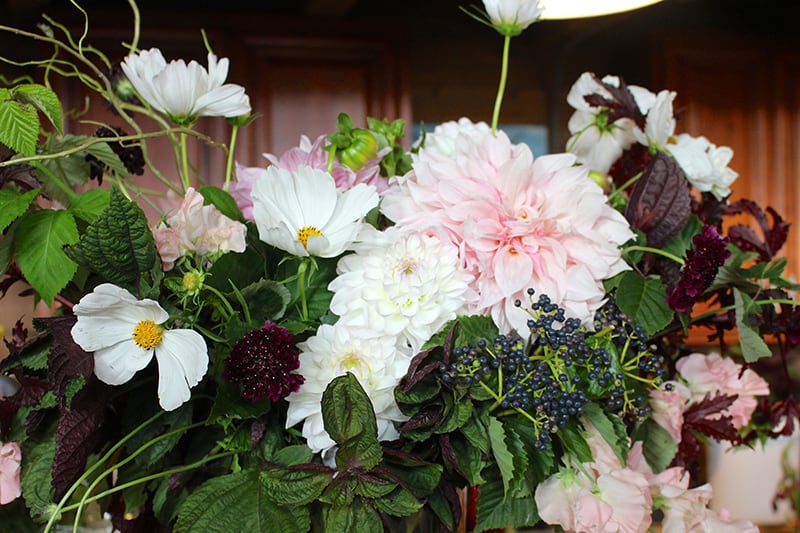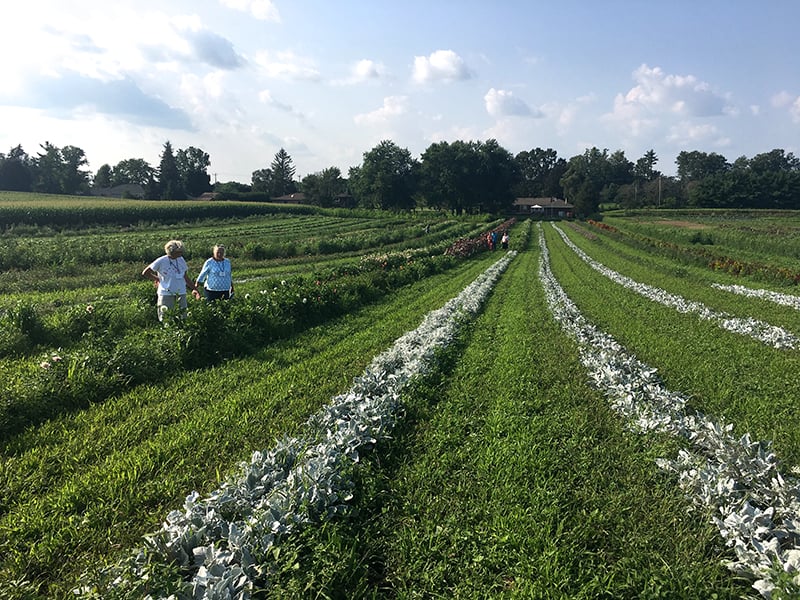 After the talks, we were able to take a self-guided tour through La Primavera's flower fields.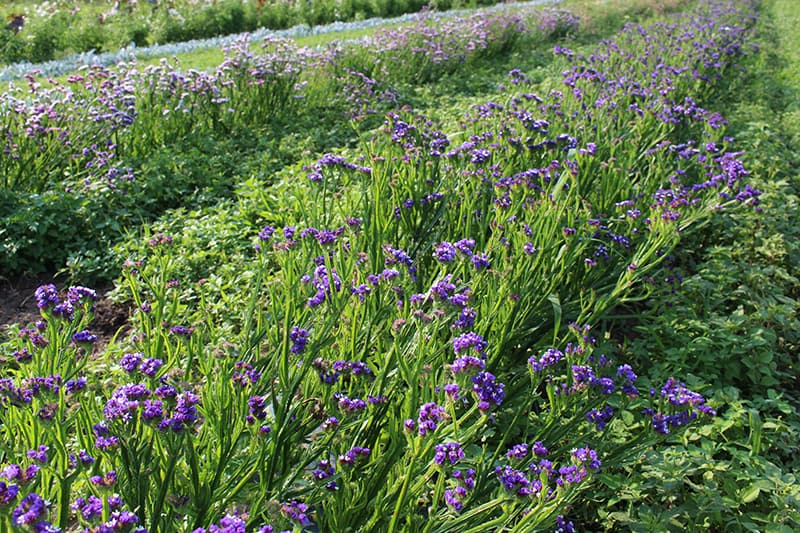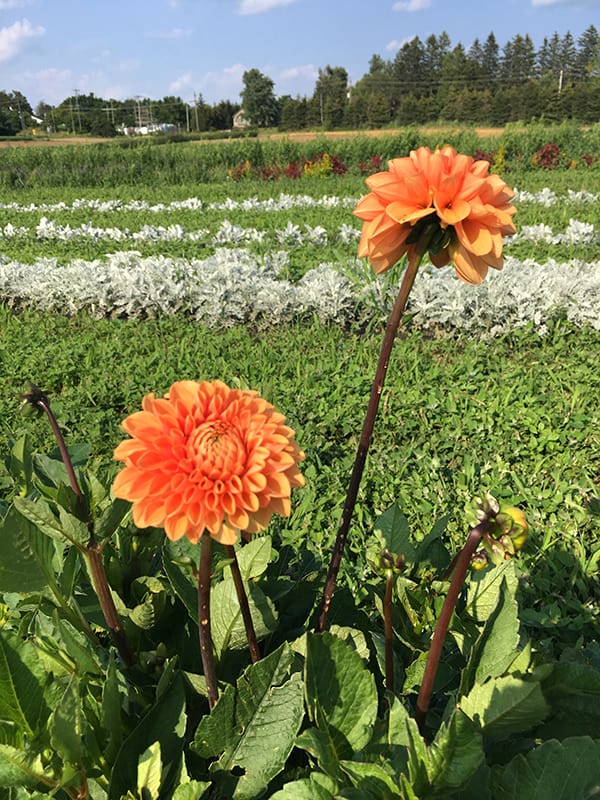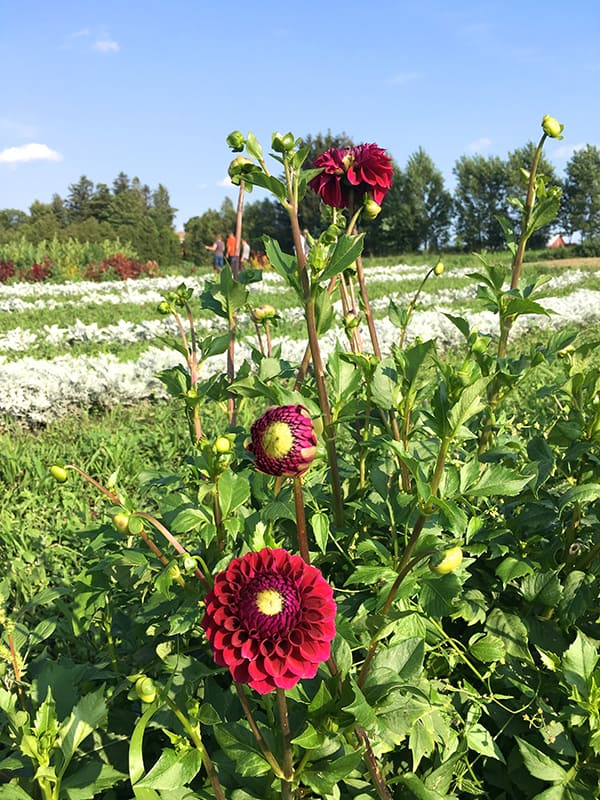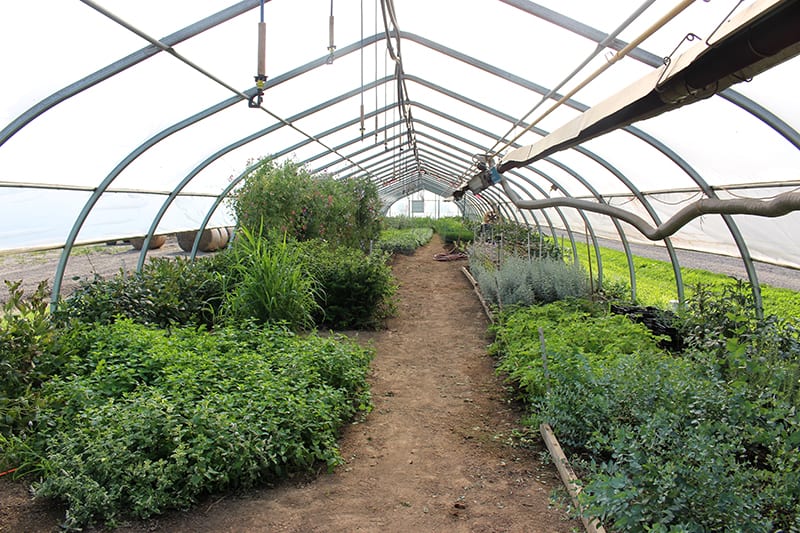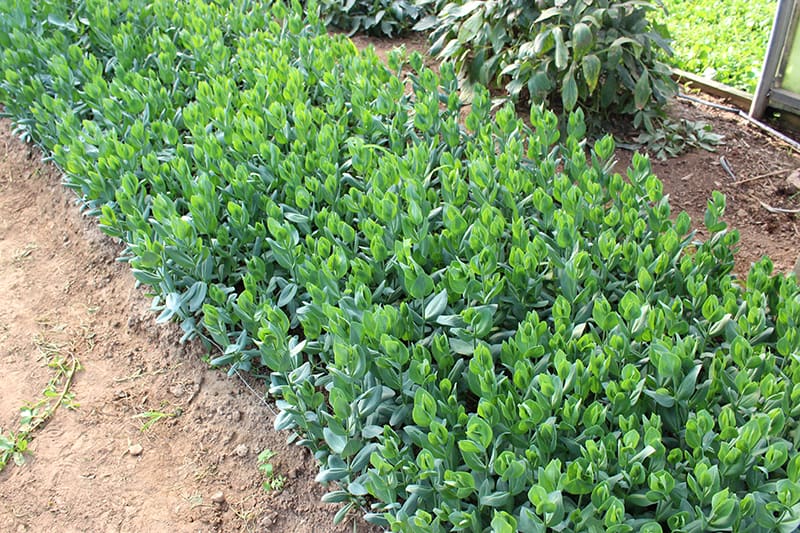 We're growing this lisianthus this year and it's just starting to have blooms.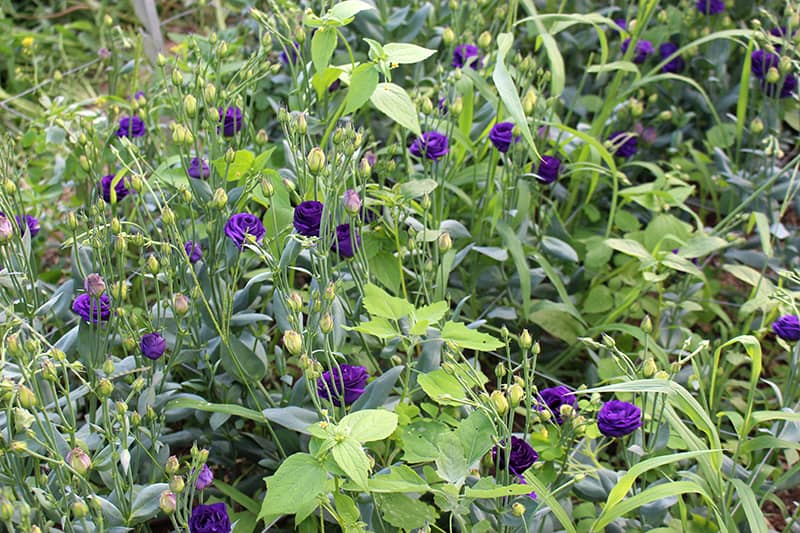 I love these vivid purple ones they had. I can hardly even remember what colours we picked because it's been so long since we ordered the seeds, ha!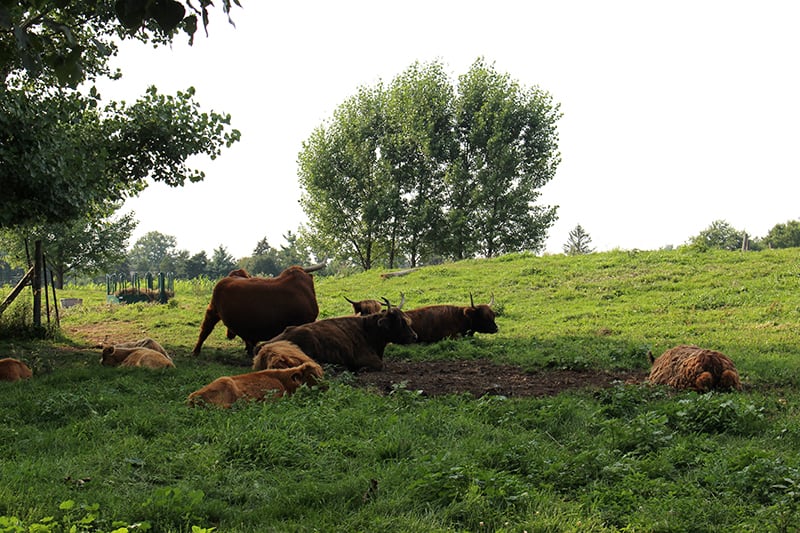 It's a was a beautiful warm summer day with a nice breeze and these cattle and llamas were happy to hang out for the afternoon too.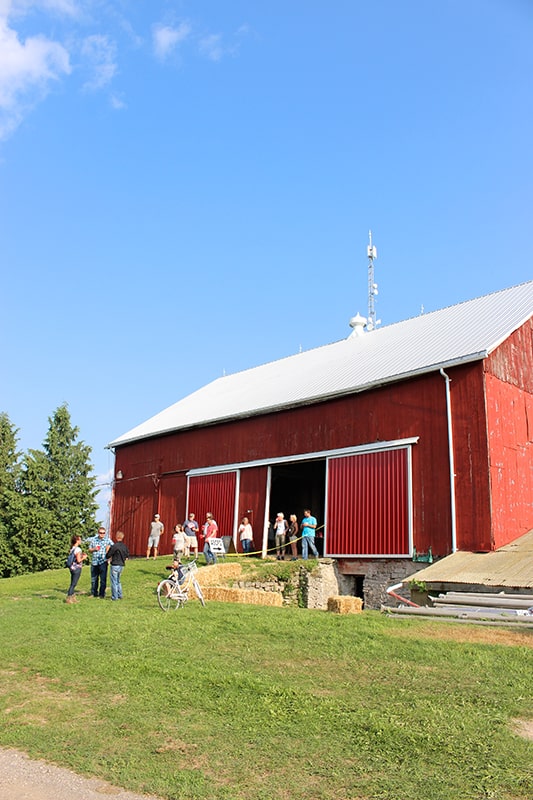 A big thank you to the ASCFG for putting on such a lovely event. We plan to join next year and look forward to becoming a part of this amazing network of flower farmers and designers. I encourage you to get out this weeked and find local flowers near you.