With all the backyard barbecues and parties coming up on this long weekend, it seemed like a great time to share one of my favourite potluck dishes – Mediterranean Pasta Salad!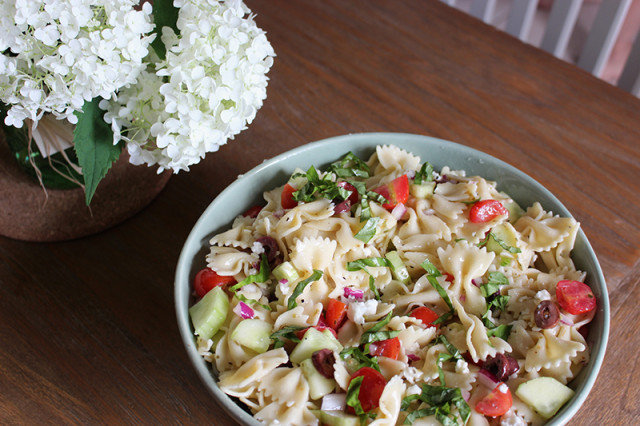 This Mediterranean Pasta Salad has a delicious lemon oregano vinaigrette and is loaded with fresh vegetables, some of which you may even be able to find in your backyard vegetable garden. I was able to use fresh basil from ours, along with feta cheese and cucumber from the farmers market. I had hoped that our cherry tomatoes would be up in time, but all this rain and cold weather has made them a bit stunted so far this summer.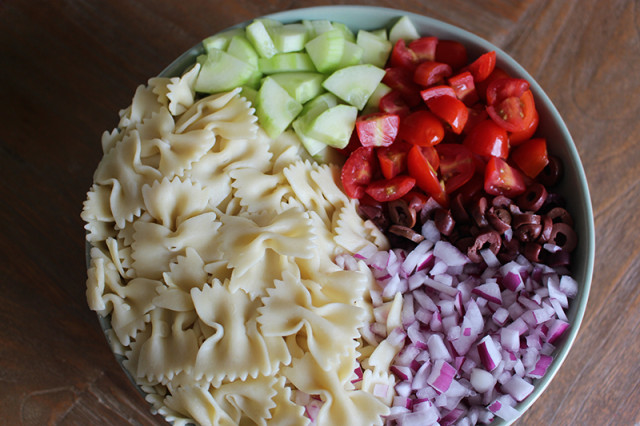 Mediterranean Pasta Salad is such an easy yet delicious dish to make ahead and bring with you to a party. I like to prep all the ingredients the night before – cook the pasta, chop the veggies, mix up the dressing and prep the feta and basil. Then the next day, you just need to grab everything to take with you to the party and mix it when you get there.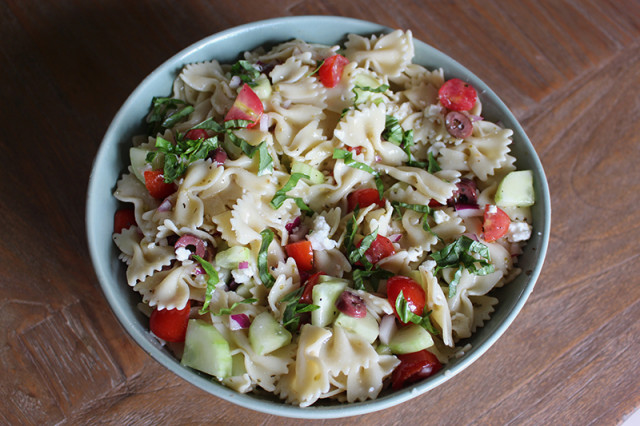 Kids love the fun shapes and colours, and adults are all about the fresh flavours. The lemon oregano vinaigrette dressing may just be my favourite part and I've been keeping a small jar of it in our fridge as handy homemade salad dressing for other dishes too. I like using farfalle pasta for the fun bowtie shape, but any short pasta will do.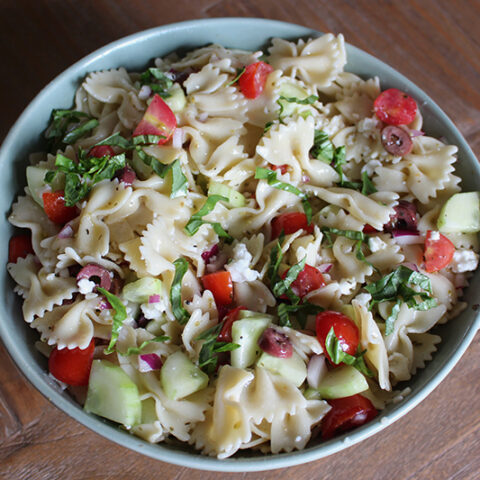 Mediterranean Pasta Salad
Ingredients
12 ounces dry farfalle bow tie pasta (or another short pasta like fusilli and rotini)
1 cucumber, peeled and diced
1 pint grape or cherry tomatoes, halved
⅔ cup finely chopped red onion, dunked in cold water
½ cup kalamata olives, pitted and sliced
¼ cup extra virgin olive oil
3 tbsp white wine vinegar
1 tbsp lemon juice
2 cloves garlic, crushed
2 tsp dried oregano OR 2tbsp fresh oregano
1 tsp honey
½ tsp salt
½ tsp pepper
¾ cup crumbled feta cheese
¼ cup basil, leaves rolled and sliced (chiffonade)
Instructions
In a large pot of salted boiling water, cook pasta al dente according to the package directions. Drain pasta and rinse under cold water to cool it down.
Transfer pasta to large bowl and combine with cucumber, tomatoes, red onion and olives
To make the vinaigrette, combine olive oil, vinegar, lemon juice, garlic, oregano, honey, salt and pepper in a mason jar. Put the lid on and give it a very good shake until everything is completely combined.
At this point, if I was taking this to a party I would cover the bowl in plastic wrap, take the jar of dressing and bring a small container with the feta cheese and chopped basil. Refrigerate everything until you're ready to serve.
When you're ready to serve, add half the feta cheese and basil to the bowl, drizzle the vinaigrette over the bowl and toss until everything is coated in dressing. Sprinkle remaining feta cheese and basil on top. Enjoy!