Whenever we all traveling, I love to pick up a few things to remember our trip by. Instead of the usual souvenirs, I try to find things that we can bring into our home and enjoy on a regular basis. I love being about to see little things every day that makes me think of our adventures. A few years back I blogged about the goodies and souvenirs we picked up on our Honeymoon Road Trip, and I thought it would be nice to do that this time around for the Summer Road Trip we just took.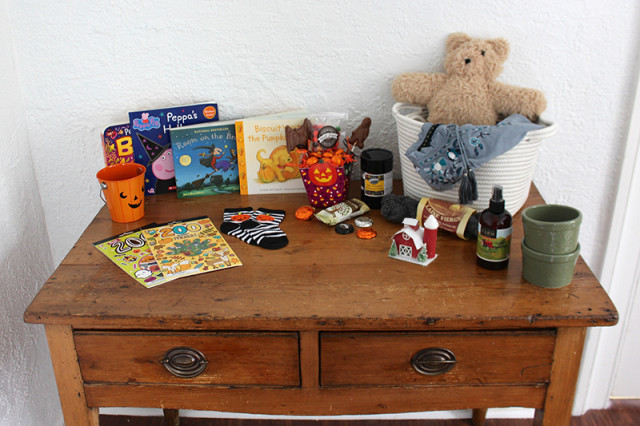 There weren't many things that we needed on our trip but I did like picking up a few things for our house and for the upcoming holidays – Thanksgiving, Halloween & Christmas!!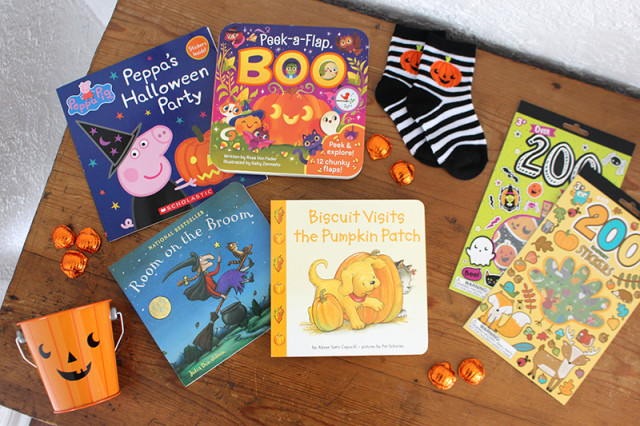 Lucy loves her storybooks, so I grabbed a few new ones when we were down there for Fall/Halloween – Peppa's Halloween Party, Peek-a-Flap Boo, Room on the Broom and Biscuit Visits the Pumpkin Patch. She is just starting to get into stickers right now, so I picked up a Thanksgiving and a Halloween packs from the dollar bins at Target. The cute little pumpkin socks and trick or treat tin are from there too.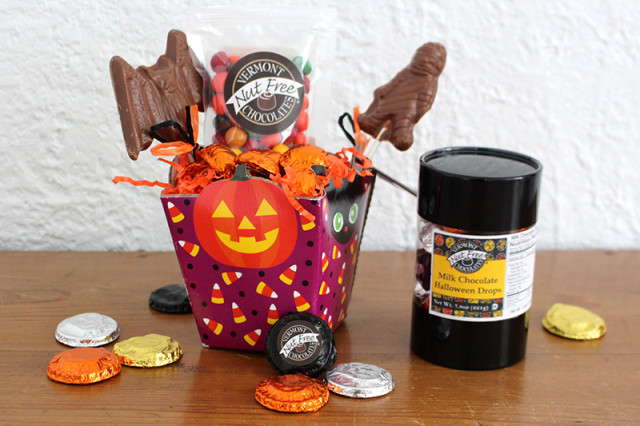 While we were in Vermont, I was so excited to go see Vermont Nut Free Chocolate in person! We picked up a bunch of goodies to enjoy on our trip, and they kindly gave me some of the Halloween treats to try too. I loved seeing all the Halloween treats like their Ghoulish Gift Pack, Halloween Drops, Mini Pumpkins and Halloween Pops. These would be a great gift idea for kids with peanut allergies. Halloween was always such a stressful time as a kid when I was trying to navigate what foods were safe and which ones weren't. I love that they take the guesswork out of that.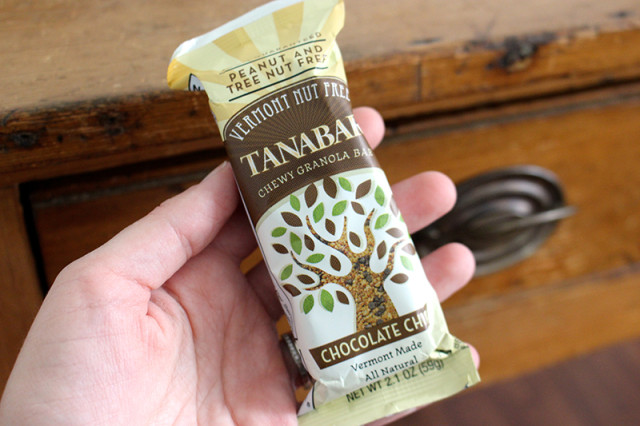 I've always wanted to try their Tanabar granola bars, so I grabbed a few to take with me on busy farmers market days. So good!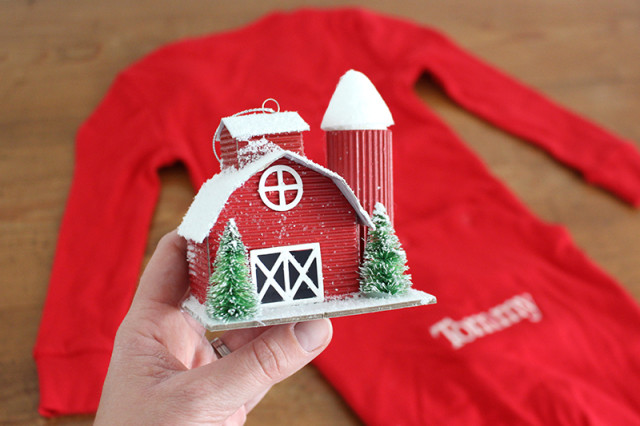 I love to find Christmas ornaments to commemorate our different trips, so I was so excited when I spotted this adorable cardboard barn. Whenever I see it on our tree, I'll think of all the great barns we saw in the countryside on our trip. It was only $4 in the Cracker Barrel Country Store! I also grabbed a few surprises for Lucy's Christmas stocking. I couldn't resist.
The red butt-flap pyjamas behind it are actually for a little Christmas DIY project. They were deeply discounted because of the "Tommy" embroidery on the back, but I'm going to rip it out and then put a cute little destheren their for Lucy.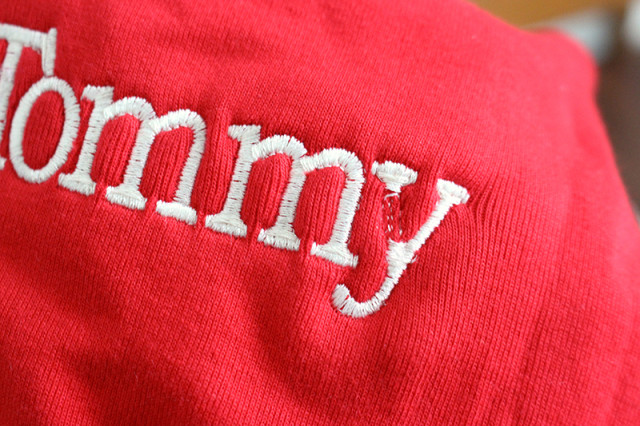 I did a test spot with my seam ripper this week and it was so easy. I'll share the finished product if it works out, ha!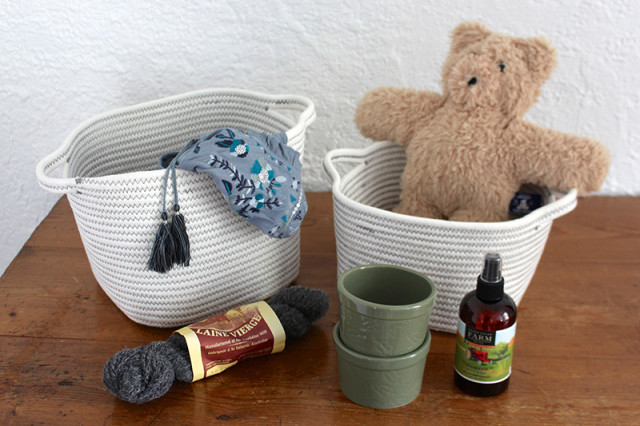 I also picked up a few practical home gifts on our travels. These fabric storage baskets were on clearance at Target and are perfect for corralling some of Lucy's toys. The green ramekins were in the dollar bin and I've used one in the kitchen as a catch-all for little bits-and-bobs that come in the house and the other one is holding my makeup brushes upstairs. The grey wool was from the Village Store at Upper Canada Village. It's made on site at the Woolen Factory using Ontario wool. It's very scratchy though, so I still haven't figured out what I'll make with it just yet. The teddy bear is Lucy's new best buddy from our tour of the Vermont Teddy Bear Factory and the Gardeners Insect Spray was a useful find from Sweet Grass Farms in a boutique in Middlebury, VT. I hope it works when the mosquitos get bad again!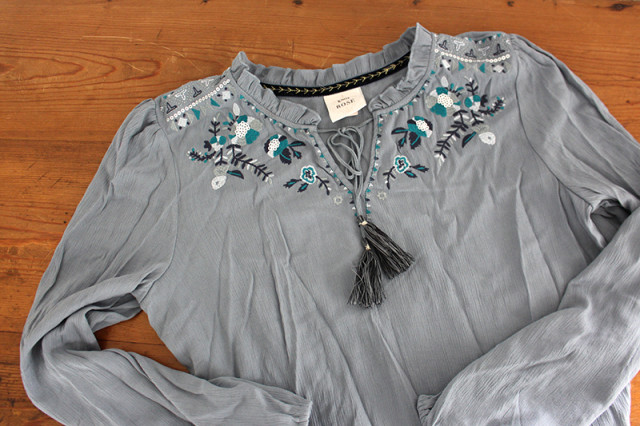 I spotted this cute embroidered chambray shirt with a cute ruffled collar and tassels at Target too. I'm debating wearing it to BlogPodium late this month.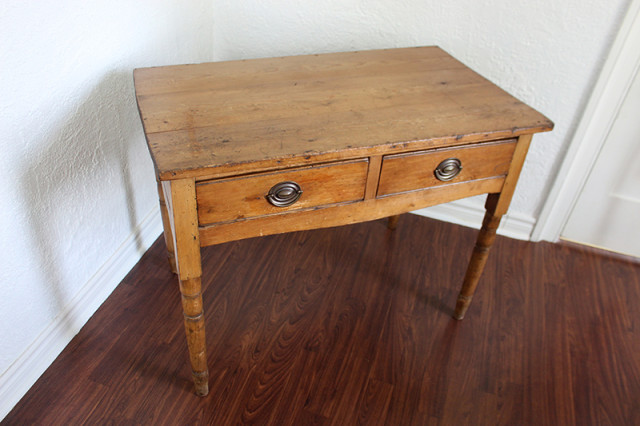 And the table that everything was laying on? That's the best souvenir of all. When we were walking around Chruch Street Marketplace in Burlington, VT, there was a cute little shop closing down. They had a big sign that said 75% off everything. We walked around a little bit and then Garrett asked the shopkeeper if the discount applied to all the antique furniture used as displays. We were shocked when he said yes and quickly started making plans to rearrange the back of our car to fit this in to come home.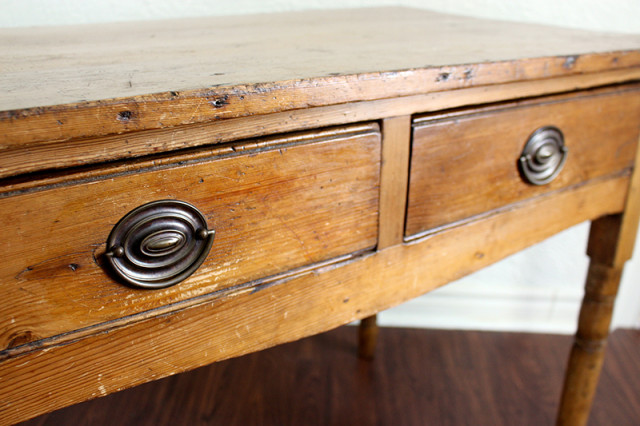 The handles are newer, but everything else looks very old and worn.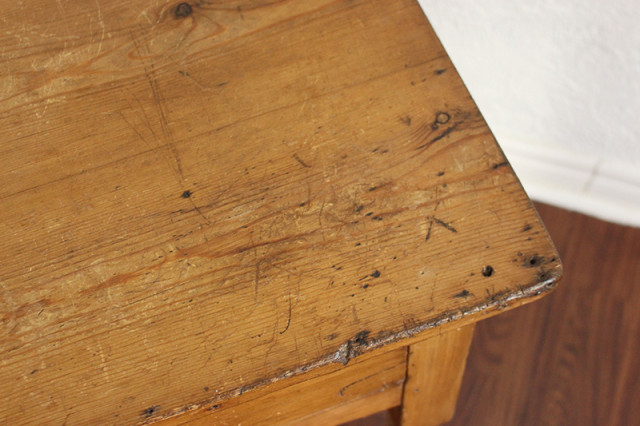 When we came back with the car to pick it up, he told us to look it over and make sure everything was okay because it was beat up in places – but what he didn't realize is that that was the part that we loved the very most. All those bangs and dings and scuffs were part of this piece's story.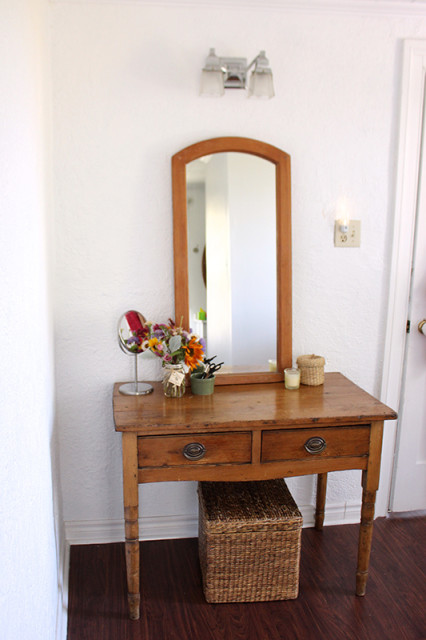 We really didn't know where it was going to go when we got home, but as soon as it came through the door it made me think of this makeup table area in our upstairs bathroom.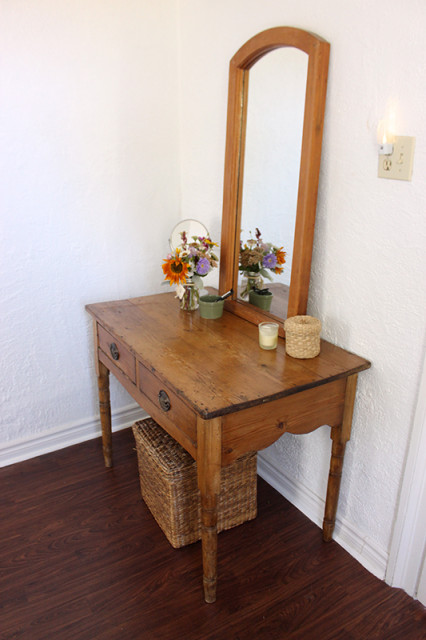 I've always had the mirror there sitting on a little end table, but now I have a proper place to sit to do my hair and makeup. It's great to have a spot we can set things down upstairs that is out of Lucy's reach too, ha! (for now anyways)
I hope you liked seeing some of the things we picked up on our travels! And don't forget to read Part 1 and Part 2 of our road trip last month.