This is a sponsored post written by me on behalf of BarkBox. All opinions are 100% mine.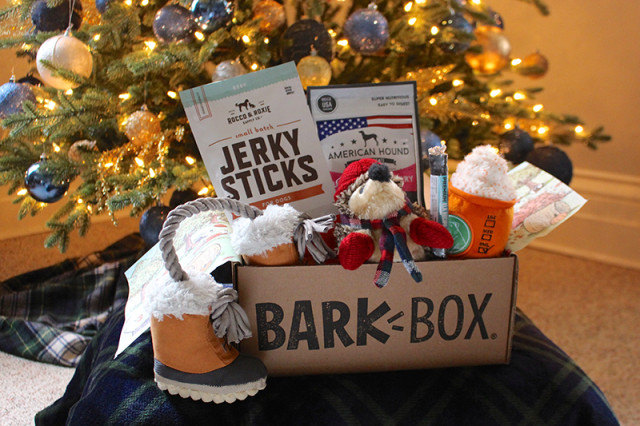 With Christmas fast approaching, I'm looking for something for everyone on our list, including our beloved pooches. This year we're getting Whiskey and Cola a BarkBox subscription to enjoy all year long. Every month, a new BarkBox arrives in the mail with $40 worth of mind-blowing toys and drool-worthy treats, always wrapped up in a fun theme. With subscriptions starting at $20 a month, it's the best way to let your dog know they're part of the family! Each box includes two toys, two treats and a chew, giving them plenty to enjoy each month. This may just change our dogs' relationship with the mailman when they open their BarkBox every month, ha!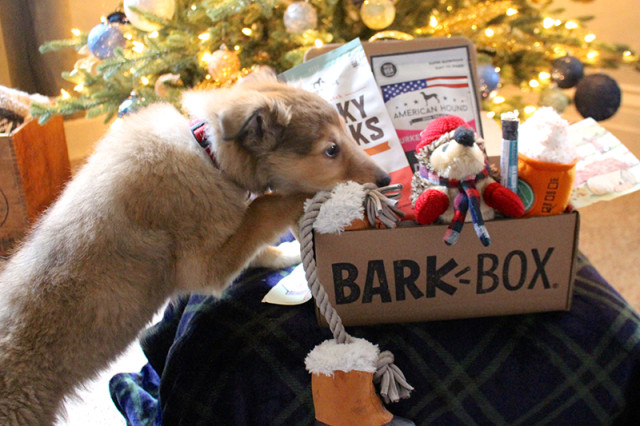 My sister's new puppy, Willow, was visiting when we opened our November box and she jumped right in to check it out. It was an adorable Pupstate Orchards theme loaded with delicious goodies and fun toys, including an adorable hedgie with mittens, a "Puggin' Spice Latte" and super cute "LL Bark Boots". I can hardly wait to let our guys open the December box – I'm sure it will put them right into the Christmas spirit!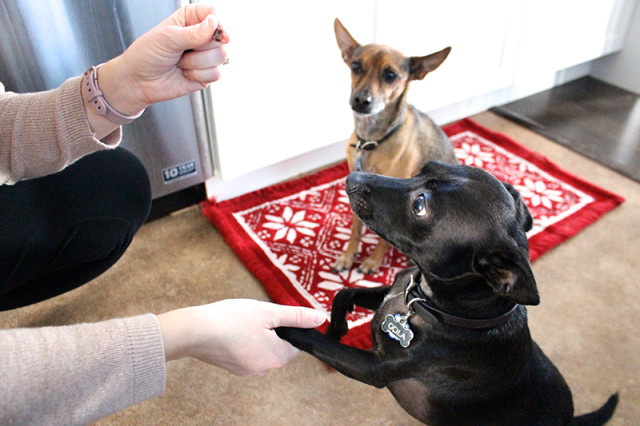 Every month, BarkBox sends the best all-natural treats and chews, and innovative toys to match your dog's unique needs. Our dogs were right into the treats. They're always so good when they know they're getting something new and delicious. With different goodies coming every month, it keeps things interesting for them too. I appreciate the peace of mind that all their treats never contain soy, wheat, or corn, and are all sourced and made in the USA and Canada.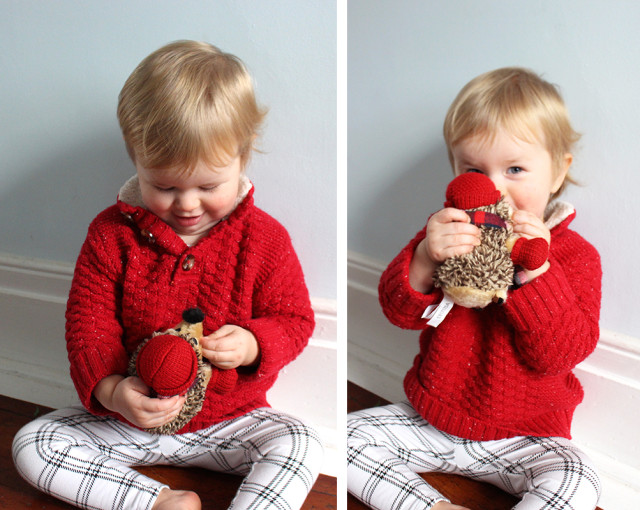 Even Lucy was curious what was in the BarkBox and commandeered this adorable knitwear hedgehog. She kept giving hugs and kisses to the "egg-ogg" as she affectionately called him. All toys are designed in-house, with the very best materials, like safer T-shirt rope, spiky ball cores, and dozens of innovative squeakers.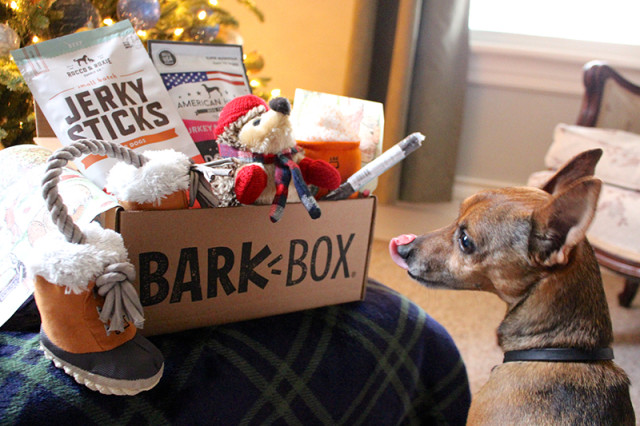 BarkBox delivers tail wags, butt wiggles, and howls of joy to thousands of lucky pups all over! Give the gift that keeps on giving to the pooches on your list this year, with free shipping to anywhere in Canada and the USA. With subscriptions starting at $20, it's like unwrapping a birthday, Christmas, and a crazy dog party every month. I'm sure they'll be licking their chops like Whiskey when they get theirs.