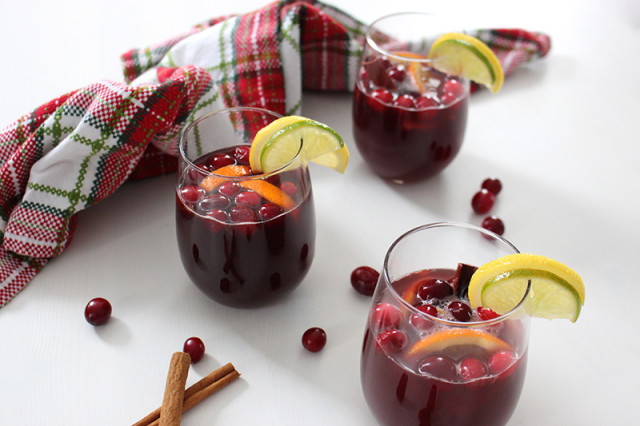 We had a little Christmas party at the farmhouse last weekend for some family and friends, to celebrate the season. I used a few recipes from my Holiday Guide, along with a few new ones, including this festive and colourful Holiday Sangria. Loaded with red wine, fresh fruit, juice and a little spice, this Holiday Sangria is not only delicious but also very easy to whip up before a party.
Sangria is a great sweet wine cocktail that is budget‐friendly and can serve a crowd. I love that you can make the drink ahead of time (it's better that way) and then pull the pitcher out of the fridge just as guests are arriving. Cheers!
Holiday Sangria - An Easy Christmas Cocktail
Author:
Amanda - Life at Cloverhill
Ingredients
1 bottle of red wine cabernet sauvignon, merlot or shiraz
1-1/2 cup cranberry juice
1-1/2 cup orange juice
½ cup vodka
2 cinnamon sticks
1 cup cranberries fresh or frozen
½ pear washed, cored and thinly sliced
½ orange washed and thinly sliced
½ lemon washed and thinly sliced
½ lime washed and thinly sliced
1 can (approx 1-1/2 cups) ginger ale
Instructions
Pour wine into a large pitch.
Add the juices, vodka, cinnamon sticks and fruit; and give it a stir.
Cover the pitcher and then put it in the fridge for at least 4 hours to allow to flavours to develop.
When you're ready to serve, add the ginger ale and stir gently to combine.
Serve extra fruit slices and cranberries as a garnish.