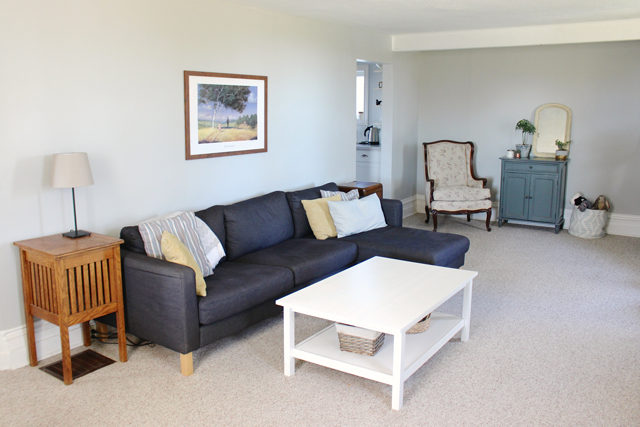 Life can be funny. Prior to having children, I often thought "when I have kids" I wouldn't have a house full of bright colourful toys. Flash forward almost two and a half years and we have plenty of loud and bright toys, many of which I willingly purchased. You realize children need vibrant, visually stimulating and interesting environments. But at the end of the day, when everyone is in bed, I like to take back the living room.
We absolutely love our farmhouse but the reality is that there is no finished basement or space for a playroom. I also like to have Lucy playing nearby when we're downstairs, which means there are always toys in our living room. Toy clutter with a two year old is unavoidable for us and now that we've got two kids (even though one is only two weeks old), I know we're only going to accumulate more.
Recently I've made a few changes to how we organize our toys and it's been a huge help in taming the mess. Here are five ways that I help control the toy clutter in our living room, and throughout our house.
Find the Right Storage Solutions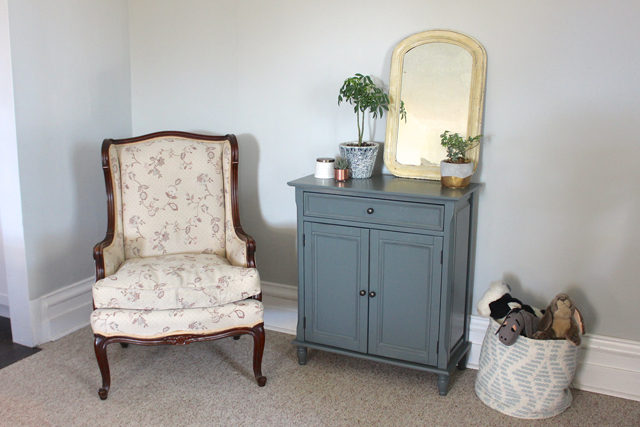 For the longest time I just had all the toys in baskets around the living room, which inevitably led to them being dumped or overflowing all the time. That's when I got the idea to store most of the toys we keep in our living room in a cabinet.
I was able to find the perfect accent cabinet on Wayfair.ca to fit in our living room. They have a great variety of styles and sizes to choose from and I loved this cornflower blue cabinet that was deep enough to store the toys without taking up too much space. It hides so much more than you'd expect, and the best part is that we now have a great space to tuck all the toys away.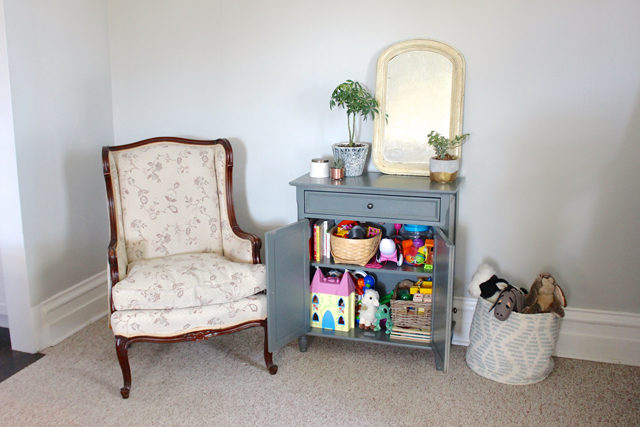 I use baskets to corral smaller toys inside the cabinet and a larger basket outside for the stuffed animals.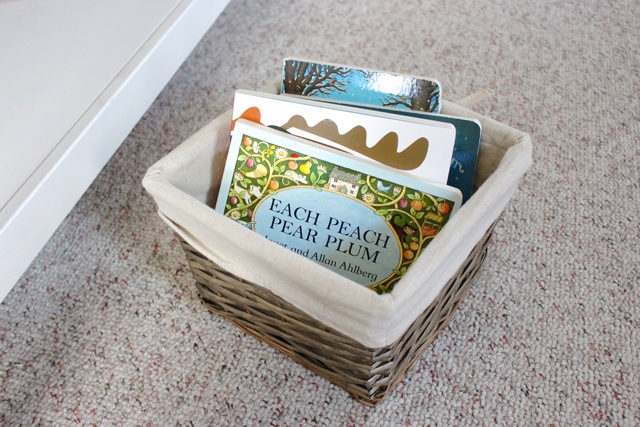 I also keep a couple small baskets under our coffee table to store books and toys to keep Lucy occupied if I'm nursing Rosie on the couch. Our larger toys like the pop-up castle tent, play tunnel and car mat are all rolled up and tucked under the couch. We usually will bring them out for a couple days and then put them away when Lucy starts to get bored of them again.
I don't mind having toys around, especially during the day when we're playing, but it's great to have storage solutions so that we're not always tripping over everything.
Rotate Toys Out
You'll notice that for a house with kids around we really don't have many toys out and there is a reason for that. I've found that Lucy gets bored of certain toys over time, so by rotating them out I'm able to keep the toy clutter down but also make her older toys feel like new again.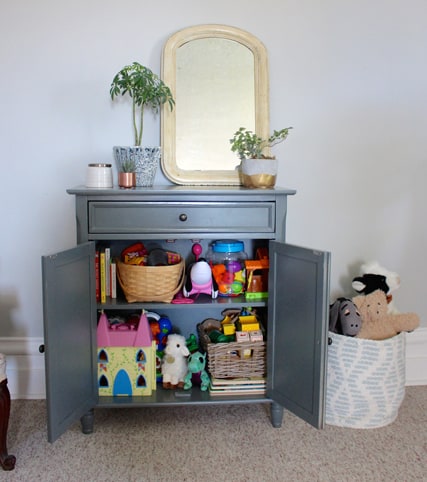 We keep about half of her toys down in the living room and then the rest are in baskets in the reading nook in our upstairs hallway. Eventually I'd like to have the toys in the girls' bedrooms, but right now Lucy still tries to play with her toys at night.
Spread Toys Around the House
I've found that by having toys spread out in a few different spots in the house it means that we have something to play with wherever our day takes us.
I keep a basket of books and a few toys in our master bedroom in case I'm trying to keep the kids occupied while I'm putting away laundry, making the bed, etc.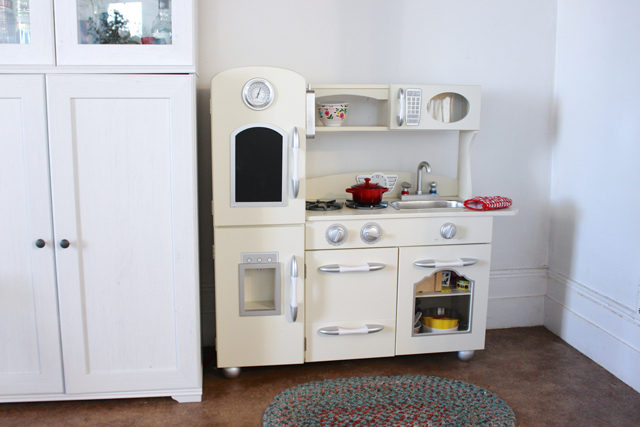 One of Lucy's favourite activities is the play kitchen (which we found on Wayfair.ca for Christmas last year) which we keep in the corner of our dining room. She has really enjoyed it and loves to play there while I'm cooking away in our own kitchen, or working on something at the dining room table.
Purge – Store, Give Away, Lend Out or Donate
When Lucy has outgrown certain toys, I've put them into storage knowing that Rosie will likely use them someday. I've also lent some toys out to friends who could use them in the meantime and I'll donate things when the time comes that we don't need them anymore.
Clean Up Every Day
Clutter of any kind tends to pile up quickly (just ask my kitchen counters!) but I find nothing multiplies quite as fast as kids' toys. It's like a toddler tornado goes through the room and pulls every single thing out.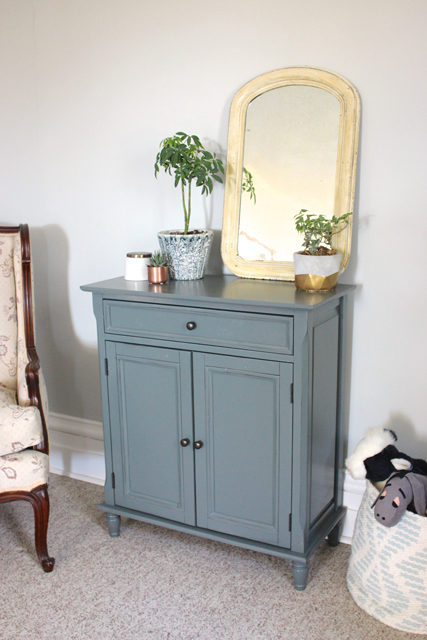 I've found that doing an evening clean up before bed helps keep things tidy and makes it easier to keep things grouped together, like all the animals for our little barn, before they have the chance to spread out through the whole house. This means that when we have company popping by it isn't as chaotic trying to get the house cleaned up. Having a dedicated place for them to go, like our cabinet from Wayfair.ca, makes clean up even easier – we know exactly where everything lives. Being able to shut the cabinet doors at the end of the night and enjoy a toy-free living room for us adults is such a treat. Even if we're just hanging out for a movie night, it's nice to be able to do that without toys scattered everywhere.
I hope you've found my tips and tricks for managing toy clutter helpful. If you have any other suggestions, please leave them in the comments below! 🙂
Disclaimer – This post was generously sponsored by Wayfair.ca. All thoughts and opinions are my own.