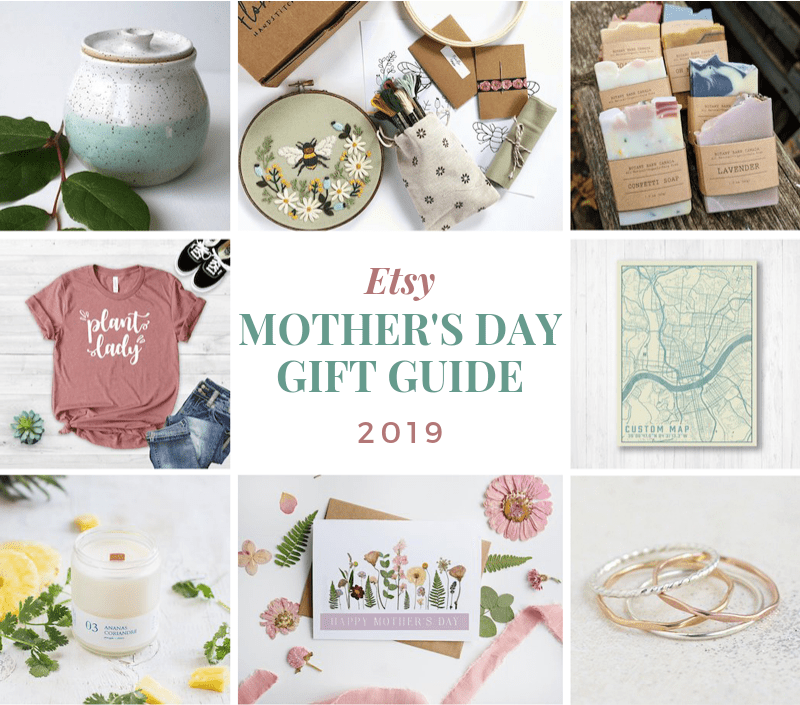 Happy Sunday! I don't usually post on the weekend but I was on Etsy last night, looking at their Mother's Day gift ideas and I found some cute things that I just had to share, including quite a few from Canadian artisans. With Mother's Day just around the corner, it's always nice to think of special gifts to show the women in our lives how much we appreciate them. I hope it will help you think of little ways to celebrate our mothers, grandmothers, mothers-in-law, moms-to-be and mother figures.
Handmade Pottery Sugar Jar – Rather than giving a mug, this beautiful handmade sugar jar from Wildflower Colour & Clay in Manitoba is a nice break from tradition. Paired with a creamer, it would make a great set for any coffee or tea lover in your life. The rustic speckled design pops against the glossy white glaze, with just a touch of soft teal.
Bees & Flowers Embroidery Kit – Everything is included to create this beautiful hand embroidered design from Floral and Floss in Alberta. With delicate daisies and the prominent bee, it's beautifully whimsical and fun.
Organic Artisan Soap – These natural handmade soaps from Ontario are so colourful and the scents sound fantastic. With no artificial fragrance oils, no palm oil, and no excessive packaging, these are a great eco-friendly choice.
Custom Vintage City Map – Create a custom piece of art highlighting her favourite city or travel destinations.
Stacking Mixed Gold Rings – Stacked together or on their own, these delicate mixed gold rings are a lovely modern touch.
Pressed Flower Mother's Day Card – Ok, so this beautiful card made me think so much of our Cloverhill Flowers field that I couldn't resist adding it. Created by a lovely artist in a rural community on the East coast of Nova Scotia, she has perfected the art of pressed wildflowers and foliage, paired with tasteful graphic design.
Pineapple-Coriander Candle – A fresh summery scent to welcome the warmer weather. The clean and simple design of this candle from Quebec would fit into any decor, and the wood wick is a nice touch too.
Plant Lady T-Shirt – This shirt basically says "if you need me, I'll just be in the garden until the frost comes back". Yes please!
I hope that these give you some fun ideas to show the ladies in your life how they are loved, celebrated and appreciated on Mother's Day!
This post contains affiliate links, which allows me to make a small commission from your purchase, but your purchase price stays the same. When you use these links, I'm able to keep this blog going – thank you for your support!