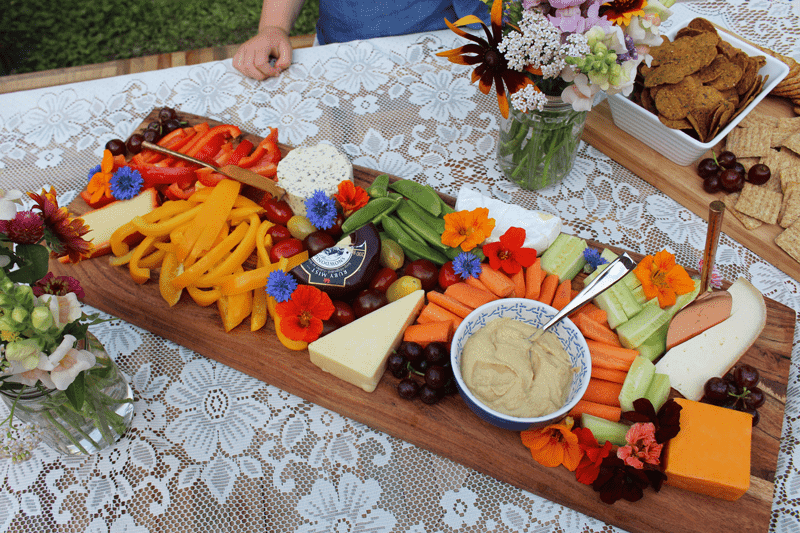 Charcuterie Boards have become a popular appetizer these days and with good reason. These mixed cheese and meat platters require minimal effort but are big on flavour. You can combine whatever elements you like – artisan cheeses, cured meats, gourmet crackers, seasonal vegetables – to create the perfect spread to casually serve to your guests as they socialize. Did you know that you can also decorate your charcuterie board with edible flowers? It's a fun and unexpected way to add colour and texture to your display.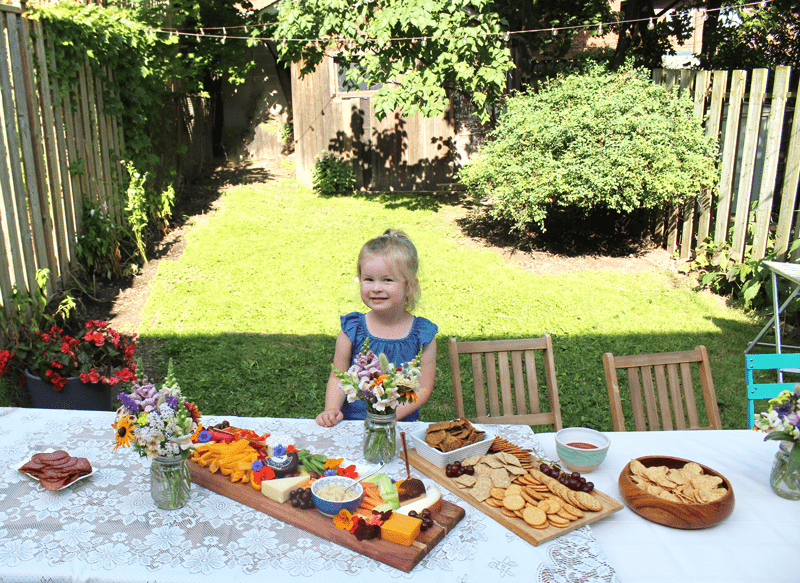 Last weekend we celebrated my mom's birthday at my sister's house and she served up a great charcuterie board. My contribution to the pre-dinner spread was bringing some edible flowers from the flower field to arrange on top.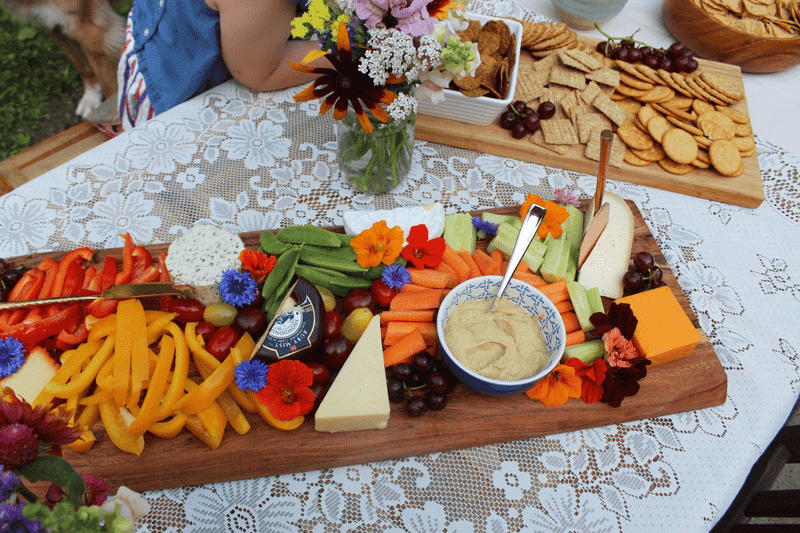 We all loved how well it turned out, with the colourful flowers and vegetables, nestled in amongst the rich cheeses, meats and dips. The best part is that you can prep most of it ahead of time and there is no need to put anything in the oven – making it perfect for summer bbqs on the patio.
How To Choose Edible Flowers for your Charcuterie Board
Whenever you're adding edible flowers, you need to always make sure that they are actually edible. Anyone who sees them on your charcuterie board will assume that they're safe to eat, so it's important to check that they are before serving them up to your guests.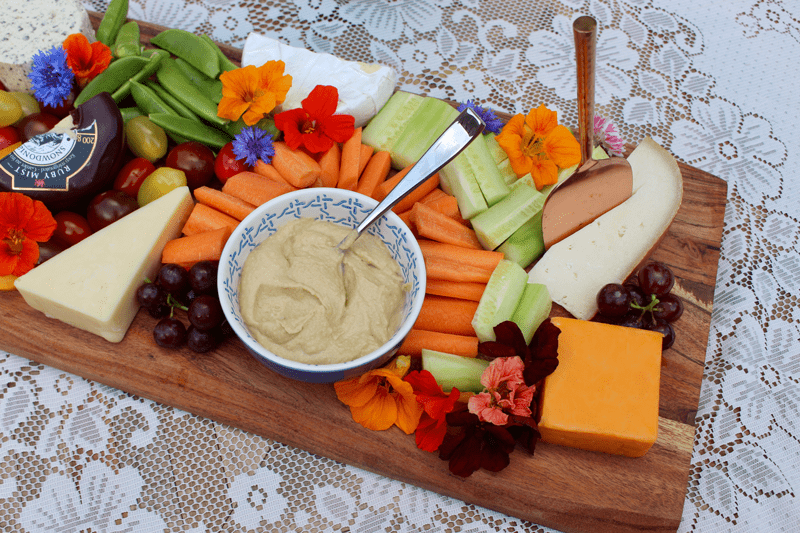 The most common varieties that we grow and use at Cloverhill Flowers are nasturtiums, zinnias, bachelor buttons and calendula. You can also use flowering herbs like basil, lavender, chives and dill. It's important to also check that they've been grown without the use of pesticides. Most flowers brought into florist shops and grocery stores have been treated before they made the big trek to the store. In our flower field, we go completely chemical free and we try our best to source out only non-GMO seeds. Always ask your florists of farmers market vendor how their blooms have been treated.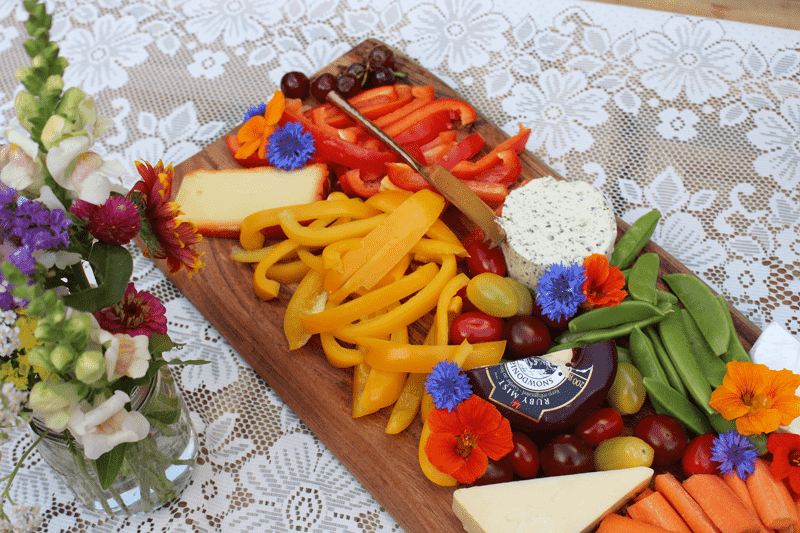 When preparing your charcuterie board, arrange the flowers on the top as the last step before you serve it, to keep any delicate blooms from wilting. I keep the flowers in a short glass on the counter or in the fridge and then snip the stems off before arranging them.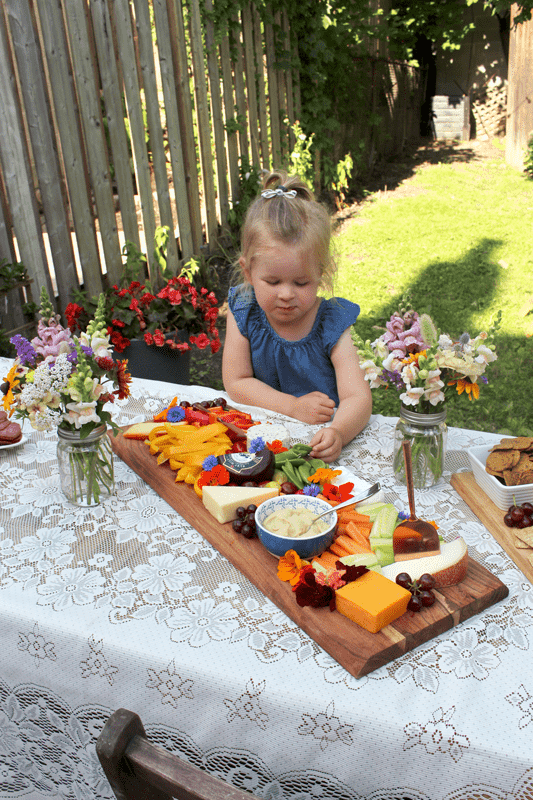 What to Serve on a Charcuterie Board
The best charcuterie boards have an assortment of different tastes and textures, and you can find all kind of options to fit any budget too. Keep in mind that cheeses should be brought to room temperature before serving (set them out one hour before), while meats shouldn't be out of the fridge for longer than two hours.
It's a good idea to pick an array of flavour options – from strong to mild and a few in between to suit everyone's tastes. The best part of a charcuterie board is that guests can pick the things that they like, so it's helpful to have a little bit of everything!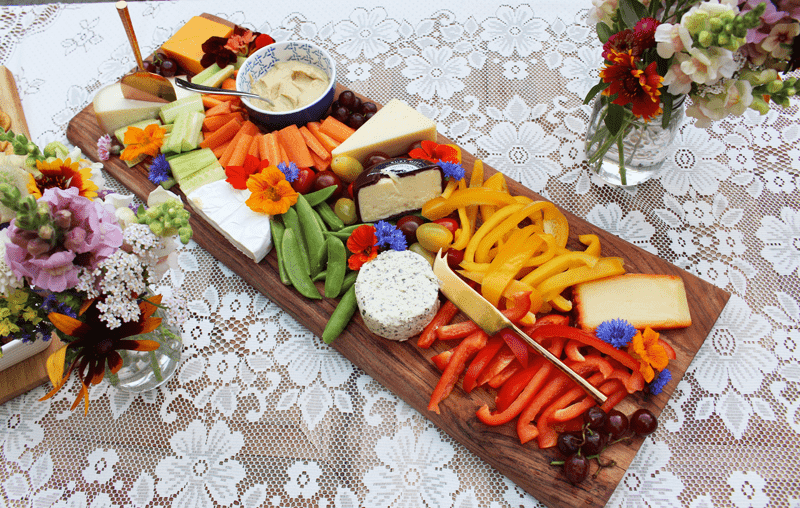 Hard Cheese: their sharper flavour and firm consistency helps them hold up well on a platter. Try adding a few different ones such as extra old cheddar, mild gouda, hard Parmigiano-Reggiano and something different like a smoked or wine infused cheddar, Pre-cutting them can lead to oil droplets on the surface, so it's best to have a sharp knife or cheese slicer to allow guests to help themselves.
Semisoft Cheese: these usually have a creamy centre and a harder edible rind, such as brie or Oka.
Soft Cheese: smooth and creamy, best served alongside crackers or baguettes. Try a soft goat cheese like chèvre, or a flavoured one like Boursin.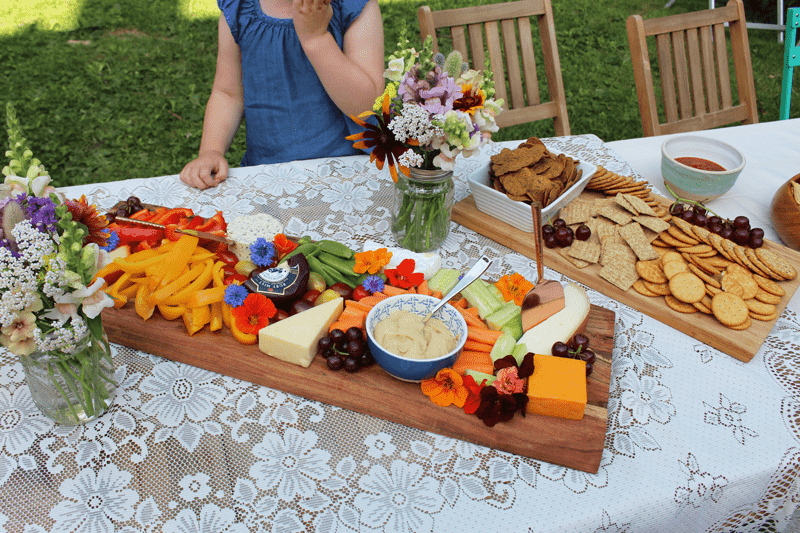 Cured Meats: serve up a variety of different means such as Italian salami, Spanish chorizo, prosciutto or even little smoked sausages. If you have vegetarians, you can keep the meats on a separate platter to reduce the chance of them touching.
Crackers: pick several varieties that do not overpower the cheese and meats. A good gluten free option is always appreciated too.
Bread: sliced baguette or toasted crostini pair well with most flavours.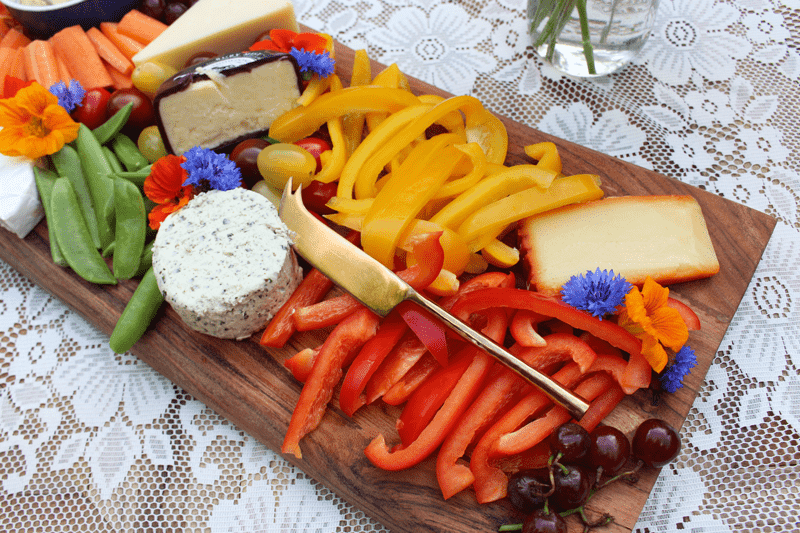 Fresh Vegetables: to balance all the heavier meats and cheeses, add some crunchy veggies such as pepper strips, cucumber spears, plump cherry tomatoes, sweet summer peas and crisp carrot sticks.
Fruit: Grapes, figs, oranges and berries all look great, but don't forget dried fruit too, such as apricots.
Dips & Spreads: hummus, red pepper jelly, mustard, honey/honeycomb, jams and seasonal chutneys all lend themselves well to a mixed board.
Briny Bits: olives, pickles, gerkins and pickles green beans are all a great addition.
Optional: dark chocolate, nuts, seeds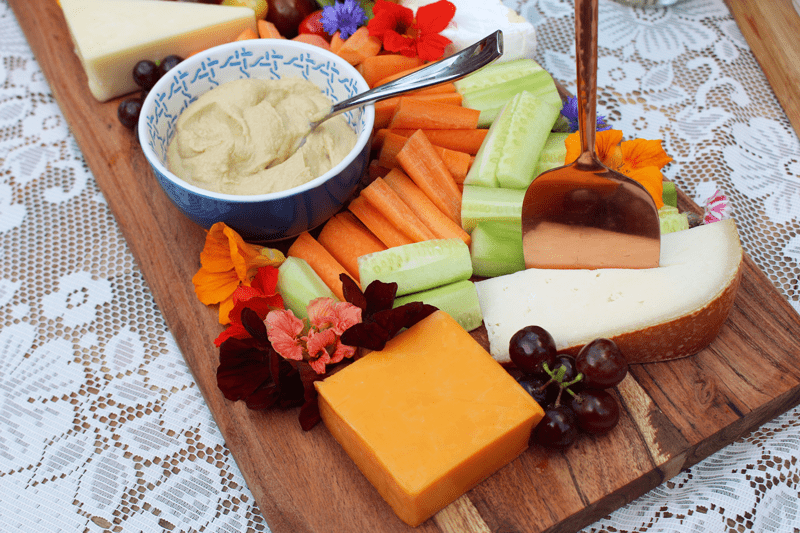 How to Arrange your Charcuterie Board for Vegetarians and Gluten Free
In our extended family, we have several dietary requirements to accommodate from my nut allergy to a gluten allergy and a few vegetarians. Usually a charcuterie board is made with everything arranged on one platter together, but we can't do that without risking cross contamination.
The easiest way to deal with this was to put all the cheeses, vegetables, spreads and edible flowers onto the main platter, as we knew they were safe for everyone.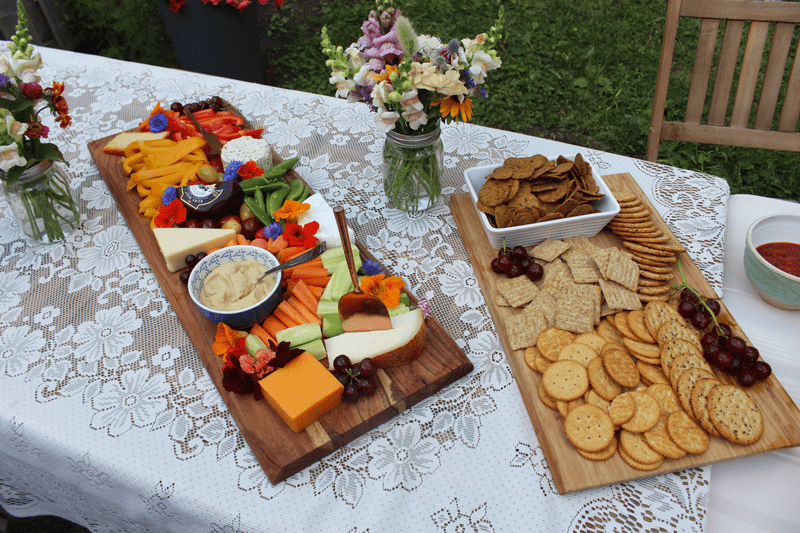 The crackers were all kept on a separate platter. Then there was a smaller plate with the selection of cured meats and another for the gluten free crackers. It still looked like a huge spread, but it made sure everyone had a chance to enjoy it without concerns.
Whenever you have anyone coming with an allergy, it's a good idea to keep out any packaging for them to read the ingredients as well.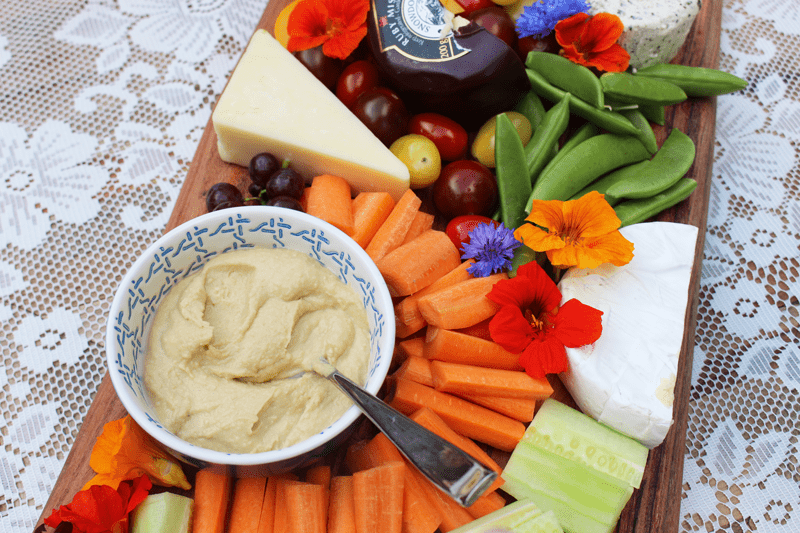 I hope this inspires you to create your own charcuterie board the next time you have company over. And to try edible flowers too! It's such a great make-ahead pre-dinner spread that is sure to delight your guests. The best part is that you can mix and match what you like or have access to in your area.
More Ways to Use Edible Flowers