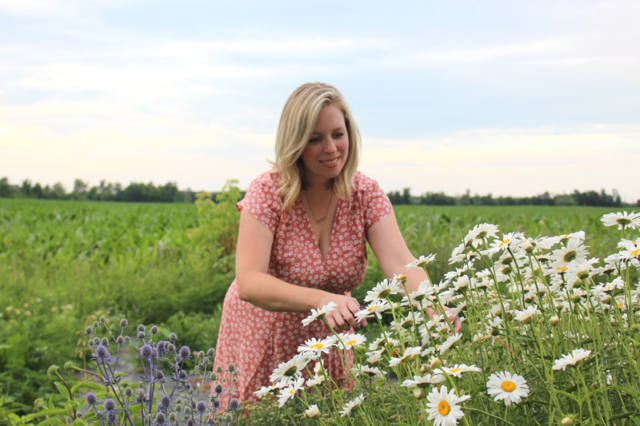 A little while ago, I put a call out on Instagram Stories for any questions out there about our Cloverhill Flowers business. The most commonly asked question was how did we end up doing this in the first place. I realized I probably haven't really shared the story for those who haven't been following along from the beginning. How did I go from having an office job in the city to spending my days in a flower field? More often than not, I've got my hair tossed up in a pony tail with a baseball hat on, an old t-shirt and some dirt-stained sweatpants, while I bat the mosquitos away. I had my hair washed and a nice dress on the other night, so I kindly asked Garrett to take a few photos in the field. 🙂 Now…onto how this whole crazy plan started…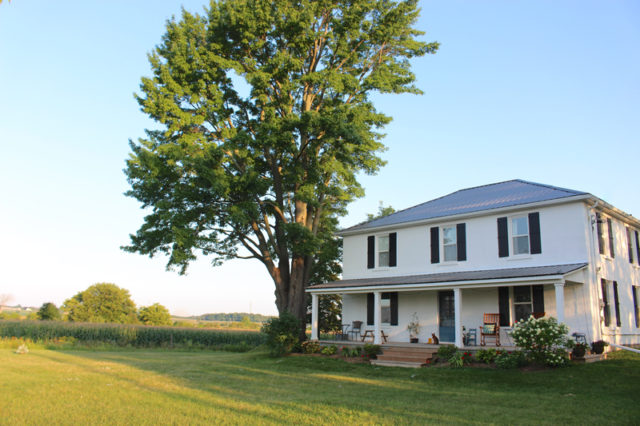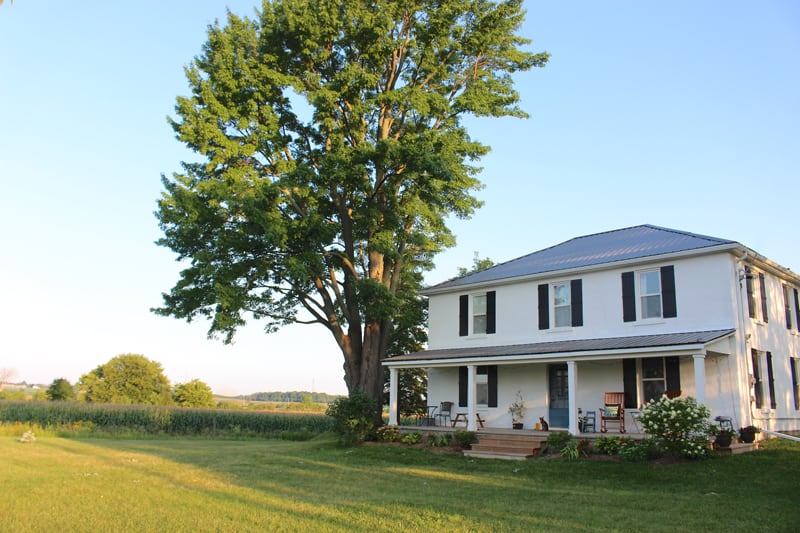 Back in 2015 Garrett and I bought Cloverhill Farmhouse – our 1903 Georgian farmhouse out in the country. Once the new survey posts were put in, we realized that we owned over a quarter acre of cultivated farm land that needed to be planted up or it would turn into weeds. While the rest of us worked on the exterior restoration, my mother got thinking about what we could do with that piece of land. She helped me plant some red clover as ground cover and then we tossed in the last of our wedding favour seed packets. We were so excited when things started to pop up and it got the gears turning in her head.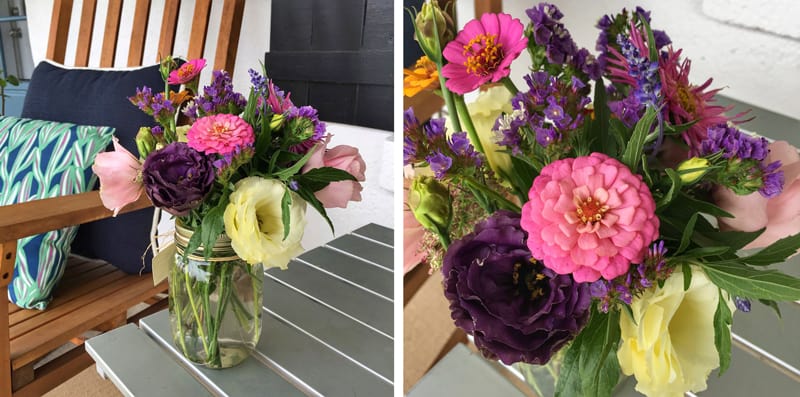 My mother, who is a florist by trade and had her own shop before having kids, was the one who got the idea to start our business. We couldn't believe how well everything grew that summer, without any help whatsoever. The next year, while I was on maternity leave with my first baby, we started growing some cut flowers to sell at the local farmers market. It began slow with just a handful of varieties, but it gave us the motivation to pursue this further.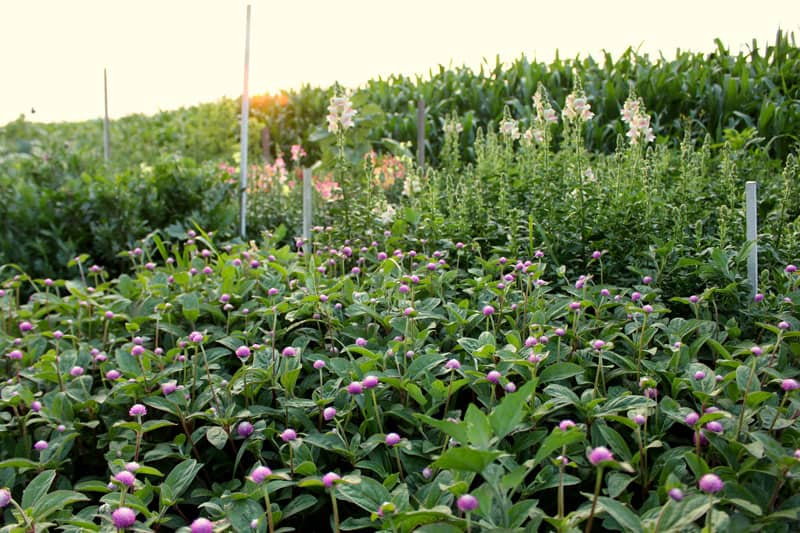 The following summer, we decided to give Cloverhill Flowers a real go. We read books all winter on what methods we wanted to try and we invested in our equipment, seeds and supplies. I extended my maternity leave to stay home one more summer, with the hope that the business would do well. We sold our blooms at the farmers market, a couple retail locations and even to local florists. It was a great success and ultimately between the flower business and this blog, I decided to quit my job and run the two business at home.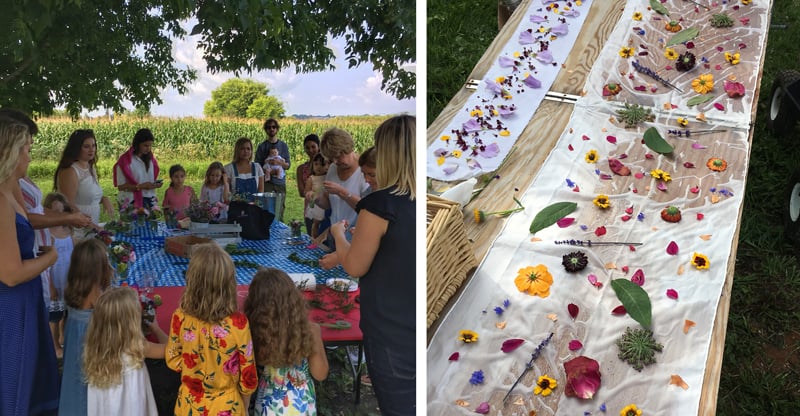 The success also prompted us to grow even more the next year, with a larger field and more varieties. We also expanded our business to include what is now my favourite part – workshops! Getting to share our love of flowers with others while teaching them new creative skills has been a great joy. We had our first off-site workshop of the season the other night and it felt so good to be back at it – carrying buckets and buckets of flowers into the venue and then seeing everyone head home with their creations at the end of the evening.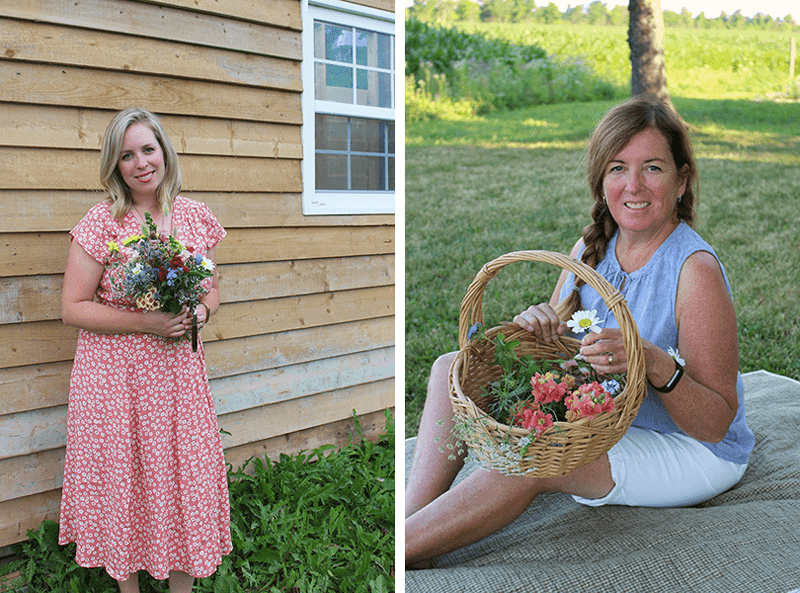 The greatest gift has been working with my mom on this business. We see each other almost every day, while we weed, harvest and arrange our flowers. There can be busy and stressful mornings somedays but usually it's so encouraging to see the things that we plotted and debated about all winter, finally come into fruition in summertime.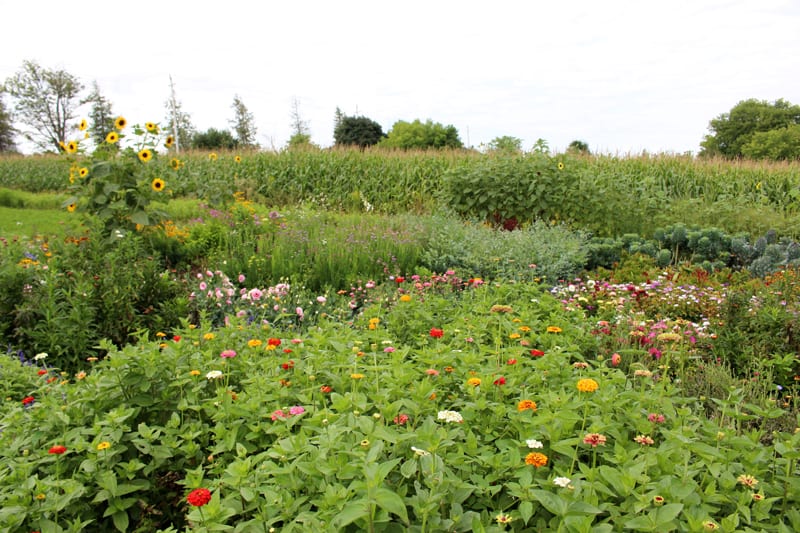 This little flower business has also helped us connect with so many fellow farmers, creative people and supporters of agri-tourism in our community. We're always meeting new people and developing connections.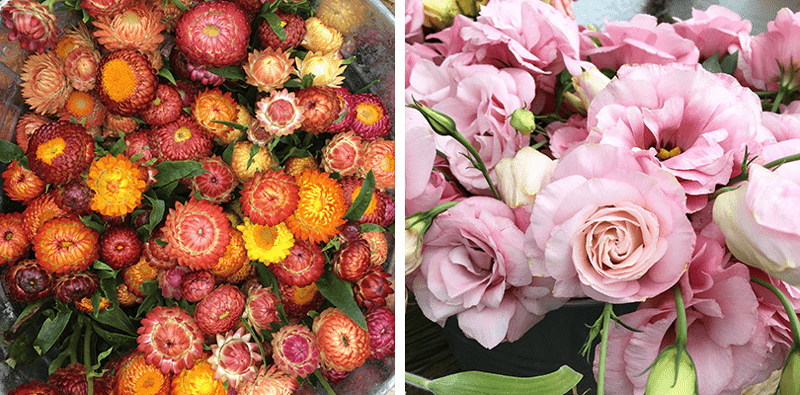 It's pushed me to educate myself on many new skills as well. From how to cultivate the best blooms to different ways to arrange flowers, I'm constantly learning. I've read books on flowers, and drawing inspiration from other flower farmers and designers on social media. But like any new endeavour, I've mainly learned from my mistakes in the field and in the vase. There are some nights that I even have dreams (or nightmares, ha!) about what we've got going on back there. Last night I kept worrying at 3am that I'd left the sprinkler hose on. (I hadn't!)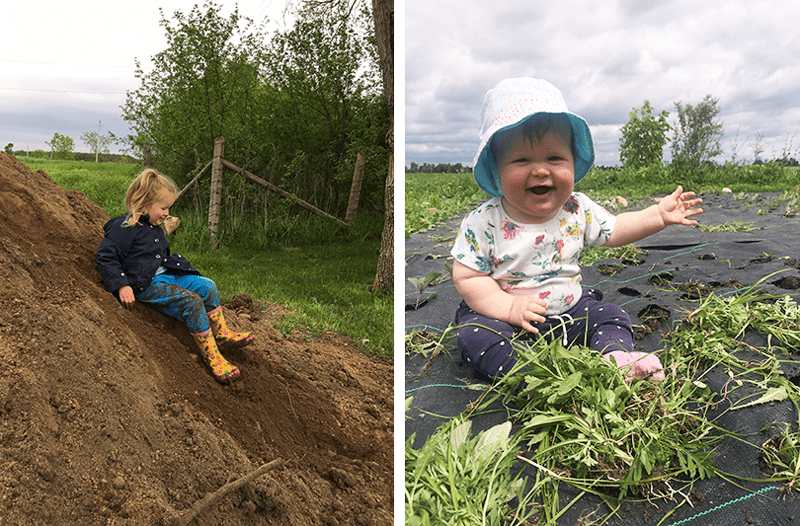 A huge motivation to continue the business is also the lifestyle it gives us and our two little girls. They get to spend most mornings out in the flower field, playing in the dirt, with butterflies, birds and bees flying around us (and occasionally a chicken who has gotten loose too). I'm also glad that these two get to see their mother and grandmother working hard on something they love – and the rewards and joy that can come from doing something that inspires you everyday. We have lots of family and friends that help out in the field or with watching the kids, so they're also getting to spend time with them too. It's a real team effort over here at Cloverhill Flowers!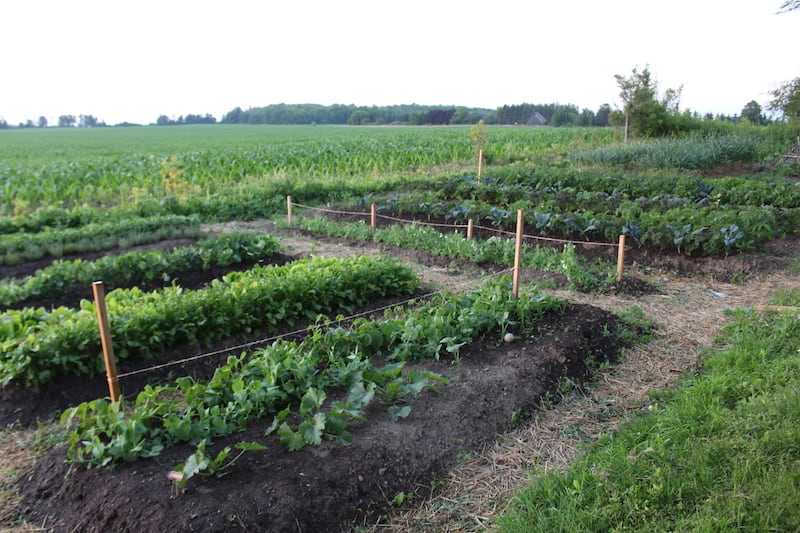 On the far end of the field, we have the big vegetable patch. It's looking better than ever thanks to Garrett's resourceful uncle – and we're all getting to literally enjoy the fruits of our labour. It's been giving us a bountiful crop of vegetables so far and we're not even halfway through the season.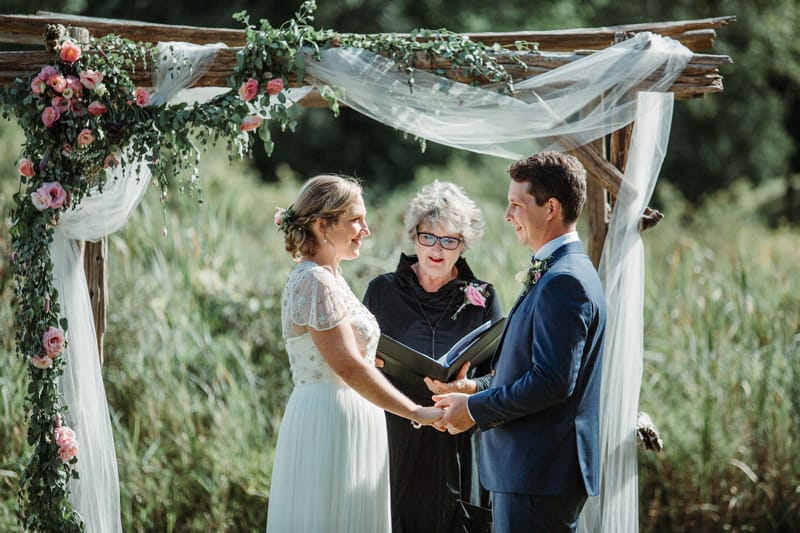 Having our own flower field means we get to spoil friends and family with spontaneous bouquets and arrangements, while filling our own homes too. Last summer we even got to use our flowers to create some really special pieces for a family wedding and we are planning out another one for a dear friend this year. We don't usually do weddings for the flower business, but it's nice to put the harvest and skills to work for a loved one's special day.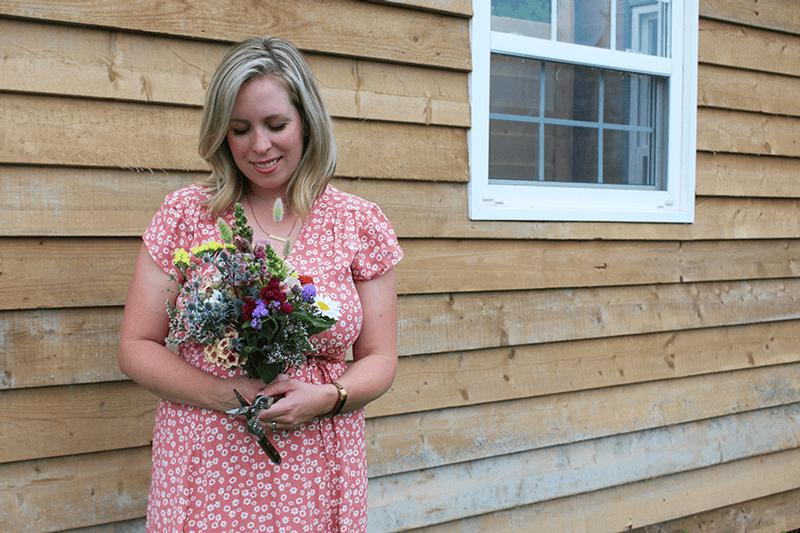 There is so much more to a flower business than just "playing with flowers all day", but the hard work and perseverance is worth it to see our blooms giving others joy. Each hot summer day (do we need to water?) and big rain storm (will we get hail?) can make me worried, but the ups and downs are part of learning that every single year is different. When I walk out in the morning and see that new blooms have popped up in the field, I immediately puts a smile on my face. Some years a certain flower might fail and another year it flourishes. The seasons turn and we are always learning more, brainstorming new ideas and growing together.
Check out the last few years in the flower field: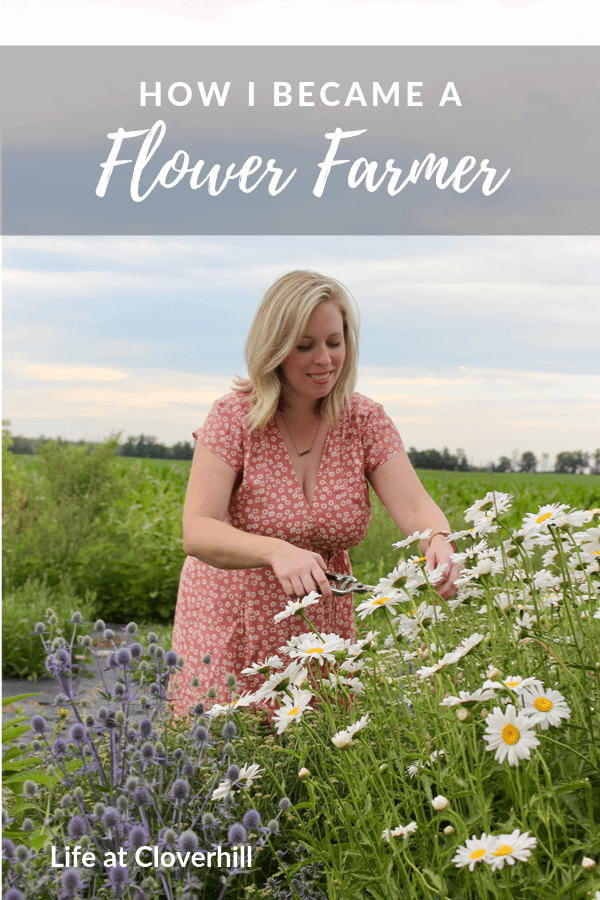 Image #10 by Arden Wray