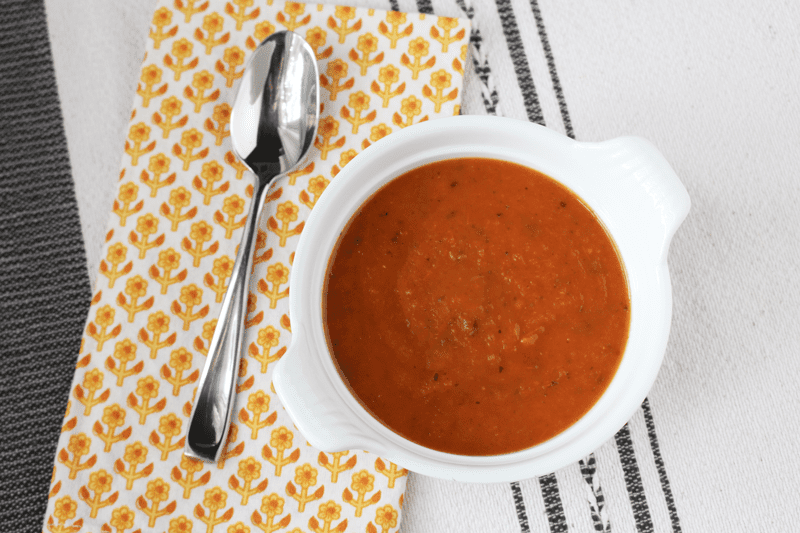 On a cool autumn day, there is nothing quite like a big bowl of creamy Roasted Tomato Basil Soup. Made with fresh tomatoes, herbs and vegetables, it's a great way to celebrate the harvest season.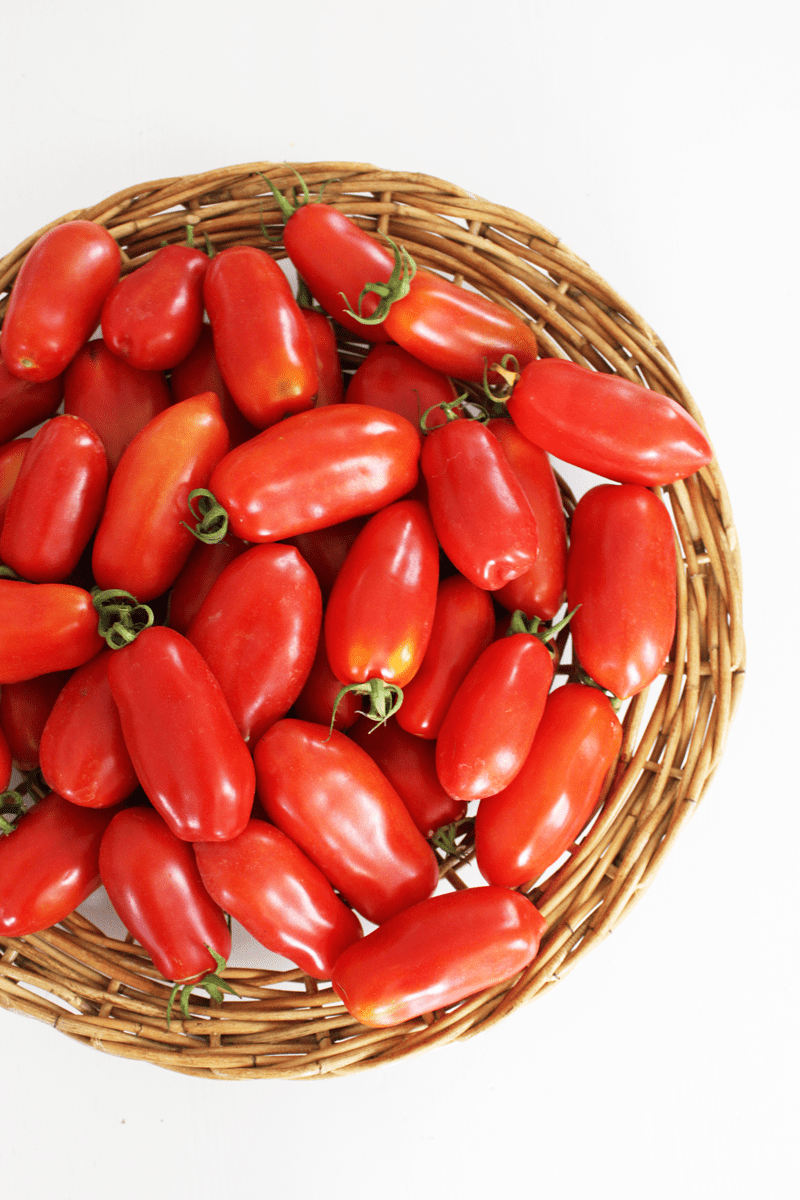 This summer we grew Organic San Marzano tomatoes in our vegetable garden for the first time and have had an amazing crop. This Old Italian variety of plum tomato is world renowned for it's low acid, sweet flavour and bright red pulp – making it a perfect tomato for soup and sauces.
I've harvested and processed somewhere around 40 lbs of these tomatoes from the garden already and we still have lots of green ones out there ripening on the vine. I've bought canned San Marzano tomatoes for years (they're my go to!), so it's been a real treat to have them coming right from our backyard this summer. A big pot of Roasted Tomato Basil Soup has been a great way to use them up!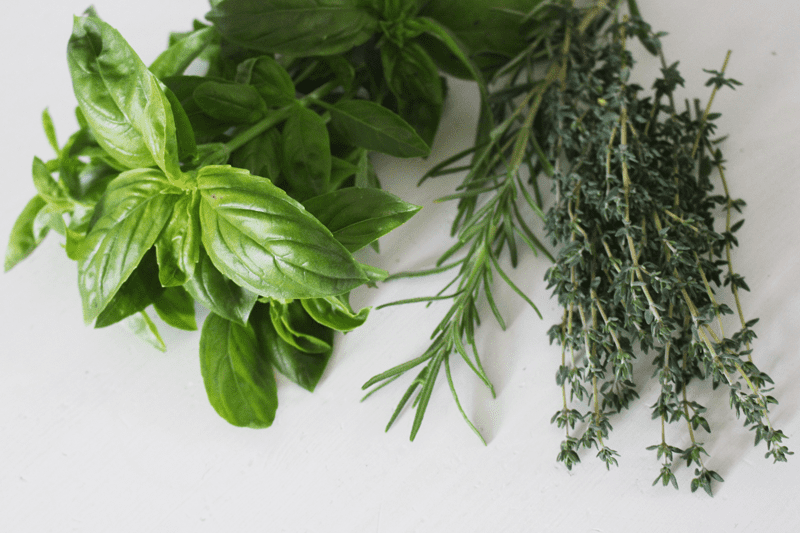 This soup also calls for fresh herbs we have in the garden too. Nothing like clipping a few bundles of basil, rosemary and thyme and bringing them into the kitchen. The aroma is unbelievable.
Then of course you have the lovely smell of Roasted Tomato Basil Soup  simmering on the stove. It wraps you up like a warm hug on a cool fall day.
Roasting San Marzano Tomatoes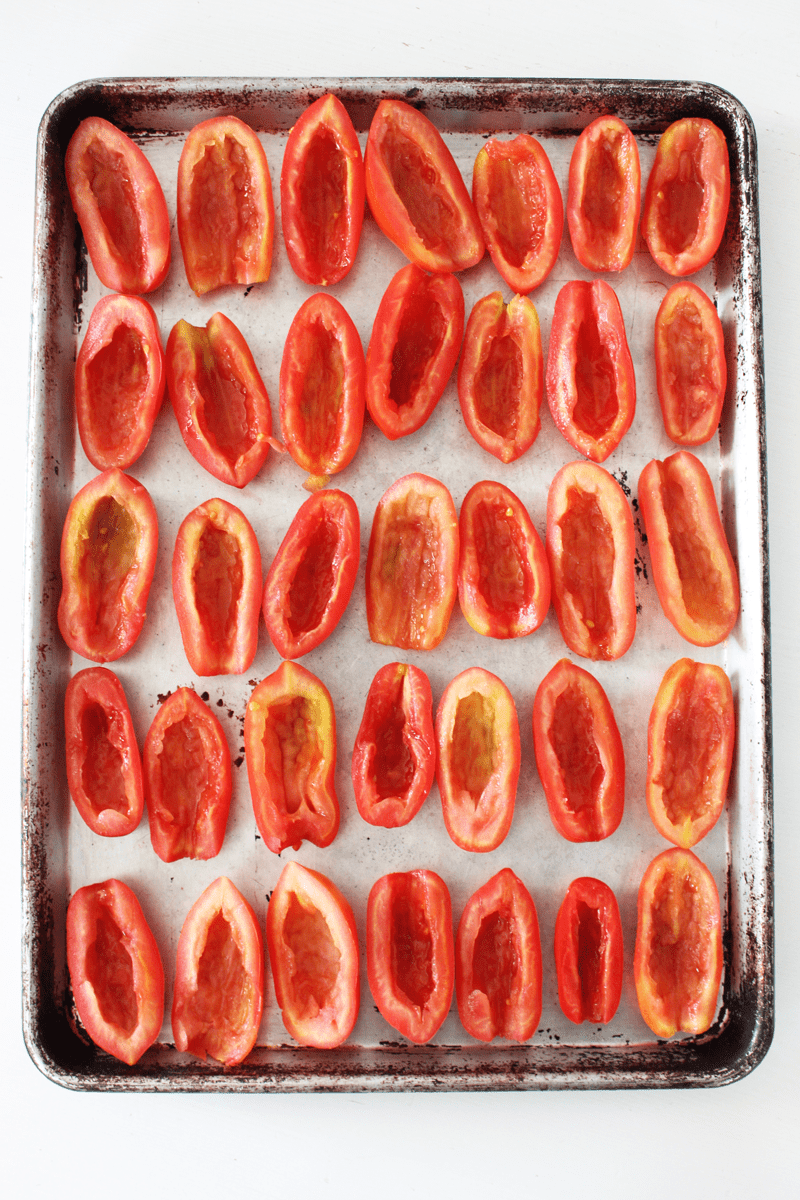 Roasting the San Marzano Tomatoes helps develop its rich flavour. They're so easy to prepare too – just slice in half lengthwise and use a small spoon to scoop out the few seeds inside.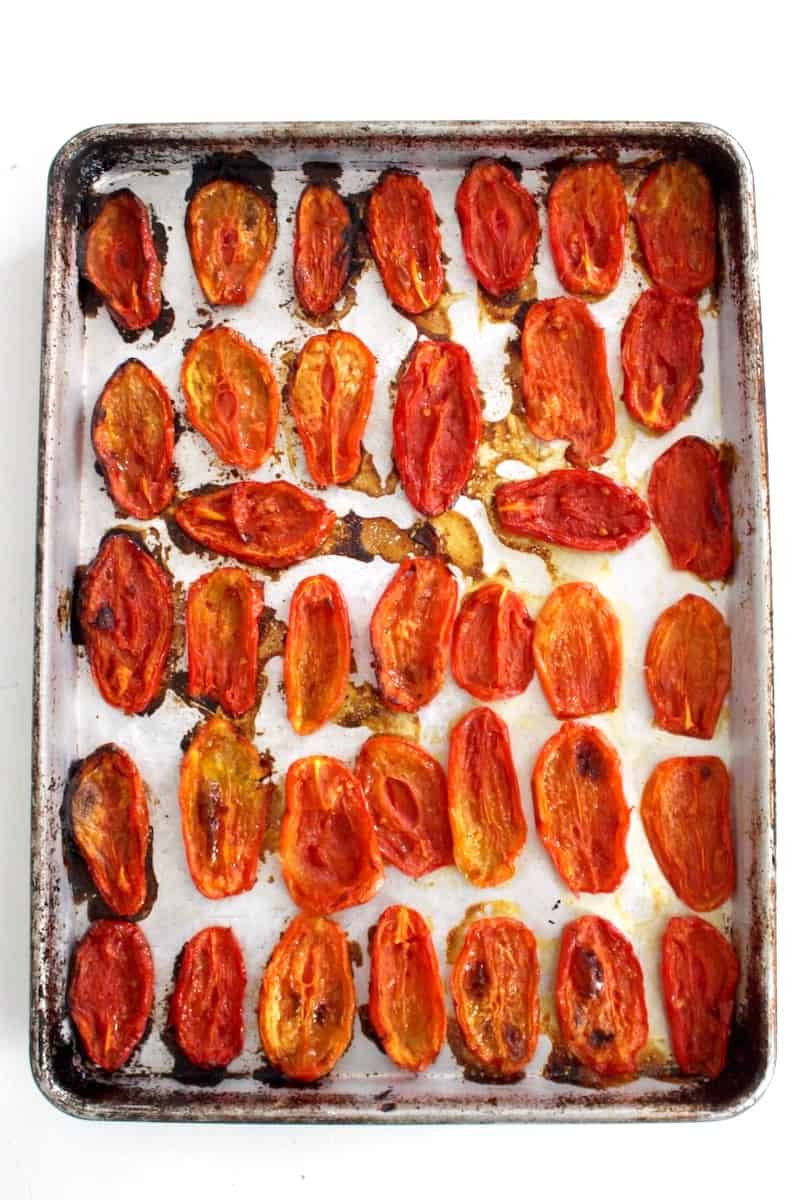 When San Marzano tomatoes are roasted, they take on this lovely rich flavour, with soft skins and slightly charred edges.
How to Make Roasted Tomato Basil Soup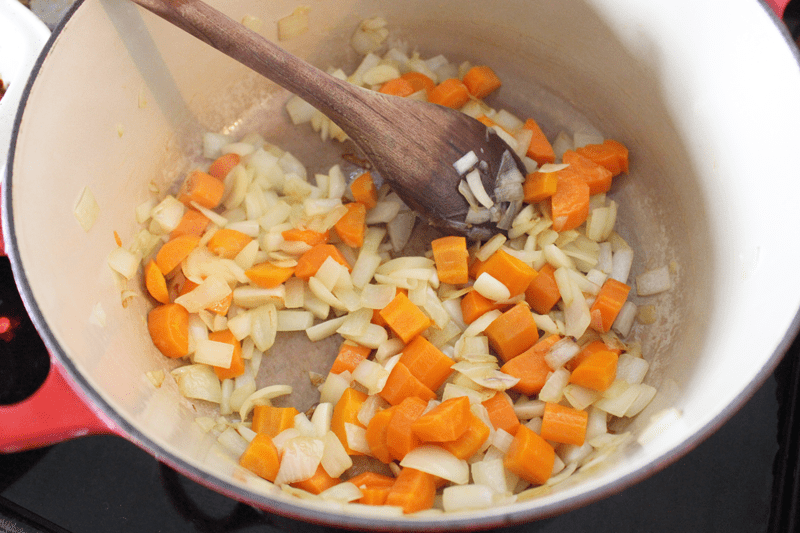 The base of the soup is the classic combo of onion, carrots and garlic. I love using my dutch oven for recipes like this.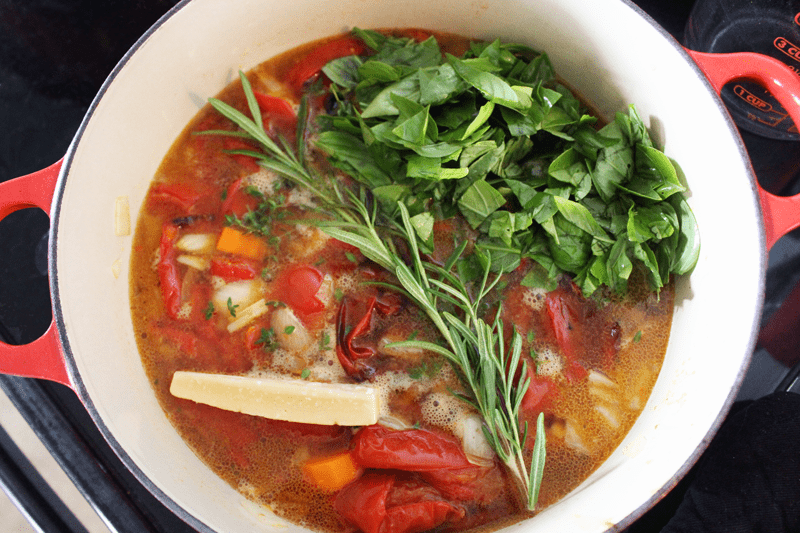 Then you add in the roasted tomatoes, herbs, vegetable stock and a parmesan rind and let it simmer into something beautiful. Did you know that you can use parmesan rinds in soups and sauces? It's a great way to add flavour. Whenever we finish up a wedge of parmesan, I toss the rind into a bag in our freezer. When I'm ready to make a soup like this one, I just pull it straight from the freezer and into the pot. Then you just take it out when the dish is all cooked.
When the soup was done, the smell was amazing and I loved all the bright colours, but I love a nice smooth tomato soup. The kind you can dip a grilled cheese into.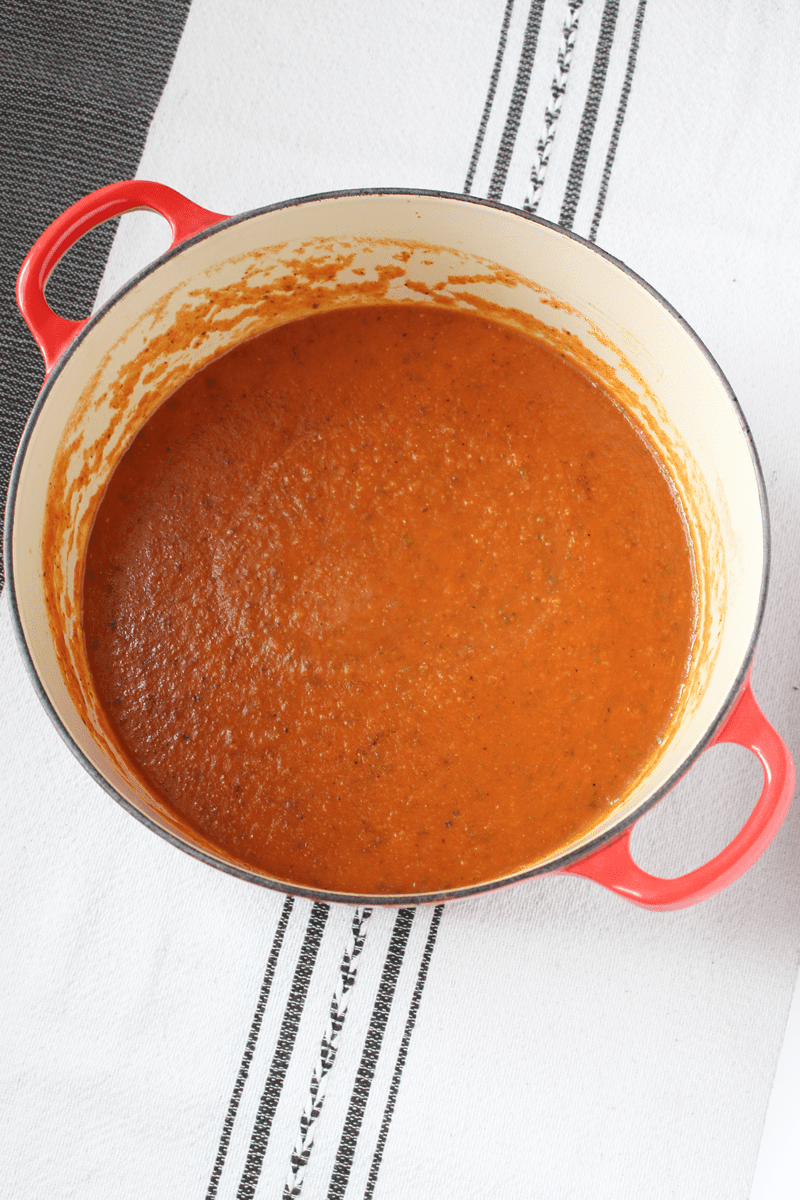 A quick whirl in the blender or food processor and voila! Serve up with a splash of cream, a few fresh basil leaves and maybe a nice slice of homemade bread for dipping.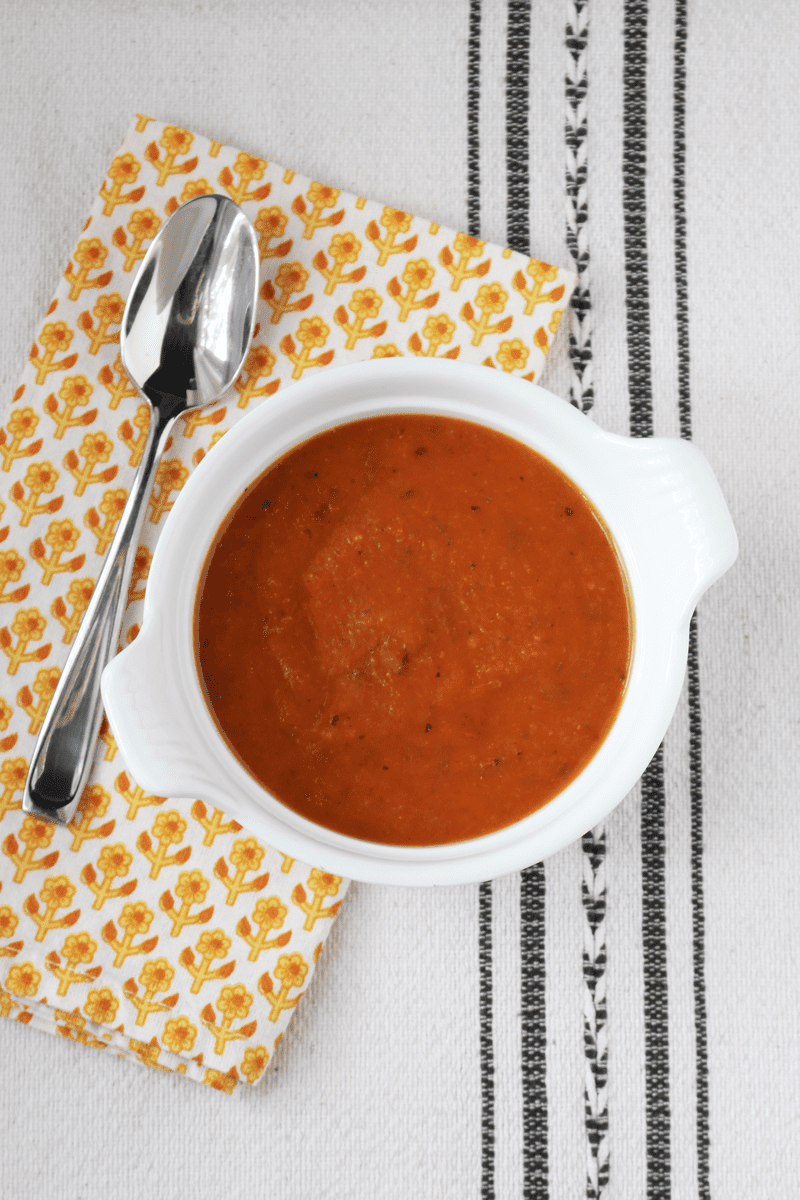 With all the tomatoes becoming ripe now, I've been making big batches of this Roasted Tomato Basil Soup and freezing it. I'm sure I'll appreciate it during our bitterly cold Canadian winter, when I can warm up with a bowl of soup made from the bounty of our summer garden.
Roasted Tomato Basil Soup
Author:
Amanda - Life at Cloverhill
Ingredients
5 lbs fresh San Marzano or Roma Tomatoes, halved and seeded
¼ cup olive oil + 2 tbsp
1 tsp sugar
2 cups chopped onion
2 cups diced carrots
6 cloves garlic, chopped
6 cups vegetable stock
1 cup chopped fresh basil
1 sprig fresh rosemary
1 tsp fresh thyme leaves
pinch red pepper flakes
parmesan rind (optional)
salt and pepper to taste
Instructions
Heat oven to 400°F. Slice tomatoes in half and scoop out seeds. In a large bowl, toss tomatoes with ¼ cup olive oil.
Arrange tomatoes skin side down, in a single layer on 1 or 2 large baking sheets. Sprinkle with sugar. Roast for 1 hour or until softened and slightly charred.
In a large dutch oven or pot, sauté onions and carrots in remaining 2 tbsp olive oil, until onions are soft. Add garlic and cook for 1 minute. Add tomatoes and any juices from the baking sheets.
Pour in vegetable stock and bring pot to a boil.
Turn down, add fresh basil, rosemary, thyme and the parmesan rind if using. Let simmer for 30 minutes. Remove parmesan rind, if used.
Blend soup to a smooth consistency in a blender or food processor. Taste and season with salt and pepper as needed.
Serve with extra basil leaves, croutons or a splash of cream.
Freezes and reheats very well.