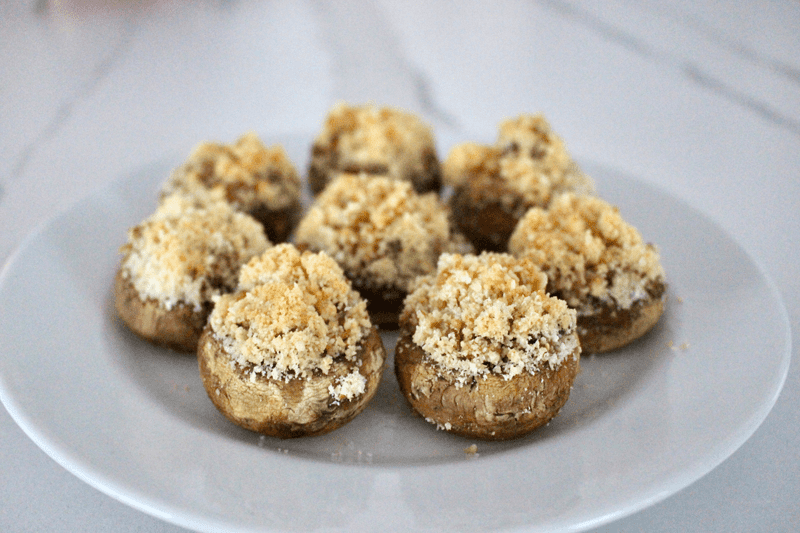 Entertaining during the holidays can be fun, but stressful too, right? I like to keep an arsenal of easy-to-make prep-ahead appetizers and treats at the ready. (Check out my Holiday Recipes for ideas!) By the time our guests arrive, I can have the food served quickly and enjoy the evening with our company. That is where recipes like these Sausage Parmesan Stuffed Mushrooms come in handy.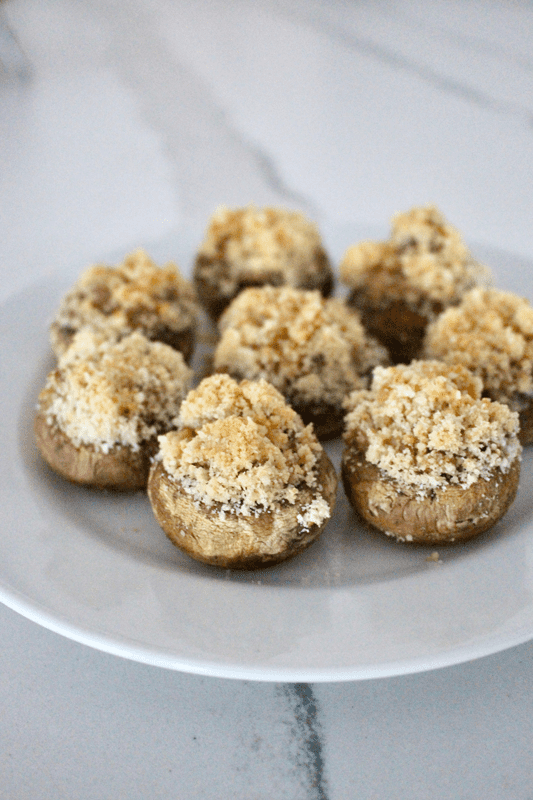 With only a handful of ingredients, you can make an appetizer that will delight your guests. They'll think you spent way more time on them than you did – it'll be our secret! The best part is you can make these Sausage Parmesan Stuffed Mushrooms earlier in the day and then pop them in the oven just before guests arrive. I've even made an extra batch that I've frozen as an appetizer for my family's big Christmas Eve dinner.
Tips and Tricks to Make Sausage Parmesan Stuffed Mushrooms (RECIPE BELOW)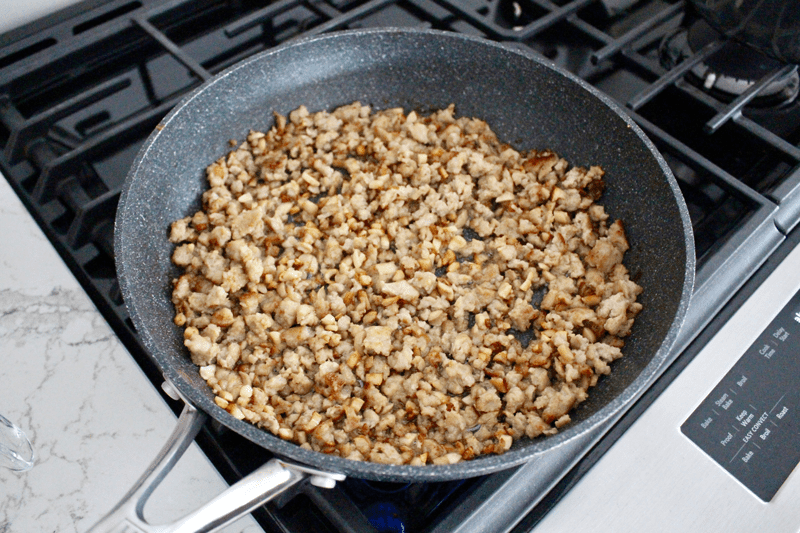 You can use any kind of sausage that you like. I went with a tube of ground pork sausage that you can find in the frozen meat section (usually by the turkeys for stuffing). You can also remove regular sausages from their casing before cooking.
To get an evenly flavoured sausage stuffing, the trick it to break up the sausage and mushroom stems quite small. Then when you mix them with the other filling ingredients, everything will be well incorporated throughout.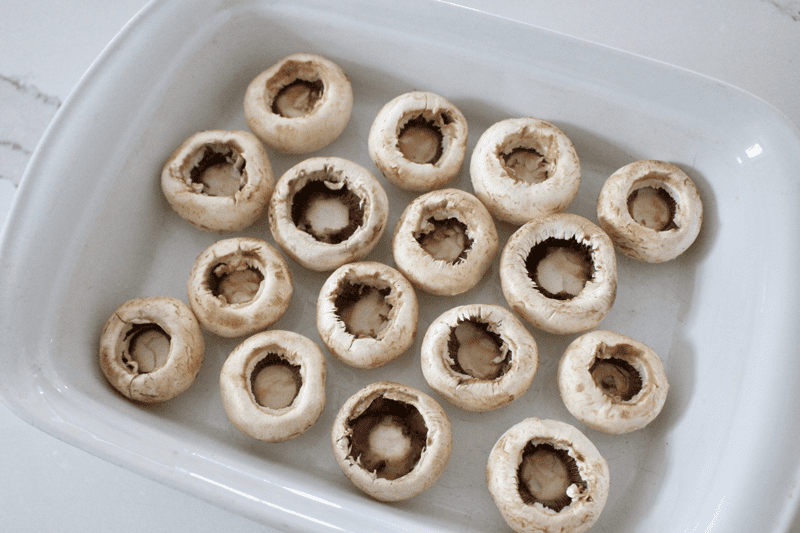 I'm using medium sized white mushrooms, but cremini would work well too. The best way to clean the mushrooms is to use a damp kitchen towel or paper towel to gently brush off any dirt.
The mushrooms caps act as your little serving dishes. The stems are removed and some are reserved to go into the filling and the rest you can save for other dishes (they're great in pasta sauces or stir fry). If you scoop out even more of the mushroom insides with a small spoon it will make more room for the filling.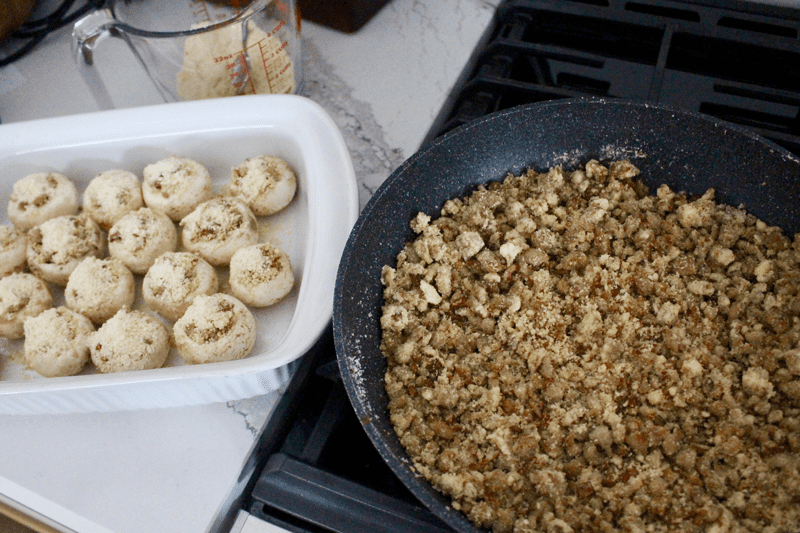 Once the filling is cooked and mixed, it's as easy as filling your mushroom caps and sprinkling the parmesan topping on top. If you have extra filling, save it to add into scrambled eggs or a breakfast burrito. I found that my mixture made about 50 medium sized mushrooms.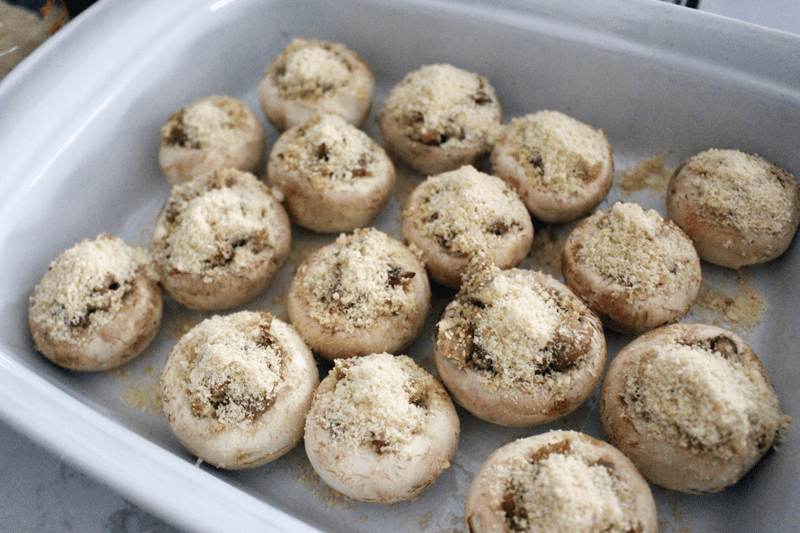 The stuffed mushrooms can be baked and served right away or kept in the fridge until you're ready to serve for company. If you're looking to make these gluten-free / low-carb / keto, simply skip the breadcrumbs.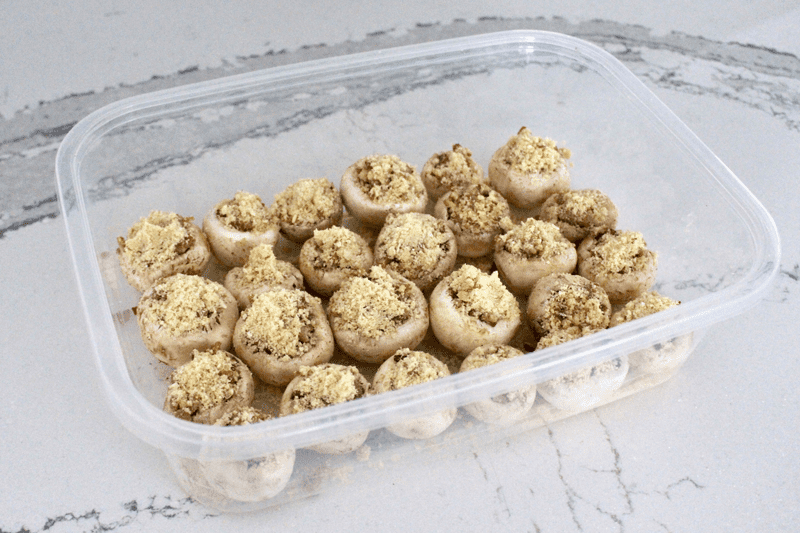 You can also freeze the unbaked stuffed mushrooms in a single layer in a freezer-safe container. No need to thaw them when you're ready to bake. Simple arrange the frozen mushrooms on a greased baking dish and add 5-8 minutes to the baking time.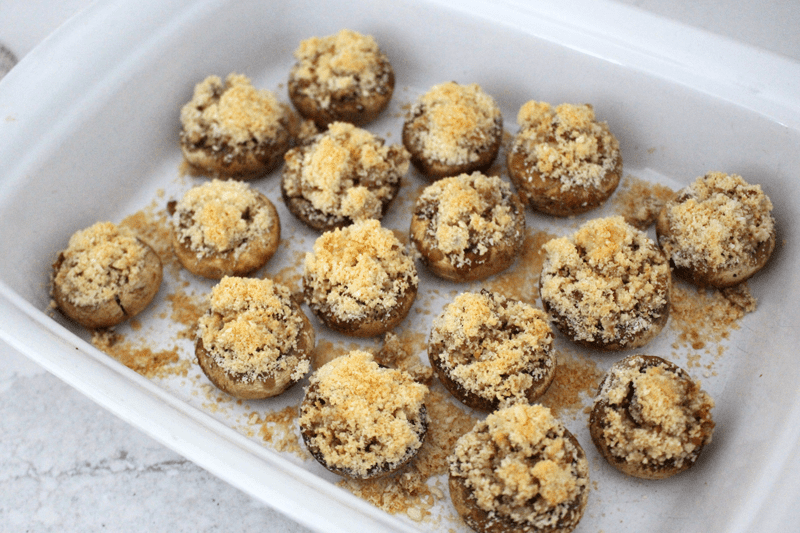 When the mushrooms are done they'll be tender and have a golden crusty on the top. Transfer to a platter and serve warm.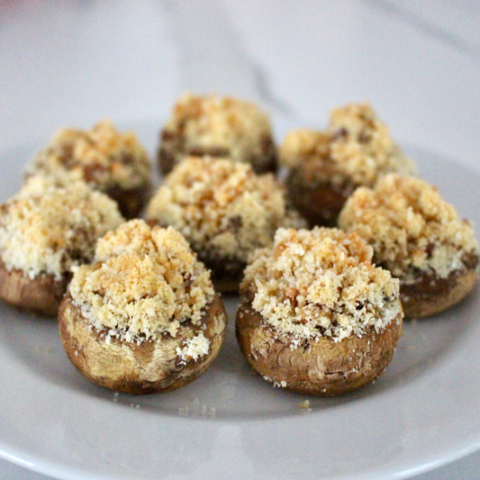 Sausage Parmesan Stuffed Mushrooms
Ingredients
1 lb ground sausage (often found as a tube in frozen meat section)
2 lbs medium white mushrooms, stems removed and reserved
1 clove garlic, minced
4 ounces cream cheese, cubed, softened
½ cup + 2 tbsp bread crumbs, divided
½ cup grated parmesan cheese, divided
1 tbsp olive oil
Instructions
Preheat oven to 350°F. Finely chop enough mushroom stems to measure 1 cup; discard any remaining stems. Use a small spoon to scoop out some more from the mushrooms to make room for the stuffing. Place mushrooms, rounded-sides down, on lightly greased shallow baking pans.
In a large skillet over medium-high heat, saute sausage, chopped mushroom stems and garlic for 8-10 minutes or until sausage is thoroughly cooked. Drain.
Stir in softened cream cheese. Mix in ½ cup breadcrumbs and ¼ cup parmesan cheese until combined. Spoon mixture into the prepared mushrooms.
Mix remaining breadcrumbs, parmesan cheese and oil. Sprinkle over mushrooms.
Bake 25-30 minutes or until mushrooms are tender and topping is lightly browned.
Notes
Unbaked stuffed mushrooms can be frozen as well. Arrange in a freezer-safe container in a single layer and freeze. No need to thaw before you bake them. When you're ready to use them, they can go straight from the freezer to a greased baking dish. Add 5-8 minutes to the baking time.