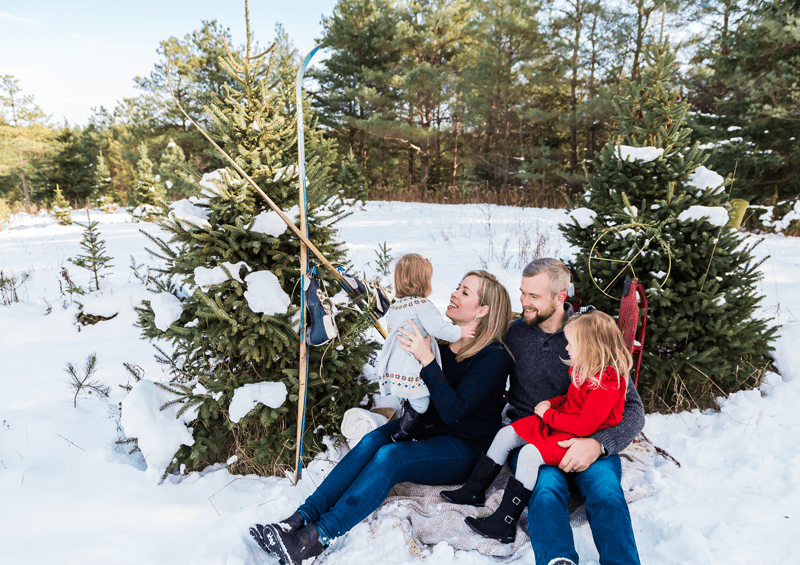 What are some of the traditions you and your family do over the holidays? I grew up in a household where we loved our Christmas traditions. The presents were nice but the lasting memories are the heartwarming feelings, smells and sounds of the holiday season. Rolling out gingerbread with my mom, playing with my siblings by the light of the Christmas tree, skating on the river with my dad. And of course big family dinners with our extended family gathered around the table. I know these aren't the memories that everyone has this time of year – that it can be a difficult time for many people, for a number of different reasons. I was very fortunate to grow up with positive Christmas memories and so much of that is because of the way my parents made the holidays memorable for us.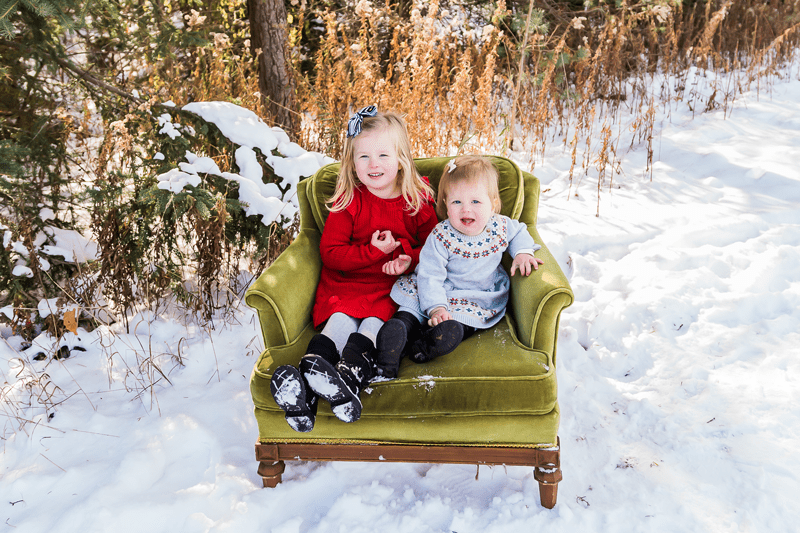 Now that I have two young daughters of my own, I'm aware that the things we are doing now could be leading towards the traditions they remember. Here are a few of the things we've been doing with our family throughout the holiday season and I'd love to hear about your traditions in the comments below!
Decorating the Farmhouse
We had so much fun decorating the farmhouse for Christmas with the kids this year. Admittedly, they didn't so much "help" as pull the ornaments off the tree and scatter them around the house, ha! Lucy's excitement as we strung up the garland on the porch and Rosie's squeals as she pulled glittery decorations out of the box was so fun. Of course with two young kids (3.5 & 1 years old) quite a few of our more precious decorations have been tucked away for other years. I can hardly wait to bring out my handmade Christmas village again someday.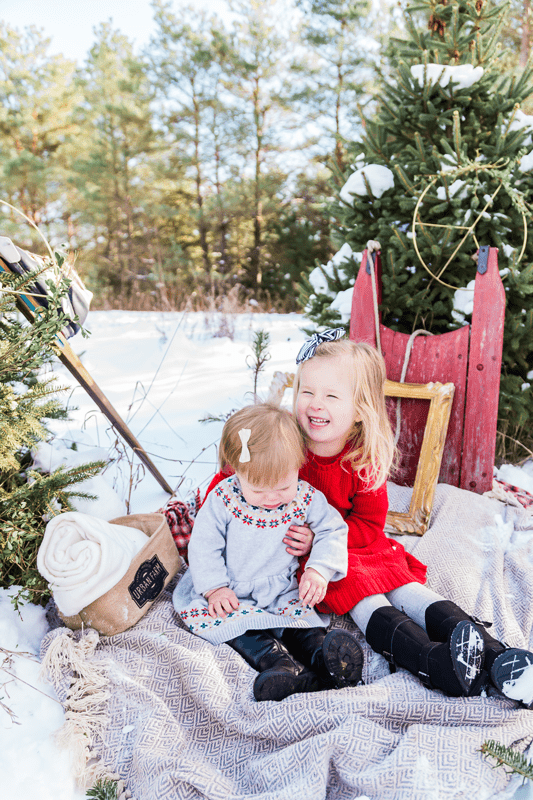 Christmas Stories
I keep a box in the nursery closet and rotate out our seasonal storybooks. There are stories for Spring/Easter, Fall/Halloween and most importantly Winter/Christmas. I've always given books as gifts for little ones, especially at Christmastime. Ever since we've been married (before we even had kids!), Garrett and I have picked out a new Christmas story for our own family collection. Last year it was one my favourite's growing up, Father Christmas by Raymond Briggs and this year we chose This is Christmas by Tom Booth, the sweetest story of a little chipmunk looking for Christmas.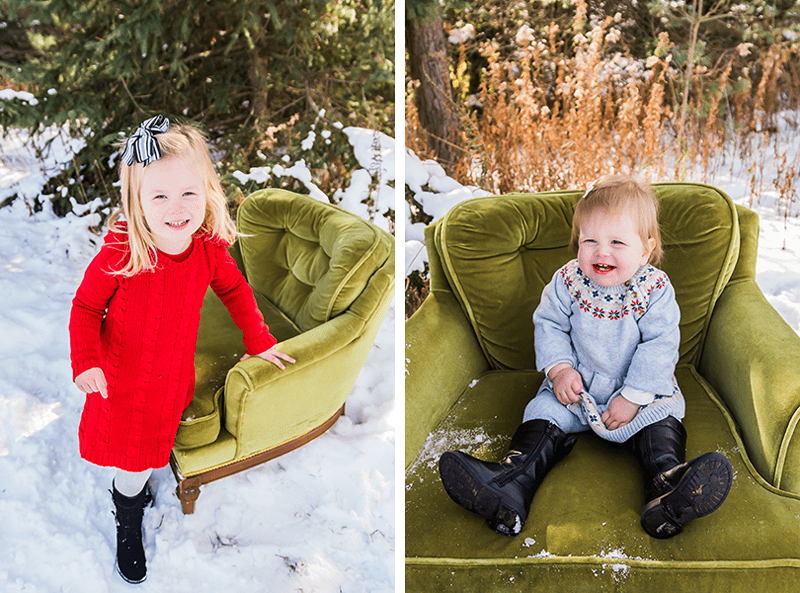 Baking up a Storm
It's no surprise that I love to bake around the holidays. Spices, citrus, chocolate, peppermint – all the aromas that make it feel special this time of year. We keep things pretty traditional with Gingerbread cookies, steamed Christmas pudding, and rich Peppermint Bark. I have a whole Cookie Calendar of 24 nut free Christmas cookie recipes too! This year I'm trying to make those cute little mincemeat pies for the first time. Wish me luck!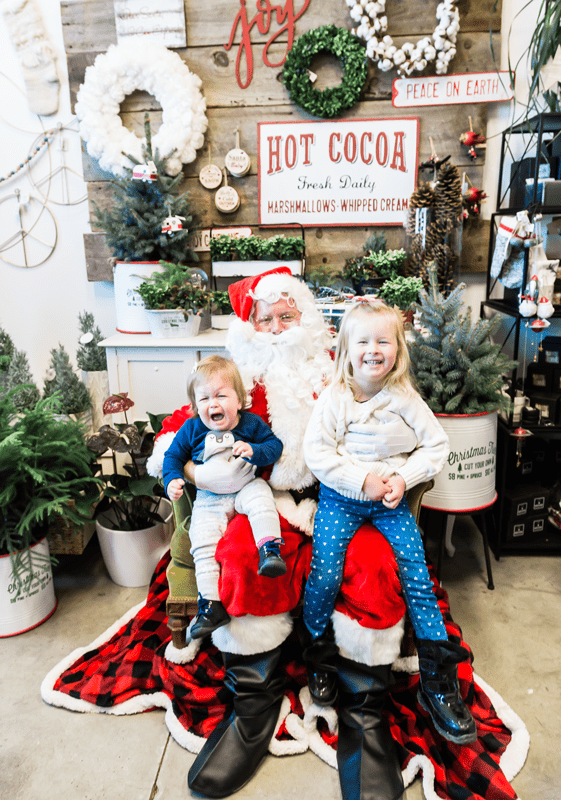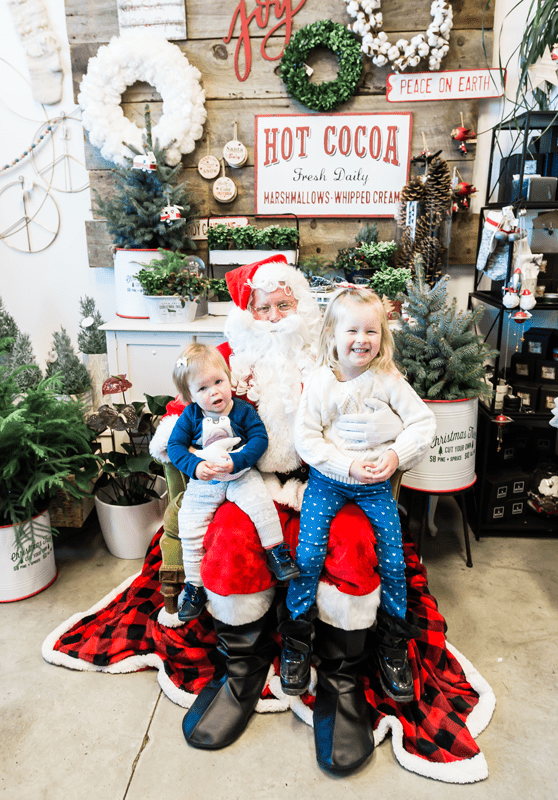 Activities in the Community
We live in a great small town where there are Santa Claus parades, tree lighting ceremonies, an Old Fashioned Christmas in the pioneer village – it makes it easy to find fun festive activities we can do as a family most weekends. We always run into neighbours and friends, and it gives us that great sense of community.
Writing Christmas Cards & Letters to Santa
I started writing Christmas cards when I moved into my first apartment and I've tried to keep it up ever since. I got some help from Lucy this year with the stamps and I took both girls with me to the post office. We chatted with the mail lady as we sent off the cards to our friends and family, along with a few care packages to far away friends we miss. Nowadays there is so little happy mail everyone gets in their mailboxes, so I like to think that maybe those simple cards will brighten someone's day.
This was the first year we wrote letters to Santa as well. It was such a fun experience hearing what Lucy wanted to ask him about the reindeers and her concern that Rosie needed to mail a letter too. And when the responses came back in the mail from Santa, she was thrilled.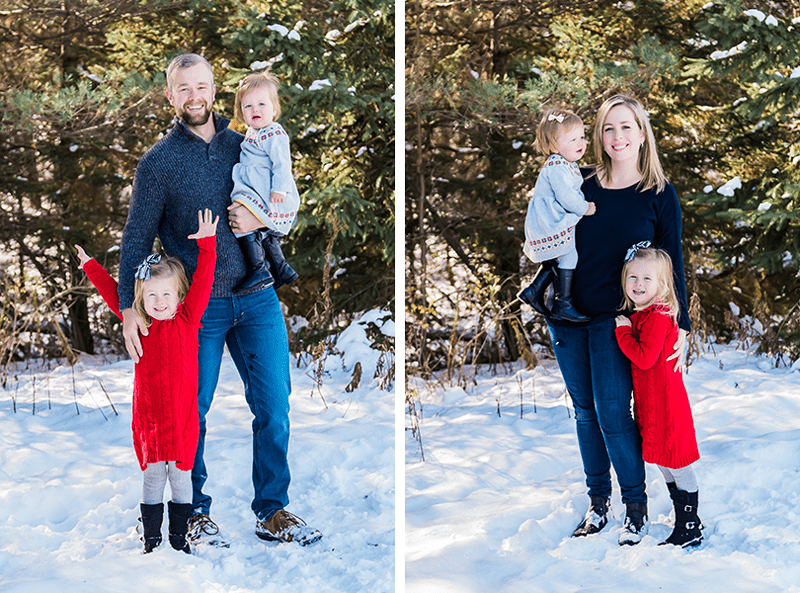 Spending Time with Both Families
We're very fortunate to have both our families living nearby, something I would have loved as a kid (mine were always a couple hours away). The awe and excitement of children during the holidays is part of what makes it so magical and I think grandparents (and great grandparents) enjoy it just as much as us parents do. Maybe even more so because they have the memories of doing these things with us as kids. We make a point to include our parents and grandparents in holiday activities or even pop in for a visit to see their Christmas trees, share cookies, etc.
I'm very close with my parents and because I work from home with the kids, we do pop by every few days to do fun Christmas stuff together. However, I also think it's really important to make sure my kids get memories with my in-laws too. My own mother has always encouraged me to foster those relationships, just as she did with my grandfather (her father-in-law). I'm lucky that I really love my in-laws and we great along really well, and I want my children to have a meaningful relationship with them too.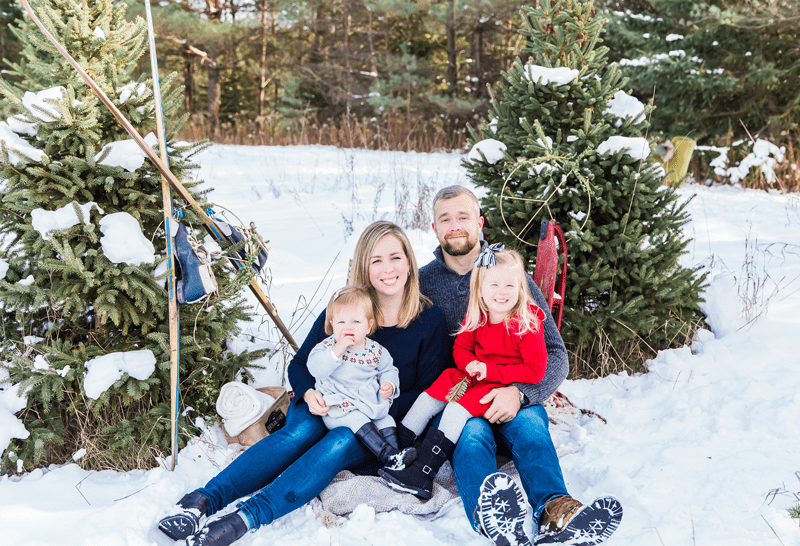 Christmas Movies
As a movie lover, Christmas wouldn't be Christmas without the movies. We tend to focus on the classics and then add one or two new films or specials every year. Often Garrett and I watch the more mature Christmas movies in the evening while wrapping presents, including the hilarious Jack Whitehall: Travels with my Father Christmas special on Netflix this year. Our little girls like watching the Christmas episodes of Mickey Mouse, Peppa Pig and Winnie the Pooh, and the Frozen Christmas short film is a popular choice around here these days.
Earlier this month, Garrett and I met up with my family in the city for a special screening of Home Alone accompanied by the Toronto Symphony Orchestra. It was amazing and gave me such an appreciation for the soundtrack.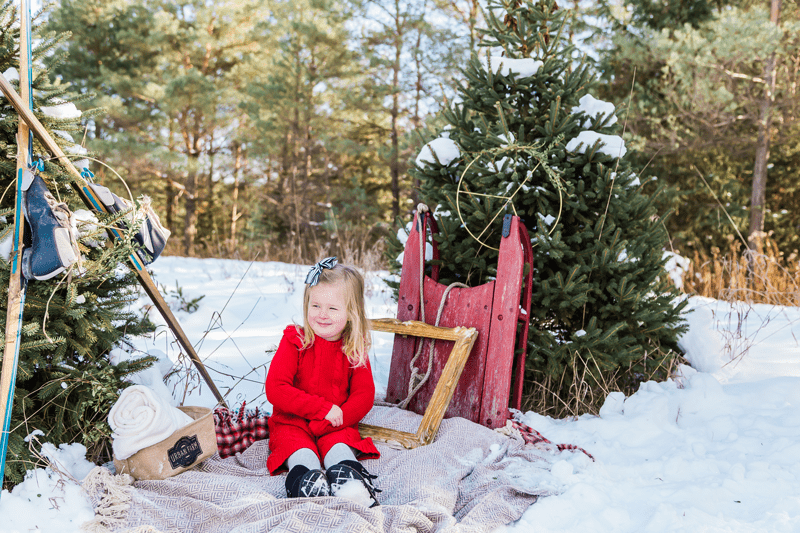 Giving to Others
As Lucy is starting to get older and understand greater concepts, I've talked more about how we give to others in need, especially during this time of year. She came with me to pick the toys we donated to the local church drive and helped me deliver them. We talked about the Shoebox Project and how I was making boxes with friends to give to women in need. Every time we see the bell ringers, I give her my pocket change to add to the kettle and we made a cash donation to the food bank (cash is sometimes better than giving food – it helps them fill their gaps!). The other day she found a coin on the sidewalk and wanted to save it to give to someone in need, and it made my heart melt. These are just small ways I'm hoping to lead her towards helping others as she gets old enough to understand it more.
Driving Around Looking at Christmas Lights
Whenever we're out in the evening, we make a point to drive into neighbourhoods to see their Christmas lights. We turn on the holiday music station, roll our windows down and soak in all the twinkly lights.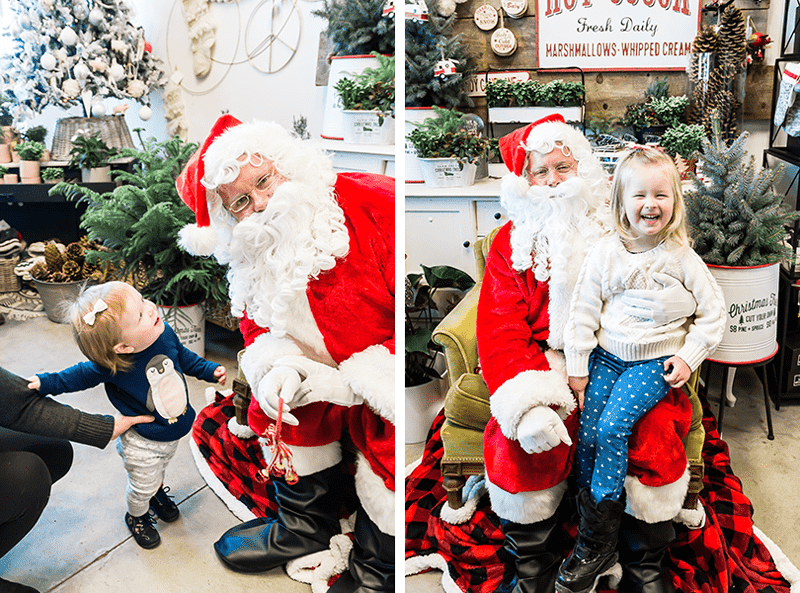 A New Tradition – The Christmas Eve Box
We do the big Christmas dinner with my side of the family on Christmas Eve, and this year my mom has put together a new tradition for our two little girls. She has made "Christmas Eve Boxes", a tradition that has become popular in the UK in recent years. Inside are Christmas PJs, a little gift and a new bedtime story. I can't wait to slip the girls into their new cozy PJs and let them snuggle up with their grandparents for a story before bed.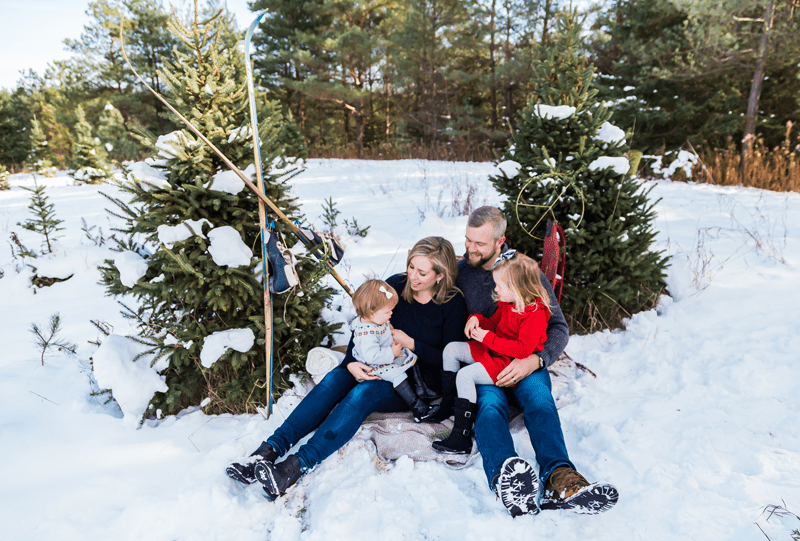 Thanks for letting me share our family's Christmas traditions and now I want to hear about yours! What do you like to do every year to celebrate the holidays?
All photos taken by our friend Kim Balson Photography