Host a Virtual Gingerbread House Competition with family and friends! It's a festive way to celebrate and spread some Christmas cheer, while putting your decorating skills to the test!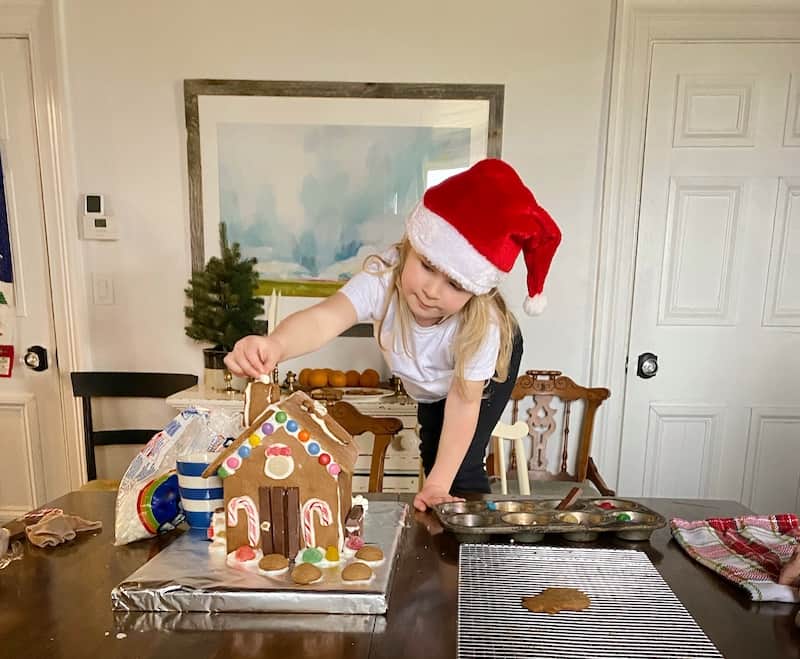 Last December, my mom arranged a Virtual Gingerbread House Competion for our family and it was so much fun. She surprised us with the gingerbread dough and all the candy bits and bobs, then we picked a morning where everyone could meet on zoom. It was a great family activity to do together when we were all in different places.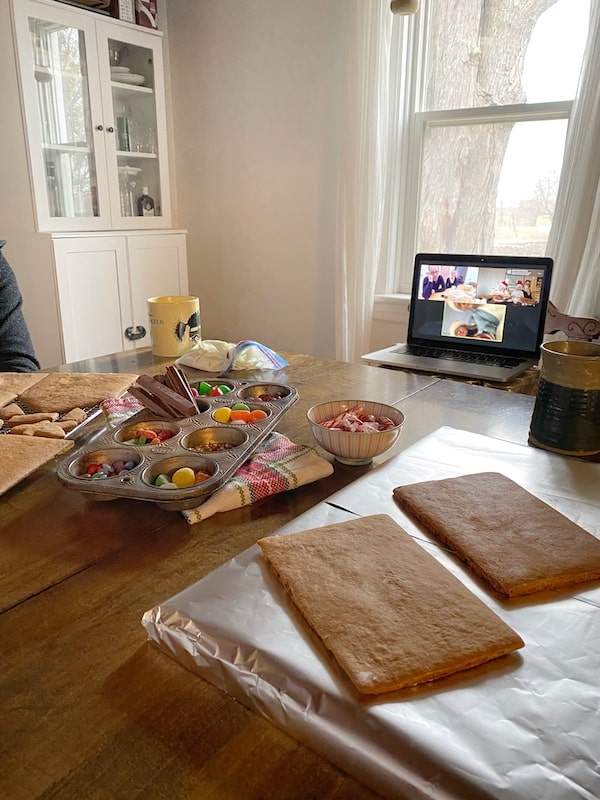 As many families and friends are still unable to be in the same place this holiday season, I wanted to share this fun idea in hopes it inspires another family to celebrate in a different way.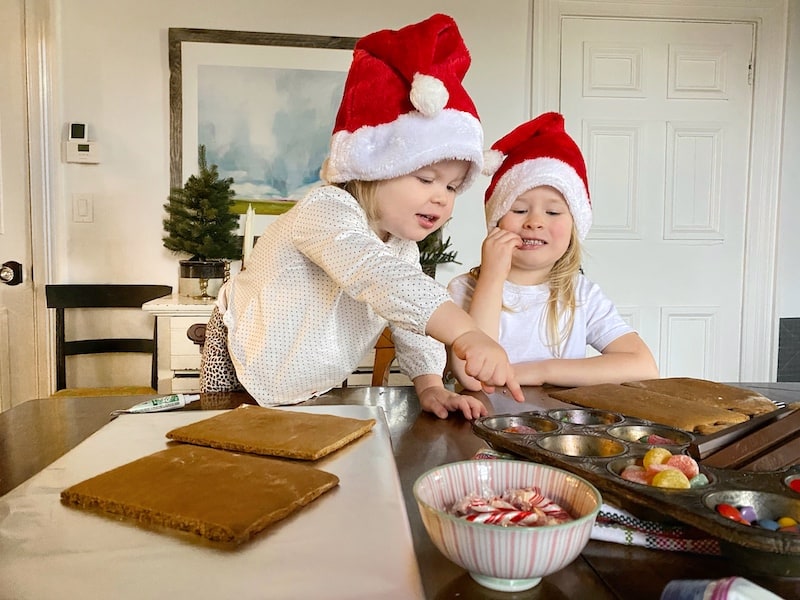 Our little girls especially loved getting to make the gingerbread house together, and watch what the rest of the family was doing on the video chat too. I made sure to have lots of extra candy on hand, as they couldn't help taking little samples of everything, ha!
How to Plan a Virtual Gingerbread House Competition
Pick a Date – Do a poll to see what days work best. We did ours on a Sunday morning in December, so the kids got all the sugar rush out of the way long before bedtime.
Gather the Decorations – I have a list below of ideas of what you could use. Either have one person gather the same materials for everyone to use, or let the contestants pick their own.
Make the Gingerbread Dough – The Gingerbread Dough recipe that we use makes a big enough batch for several houses, so you could have one person make it and divide the dough if you live close enough to deliver. You could also have each contestant make their own, either using the same recipe or their own.
Set your "Rules" – If you're doing this as a true competition, it's a good idea to lay out some simple rules, or even add some extra ones to make it a true challenge. I have a few examples below.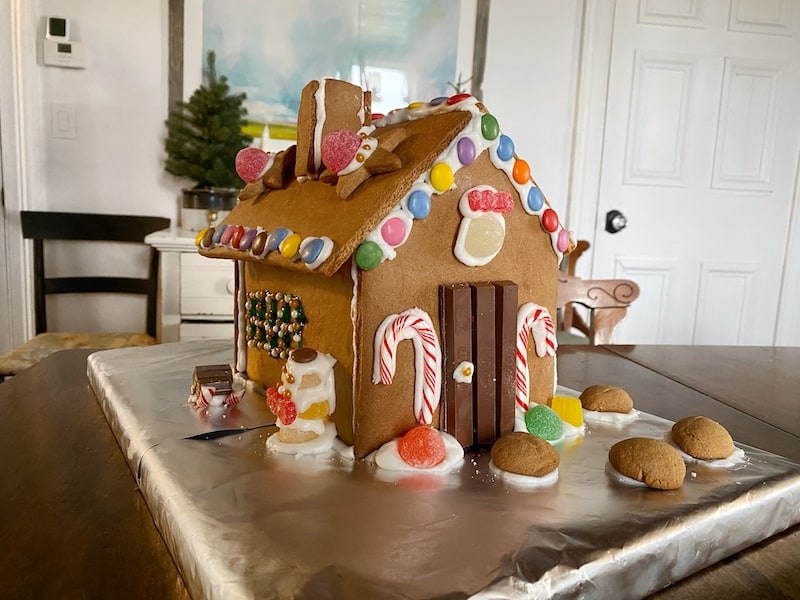 Setting "Rules" for the Gingerbread House Competition
Ahead of the event, set the "rules" for the Gingerbread House Competition. Here is an example of what you might want to decide on before the event:
Teams or Individuals – Are you doing it as teams in each house? As individuals? Or a mix of both?
House Design – Can you create whatever size or shape of house you would like, or are there set guidelines?
Make Ahead Embellishments – Do they need to make all the decorations in real time or can they prep some things ahead of time?
Time Limit – One hour was what worked for us, but keep in mind the ages and skill level (and attention spans) of those playing along. Many people get "video chat fatigue", so keep it to one to two hours max.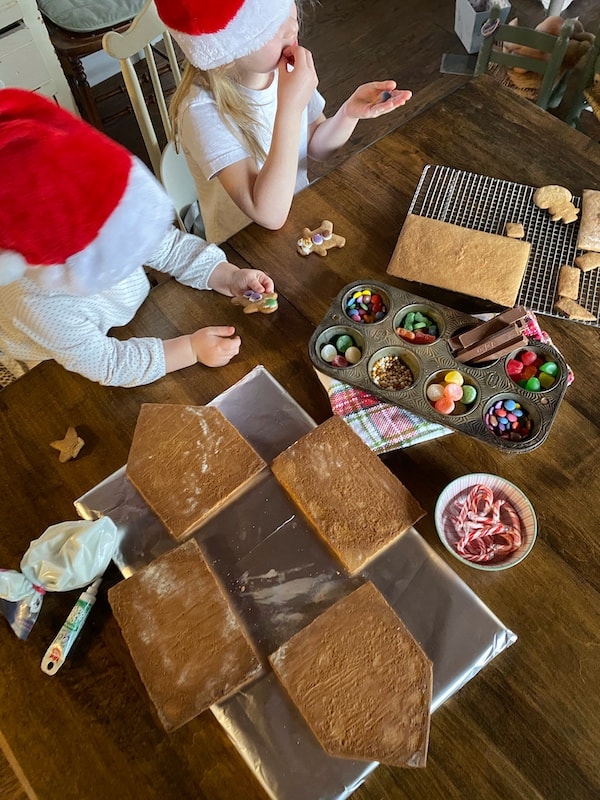 Tips for Making Your Virtual Gingerbread Competition a Success
Prep Ahead – Have everyone bake their gingerbread house the day before so that all the pieces are cool enough to work with. Ask them to have their icing prepared and all their decorations ready. This will make the actual gingerbread house assembly and decorating easier, and keep the momentum of the competition going.
Keep it Short – Attention spans are always shorter during a virtual event than in-person. We kept ours to one hour, and that was plenty of time to decorate the houses, chat and then share our creations.
Make It Fun! – Make festive drinks, bring snacks (or extra candy to nibble on), play Christmas music.
Dress Up – Wear fuzzy Santa hats, holiday aprons, ugly Christmas sweaters – anything to get everyone in the spirit.
Engage – Keep the conversation going talking about what everyone is doing, the techniques they are having success with (and definitely the ones that aren't working). Nothing brings everyone together quite like watching a gingerbread house leaning to the side, ha!
Vote the Winner – Set up a poll on zoom (or if you're in-person, have voting ballots ready) and have everyone vote in different categories: Best House, Most Likely to Crumble, Most Creative Use of Icing, etc.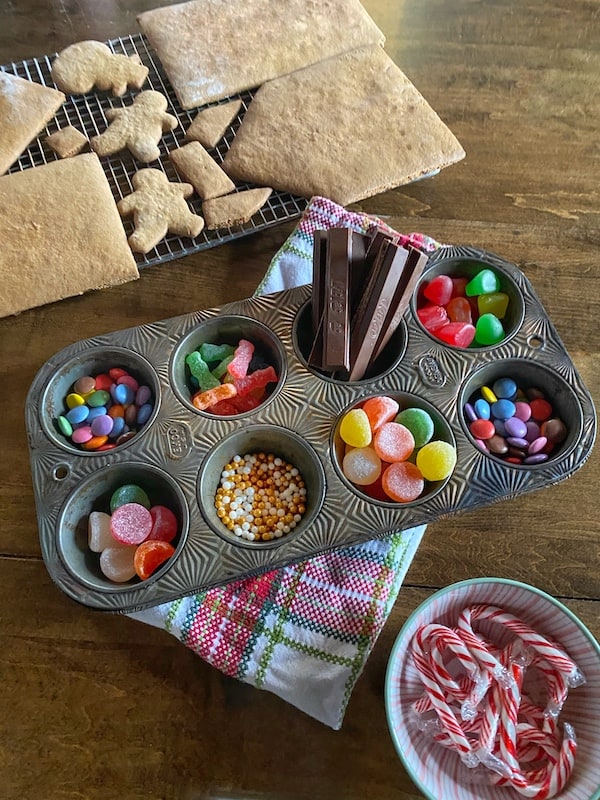 What you Need for a Making a Gingerbread House Competition
The sky is the limit when it comes to what to use to decorate your Gingerbread House. Here are some suggestions on what you could use. I arranged our decorations in muffin tins to make it easier for the kids to grab what they liked, but small bowls or cupcake liners would work too.
Baked Gingerbread House Pieces (try our family's favourite Classic Gingerbread recipe)
Royal Icing (make ahead and put into piping bags)
Gumdrops
Smarties or M&Ms
Candy Canes
Round Mints
Chocolate Chips
Sour Patch Kids
Jelly Beans
Dots
Sprinkles
After Eight Mints (make great house shingles)
KitKat chocolate bars or wafer cookies
Mini Oreo Cookies
How to Bake a Gingerbread House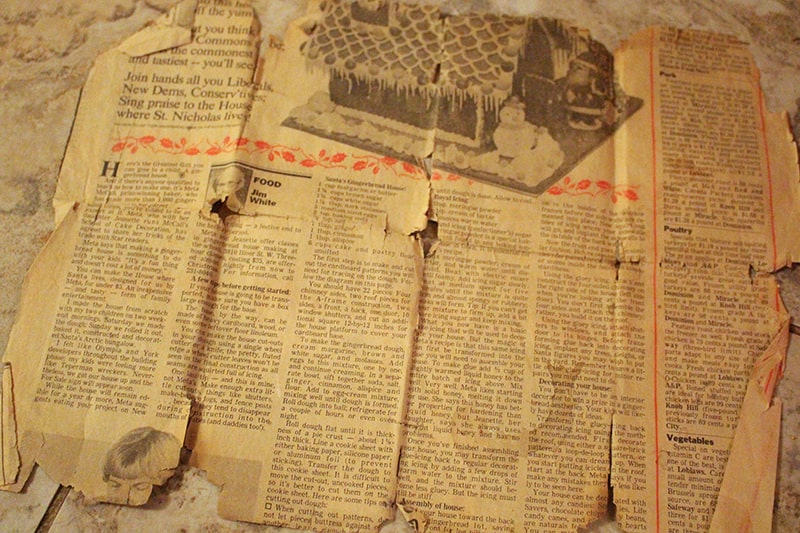 My family has been using the same Classic Gingerbread Recipe since my mother cut it out of the newspaper in the 80's, and it came from Denmark in the 1950s before that. It's a very versatile gingerbread recipe that works great for making thicker soft cookies, thinner crispy ones or sturdy gingerbread house pieces too.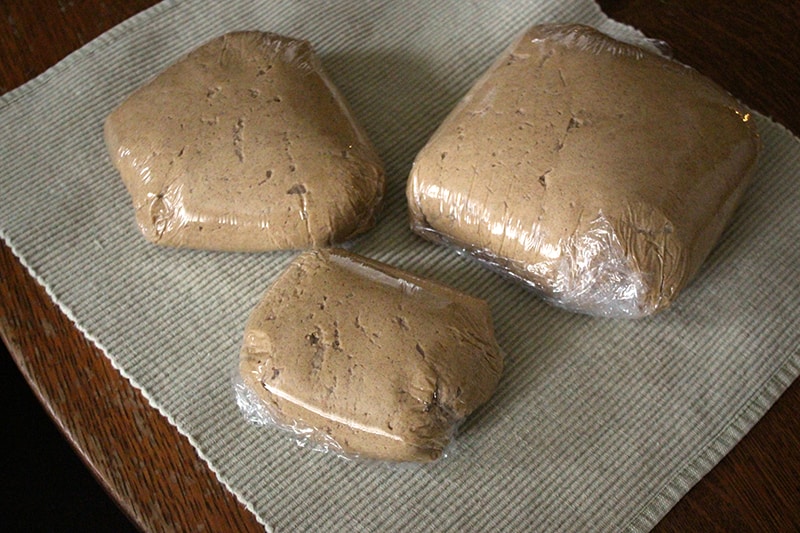 This recipe makes enough dough for several houses. To make it easier, my mom made one big batch of gingerbread dough for everyone to split. She wrapped it in plastic wrap and refrigerated the dough until she was able to drop it off to each house, along with the decorations. You could also have everyone make their own dough.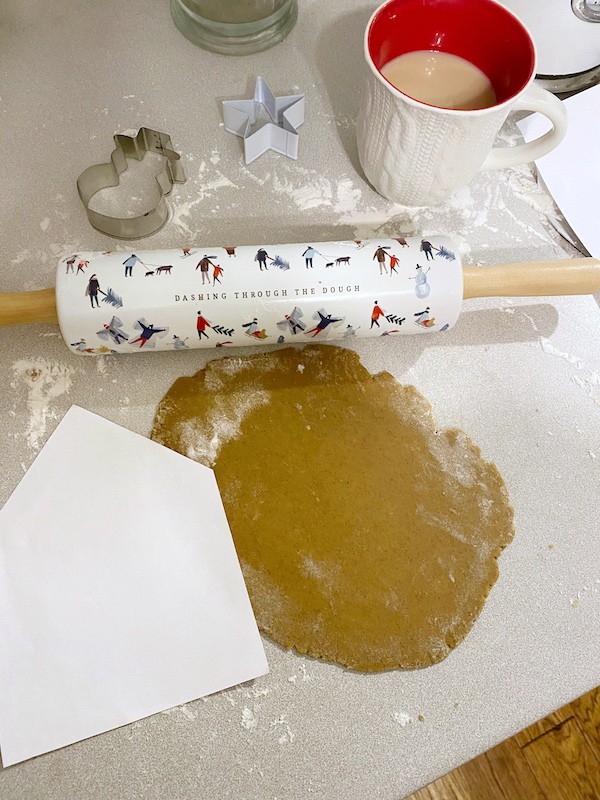 This is the method that I used with our dough to make the Gingerbread House:
Roll chilled dough 1" thick right onto the parchment lined baking sheet. Cutting it and then trying to transfer it could prove difficult.
Use paper templates to make your shapes and cut with a sharp knife. Remove excess dough between the shapes and re-roll it to make more shapes.
Bake house pieces for 20-25 minutes or until dough is done. Allow to cool completely.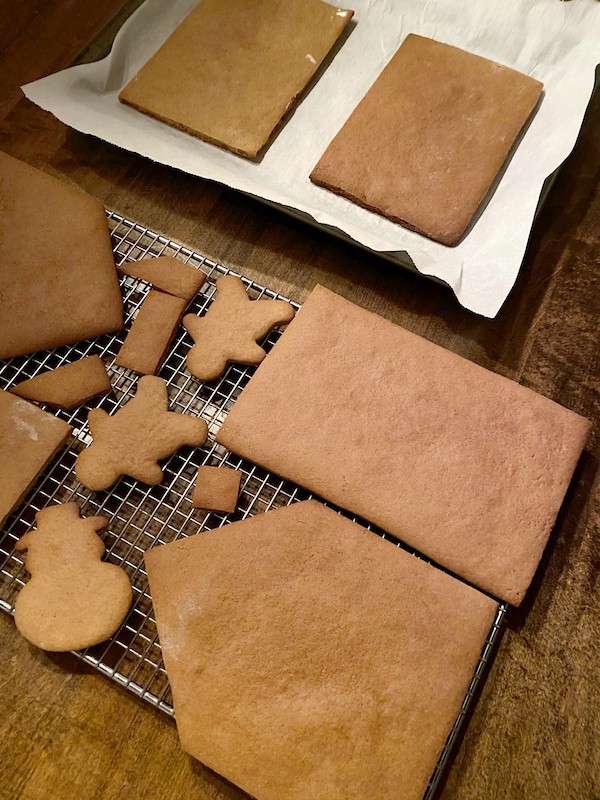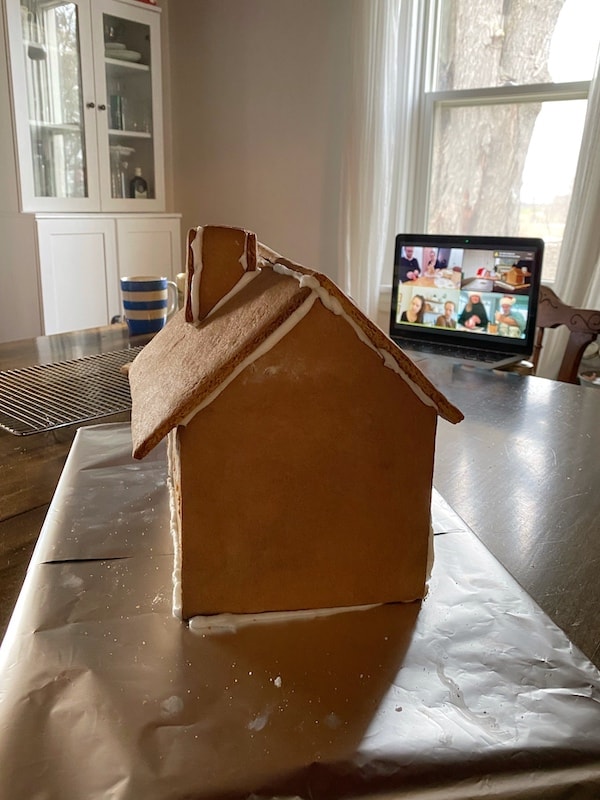 On the morning of the Gingerbread House Competition, I made a batch of Royal Icing and put it in piping bags. I helped the kids build their house as it can be a bit tricky to get everything to hold. Then let them lead the way with what they wanted to design, helping them along the way.
The Final Results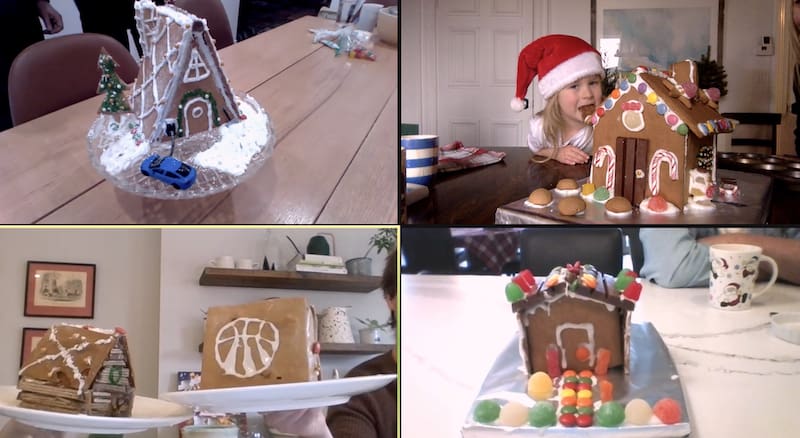 When the timer went off, everyone put their creations up for display. I love how no two houses were the same. Everyone had different ideas on the shape, size and style of their gingerbread house. And the most important part was that we had so much fun doing it together, joking around as someone's wall fell down or a candy started to slide off the roof.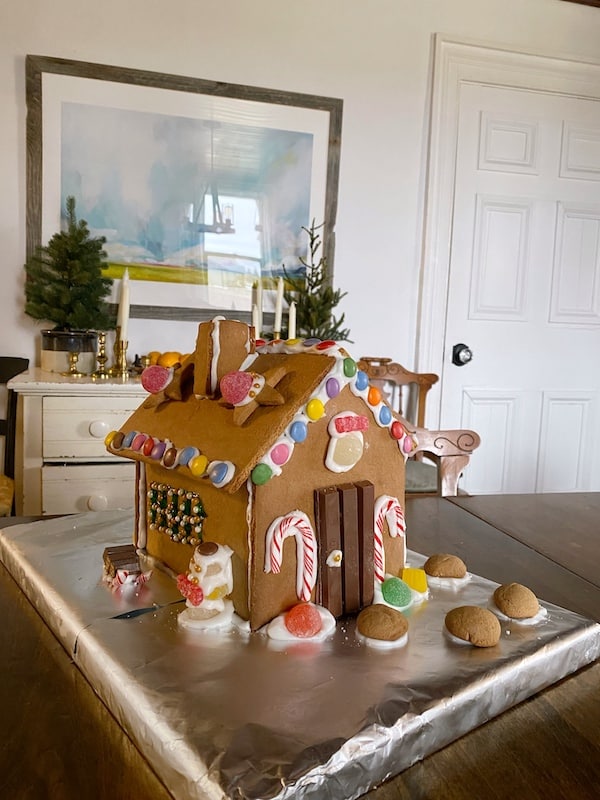 My husband and I helped our little girls make a traditional gingerbread house design with thick gobs of royal icing and candy. For every piece they put on the house, the kids ate at least one piece of candy, ha!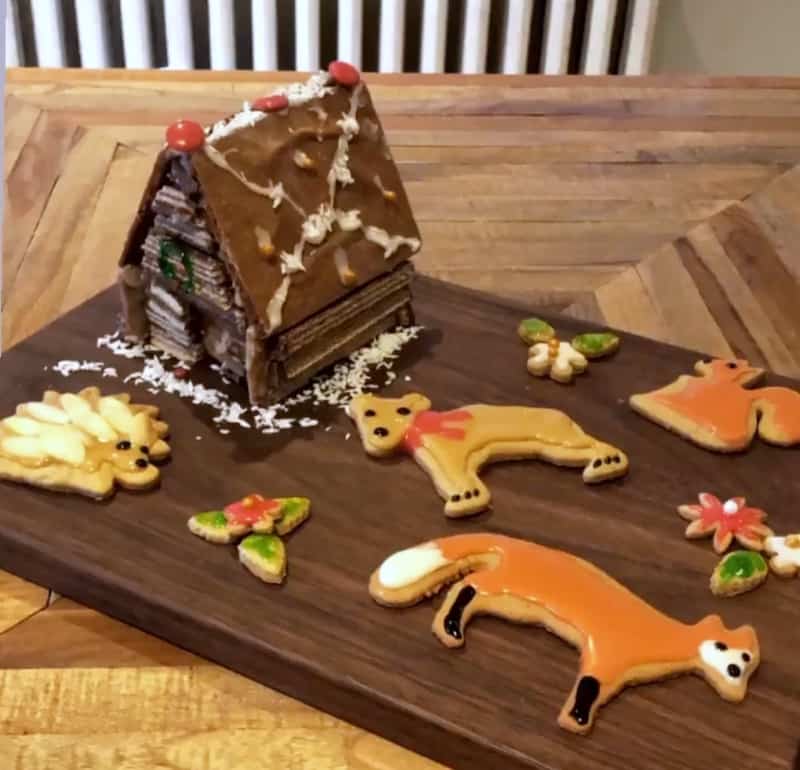 My sister made a lovely Woodland Animal Log Cabin using Kit Kat chocolate bars as the house siding, coconut "snow" and cut out gingerbread animals and flowers. Just look at the hedgehog with the almond quills!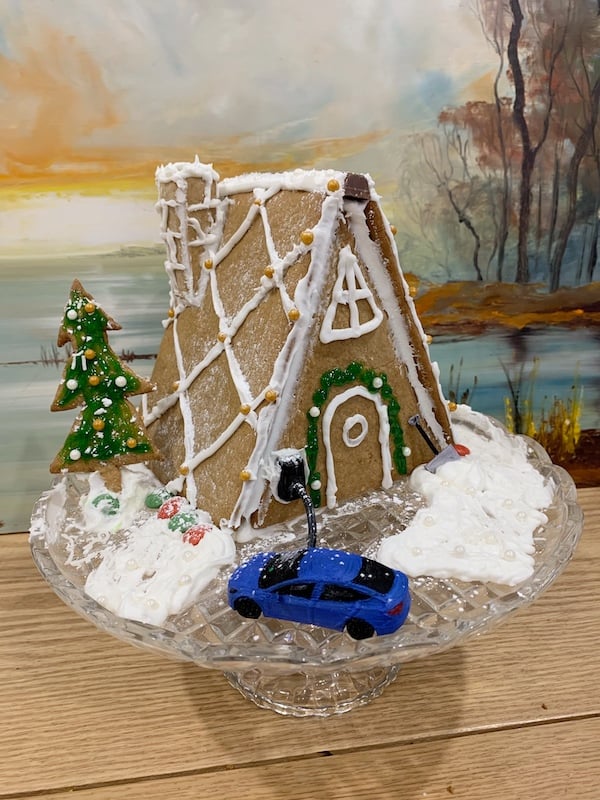 My brother and his girlfriend made this modern ski chalet inspired gingerbread house, complete with an electric car charging port.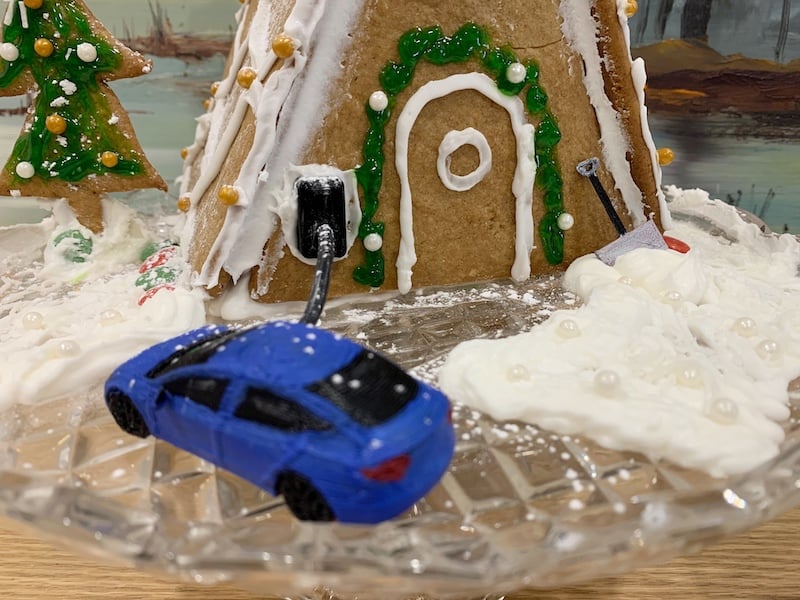 He made the car, charging port and snow shovel using his 3D printer. This is where it was fun to get to plan things ahead of time and see what everyone came up with.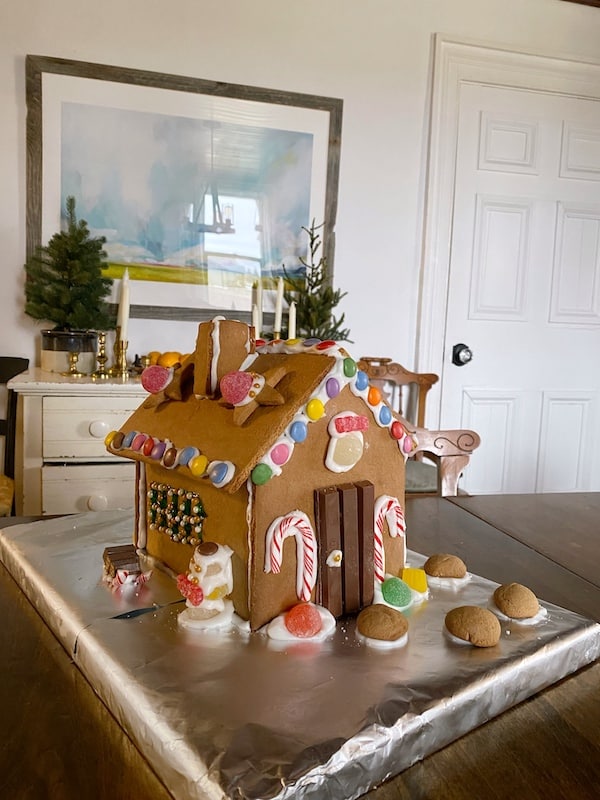 I hope this has inspired you to organize your own Gingerbread House Competition with friends and family this holiday season. With a little bit of planning (and a lot of sugar), it's a fun way to spread some Christmas cheer even if you're in different places this year.