Decorating our 1903 farmhouse for Christmas is one of my favourite traditions. I love being able to look back on our Holiday Home Tours from previous years.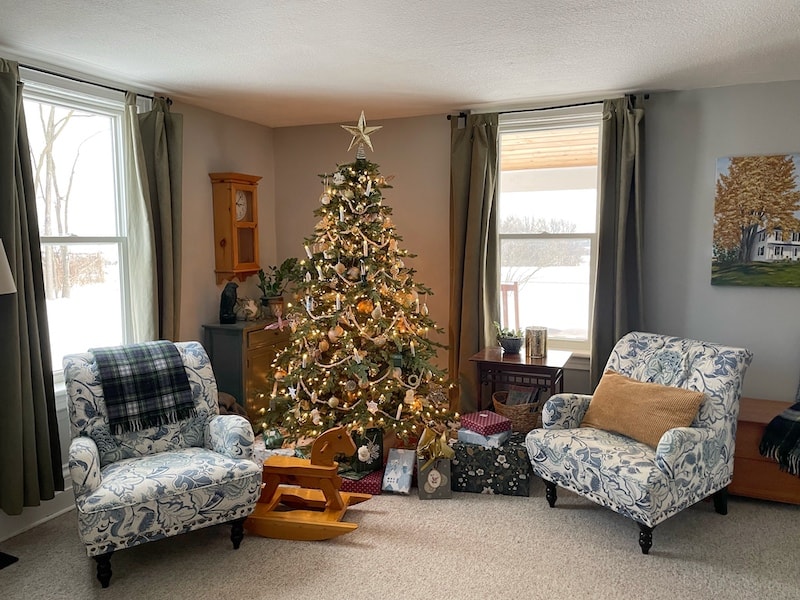 With two excited little girls and a three-month-old in our house this Christmas, there has not been much time for getting creative with the decorations. I've put the energy into making it feel festive throughout the house for the kids (little things like Christmas hand towels and fancy soaps) and doing fun activities such as crafts and baking.
They won't remember that the ornaments matched or a fancy tablescape, but they will hopefully remember the sparkling lights, dancing to Christmas music in the kitchen, sneaking an extra Gingerbread Cookie and cuddling up for bedtime Christmas stories.
A White Christmas, Just in the Nick of Time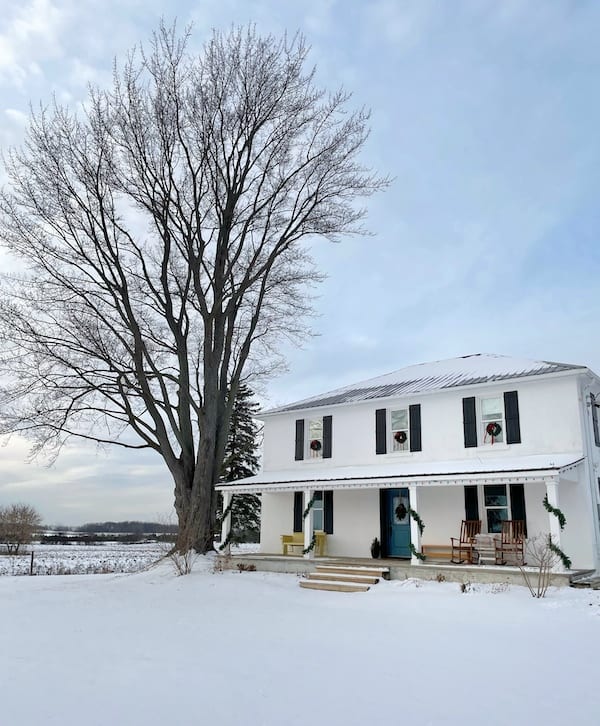 We've had a mild December, with only a few snowfalls, so I wasn't sure we would get a White Christmas. Thankfully that turned around and now everything is covered in a blanket of sparkly snow. It never gets old hearing the kids excited squeals when they look out the window to see it falling.
With the wild windstorms lately, we didn't put up much for outdoor decorations, but did manage a couple strings of lights, garlands around the front porch posts and wreaths in the upper windows.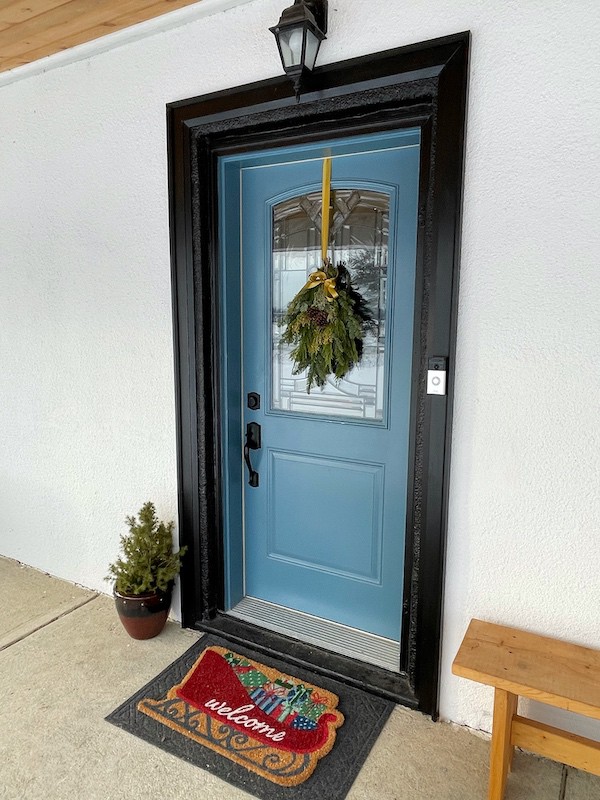 Last Christmas we added thick trim to the front door and gave it a fresh coat of paint. It makes the front door fit in with the original thick trim and baseboards throughout the interior of the house.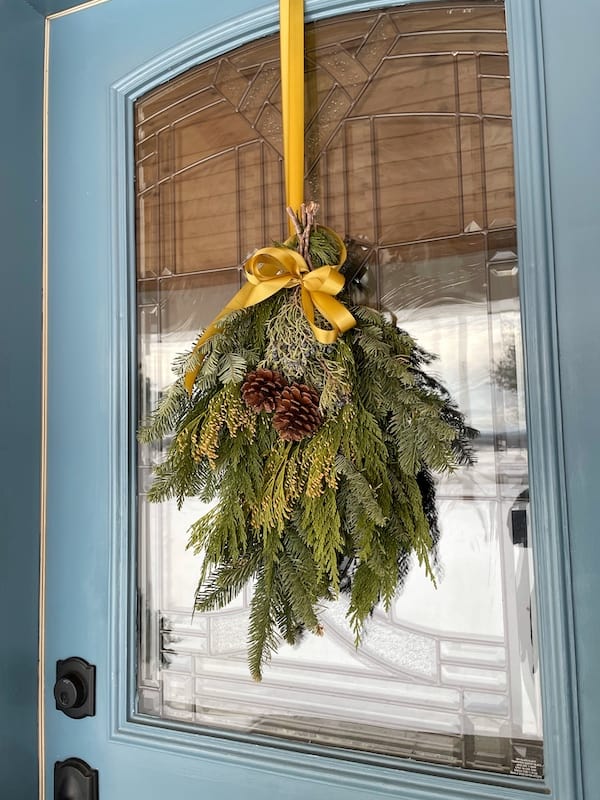 For our front door, I got lucky finding a pretty wreath swag at the grocery store with juniper berries, pinecones and incense cedar. I hung it up with gold satin ribbon and a magnet wreath hanger.
All That's Gold & Glitter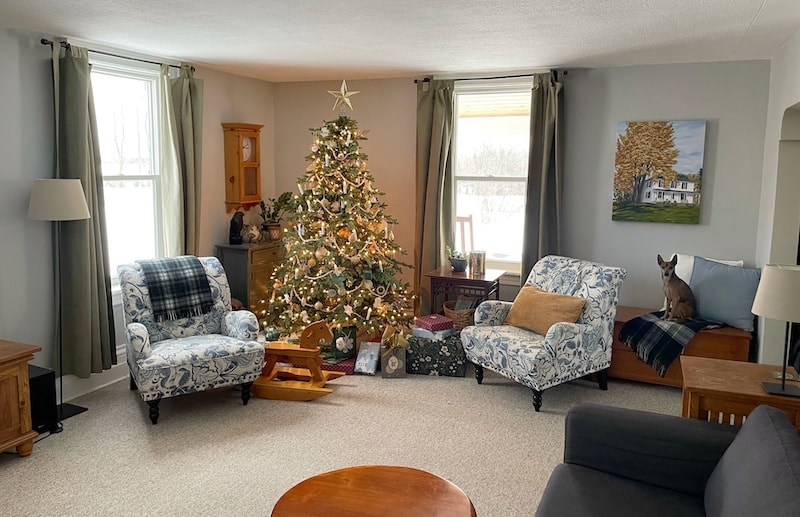 Our living room is where we spend the most time, so it calls for a big tree that we keep on all day. I went with a gold and glitter theme – picking through all our cherished ornaments for those that fit the bill, adding lots of sparkly gold balls, a new wood bead garland and remote controlled clip-on candles for an old fashioned touch.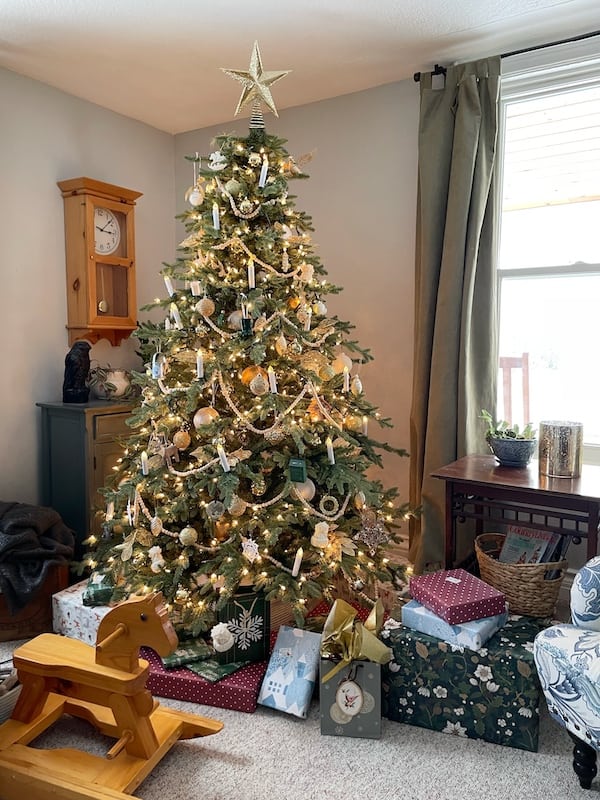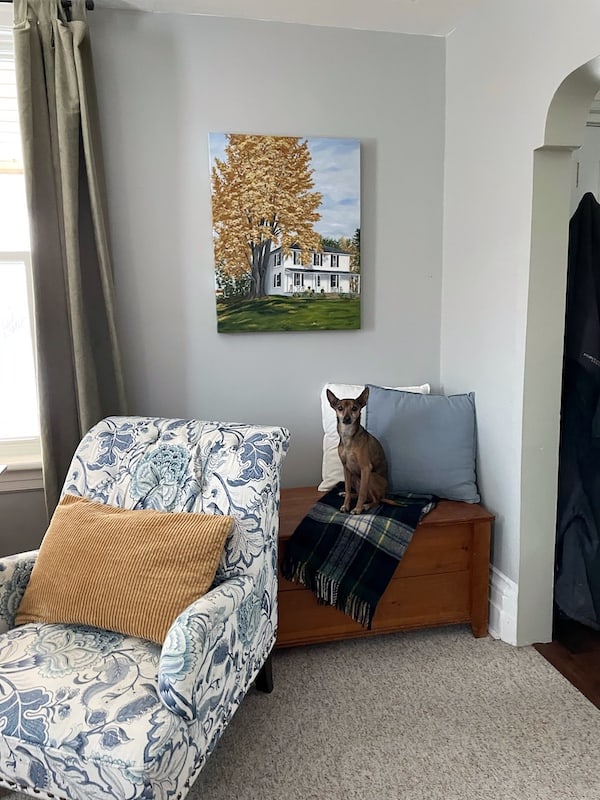 Whiskey followed me all around the house while I took pictures. We recently found this old blanket box that we are converting into a dress up bin for the girls after the holidays, but for now it is the perfect spot for the dog to cuddle up on a thick wool blanket. My family name is Gordon and I love collecting old Dress Gordon tartan blankets.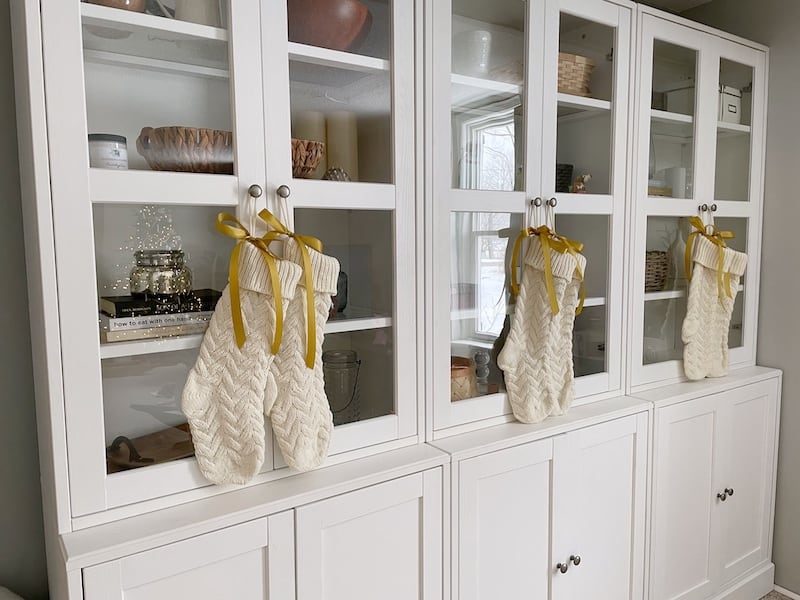 I found these adorable cream coloured stockings to hang off the cabinets in the living room. It's hard to believe we are now a family of FIVE! (plus our dog Whiskey gets a stocking too!)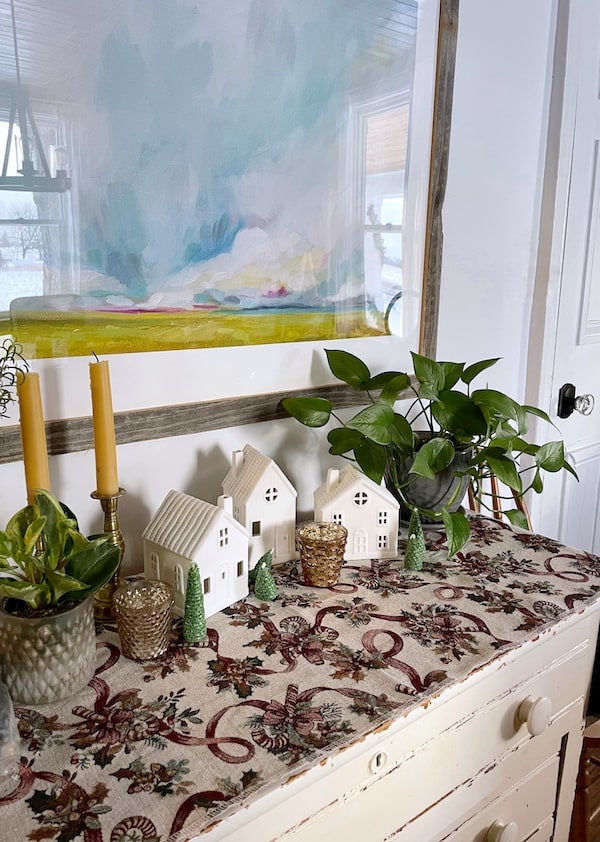 Little figurines and knick knacks are too hard for kids to resist touching, so I kept it simple with things I don't mind potentially getting broken, like these ceramic houses and Rolled Beeswax Candles. I can't wait until they are a little older and I can set up the Handmade Christmas Village again.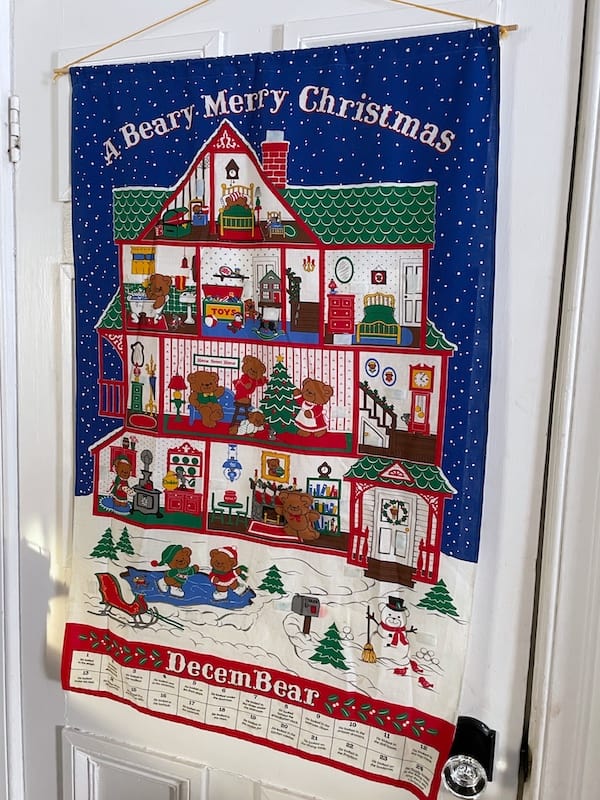 My favourite nostalgic nod just might be this fabric advent calendar from when I was a little girl. I have a peanut allergy and my mom always had a hard time finding a chocolate calendar that was safe. A local teddy bear themed coffee shop had this hanging up in their shop when I was a little girl, and I loved it. The owner had an extra fabric kit at home, and was so incredibly kind to give it to my mom. Every day the little bear goes around the house looking for Christmas. It was a family tradition when I was little, and I've been trying to find a way to get more copies for my siblings and all our kids to have it too.
Dreaming of Sugar Plums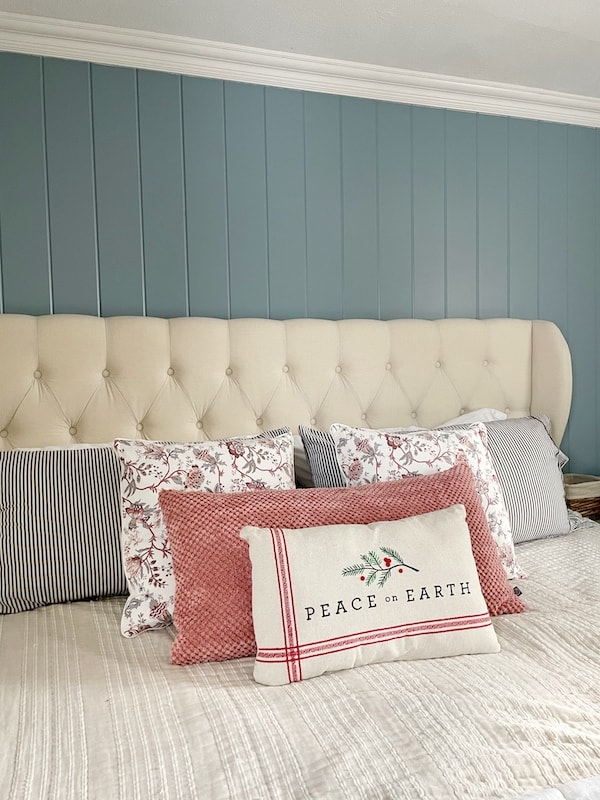 Earlier this summer we changed up the wall colour and headboard in our Farmhouse Master Bedroom. I hope to do a full room reveal of the updated look in the New Year (once we have the artwork and lamps up). To make it a little festive, I added a new "Peace on Earth" pillow.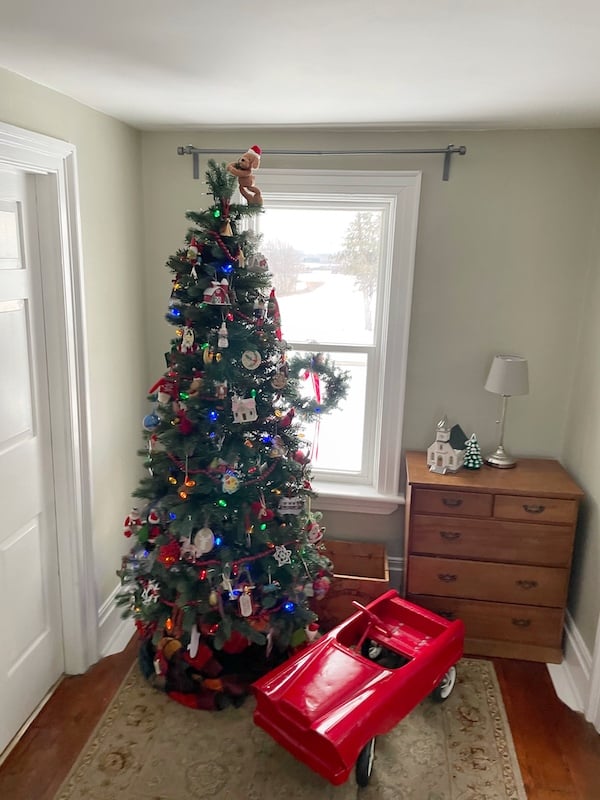 In the upstairs hallway, just outside the girls room, we helped them put up the tree from our old apartment. They got to pick the colourful retro Christmas lights with all the ornaments they loved, and handmade decorations. My childhood vintage red pedal car fits perfectly with it!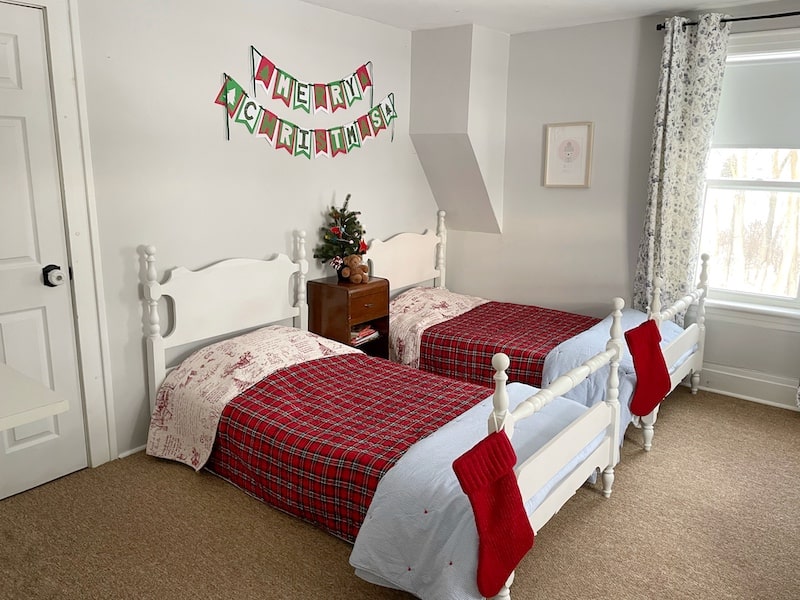 I grew up having flannel Christmas sheets and I remember it being so special. My mom found these beautiful bedspreads for the girls' matching beds, and they're just perfect. One side is a vintage Christmas card print and the other is a festive red plaid. The girls squealed when they saw them. I swapped out their usual bunting for a "Merry Christmas" banner made by a friend. They wanted to add the stockings to the foot of their bed after reading a British book that had that. (Although we've had to explain that Santa puts the goodies in the stockings hanging downstairs)
To All a Goodnight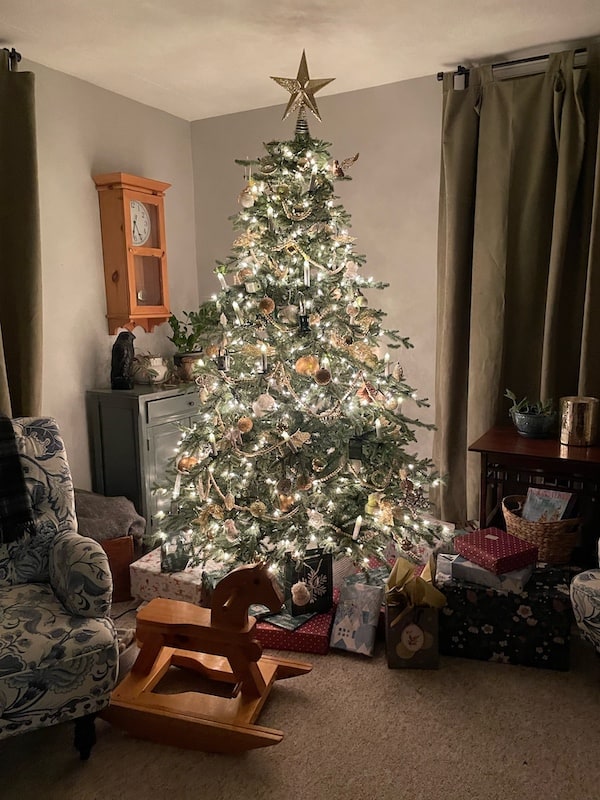 While I love looking at all the decorations during the day, the real magic of Christmas comes out at night when we light the candles, put on music and hang out together by the glow of the Christmas tree.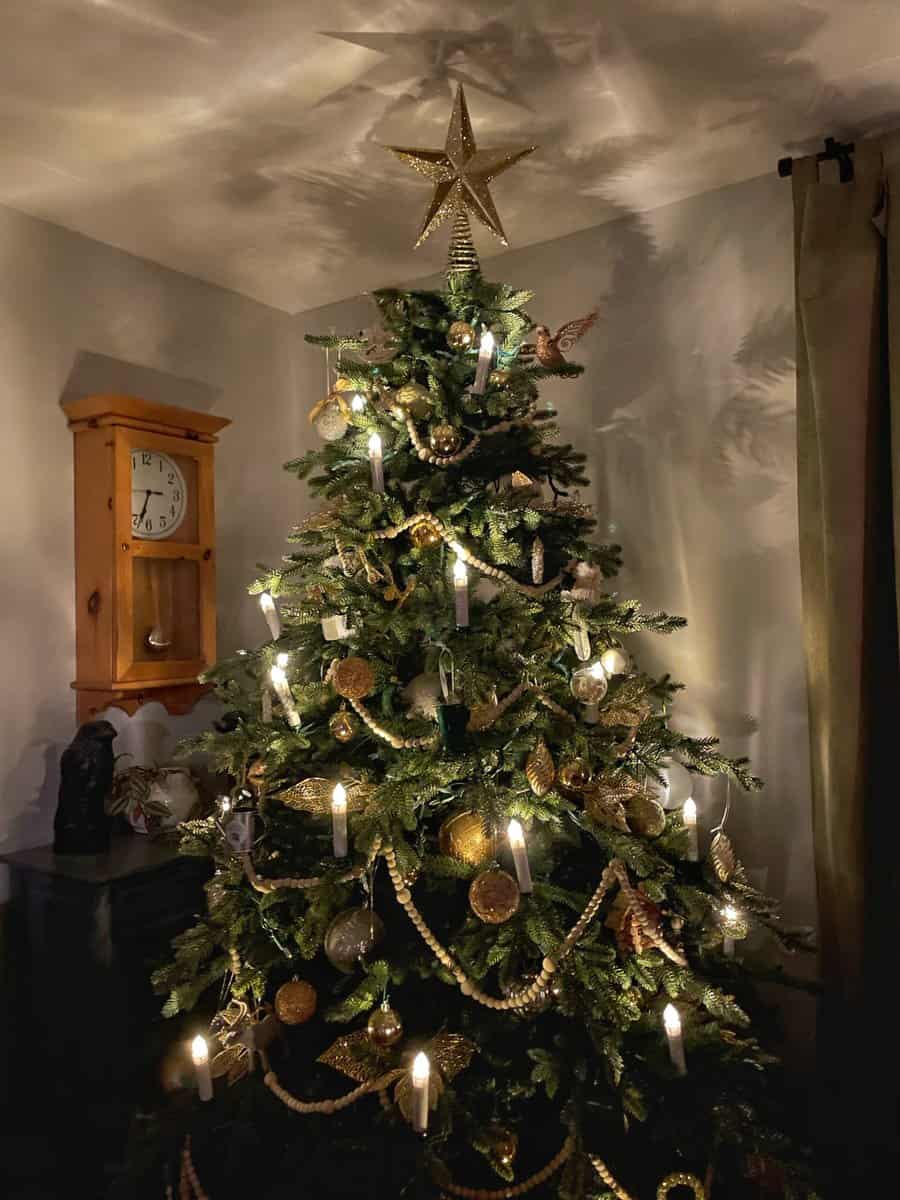 When we turn off the tree lights and just let the candles glow, it makes me think of the 118 years of Christmases that this old farmhouse has seen. I feel so fortunate to be creating our own family holiday memories within these four walls.
Wishing you and yours a very Merry Christmas!