Nanaimo Bars are a popular Canadian treat that are absolutely delicious. Creamy and chocolately and coconutty (is that a word?).
These are a great thing to made for the upcoming holidays. They are sweet and rich and oh so decadent. And I've yet to meet someone who hasn't love this recipe. Even non-coconut lovers like my cousin Al have been known to dive in for seconds.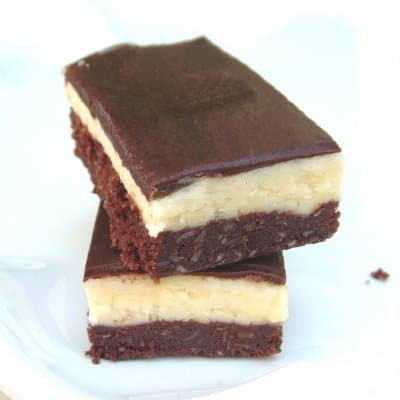 However, they are often made with crushed almonds or walnuts, which means that nut-allergy people such as myself have to suffer watching others savour them. And oh how we suffer.
So my Sis and I came up with a nut-free version, which tastes even better than the nut version. It was lots of fun to make together, and even more fun to gobble it up. Enjoy!

Nut-Free Nanaimo Bars
Author:
Amanda - Life at Cloverhill
Ingredients
First Layer
½ cup unsalted butter
¼ cup sugar
5 tbsp cocoa
1 egg, beaten
1¾ cup graham cracker crumbs
1 cup coconut
Second Layer
¼ cup unsalted butter
2 tbsp + 2 tsp cream
2 tbsp instant vanilla pudding mix
2 tsp pure vanilla extract
2 cup icing sugar
Third Layer
4 squares semi-sweet chocolate (1 oz each)
2 tsp unsalted butter
Instructions
First Layer
Mix first 3 ingredients in top of double boiler. Add egg to cook and thicken. Remove from heat. Stir in crumbs and coconut. Press firmly into an ungreased 8' x 8" pan. Place in the freezer as you make the next layer.
Second Layer
Cream all together well. Beat until light. Remove pan from freezer and spread mixture over the first layer.
Third Layer
Melt chocolate and butter over low heat. Cool. Once cool, but still liquid, pour over second layer and chill in the refrigerator until set.