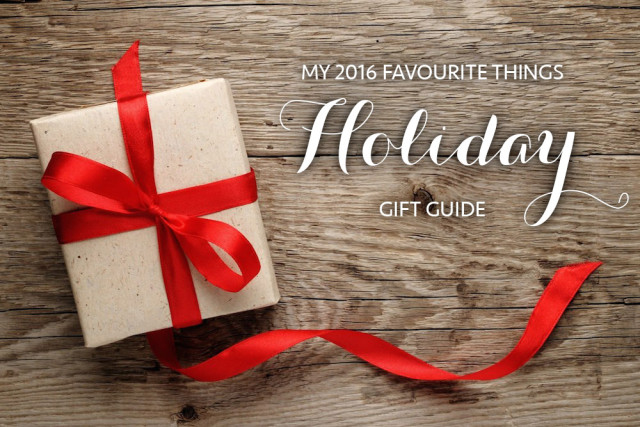 I am so beyond excited to share my 2016 Favourite Things Holiday Guide! They're all things I use and love, and the really great thing is that if you enter today, you're eligible to win any of the things on this list! We're talking about over $500 worth in giveaway prizes, generously sponsored by each maker. I hope you find something in this guide that helps you with your own Holiday Gift List. Don't forget to stop by my 2016 Holiday Guide as well, with all my festive posts and some new ones throughout the holiday season!
/ / /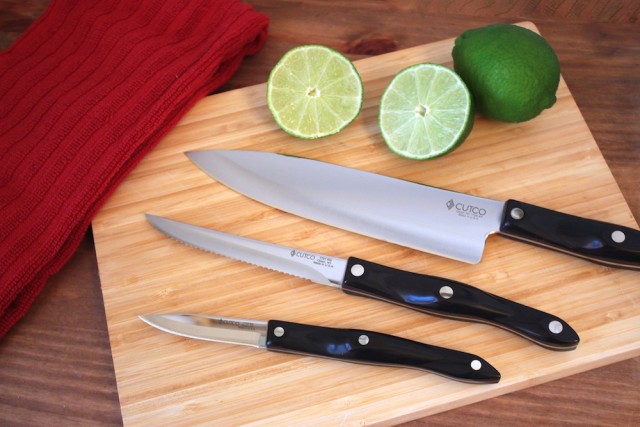 A dear family friend gave me a set of knives and a vegetable peeler from Cutco as a wedding gift and I've been in love with them ever since. These are the kind of knives that get passed down through families. They're American made with high-quality materials that are built to last and the give them their Forever Guarantee. This Kitchen Classics Gift Box is the perfect gift for a novice chef and the seasoned kitchen pro alike. With either the classic or pearl handle, it includes a three knife set of a  7-5/8" Petite Chef, a Trimmer and a 2-3/4" Paring Knife.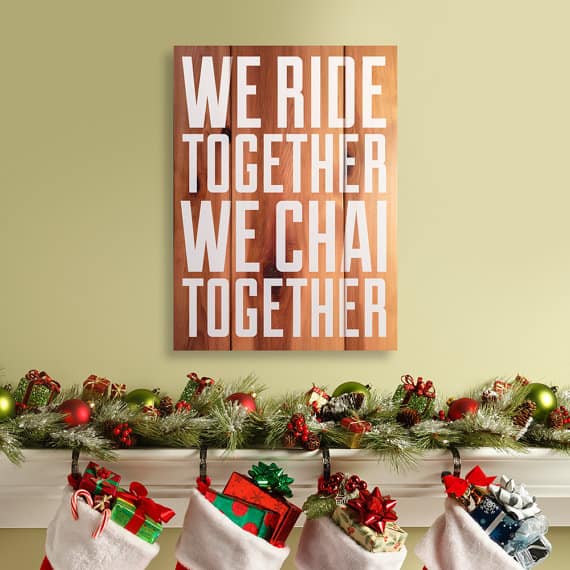 I had the pleasure of meeting the duo behind Rustic Hustle at an Etsy event early this fall and immediately fell in love with their painted cedar signs. Their tongue-in-cheek sayings are fun (this chicken inspired one is perfect) and the boards are well made. Any tea aficionado on your list would love this Tea Lovers Sign.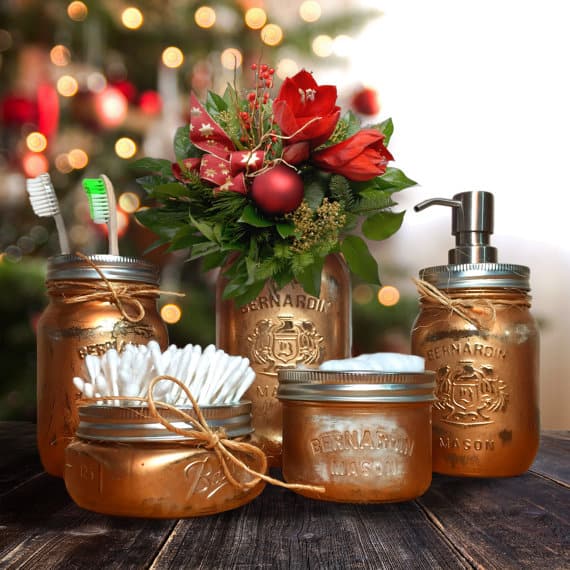 They also make these great Mason Jar Bathroom Sets including a stainless steel soap pump. flower vase, makeup brush/toothbrush holder, and two storage jars for cotton swabs and cotton balls. They come in a variety of rustic colours – gold, white, rose gold, pink, or seafoam.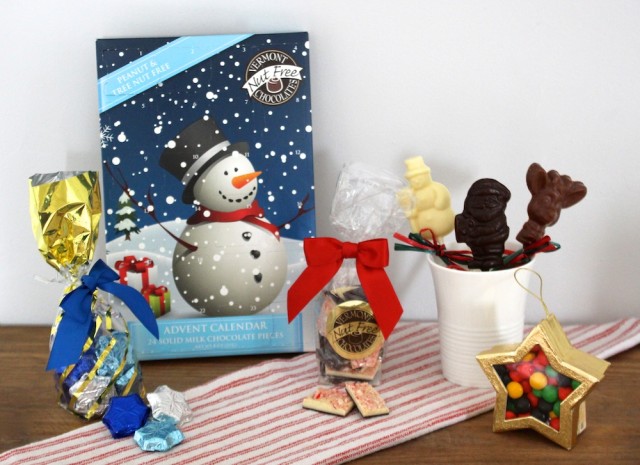 In our house, Vermont Nut Free Chocolates are the ultimate in chocolate and treats. I've had a life-threatening peanut and tree nut allergy since I was born and when my parents gave me my first box of Vermont Nut Free Chocolate truffles on my 16th birthday, it was so incredibly special. I'd never had real, good quality chocolate like that before and I was immediately hooked. Since then family and friends have bought them for me for almost every special occasion and I get excited every time. These chocolates are not just for those with allergies. Everyone in my family loves them and Garrett always makes a big order for my birthday and holidays so that he can dig into them too, ha!
They have the best Christmas line including a big Advent Calendar (with a half a pound of chocolate in it!), their perfectly crunchy and sweet Peppermint Crunch Bark, crispy chocolate Winter Snowflakes , festive Christmas Pops in different shapes and flavours and a fun ornament of their candy coated chocolate Skippers (which are incredibly addictive!).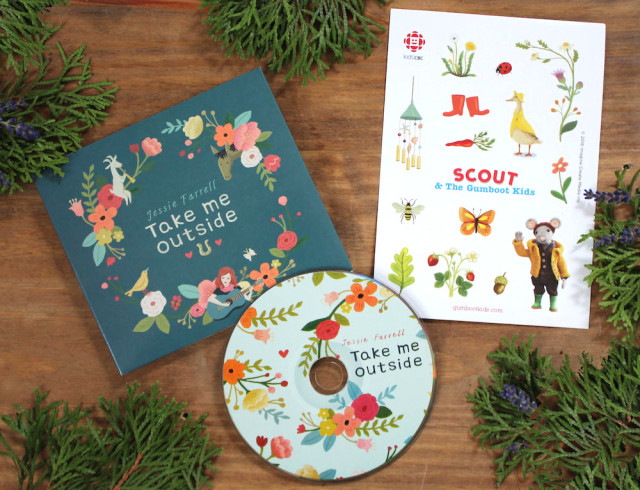 Growing up in Canada, it's a must to watch the Kids' CBC shows. Mr. Dressup, Fred Penner and Sharon, Lois & Bram's Elephant Show were some of my childhood favourites, so I was pretty excited when I heard about their new show, Scout and the Gumboot Kids. Scout is a curious little mouse who helps the Gumboot Kids solve mysteries in nature. It's beautifully made by Vancouver's Two Story Productions and has a lovely musical accompaniment by Canadian artist Jesse Farrell. She's released a CD of the songs from season one of the show, called Take Me Outside. I've been playing it in our car for Lucy and I love that it shares songs about exploring the great outdoors and has a lovely country twang to it that I enjoy listening to as well.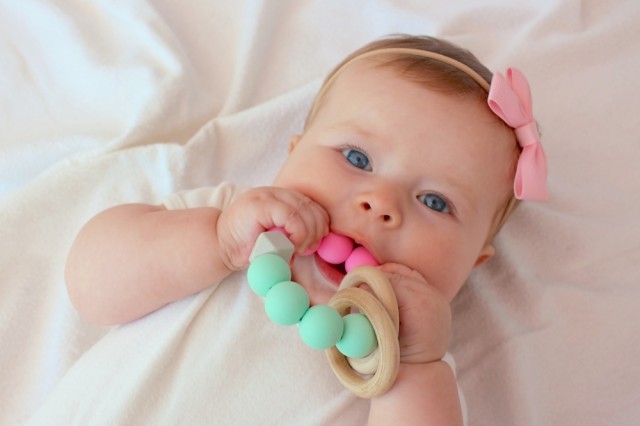 This product is not only on my favourite things list, but Lucy's as well! This Silicone Teething Ring from ViaHand has been a must have for us lately. When we got to my parents' place in Florida earlier this week, Lucy started cutting her first tooth and has been having a rough time of it. This teething ring is one of the few things that has kept her happy, and she loves chomping away at it. With a variety of fun colours and designs, this is a toy that any baby would love and that their parents would be happy to have them use on their aching gums. It's made of BPA free, lead free, cadmium free, phthalates free and PVC free silicone, giving me peace of mind while she is playing with it. I'll be putting one of ViaHand's colourful Silicone Soother Clips in Lucy's stocking as well. This will be very helpful, as she gets into this age of tossing her soothers and toys out of the stroller on walks.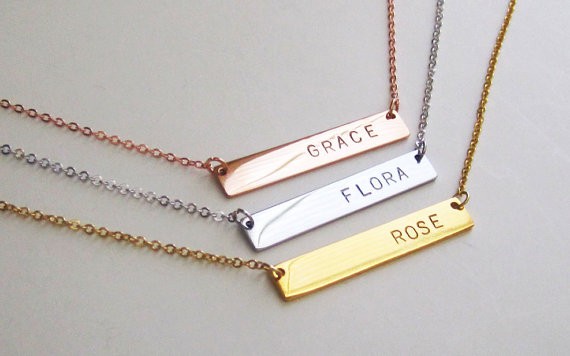 I'm loving this bar necklace trend that is a throwback to the 70s. Stars like Kate Hudson and Rose Bryne have been spotted wearing them and there are so many different styles on Etsy right now. I'm loving this Rose Gold Bar Necklace from Toronto-based Poise Jewellers. There is a Roman Numeral Bar Necklace too that would be great to commemorate any special occasion.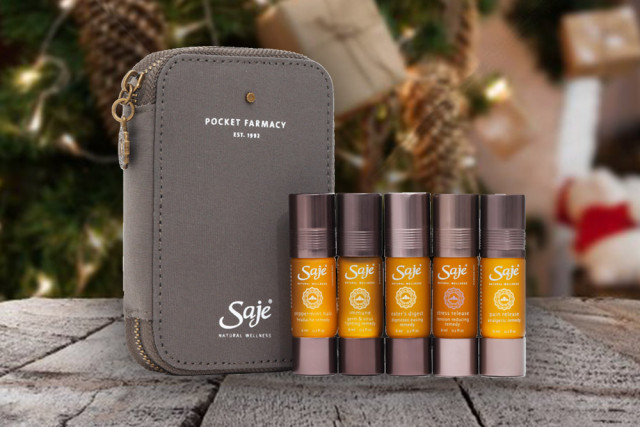 I started using essential oils from Canadian based Saje a few years ago and they're been so helpful, especially during the upcoming cold season. This Pocket Farmacy has everything you need to ease most common ailments from their Peppermint Halo Headache Remedy (I love putting this on before bed when I've got a cold) to their Stress Release Tension Reducing Remedy (a nice way to calm down after a busy day.
/ / /
Finding special gifts for loved ones if one of my favourite parts of the season and I hope this list has given you some inspiration. Don't forget to enter the giveaway below for your chance to win anything you saw on My 2016 Favourite Things Holiday Gift Guide!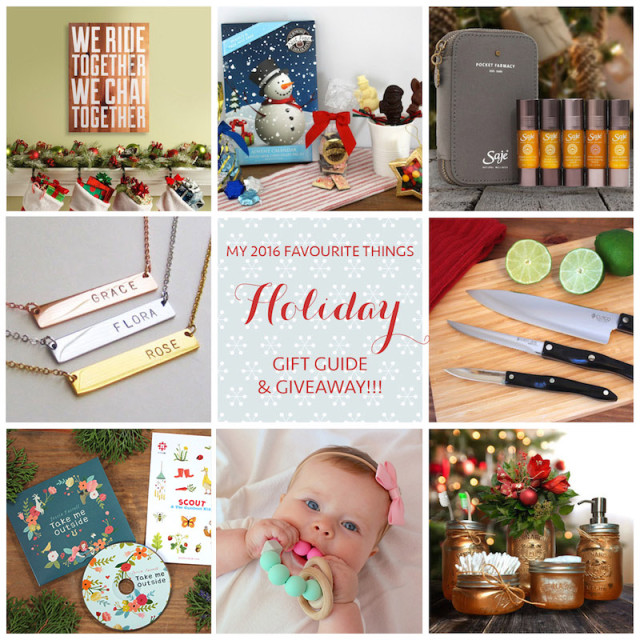 THIS CONTEST IS NOW CLOSED
A big THANK YOU to everyone who entered the contest and showed our awesome sponsors some love. All winners have been emailed and have 48 hours to respond. Thanks!
Kitchen Classics Knife Set from Cutco ($313) – Carly W
Essential Oils Gift Set from Saje Natural Wellness ($60) – Sarah T
Mason Jar Bathroom Set from Rustic Hustle ($40) – Courtney G
Tea Lovers Wooden Sign from Rustic Hustle ($37) – Charlene S
Holiday Treats from Vermont Nut Free Chocolates ($25) – Melissa S
Rose Gold Bar Necklace from Poise Jewellers ($21) – Nicole S
Silicone Teething Ring from ViaHand ($18) – Robyn S
Jesse Farrell "Take Me Outside" CD and "Scout and the Gumboot Kids" sticker sets ($10, 3 sets) – Shannon G, Jenny S and Rebecca A