Disclaimer – This post was generously sponsored by Canadian Tire. All thoughts and opinions are my own. 
Now that Lucy is a very curious and lively toddler, I knew that I'd need to approach our Christmas decorations a little bit differently this year. Last year we had our tree set up with many of our favourite breakable ornaments because she still couldn't get to them, but this year I wanted to put together a really special tree for our living room that I didn't have to worry about, especially with Lucy at this age and with a 10 week old puppy visiting us right now.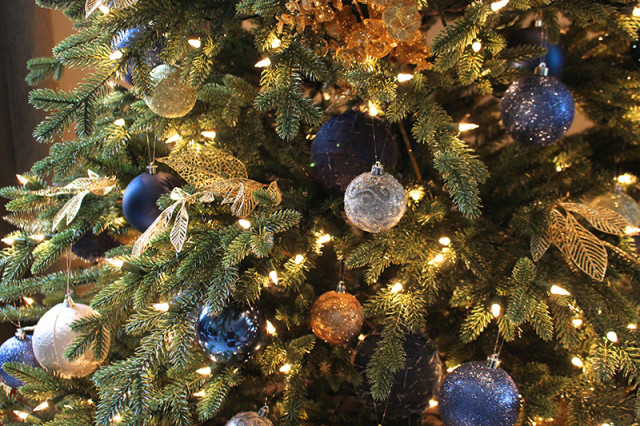 I am so excited to work with Canadian Tire on this post because they really are my go-t0 store for Christmas trees, ornaments and decorations. My love of decorating for the holidays started young and when I was a teenager my parents told me it was my job to string the lights on the tree. After only one year of doing it, I announced that we needed to buy a pre-lit tree, ha! My parents still use that tree and we look forward to decorating it with all of our family ornaments every year.
The first Christmas I moved out on my own, to my tiny apartment in Little Italy, I made the trek across town in the snow to pick up my very first Christmas tree of my own from Canadian Tire. It was a great indoor/outdoor tabletop tree that we still have up in our home now.
A few years later, on our first Christmas as a married couple, Garrett and I couldn't find the tabletop tree in storage. We looked and looked until finally, he said that maybe we needed a new tree for this new chapter of our lives. With that, we looked at the Canadian Tire flyer and headed over. We came home with the perfect slim tree for our little apartment. I'm still using that tree to hang some of our sentimental ornaments in the dining room, but I wanted something in our living room to enjoy over the holidays, as we spend most of our time in there.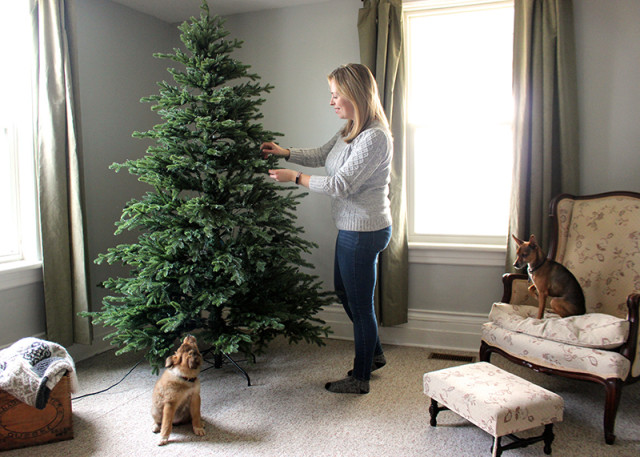 For our Family Friendly Farmhouse Christmas Tree in the living room, I wanted a tree that would stand out in this big room and be very realistic. I headed over to Canadian Tire's website and found this stunning 7-ft tall CANVAS Pre-Lit High Park Pine. The tree was easy to assemble with three sections that connected together. I went around the tree and fluffed up the branches a little and that was it! Everyone who sees it can't believe it's not real. The branches and shape of the tree make it look like it was just cut from a tree farm this morning.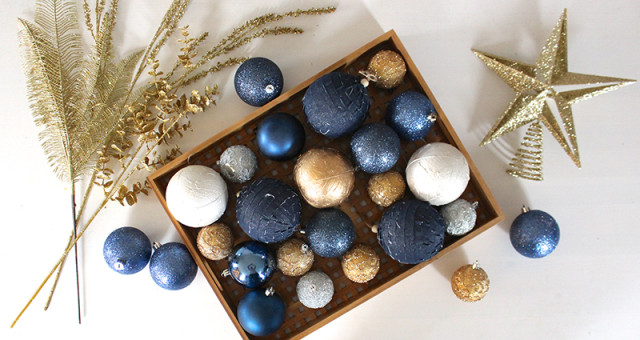 Most of our family ornaments are red, so for this tree in the living room, I wanted to do something really different. Inspired by the CANVAS Tundra Blue line, I went with a rich navy and gold theme. Canadian Tire has an amazing selection of Christmas decorations for every colour palette and theme, and I was able to pull together unbreakable decorations that worked well together. For extra texture and movement, I went with gold glitter decorative picks such as this delicate juniper and eucalyptus and feathers, along with a variety of Christmas balls and a stunning geometric style gold glitter star tree topper.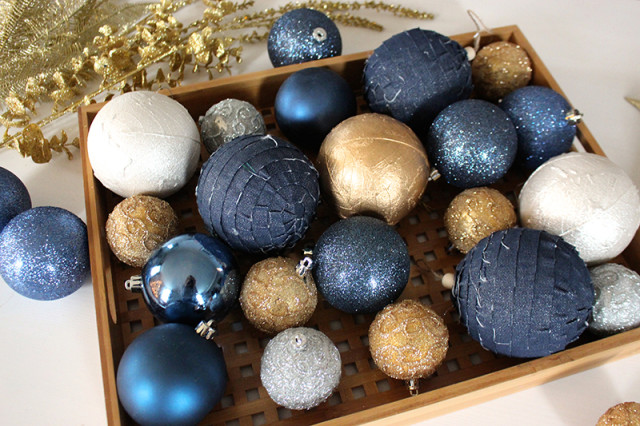 For a layered look, I used ball ornaments in a variety of sizes and textures, such as these larger blue denim, and gold metallic leaf ones, paired with various blue glitter and mixed blue finishes. The smaller mixed metal balls add even more sparkle and shine to the tree.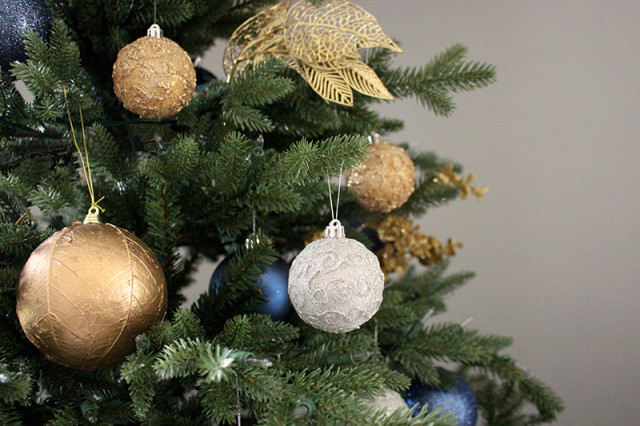 When I layered all the ornaments in amongst the tree branches, it added a rich, full effect. I love all the different finishes on the Christmas balls.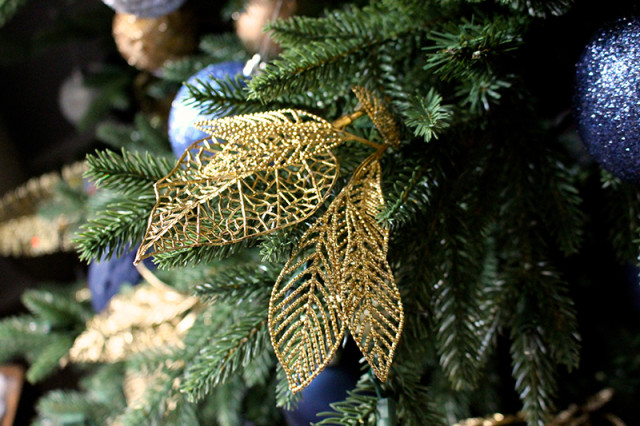 I also took this lovely gold shiny leaf garland and cut it into smaller sprays to tuck into the tree branches.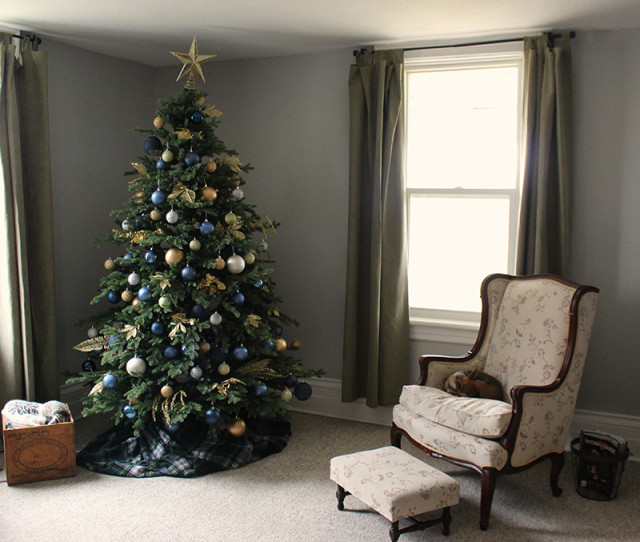 Once all the ornaments were on the tree, I wrapped my vintage Dress Gordon tartan blankets around the base as a festive tree skirt with a little nod to my Scottish heritage. As you can see, my assistant Whiskey had lost all interest at this point and was cuddled up in the chair. Then it came time for the moment of truth…flip the switch!…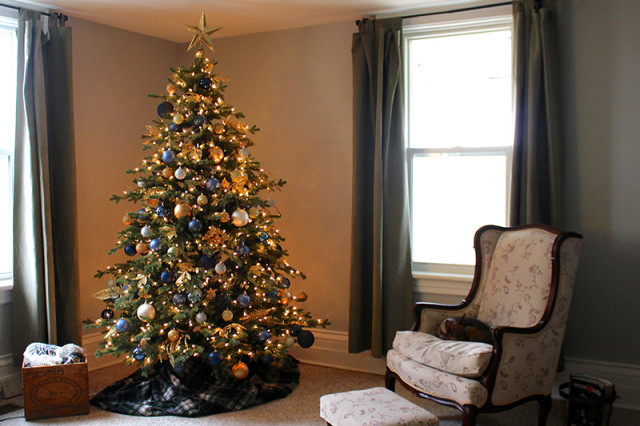 …Ah! The warmth of the lights and the sparkle from the decorations instantly made the room feel like Christmas. We don't have gifts under the tree yet with Lucy around (or they'd all be unwrapped), but it still feels very festive in here now.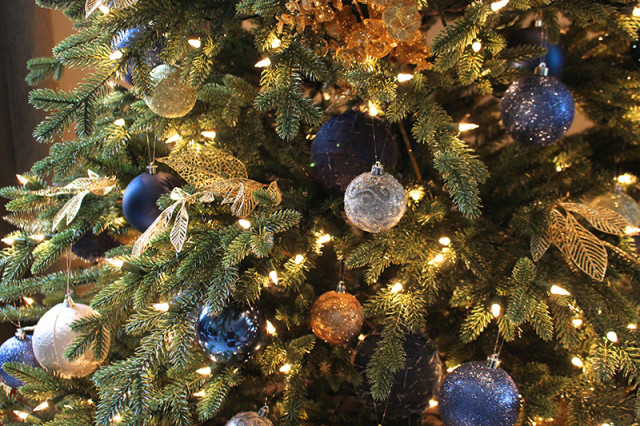 Just look at those branches! They look so realistic and the tree is very full. I love how all the ornaments work together to create this warm and festive layered look. You'd never know that they were ALL unbreakable.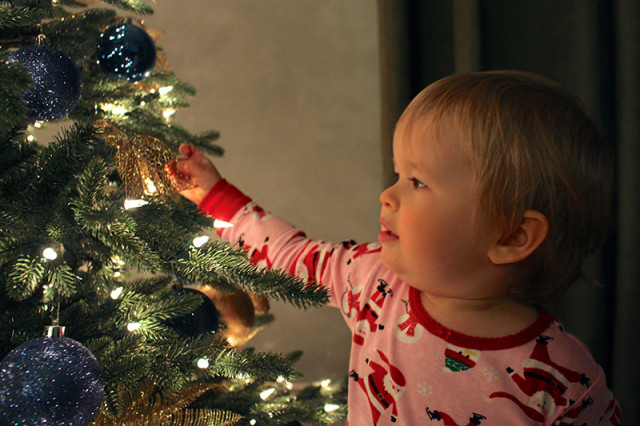 When I showed Lucy the tree that evening, she was in complete awe. Just look at the twinkle of Christmas magic in her eyes. It melts this mama's heart. I love knowing that she can touch and feel all the ornaments without fear of her hurting herself or breaking something precious. It really is such a great family tree to have in our living space.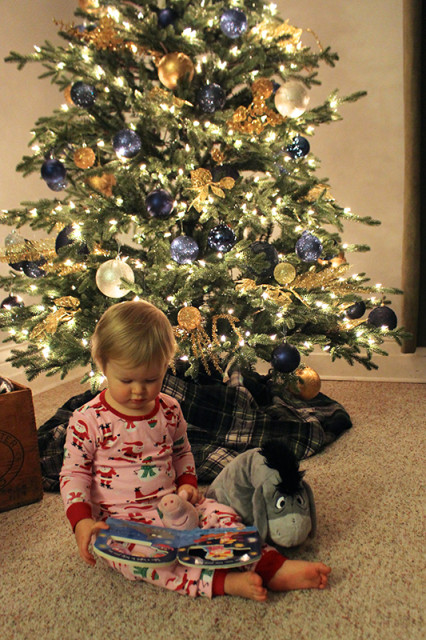 While I was setting up some shots of the tree, I turned around and found her sitting on the floor reading to her stuffed animals – totally unprompted! Even Lucy gets the warmth and coziness that a Christmas tree brings to a room.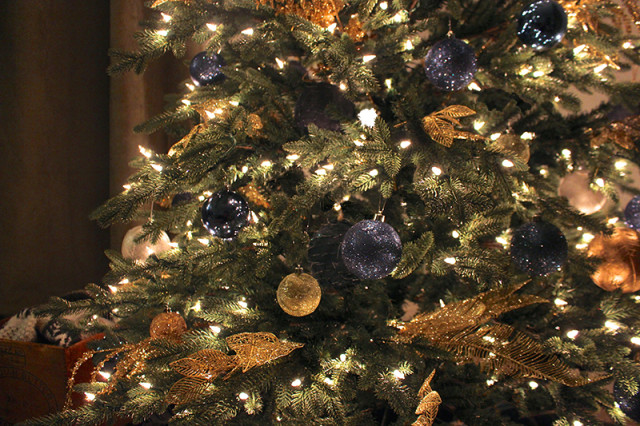 We've been having the tree on all day long because as soon as Lucy sees it, she says "twee! twee!", but I especially love it at nighttime. When she's been whisked off to bed to dream of sugarplums, Garrett and I have been making big mugs of cocoa and settling in for a cozy night in this old farmhouse. This is what makes December so so special – celebrating the season with your loved ones.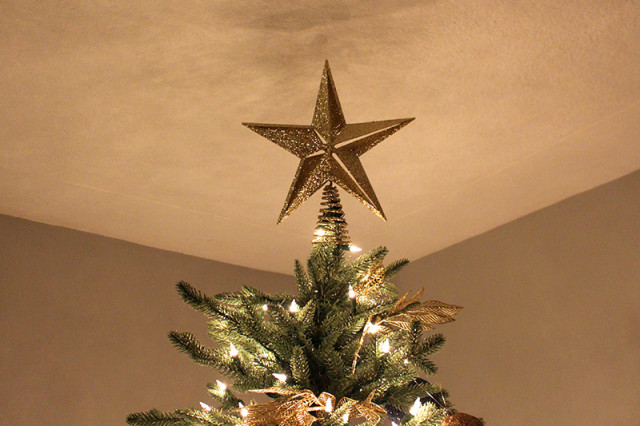 At the tippy top of our tree is the glittering tree topper. It catches the light and really sparkles in real life.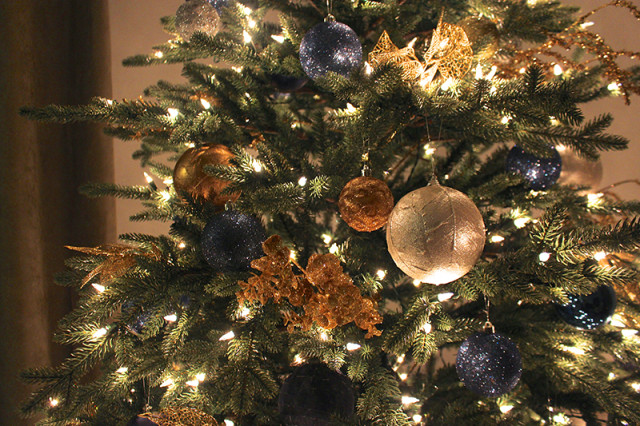 I also love how the glittery spray picks have added so much texture and sparkle to the tree. I haven't used them before and I'm completely hooked now!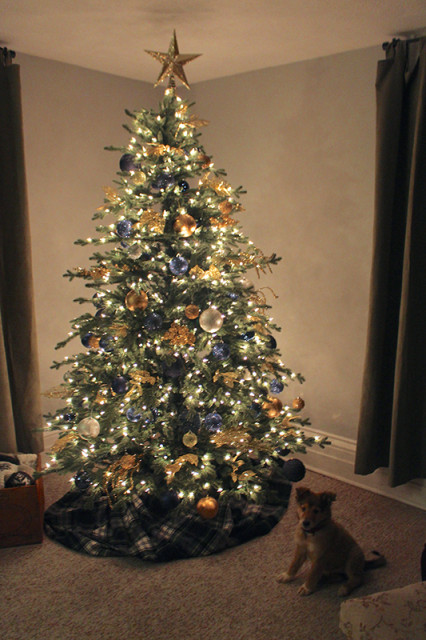 Even my sister's little puppy is enjoying her first Christmas under the tree. I keep finding her curled up in the soft tree skirt, dozing away under the twinkle lights.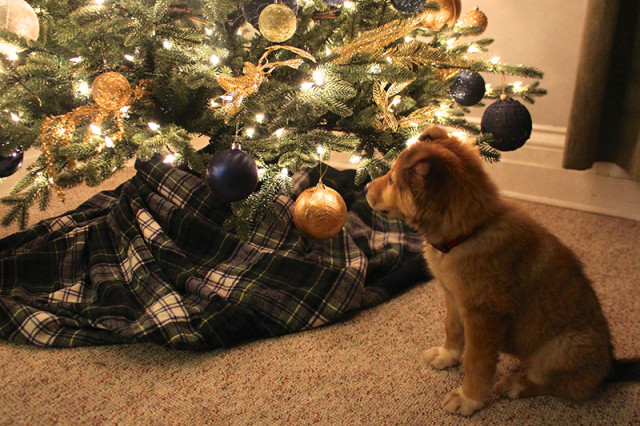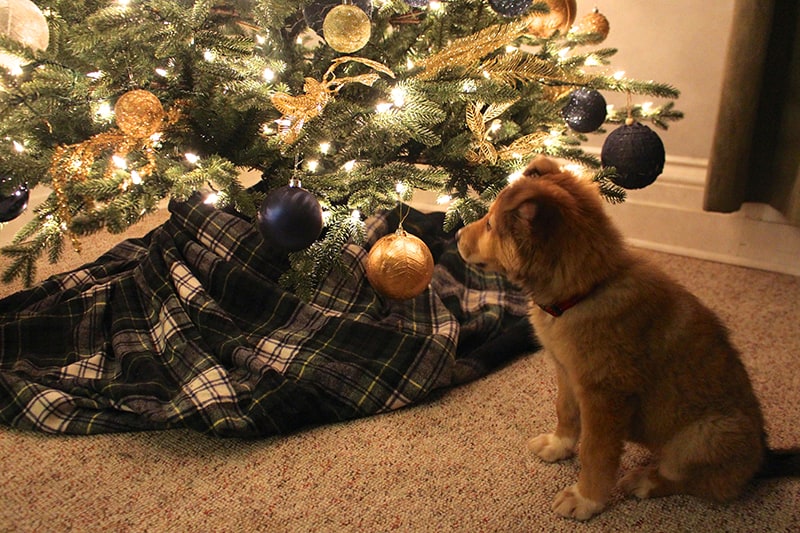 Everyone – young and old, big and small – feels that magic of Christmastime. I hope you're all enjoying decorating your own home for the holidays. I'll be back later this week with a tour of more of the Christmas decor around our farmhouse.