Merry Christmas! I can hardly believe we're only ten days away from Christmas. We've had a busy year, with so much to celebrate and be thankful for. Grab a hot cocoa and come along for a little tour of our farmhouse decorated for Christmas.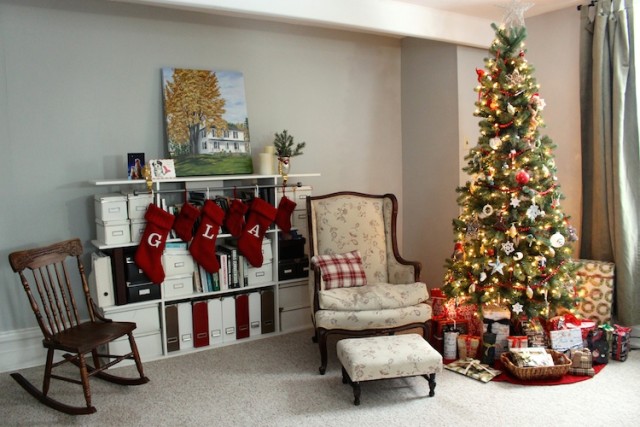 For the most part, I've arranged things the same way they were last year. This is our second Christmas at the farmhouse and we're still working on how we're going to arrange our living room and dining room long term, so for now we've kept our mismatched furniture. One of my big goals for 2017 is to put a nice fireplace right where that old bookcase is. Wouldn't it look so nice with the stocking hung by a warm fire next Christmas?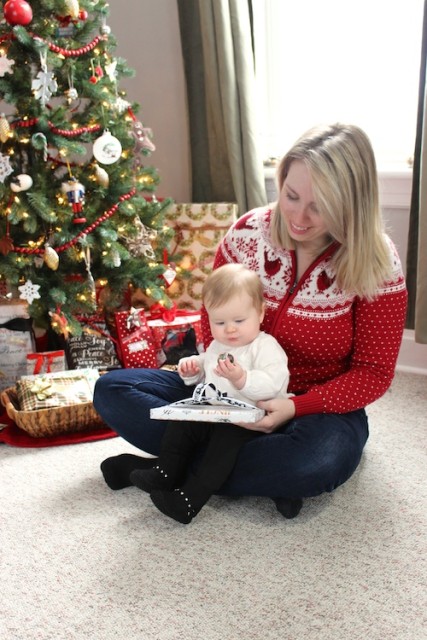 Another reason we've kept our Christmas decorations simple and low key this year, is we've been a wee bit busy with this little lady. Lucy is all about Christmas – she is fascinated with the lights, pulling at wrapping paper and singing all the songs in silly voices, ha!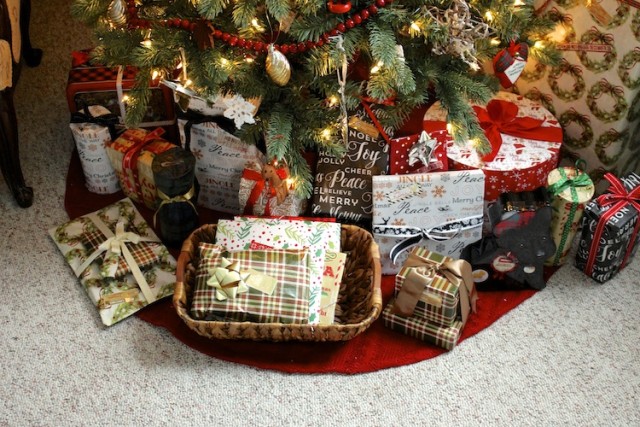 I'm sure next year when she's moving around we'll have to do things a little bit differently, so this may be our last year with presents actually under the tree and precious ornaments on the bottom three feet. I'll enjoy it while I can 🙂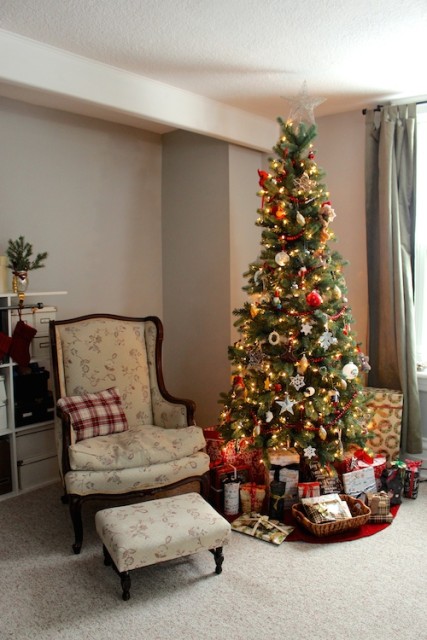 I always like seeing beautifully decorated trees with a coordinated look, but in my own home I love having a tree full of sentimental ornaments. That being said, we do seem to have a trend going on here – lots of red, white, silver and gold. Even when we buy new ornaments, they always seem to fit in with that.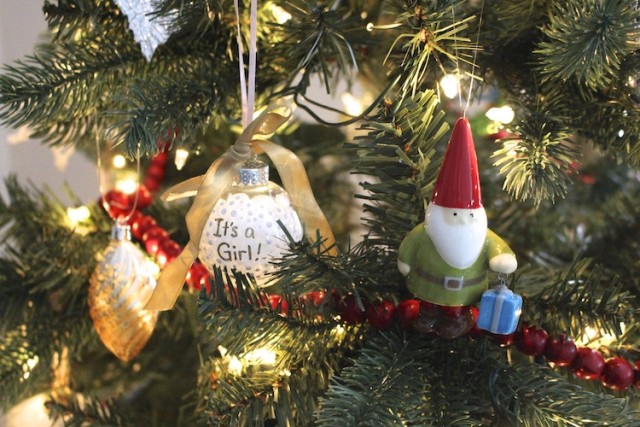 Last year we added a very special ornament – the Gender Reveal Christmas Ornament I made to surprise our families that we were expecting a little girl. I found the little Christmas gnome at Crate and Barrel this year and couldn't resist him.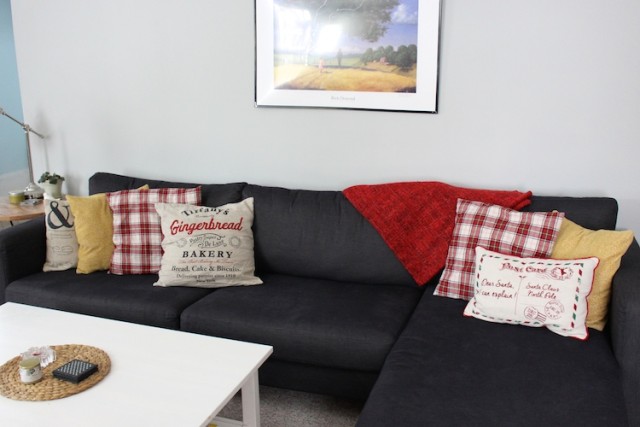 I sewed some new plaid cushion covers for the couch to go with the new Christmas pillows.
I found the big gingerbread pillow on clearance at H&M earlier this month on our trip to the city.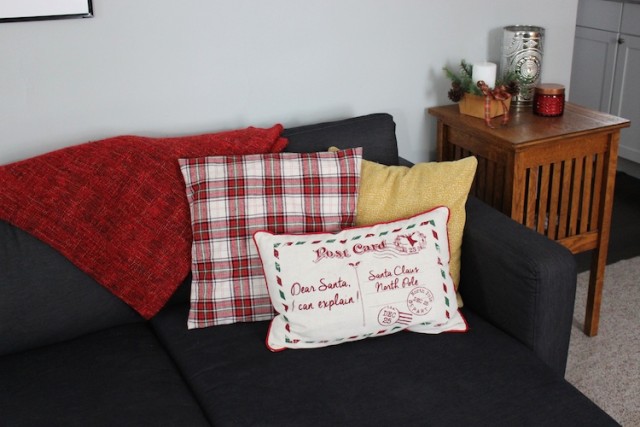 The Post Card Santa pillow was an after-Christmas sale at Old Time Pottery last December while we were celebrating the holidays with my parents in Florida. I'd tucked it away after our trip and completely forgot about it until I started decorating this year. It was a nice surprise!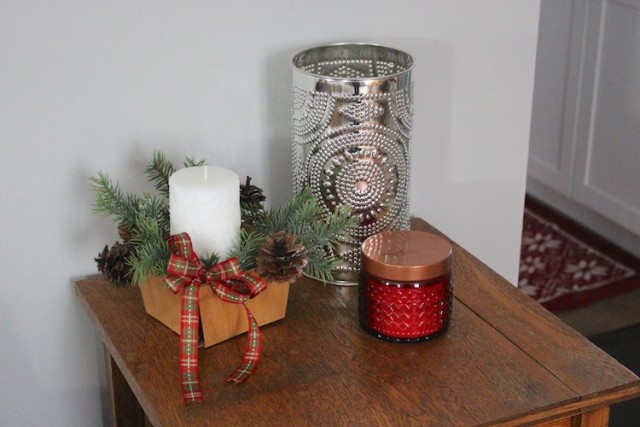 On our end table (which was the card box at our wedding) I've set up the beautiful tin lantern Garrett's parents gave us a few years ago along with the new Festive Frosted Candle I shared in yesterday's post.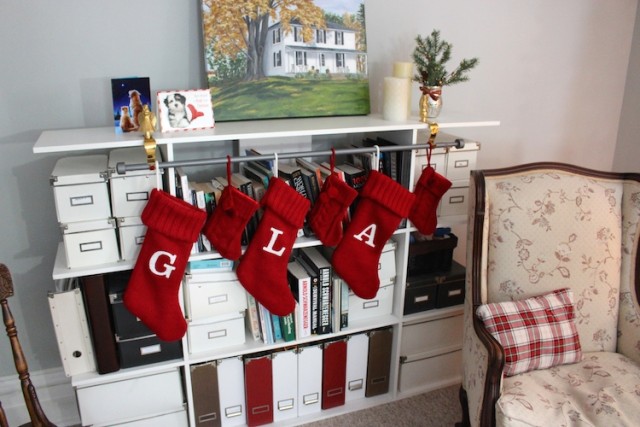 The old bookcase is our makeshift mantle again this year. In the new year, it will be making the move to a different area of the house, but for now it'll hold up our stockings and displaying the Christmas cards. The stockings were a new find this year from Target – one for Garrett, Lucy, me…and three little ones for the dogs and chickens.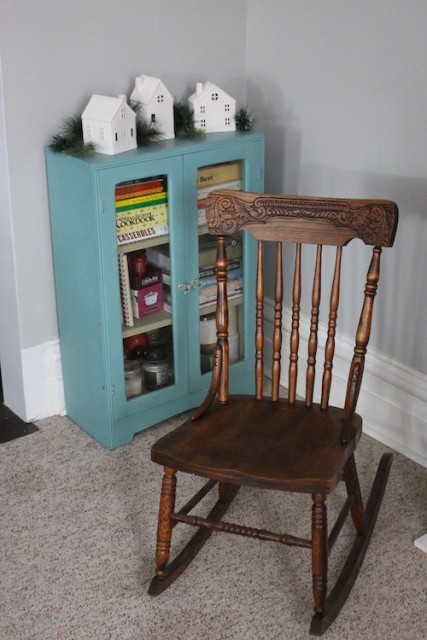 While I was in Florida last month, I spotted these cute ceramic houses in the dollar bins at Target.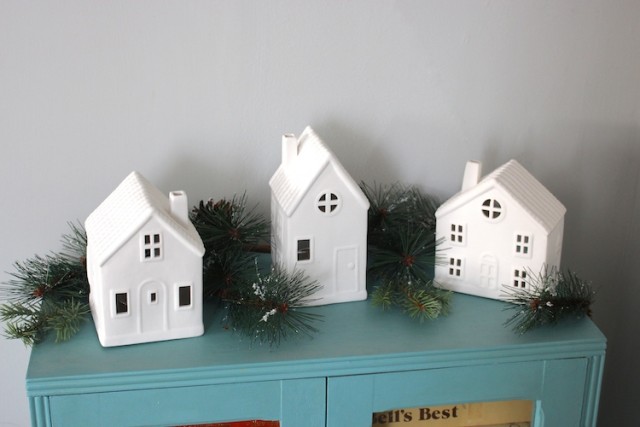 They're the perfect size to hold a little tea light and have a lovely glow at night, which you'll see farther down the post.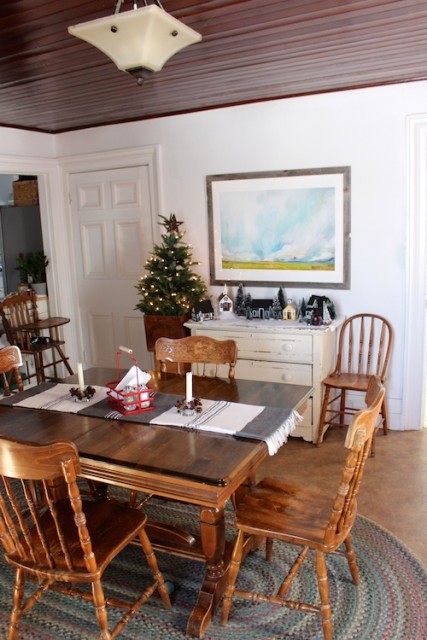 Now that Lucy is sitting up at the table in her highchair for meals, I thought it would be nice to decorate the dining room as well. With the tree, village and Rolled Beeswax Candles glowing, it makes for a nice cozy dinner setting. I set up my Handmade Christmas Village on the buffet this year too. I didn't display it last year and I really missed it, so I was excited to have it back up again.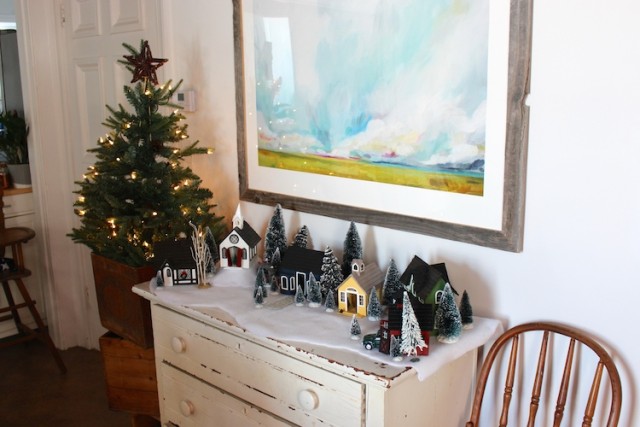 It's been a work in progress for over seven years and every year I work on another part of it before I carefully package them all up again.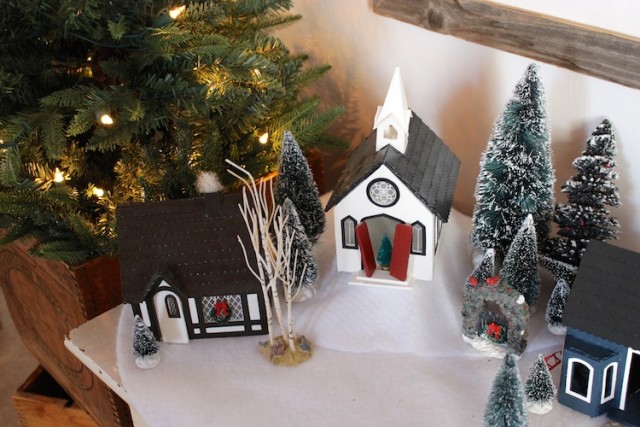 This year I'll be adding more doors, windows and roof pieces. The entire thing is made with balsam wood and cardboard, so it can be delicate work putting it together, but I love the result.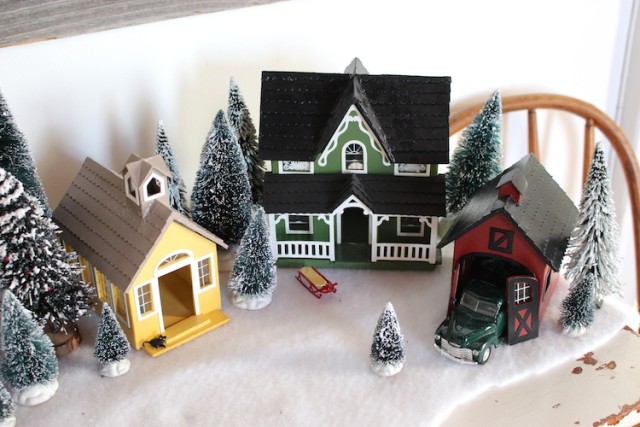 I still have a couple more house kits that I plan to add on in the years to come. I just need to remember to work on it in April or something, instead of always waiting until right before Christmas when it gets busy.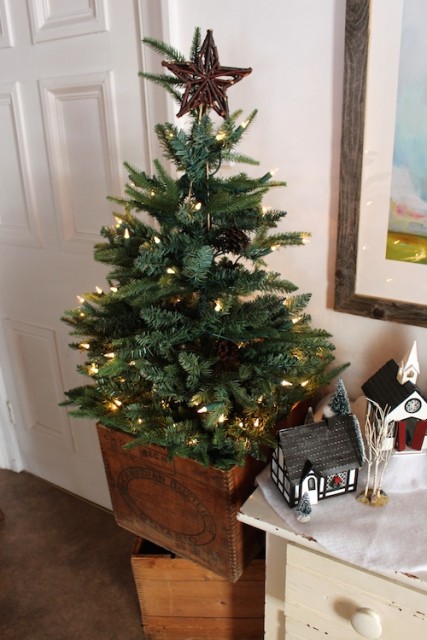 The Christmas tree in the dining room was the tabletop tree I used to use at my old apartment and our apartment together. I took it out of the pot base it came with and set it in these vintage Canadian butter boxes my mother-in-law found.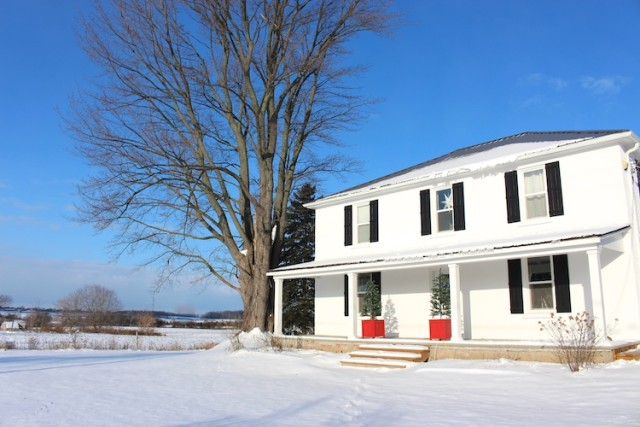 On our front porch, we added big faux spindly Christmas trees from IKEA and covered them in LED lights. They're nestled in the DIY Holiday Planters we made last year and held in place with large rocks. In the upstairs window we hung a paper star, while in the other windows we have flickering candles.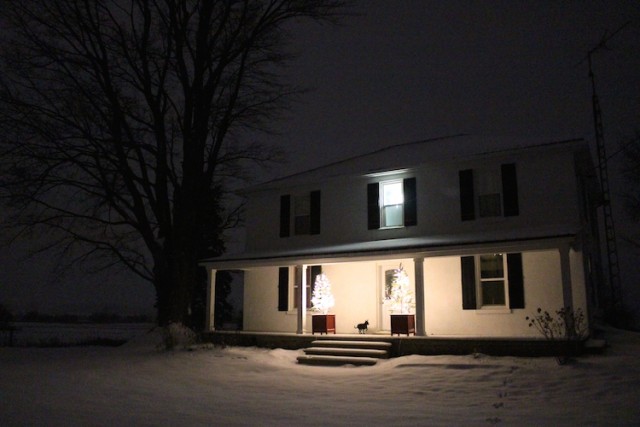 I love seeing it glowing bright at night. (Can you spot Cola saying to me "Stopping taking pictures and let's go inside…it's cold!")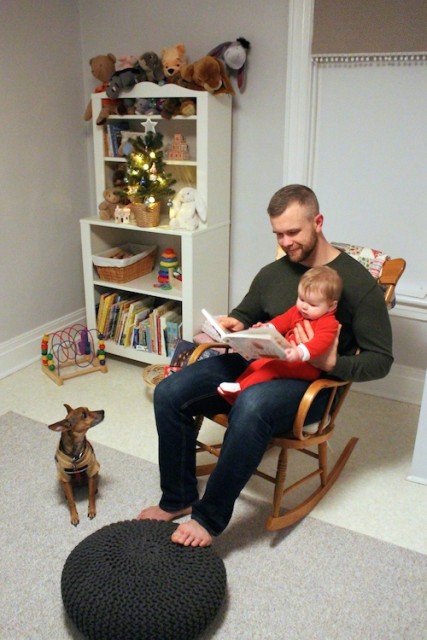 Every night we've been reading Lucy our favourite Christmas stories before bed. Getting to share them with her has been so much fun. Those cute fuzzy pyjamas are ones that my sister, brother and I all wore as babies. My mom recently dug out some of our baby clothes for Lucy to try and it's so sweet getting to see her in them. I even have a special outfit I've set aside for our Christmas Eve dinner.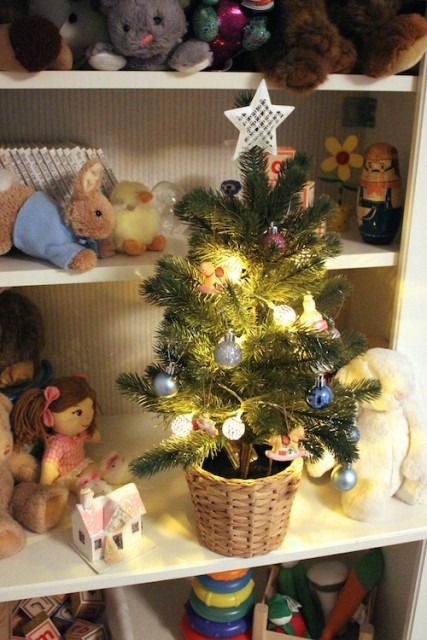 I couldn't resist putting up a little tree in her nursery too. If you're subscribed to my monthly newsletter, I shared a little sneak peek of the sweet ornaments I'd found for it, including the cute cardboard house and bottle brush tree. We always have a tree in our bedrooms growing up and I'd love to continue that tradition with her. There is something about reading bedtime stories by the light of the tree that makes it so magical.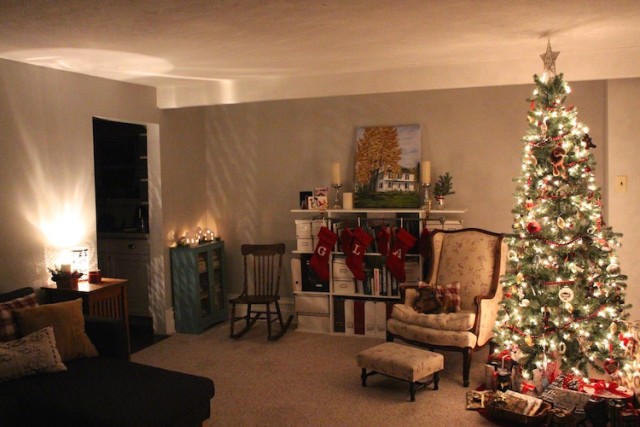 Back downstairs, the big tree is glowing, along with our lanterns and ceramic village. So cozy and perfect for curling up to watch a movie together.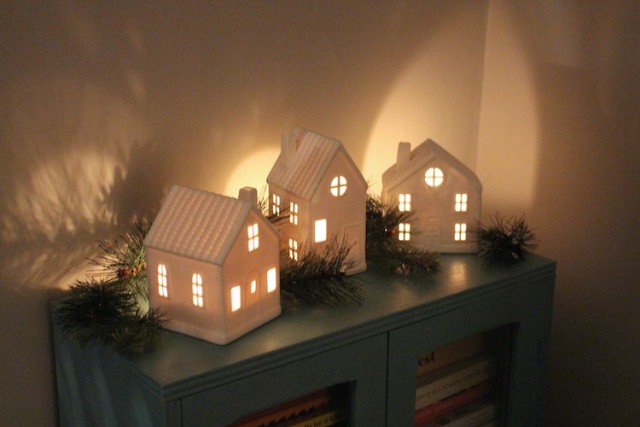 I am loving these little ceramic houses.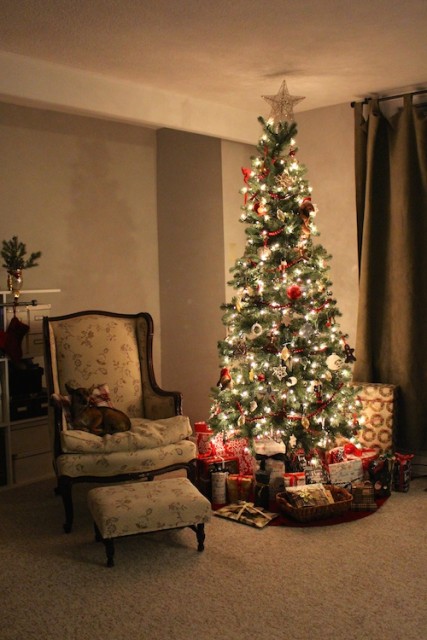 It may be cold and snowy outside right now, but it's nice and cozy in here…and I'll always remember this as Lucy's first Christmas.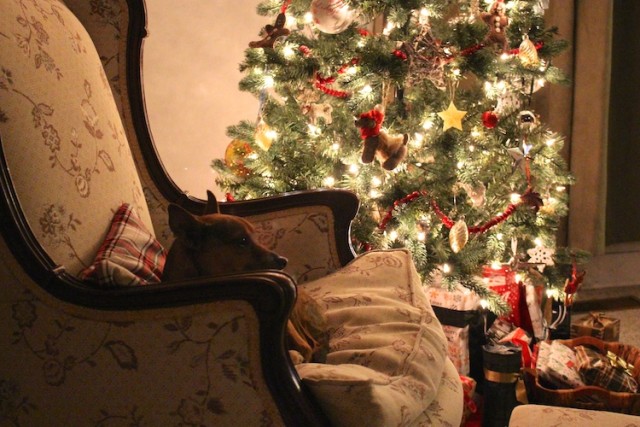 Merry Christmas dear friends. I hope that the holiday season brings you and your loved ones comfort and joy.