As some of you may know, over two years ago my mother and I started a specialty cut flower business, Cloverhill Flowers. We're now into our third growing season and we're hoping this one will be our best one yet. We spent a great deal of time prepping for this season, including expanding the field, bringing in mushroom compost to help the soil, rototilling the compost in and then laying out all the landscape fabric (which we started using last summer).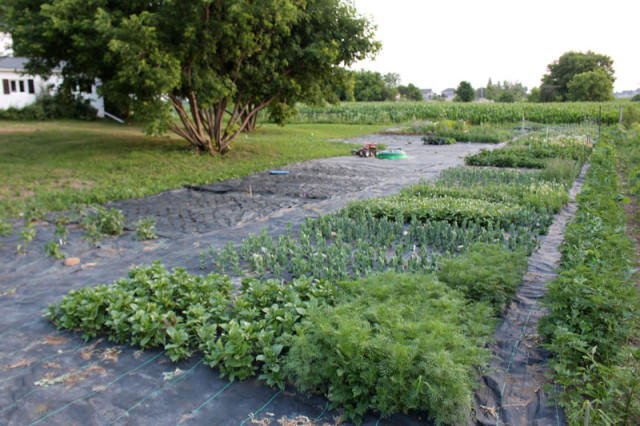 Our seedlings have now been in the garden for over six weeks and things are finally starting to come along. It's been a weird season so far with lots of heat but not enough rain, which is completely different from last year when it was very cold and rained all the time. I snuck out to the flower field last night with my camera to take a few pictures to show how things are progressing so far.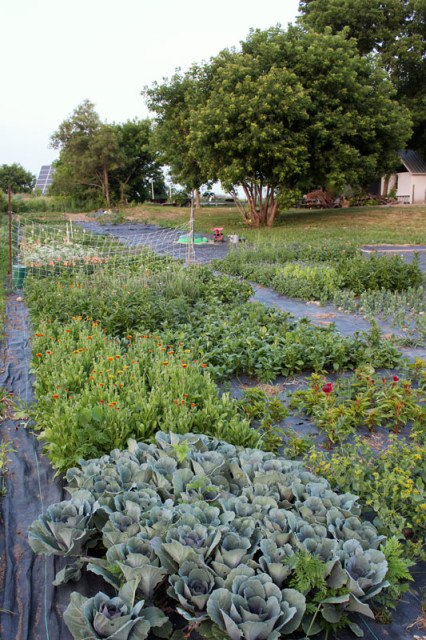 At the bottom of this post, I've shared links to blog posts I did last year showing how our flower field looked throughout the season. It's amazing how much one small field can transform over the course of a few months.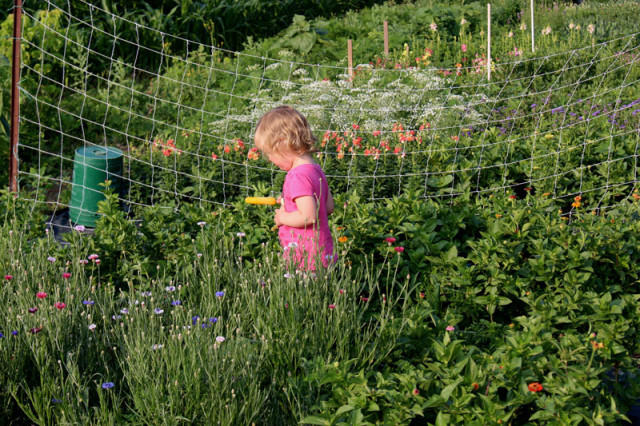 Lucy joined me for a little walk through the flowers, with a popsicle in hand. She loves spending our days out here and asks for her pink rubber boots as soon as she wakes up every morning.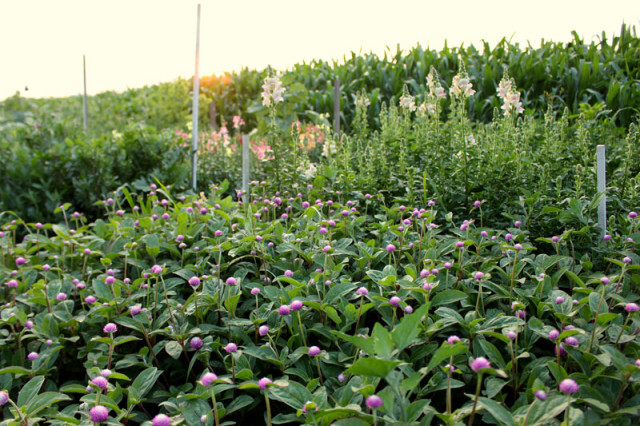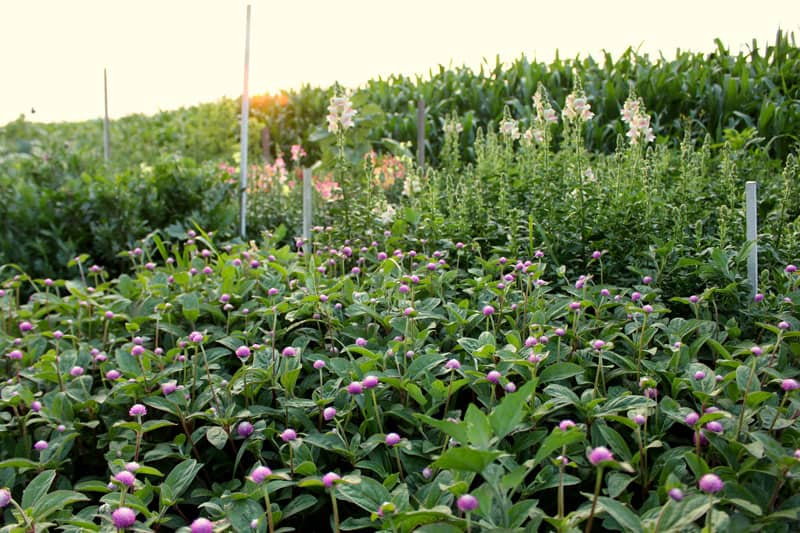 Spending time in the flower field is my happy place too, especially with all the pollinators flying around. The field is already full of bees and butterflies and the big blooms haven't even shown up yet.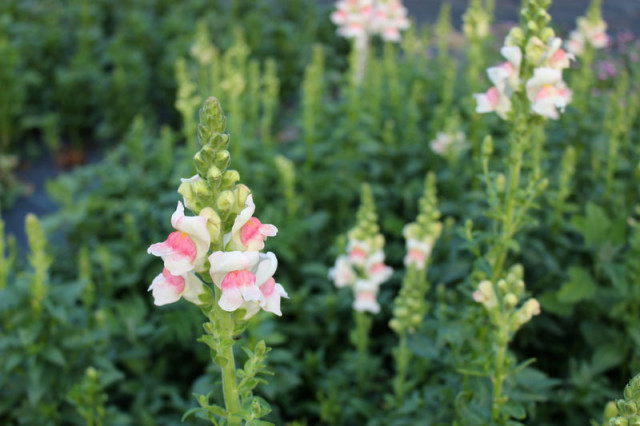 In the last couple of weeks, we've started to have some lovely flowers pop up, including these Apple Blossom Snapdragons that we grew for the first time this year.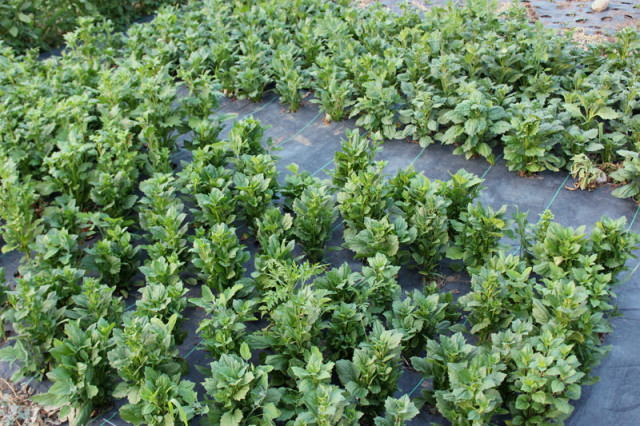 Some of our real showstoppers still have a way to go – including these asters…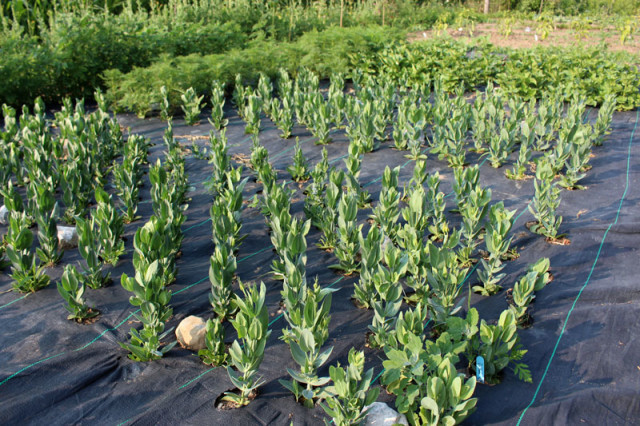 …and the much-loved lisianthus.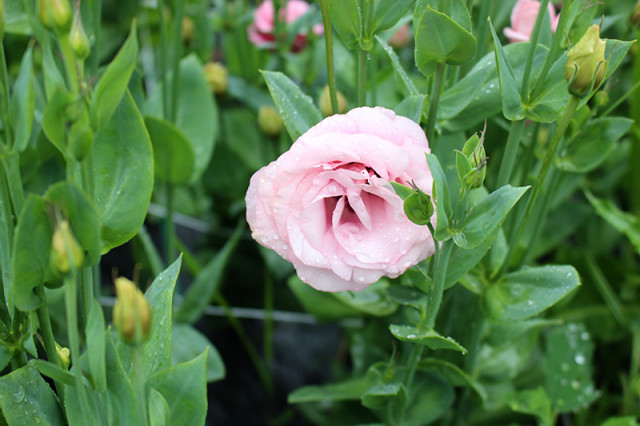 When they bloom they'll look like this!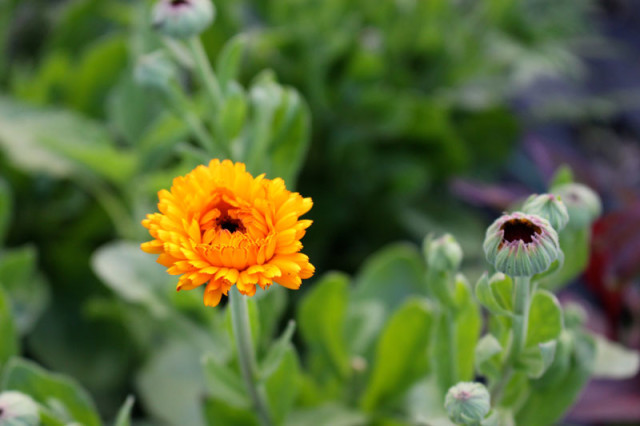 Last year we grew Oopsy Daisy Calendula, but this year we tried a larger more vivid one called Indian Prince and I LOVE them. The colours are so rich, the blooms are much bigger and the stems are taller too.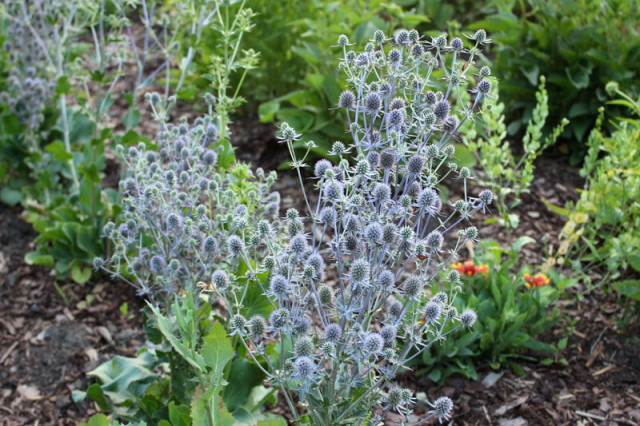 We started growing these Blue Glitter Sea Holly last year and they were quite small then, but now that it's the second season, they're looking amazing. I love the muted blue colours.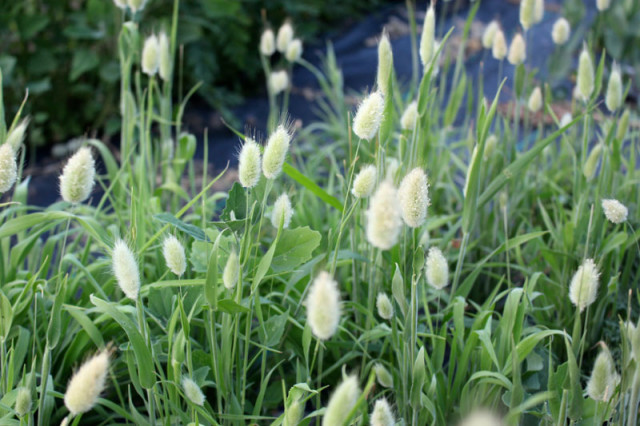 We've tried to add a few new foliage types to our field this year as well, including these cute and aptly named Bunny Tails.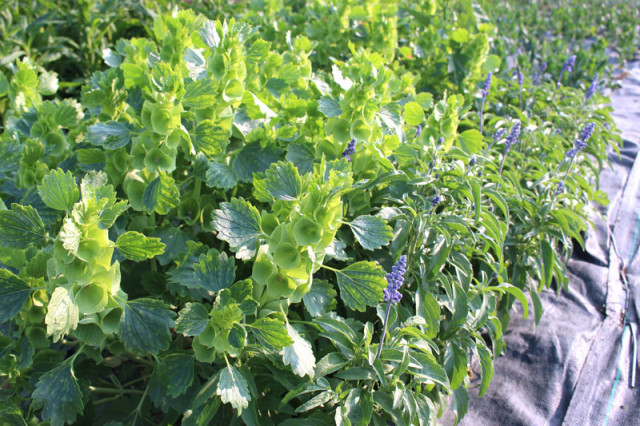 Another new foliage are these Bells of Ireland, in the most perfect shades of light green.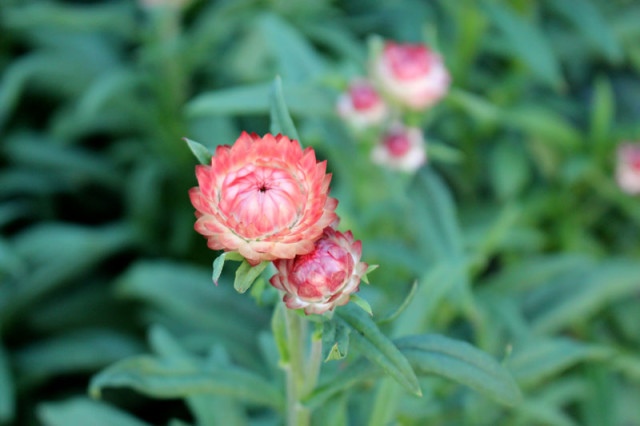 I'me excited to be growing these strawflowers this year, in the most perfect gem shades. They're great for drying to use in crafts like the Dried Flower Wreath tutorial I shared last fall.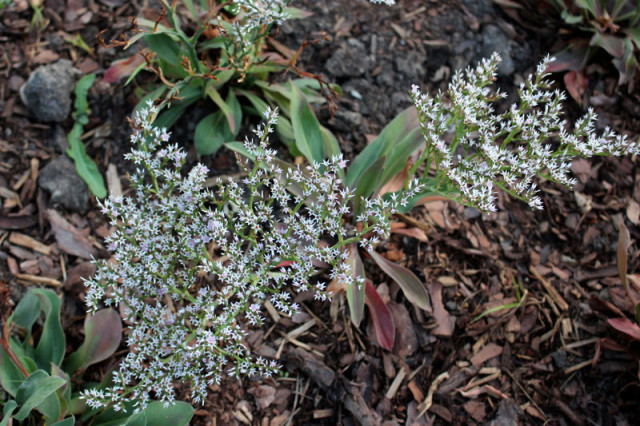 This German Statice is actually one of our accidents from last year. We didn't realize it was a perennial that didn't bloom until it's second season, and we originally planted it right in the middle of our field. So last year we just kept them watered and hoped that we'd seen something this year. We moved all the plants into our new perennial bed this spring and they've been flourishing. German Statice has always been one of my favourite filler flowers and I'm excited to finally have some in our own field.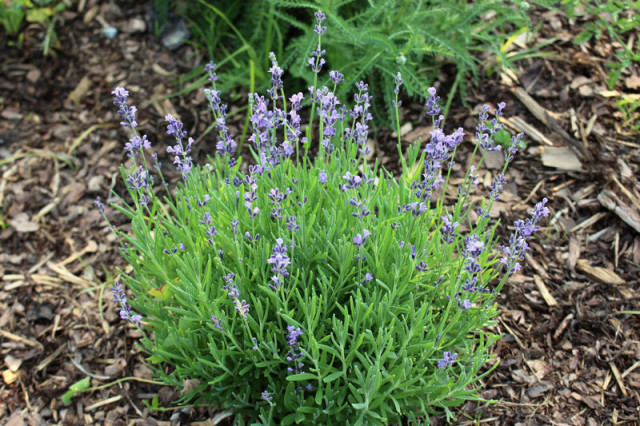 Most of our lavender came back this year as well, and I'll be drying some to make more Lavender Sugar Scrub and Lavender Sachets.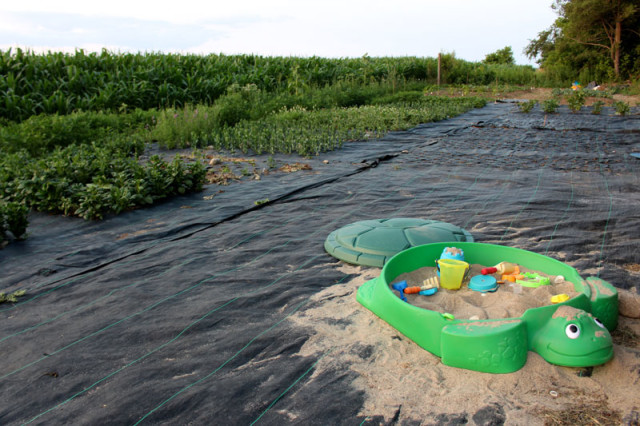 One new addition to the field is for keeping our littlest farmer busy. My parents gave Lucy this turtle sandbox for her birthday and it's been a huge hit. She loves to play in it while my mom and I work in the field. We put it under our big tree down there so she can safely play in the shade. More sand seems to get on the plastic than it does into the sandbox, but as long as she's having fun and it lets us get a little work done, it's all good.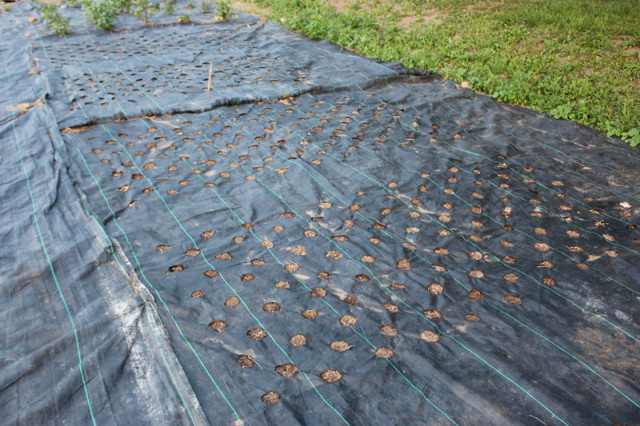 Near her sandbox, we burned some more holes into our landscape fabric to do a little succession planting and test seeds for new varieties to try next year.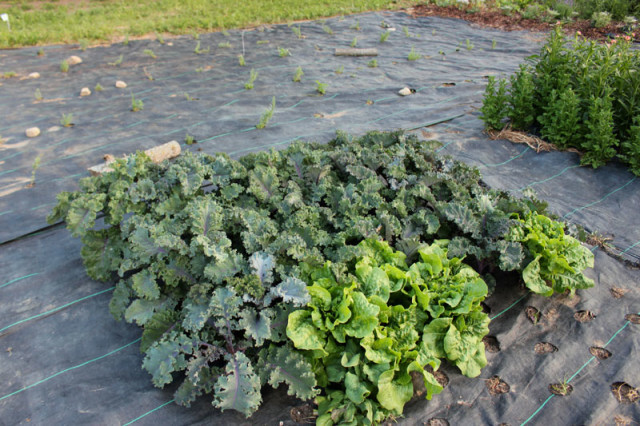 The landscape fabric method we use has been great for growing our kale and lettuce for eating as well. It keeps the weeds at bay and keeps everything contained. Behind it, you can see our new lavender seedling patch. We're hoping to have a lovely little plot of lavender next year.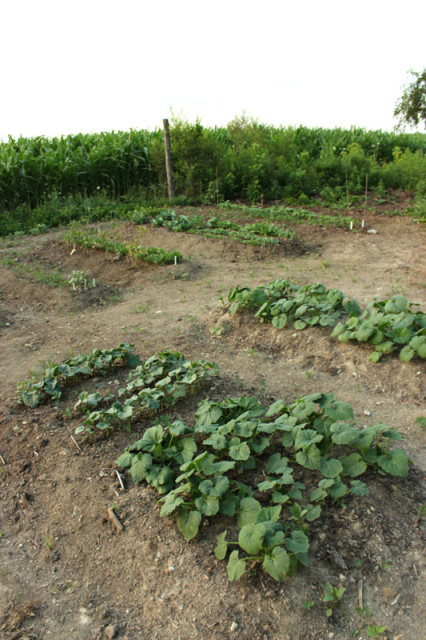 On the far end of the field, we set up some space for a little vegetable patch. Garrett's uncle has been helping us one morning a week this year and he has lots of experience volunteering at a local organic farm. We've been picking his brain on how to get the most out of our little plot and he's been so helpful in getting it going. We've got squash, cucumbers, pumpkins, tomatoes, brussel sprouts, celery, peppers, cabbage, beans, peas, carrots, herbs, eggplant, radishes, beets and more!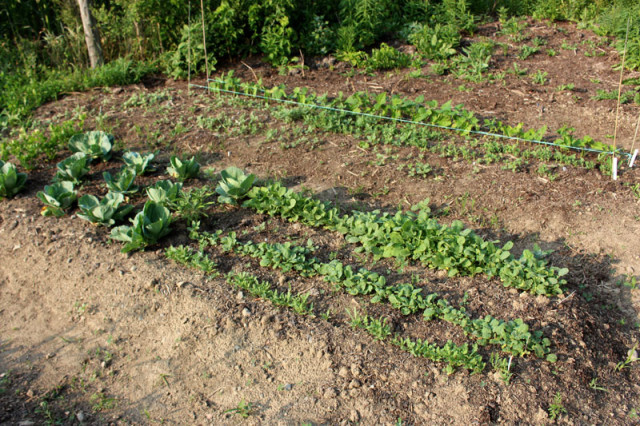 I can hardly wait to start picking our own vegetables again.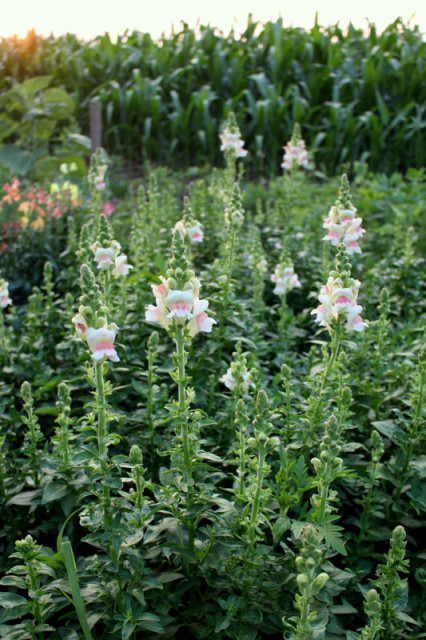 I hope you've enjoyed this little tour of how things have been going in our flower field this summer. I'll be back again next month with another update and hopefully some even bigger blooms to share!
Check out last year's updates on the flower field: