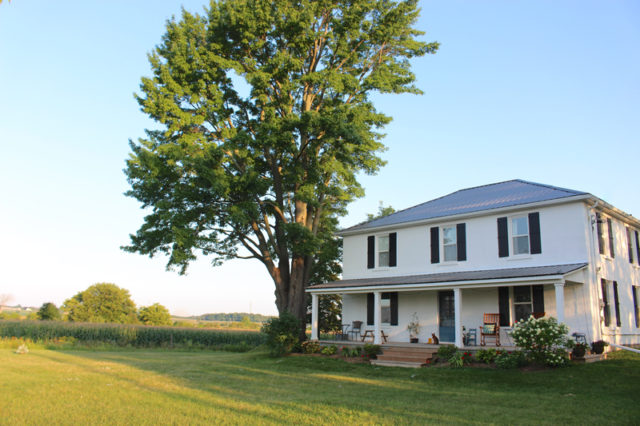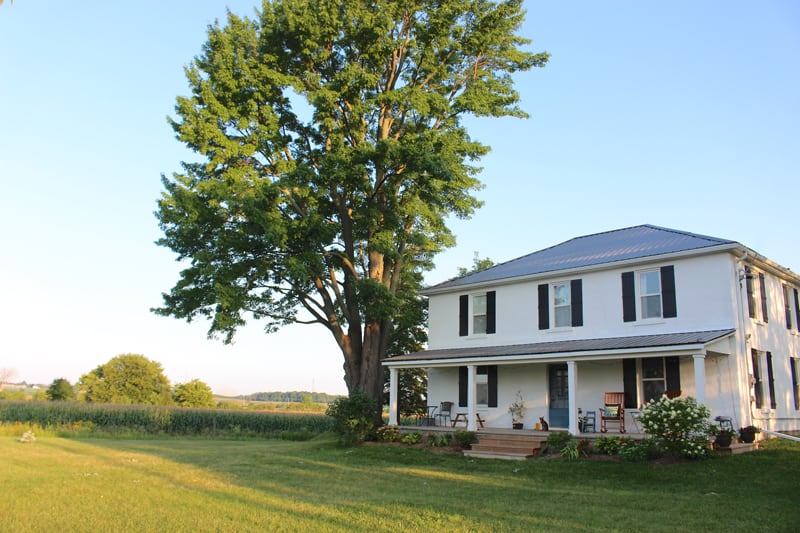 Every year since we moved to the farmhouse in 2015, we've tried to work away at improving the landscaping. I love looking back through the older photos and seeing how far we've come along. It always motivates me to keep going! This summer our two big goals were to fix up the overgrown front flower beds and update our screen door to give the porch a little more colour. Grab a cup of coffee and get ready for lots of pictures! 🙂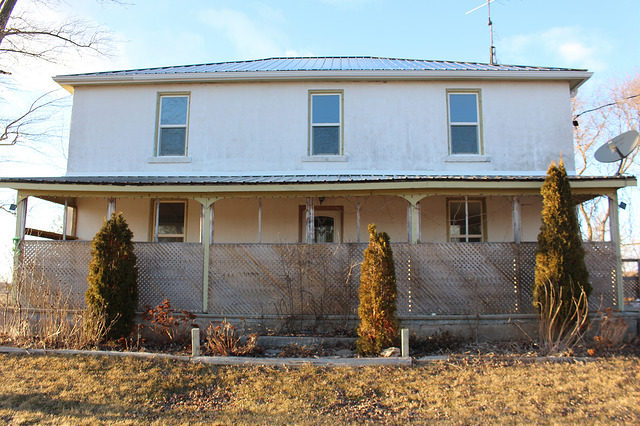 When we first purchased the farmhouse in the spring of 2015 the front porch area was a disaster. The previous owner had tenants who had covered it in lattice and added platforms on the sides of the concrete porch. The front beds were full of overgrown shrubs and invasive plants like buckthorn and dog-strangling vine.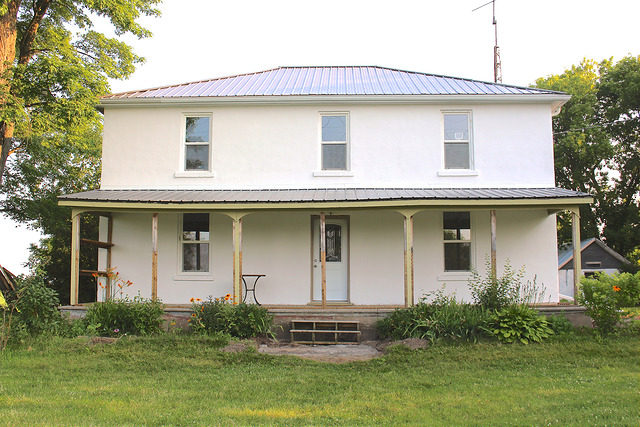 That first summer we worked really hard on transforming the exterior of the whole farmhouse, painting the stucco, pulling off all the lattice and digging out lots of plants in the front beds. Garrett smashed up the old concrete step and we made plans to fix the post and beams.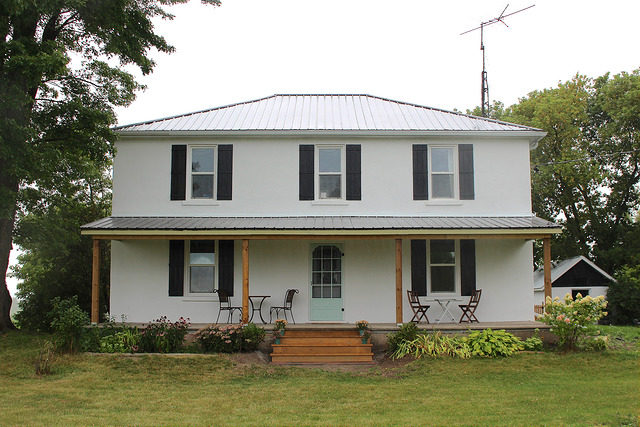 That fall we had a contractor friend of my father-in-law help fix the wonky porch roof with a new beam, and replace the four posts. He also made us some deep and wide front porch steps leading out to the front lawn. Meanwhile we added DIY board and batten shutters and painted the springhouse to match the farmhouse. I found an old wooden screen door in the springhouse and painted it a soft mint but I always found it got lost against the white house and I hoped to repaint it someday.
Digging Up the Garden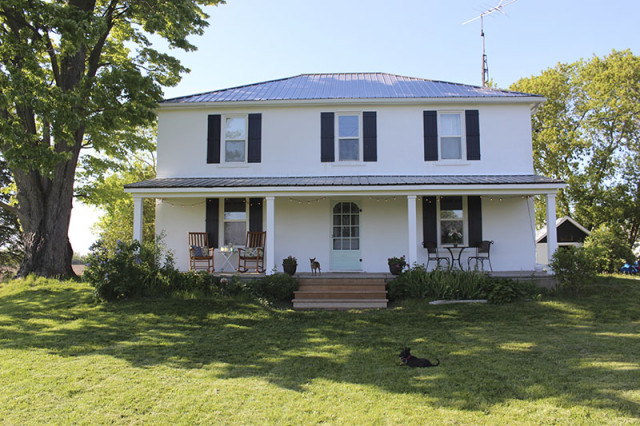 Over the last two years we switched gears to focus on other areas of the house and the front beds started to get away on us again. With so many thick overgrown plants and invasive species that we struggled to get rid of, it always felt like we were not making much headway. We added string lights across the porch ceiling and built more steps off the porch leading towards the driveway, but that was about it.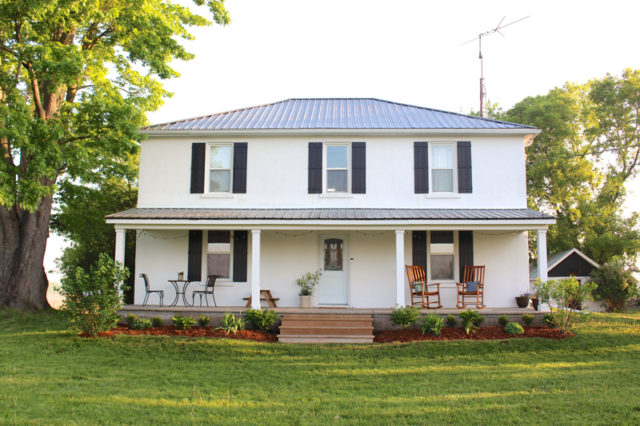 Then this year Garrett's uncle helped me dig everything out of the garden, add mushroom compost, replant everything and add mulch. It was SUCH a big help and it really got me on the right track. Finally our front beds were starting to look like a real garden!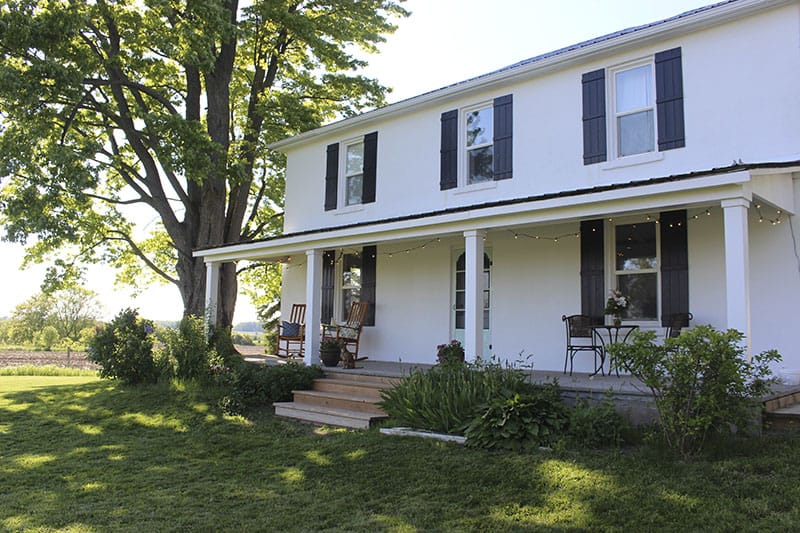 You can see it better from this angle. Everything had just gotten out of control – hostas, sedum, irises, daylilies, peonies, etc. All those invasive species I thought we'd gotten rid of were coming back, so we knew it meant really digging everything up to get rid of them.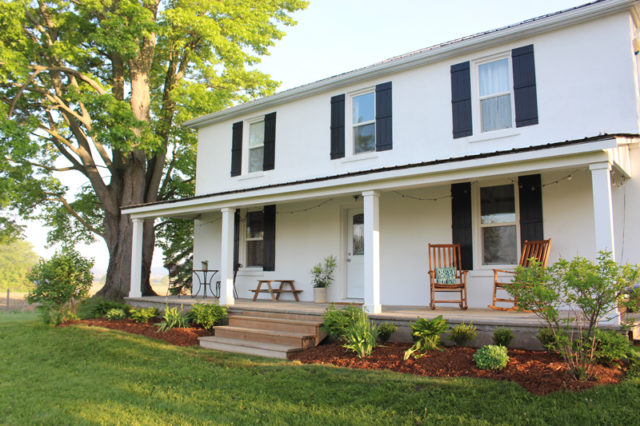 He started with digging all the plants out of the garden, deciding what to keep and dividing what was left. From just ONE hosta plant he was able to cut out SIX new ones that were still huge. We planted four across this front bed and then added two of them around to the other side of the house. We planned some boxwood across the back to help hide the concrete porch and moved everything else to be symmetrical. We now have mostly the same plants on each side and it really helps with the symmetry of the house – a common feature of Georgian architecture.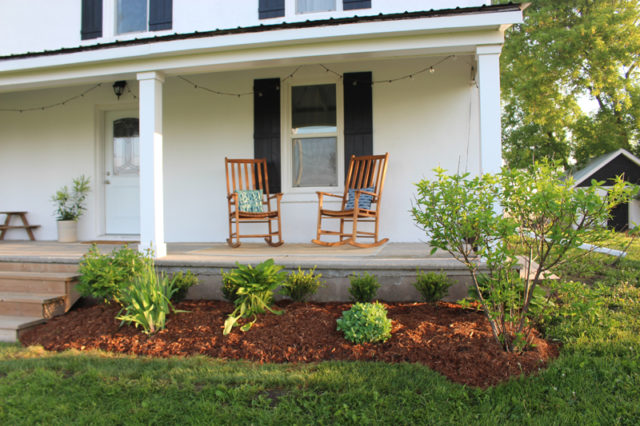 This was back in June when we first had replanted everything and I added lots of natural cedar mulch to try and help keep the weeds at bay. Garrett and I also added new sod to the front where the grass had died along the flower beds and steps, as well as adding grass seed to all the other patchy areas of the front and side yard. We picked the driest summer to try and grow grass, but thankfully it's all held up fairly well with lots of TLC.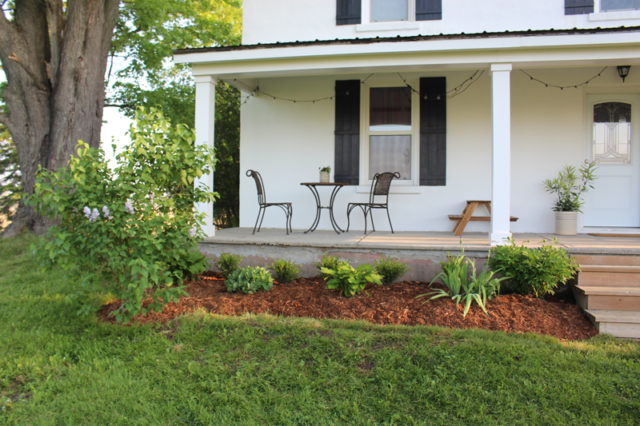 With all the extra plants and invasive species pulled out, our other plants are doing so much better now. I think everything had just gotten so choked out in those overgrown beds. It's easier to keep it weeded as well.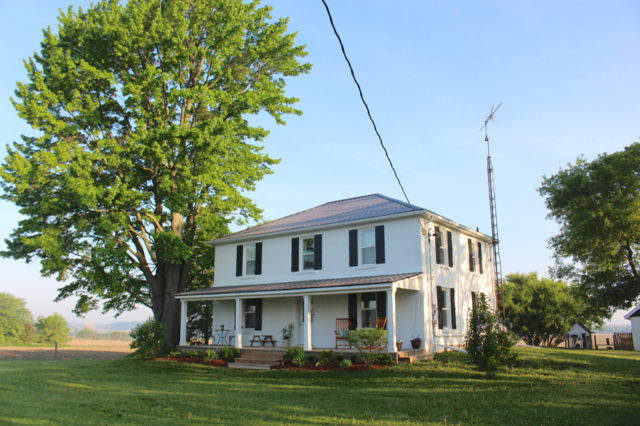 I was so happy with how things were looking, but that idea of repainting our mint screendoor was always in the back of my mind.
Painting Our Screen Door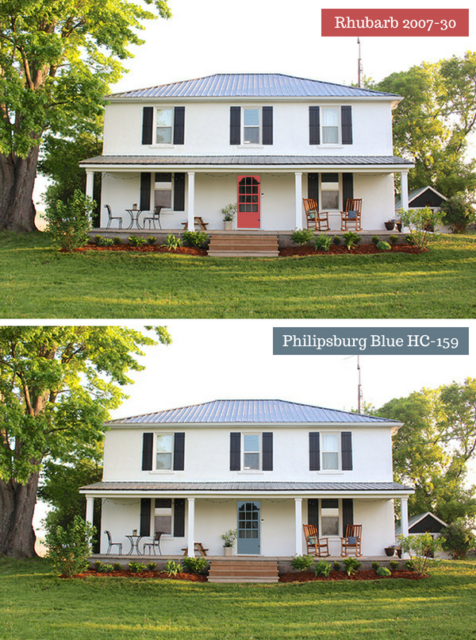 I started playing around with different paint ideas on photoshop and narrowed it down to these two Benjamin Moore colours – Rhubarb and Philipsburg Blue. I put a poll up on my Instagram stories and the result was almost 50/50 about what colour to do!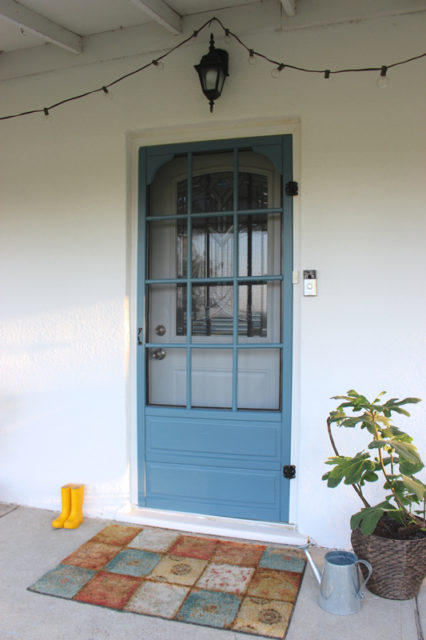 After much debate back and forth, Garrett and I decided on the blue using Benjamin Moore's Aura Exterior paint. The kind folks at Benjamin Moore sent me a quart of paint for this project, which was more than enough to paint the screen door. It just shows you how inexpensive it can be to make a dramatic change like this. I love how much the historic colour works with this door and it even picks up some of the blue in this temporary front rug we have. I'll switch to something more durable before wintertime, but I love having this soft one out here for the warmer barefoot weather.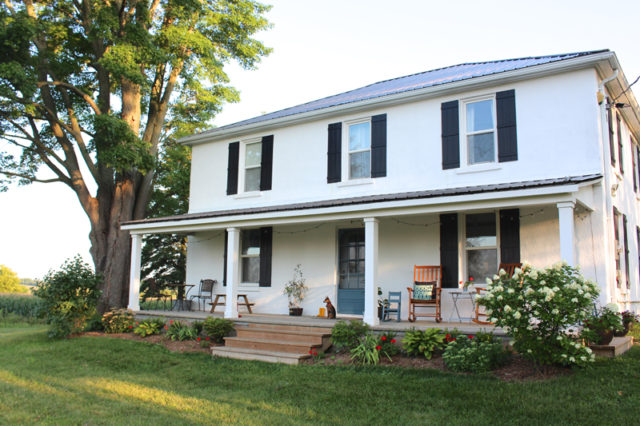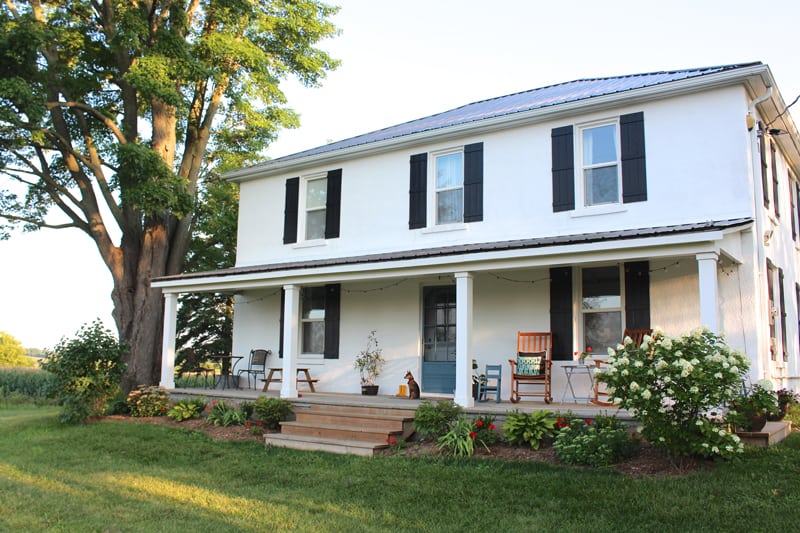 This summer we've spent so much time on this front porch and part of that has been that now it finally is starting to feel like a finished space. This is where people gravitate towards when they pop by and it's always where we have our morning coffee & tea break when we're working out in the flower field.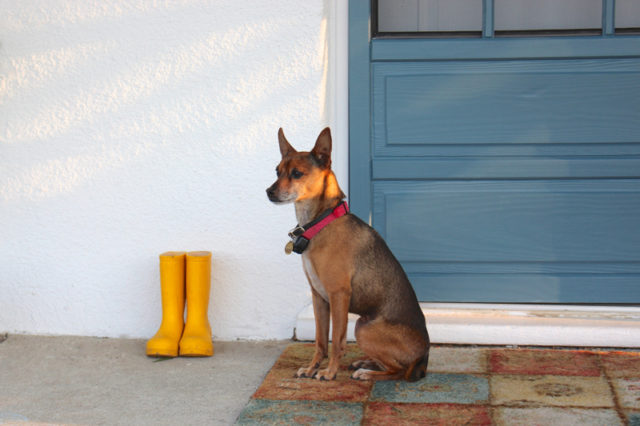 It's also Whiskey's favourite spot to sit and watch the world go by. If ever I'm looking for him outside, there is a good chance he's either sitting on this mat or napping in a sunbeam on the front steps. A big change from when he was a city dog and spent his days sleeping in my office.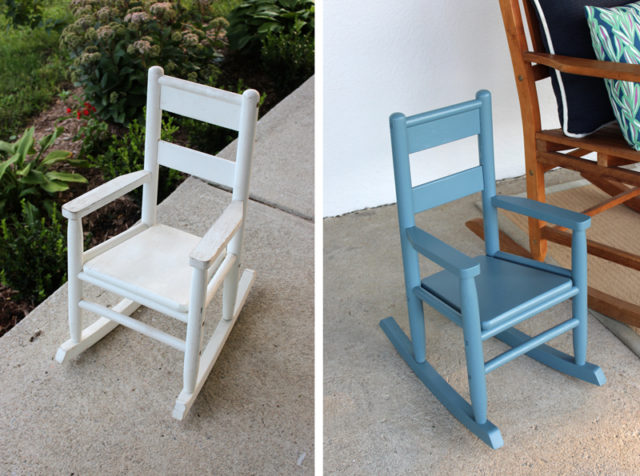 My mom snagged this adorable Lucy-sized rocking chair at a local thrift store for $6 and I used some of the extra paint to give it a little makeover too.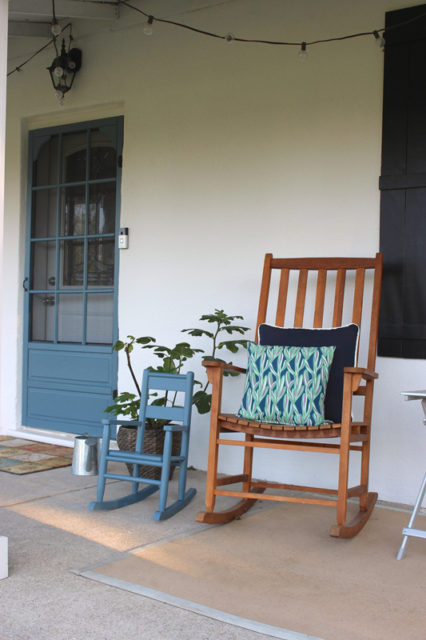 Now she has her own little spot to sit beside us on the porch.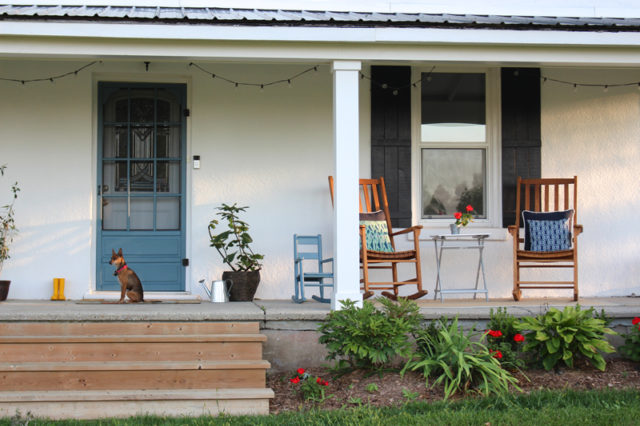 There are still some more things we'd like to do out here, like a wooden tongue-and-groove ceiling to hide the rafters and eventually finding a good way to refinish this concrete porch, but for now it's working really well for our family.
Thanks again to the folks at Benjamin Moore for providing the paint for this project. We've loved using their products and highly recommend them.