We love travelling and were lucky enough to have the opportunity to spend five weeks on a road trip through the Southern US this spring. I've shared part one in South Carolina and part two in Southwest Florida, and now I'm back today to talk about our special visit to the Lodge at Wakulla Springs in Northern Florida.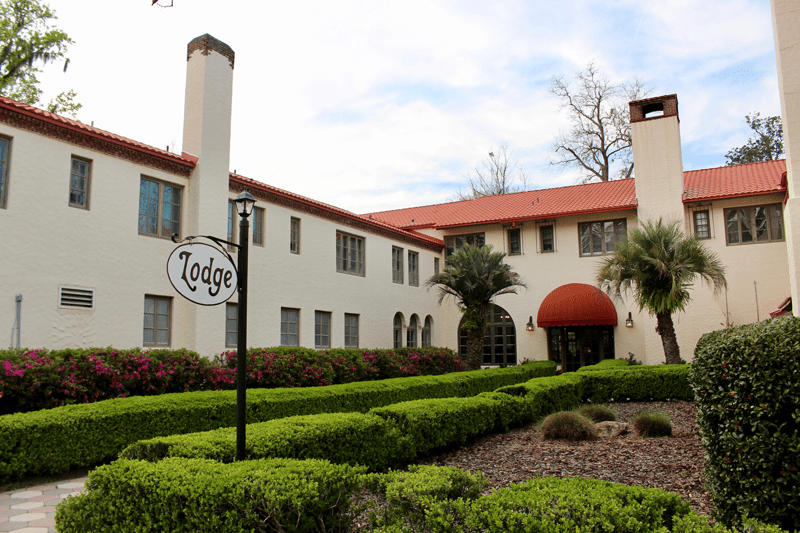 Our friends Erin and Ben Napier had encouraged us to go on our honeymoon road trip back in May 2014, but we weren't able to fit it in then. It's always been in the back of my mind to visit Wakulla Springs and when we realized we'd be driving through the area on this road trip I was over the moon to finally get to spend a couple nights here.
Built in 1937 by industrialist Edward Ball, the Lodge at Wakulla Springs is one of the most beautiful hotels I've ever seen, with all the glamour and style of Florida's golden age. Just off the beaten path south of Tallahassee, the Lodge is surrounded by 6,000 acres of pristine forest and overlooks one of the country's largest springs.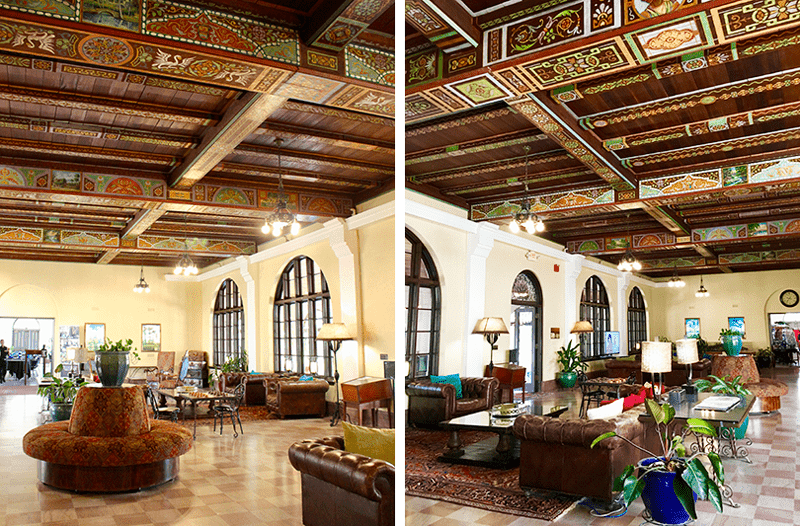 As soon as you walk into the entrance of the Lodge at Wakulla Springs you're greeted with the most incredible lobby. Throughout the Lodge, the floors, baseboards, thresholds, counters, stairwells, desktops and table tops are made with lavish Tennessee marble without any grout marks to be seen. In the Soda Fountain and Gift Shop, there is the world's longest known marble bar, measuring at 70 feet 3 inches. The floor to ceiling windows let you take in the shoreline just down the hill and there is amazing Art Deco style everywhere you turn, with quiet jazz beckoning you back in time. You really feel like you've stepped into the 1930s.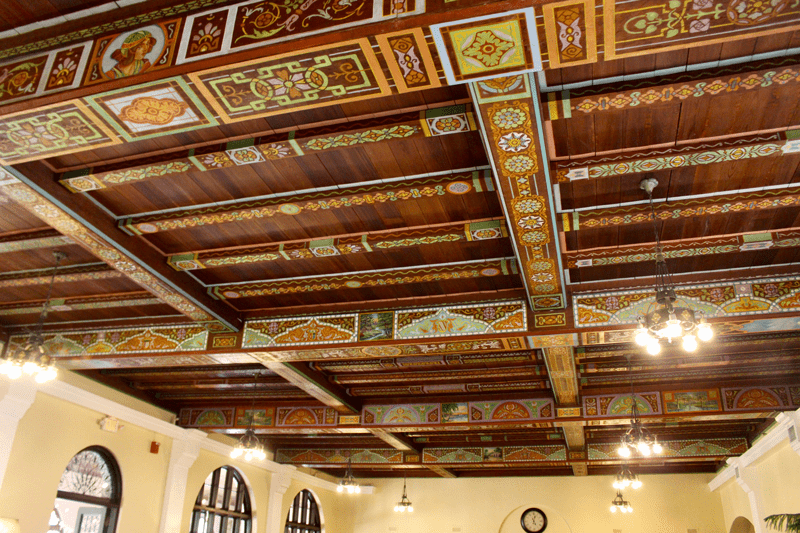 I'd be amiss not to mention the unbelievable heart cypress ceiling. Each picture on the 5,800 sq ft ceiling depicts historic Floridian scenes.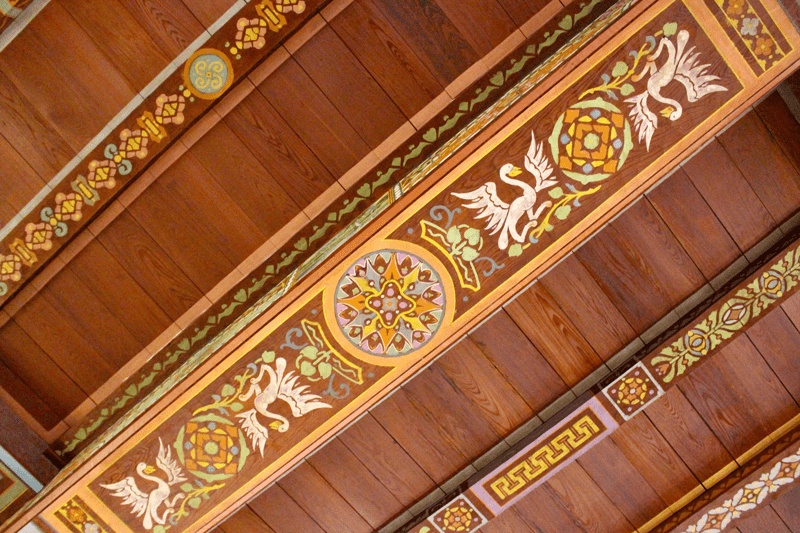 The techniques are a combination of many styles, including Native American and European folk art.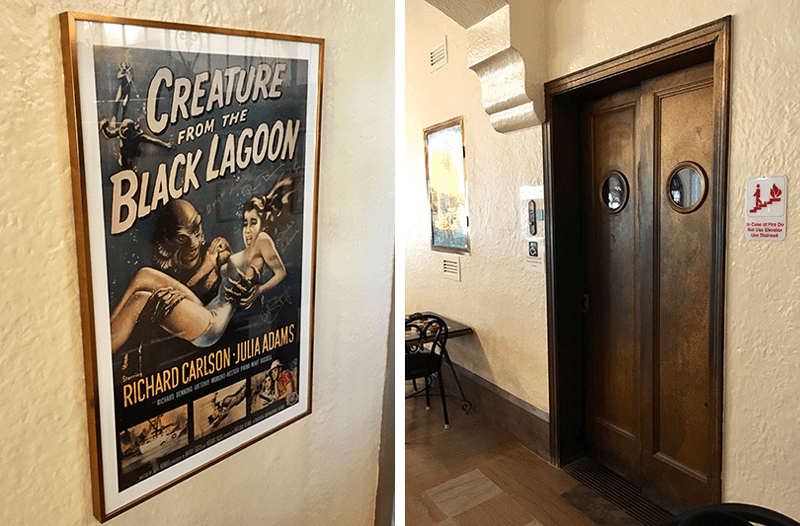 Starting in the late 1930's Wakulla Springs started to be known as a great filming location for it's clear waters and unique jungle-like appearance. Several movies have been filmed there, including Creature from the Black Lagoon, Tarzan's Secret Treasure, Tarzan's New York Adventure and Airport '77. There are posters throughout the lodge, along with photographs of the amazing flora and fauna in the park. In the lobby they also have the original 1937 Otis elevator, the only known surviving Art Deco elevator still in use. The interior of the elevator walls are walnut with inlaid wood detail and it has the original Otis scissor gate door inside. It was pretty cool to actually get the chance to use it.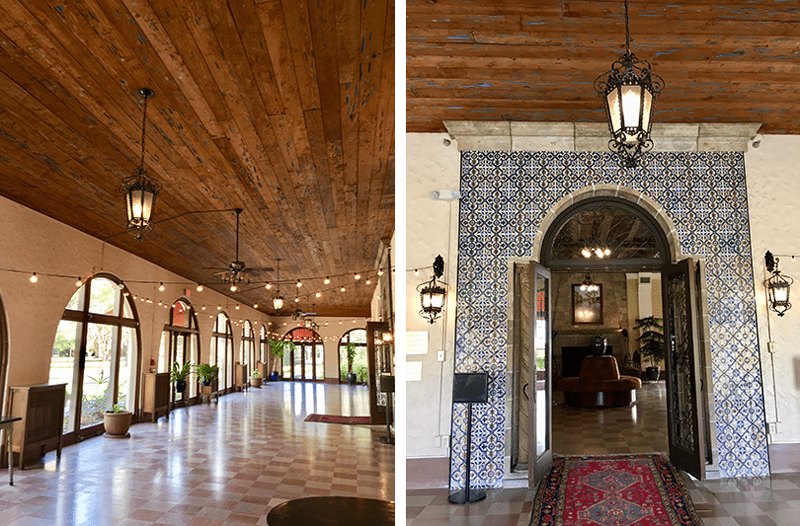 The craftsmanship and details throughout the lodge is incredible. I kept finding new things to look at with every corner I turned. I also love the old photos – they almost reminded me of The Shining (but in a good way, ha!)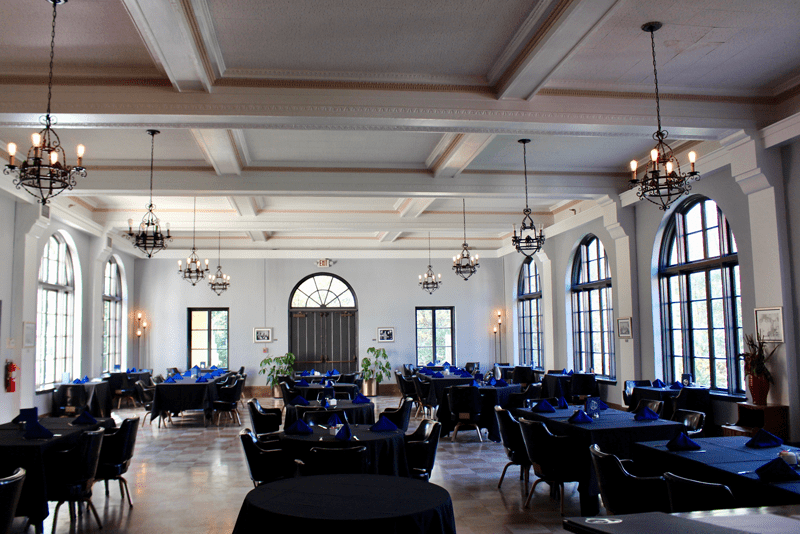 The Edward Ball Dining Hall feels frozen in time, with crisp linens, big windows and jazz inviting you in. They had a good mix of modern and traditional Southern dishes, and we ended up staying at the lodge the whole time and never venturing into town to eat. We saw a mix of locals, visitors and lodge guests come in.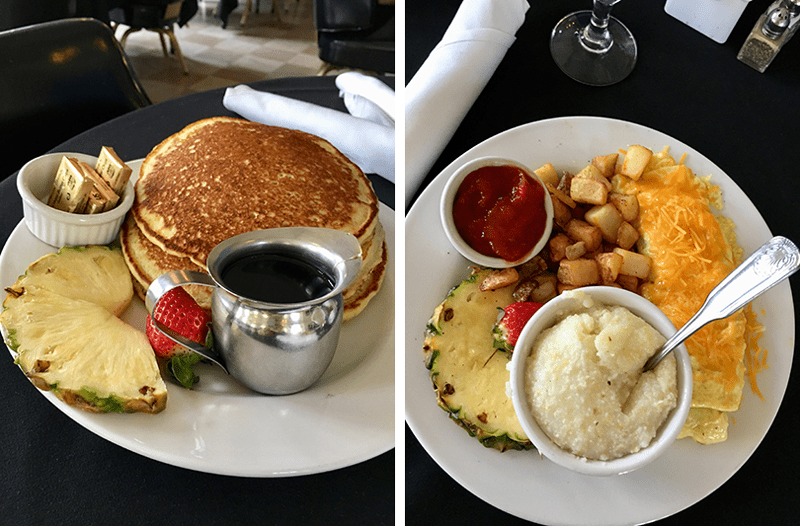 We went for a big breakfast to fill us up for a morning of exploring the state park and all the food was amazing. Between the three of us, we shared a stack of their highly recommended flapjacks and omelets with home fries and grits.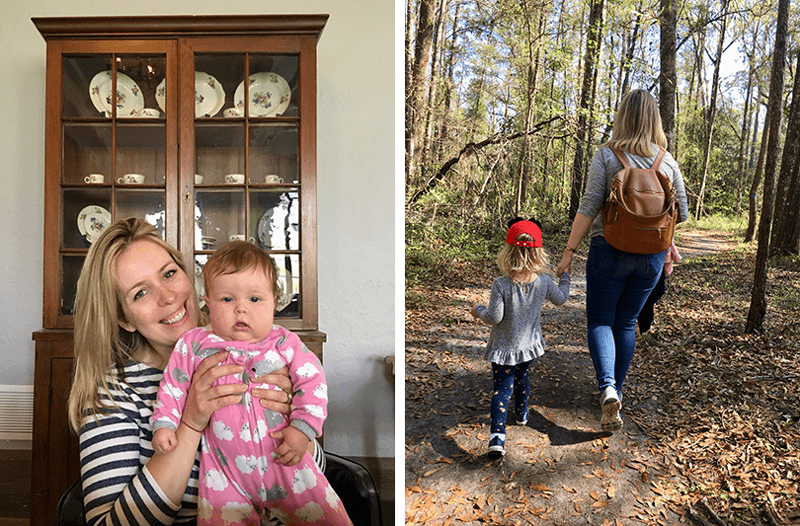 While we were there Rosie turned five months old and was quite happy to just hang out in the stroller or carrier while we walked around. Lucy was right into the hiking paths, looking for critters everywhere. The lodge and park are very family friendly and we felt really welcome everywhere we went.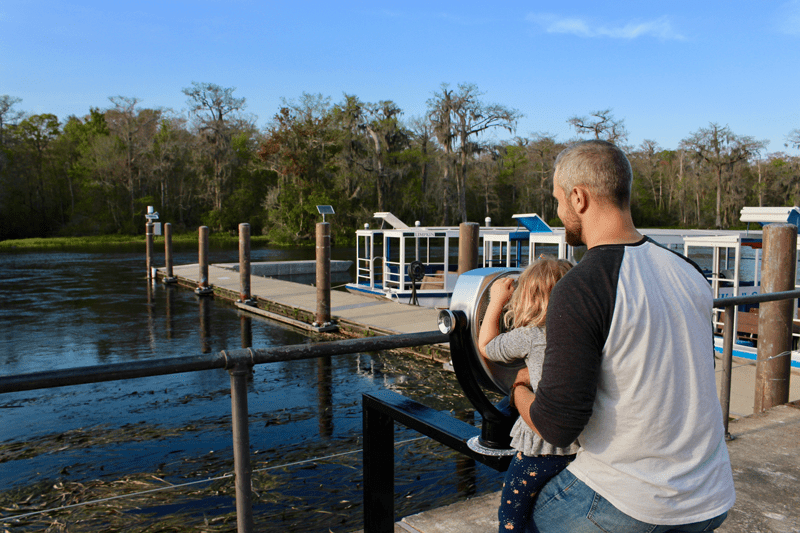 A short walk down from the lodge is the shoreline of the Wakulla Spring. Below the water is an ancient cave and since the 1850s, the remains of at least nine extinct mammals have been found, dating back to the last glacial period. Mastodons, giant sloths, camels, mammoths, bison, and sabre-tooth tigers can be seen as close as 190 feet below the water. There is also archaeological evidence of early humans, including bone and stone tools. Some years the water is clear enough that you can take a glass bottom boat out to look at them.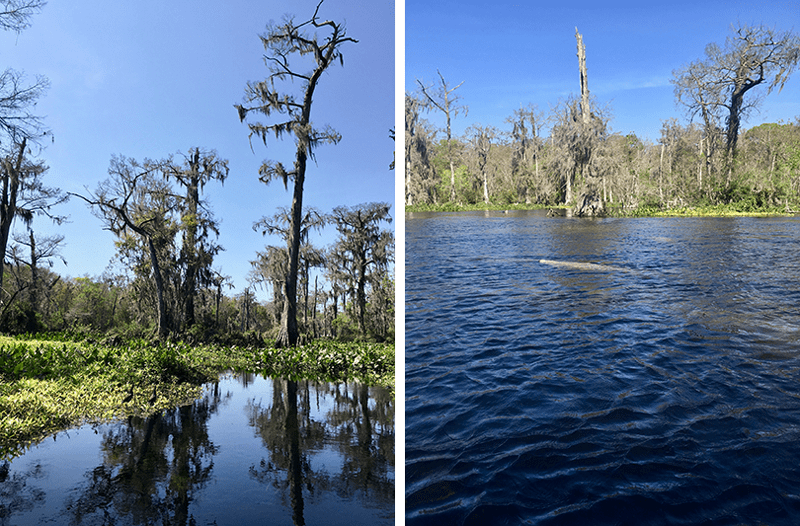 We hopped on the regular boat tour down the river, in hopes of seeing some of the local wildlife. Right away we saw a pod of manatees, lots of alligators (babies too!), turtles, ducks, herons and vultures.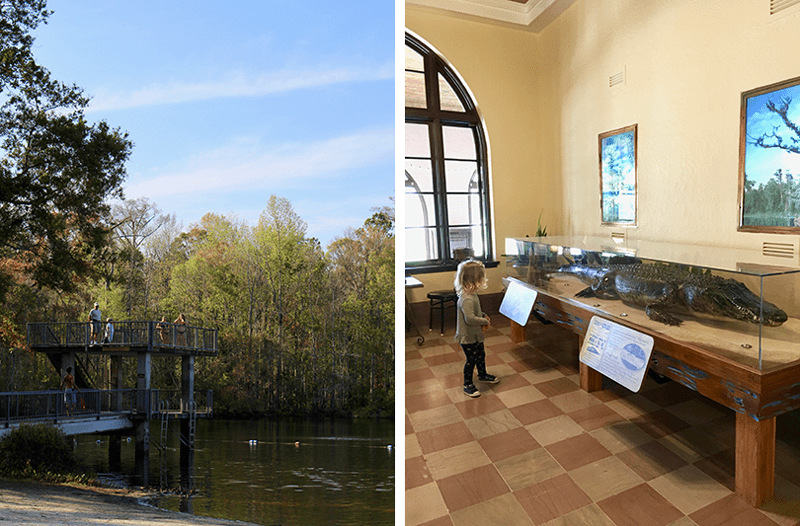 Swimming is very popular there and we were surprised how many people were in the water on a weekday afternoon in March. The cool spring water maintains a 21°C (69°F) temperature year-round. They've roped off a swimming area with a 2 storey diving platform and a couple of sunbathing docks. Swimming is at your own risk as there are alligators in the water and they close the beach area at dusk as a precaution. When I posted about being there on Instagram I had a reader tell me about a snorkeler in 1987 that was killed by a 10 foot alligator here. You wouldn't catch me in there!
Most of the alligators keep to themselves and there is one famous one that is the unofficial mascot of Wakulla Springs and is on display at the lodge. Old Joe was a 11 foot, 650 lb alligator who could have been as much as 200 years old. He was a local favourite with residents and visitors alike, given his name from the workmen who built the lodge and dock in the 1930s. He was said to have never harmed anyone and was shot by a poacher in 1966. Lodge owner Edward Ball put out a reward for anyone that had information of his death and was sent to a university to be studied. Afterward he was stuffed and sent back home.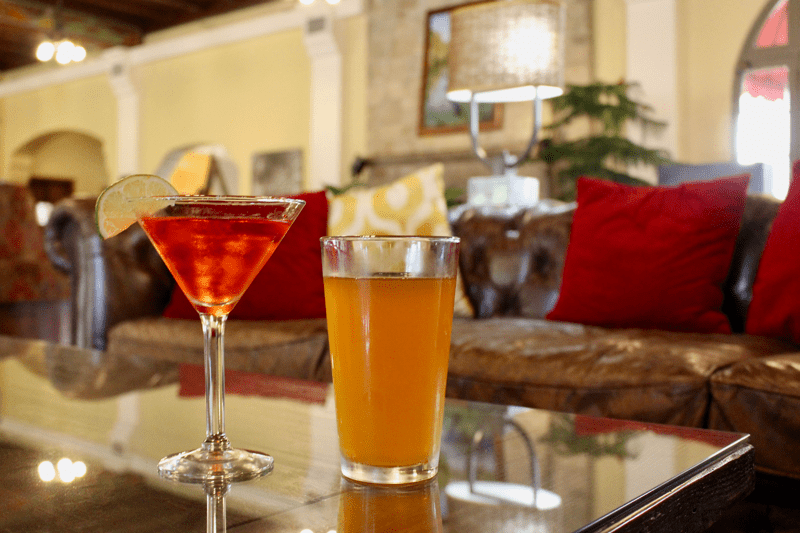 We all enjoyed an afternoon nap in our room and then headed back down to the lobby for their cocktail hour. I tried "The Lodgemopolitan" and Garrett tried the locally brewed "Wakulla" from First Magnitude Brewing Co.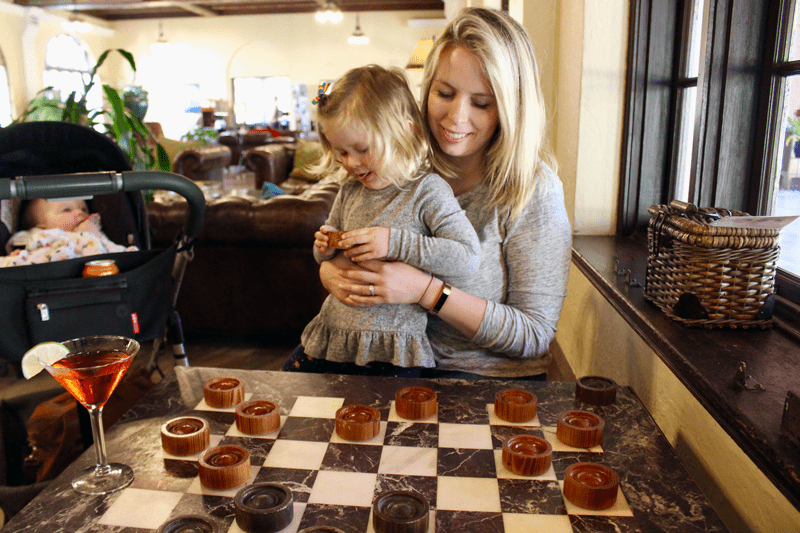 After a friendly game of checkers in the lobby (Lucy and I won!), we took a walk around the lodge before dinner.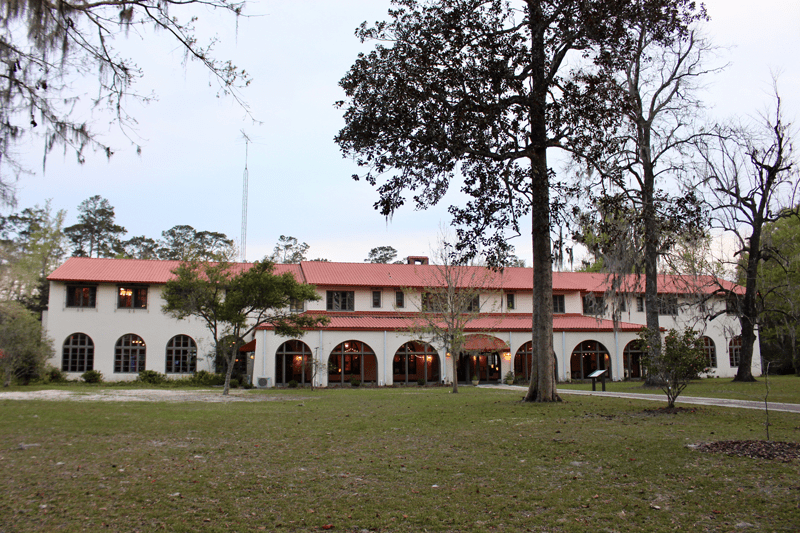 The Mediterranean Revival architecture looked beautiful in the evening sun.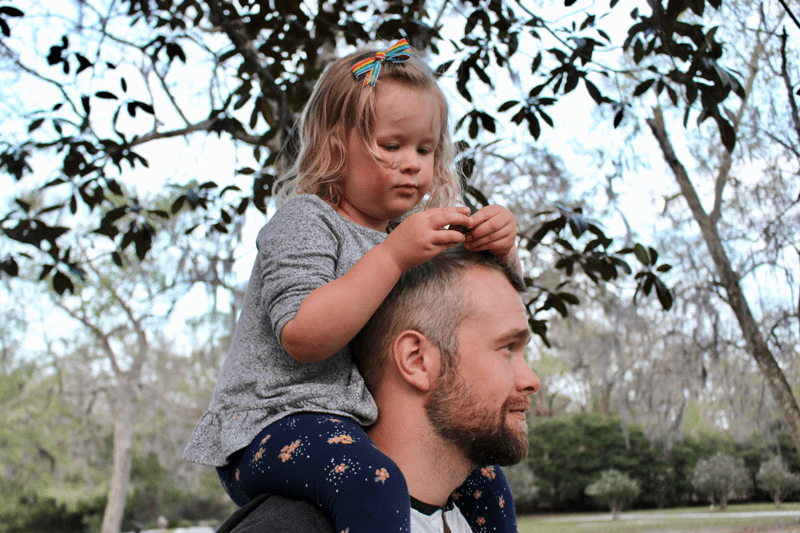 There are no TVs in the guest rooms at the lodge and it was great to spend the time outdoors relaxing instead.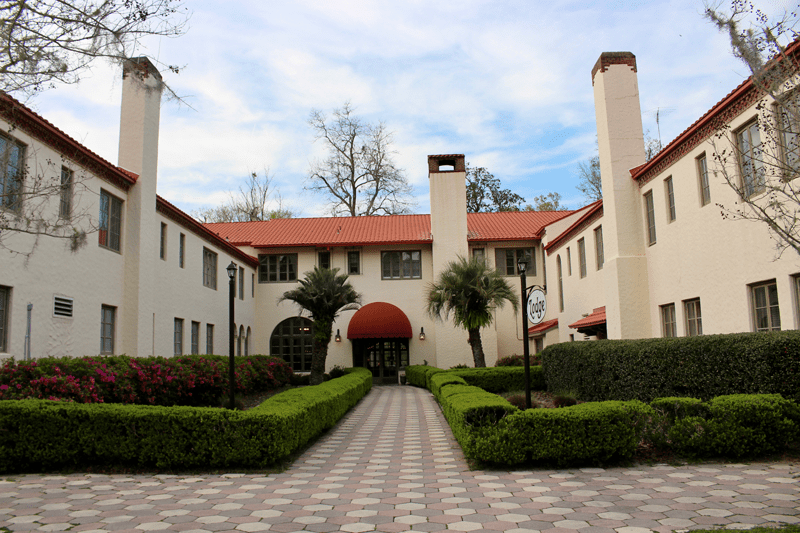 We had a wonderful time at the Lodge at Wakulla Springs and definitely recommend it for anyone looking to enjoy nature and have a unique hotel experience. After another great breakfast in the dining hall, we got back on the road to make our way to Mississippi.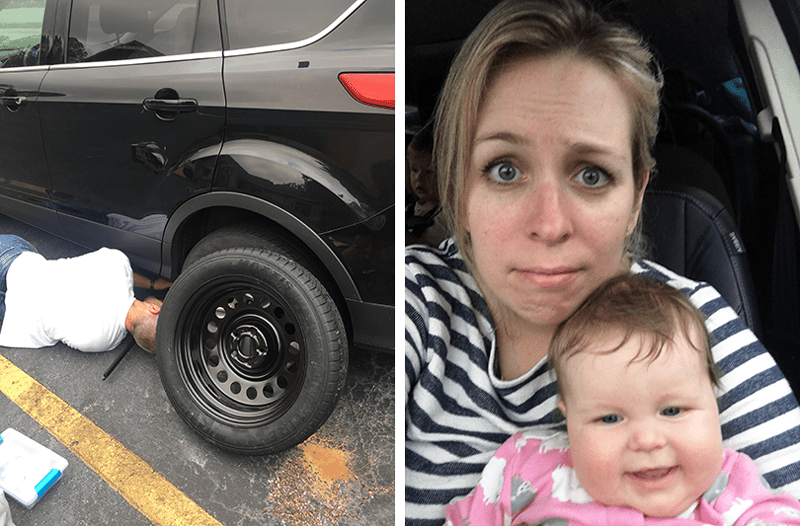 Just as we were going through a rough area of Mobile, Alabama, our tire popped. We spent the next few hours in front of a seedy motel (one guest told us there was blood on the walls in his room…great!) while we waited for a tow truck to come help. Garrett had everything to change it himself but the lug nuts were stripped (apparently it's a flaw with this model of our car). While he was outside trying to fix the car with the help of a good samaritan, I kept the kids entertained inside…and crossed my fingers that we would get out of there before nightfall.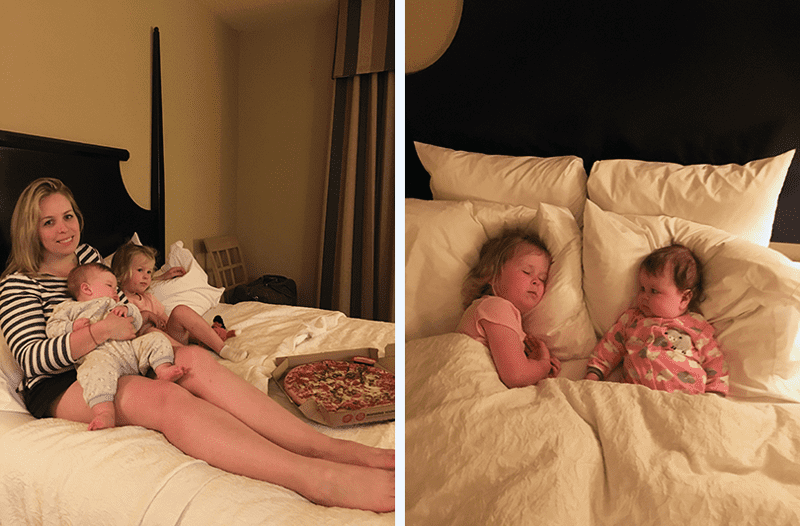 Once we got the spare on, we drove to a nicer hotel about 10 minutes away and ordered pizza in. Lucy thought it was a GREAT adventure, ha! And we can laugh about it now. The next morning we made a quick stop at a local tire shop with the nicest folks. They had us back on the road in less than an hour and headed to Mississippi. More in the next installment of our road trip journal 🙂
All the videos from our trip can be found on the Highlights of my Instagram page. You can see more posts on our 2019 road trip below and check out the Travel page for more of our adventures.