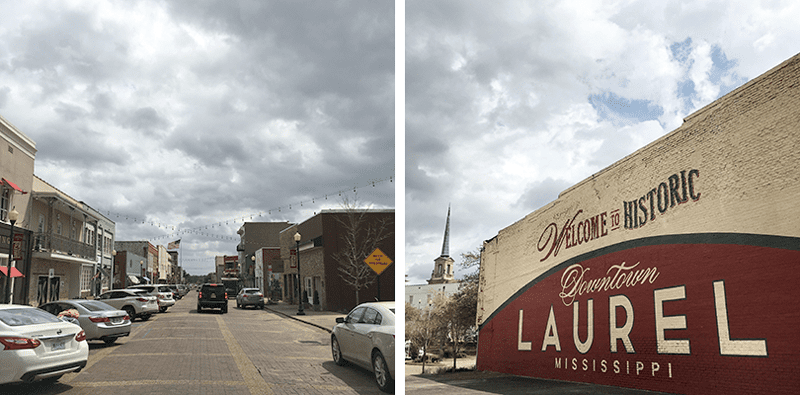 Now that the bathroom renovation is behind us, I've finally found some time to go through the photos from the last leg of our road trip earlier this year. After leaving Wakulla Springs, Florida in March, we made our way towards one of our favourite stops from our 2014 honeymoon road trip – Laurel, Mississippi. (read about it on my blog here and here, and on Erin's journal here and here.)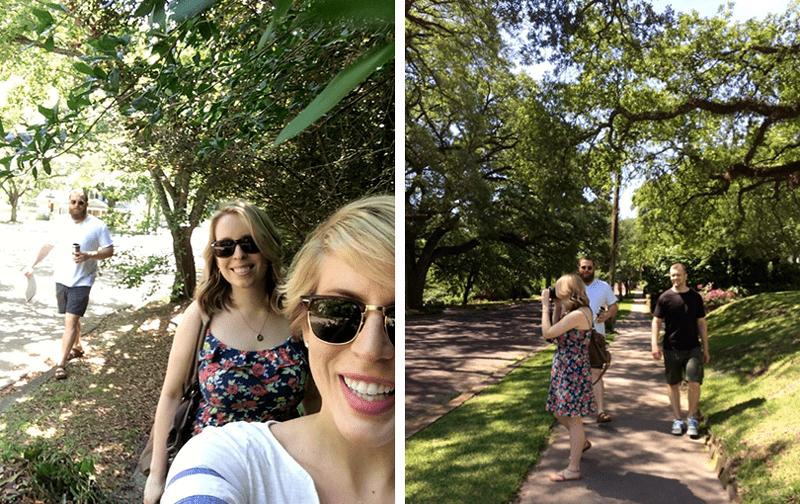 How did we end up in a small town in Mississippi on our honeymoon? It all goes back about seven years ago, when through the magic of the internet, I met my dear friend Erin Napier and her husband Ben Napier. Back then they were a wedding stationary designer and youth minister, and they (very easily) convinced us to visit their hometown on our way from Nashville to New Orleans. It ended up being one of our best experiences of the trip and made us realize that we definitely prefer small town travel destinations over big cities. Everyone we met on that visit was incredibly friendly and they made us feel so welcome, which is why it didn't surprise me that their HGTV show Hometown has been such a big hit.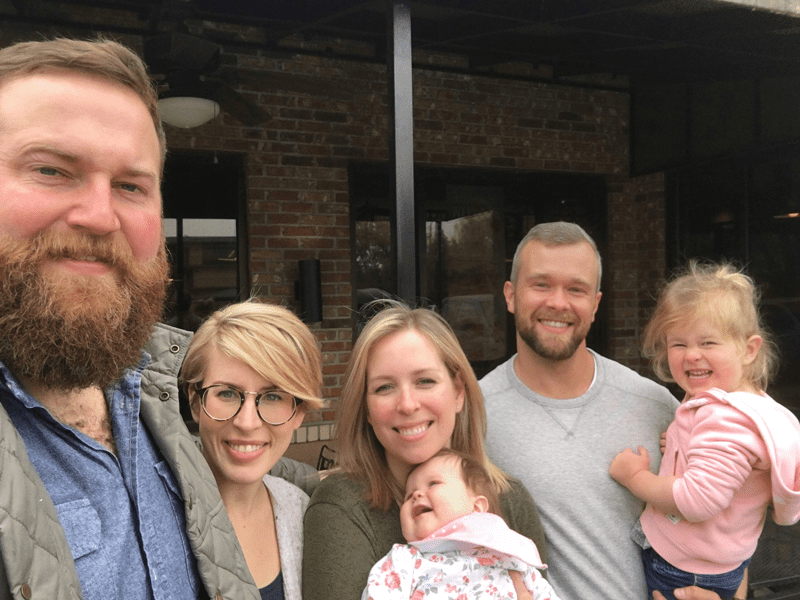 In the five years since we'd been there, so much has changed and yet that warm, inviting Southern hospitality still abounds. Over the years I've befriended more wonderful people in this town through Instagram and it was such a treat to see so many of them in person while we were there.
What to Do in Laurel, Mississippi (and why we love it there)
Laurel Mercantile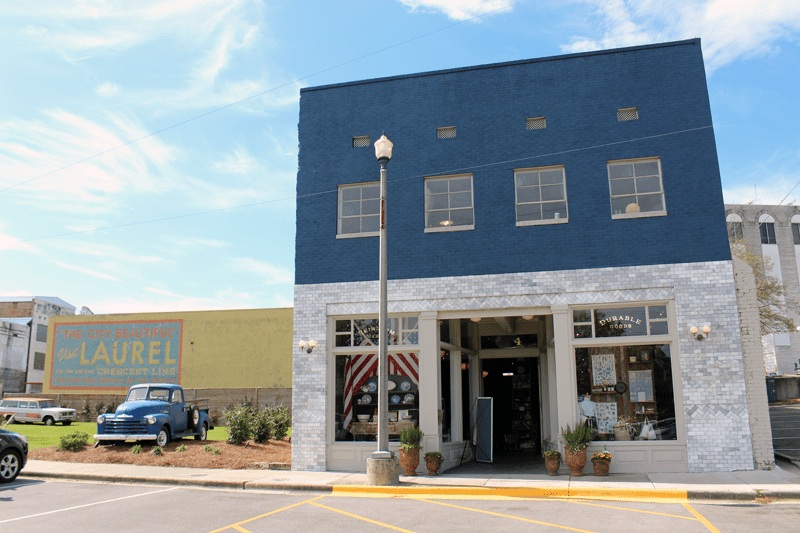 Aside from shooting three seasons of Home Town, writing a best selling book, designing a furniture line and having an adorable daughter, Erin & Ben also found time to open the Laurel Mercantile, along with our friends Josh & Emily and Mallorie & Jim. I've loved following along as its grown and was so excited to finally see it in person.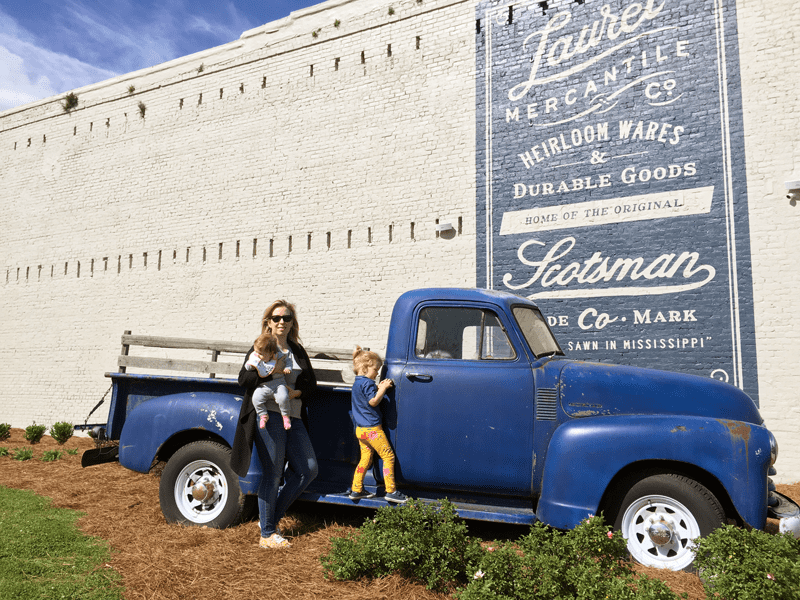 I was there to shop…and Lucy just wanted to figure out how to get into that blue truck to take it for a spin, ha!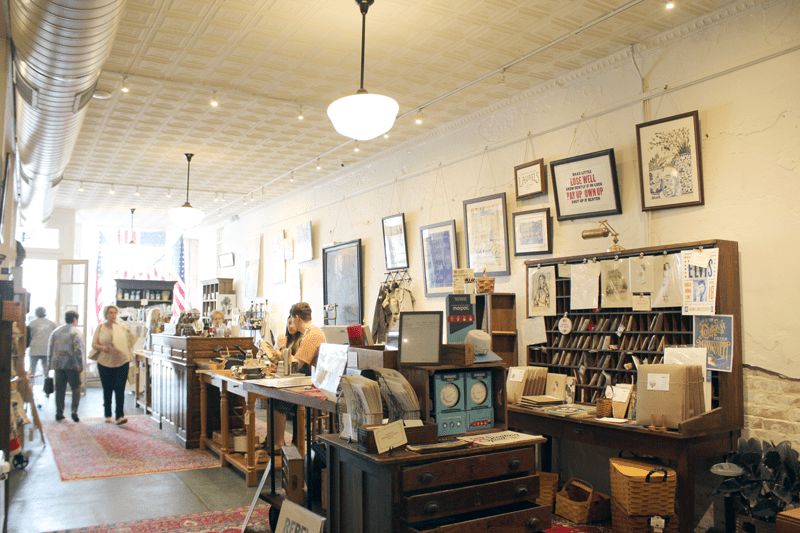 Inside the shop, it's a treasure trove of new and vintage finds. Every shelf and display has something to make you smile. The light and airy decor, paired with great tunes, made for the kind of shopping experience you dream of.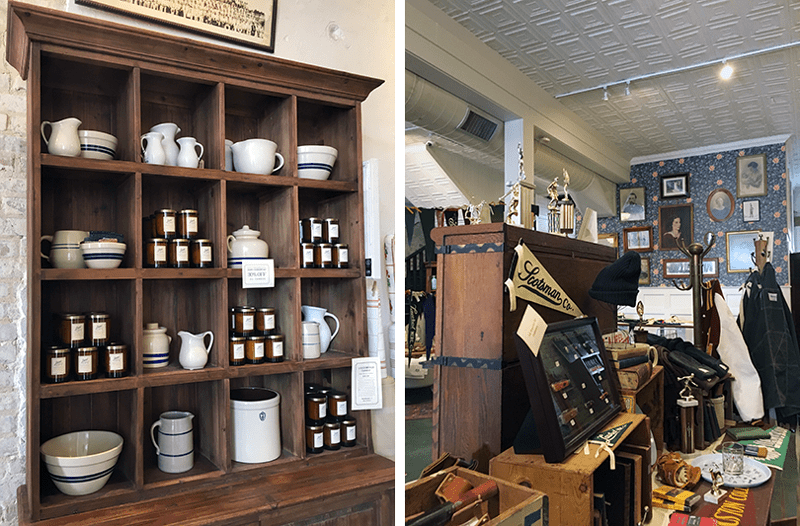 I found a few special pieces to sneak home in the limited space in my luggage – an earthenware bowl (perfect for popcorn),a canvas pot holder, a "porch party" candle (for our front porch!), their book, Garrett's new favourite t-shirt (so soft) and a few gifts. I could have filled the whole car if we'd had the space!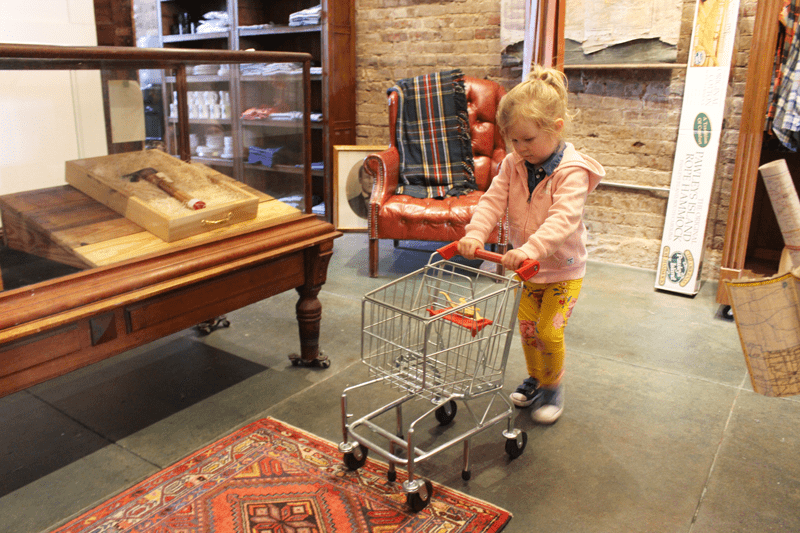 The shop was also very kid-friendly and even had a little shopping cart for our tiny shopper.
Scotsman General Store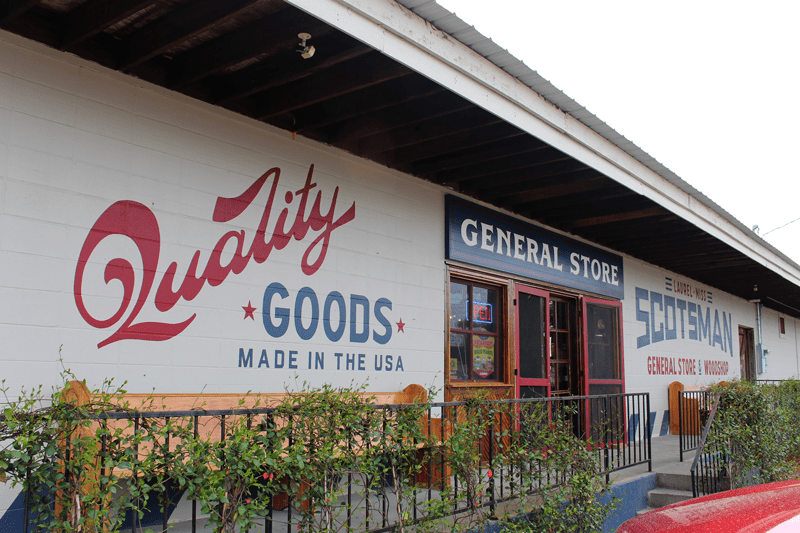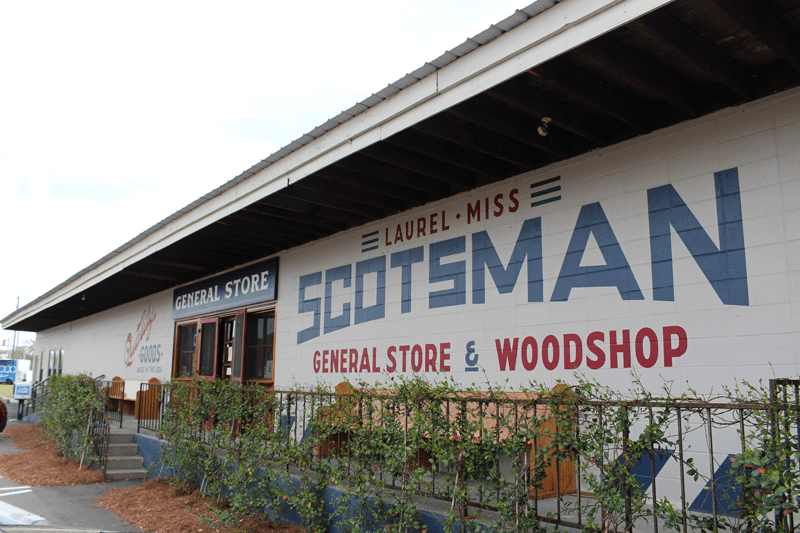 Down the street is their newly opened second shop, Scotsman General Store & Workshop.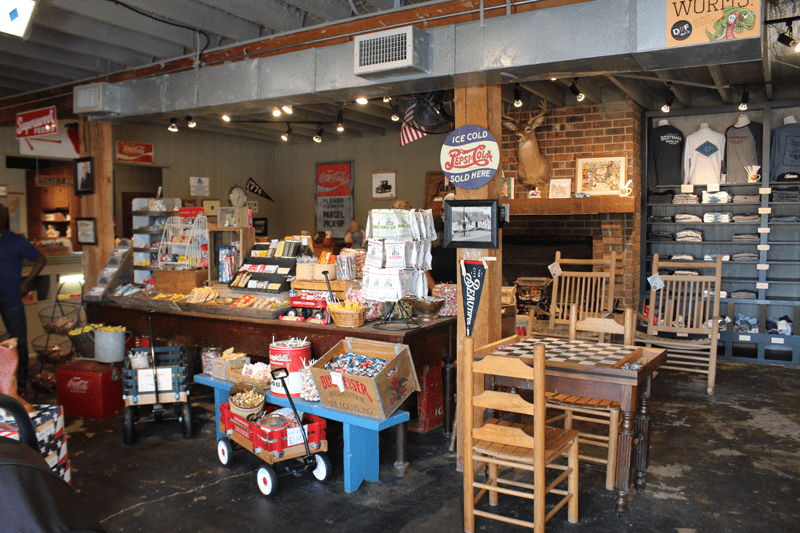 Right away, you walk into a candy and game display – I'm not quite sure who liked that more, Lucy or Garrett, ha! While they perused the treats, I checked out all the interesting dried goods and supplies. I picked up Big Ben's coffee, some snacks for the rest of our trip and a few things I've tucked away for Father's Day 😉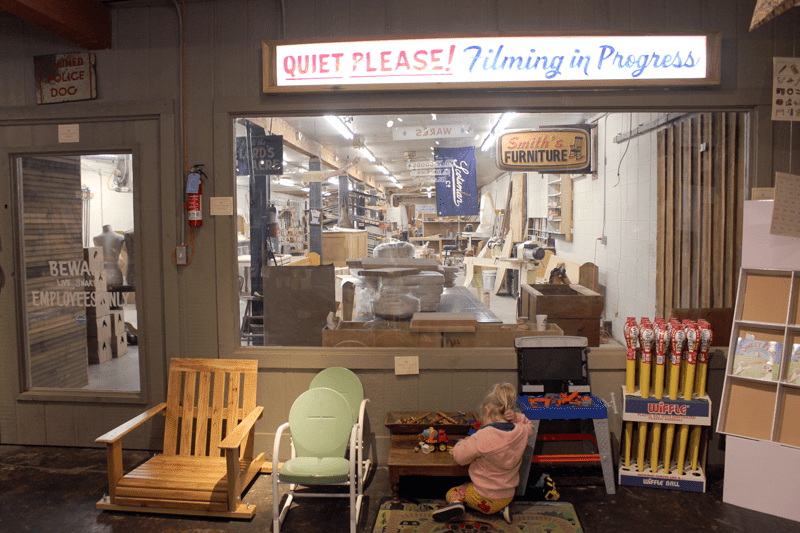 On one end of the shop is also the Scotsman Co. Workshop, where you can see the team in action while they're filming the show. Again, there was a great spot for kids to play while the parents shop. You can tell that they all have young kids in this group – they just get it.
Visit Downtown Shops and Stop for Lunch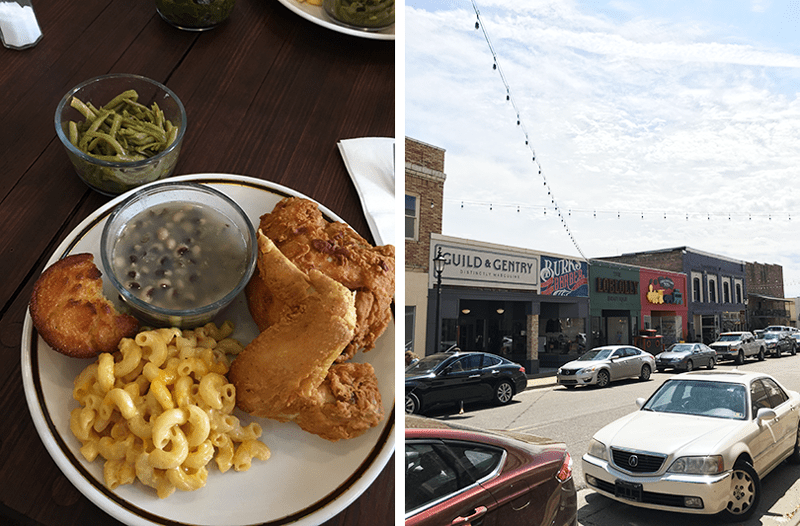 While visiting the shops downtown, we stopped for lunch at The Pearl Diner on North Magnolia St. The fried chicken, macaroni and cheese and sides were great, but it was the homemade cornbread muffins that stole the show. After lunch, we walked along the street checking out so many of the great shops that have opened up in the five years since we'd been there. The downtown has been completely revitalized.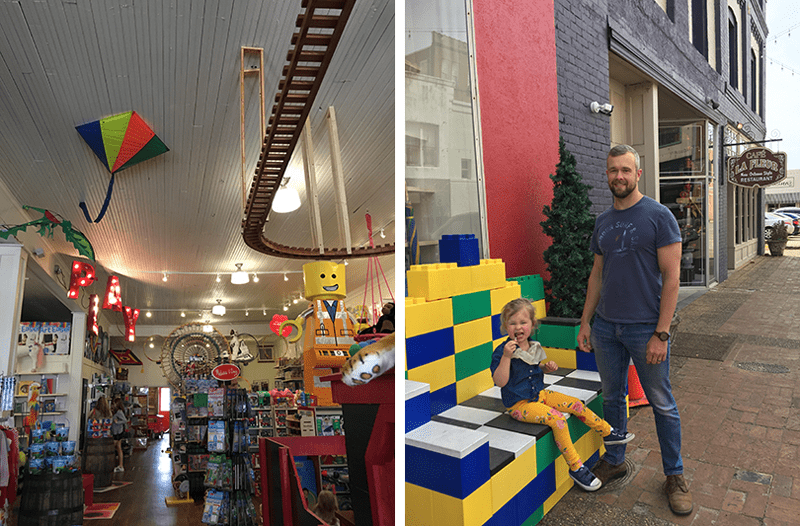 Lucy's favourite was the toy store, Crescent Line Toys, right by Cafe la Fleur where we had lunch on our honeymoon. There are wonderful shops all along, but one of my favourites was Adam Trest Home. We met in person last time and I've followed his designs on Instagram for years. It was awesome to finally see the store too.
Walk the Historic District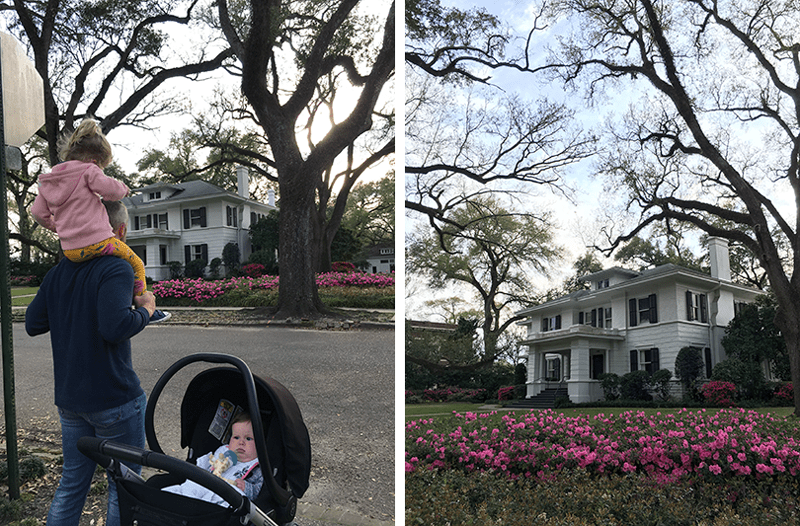 After the kids had naps, we headed out for a late afternoon stroll through the historic district. The beautiful spring flowers had me longing for spring to arrive back home in Canada too.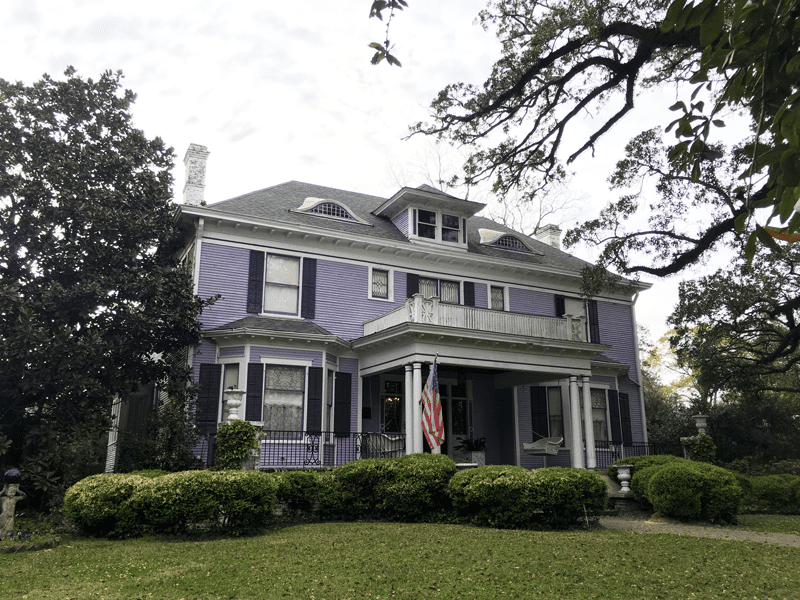 We walked past the Wisteria Bed and Breakfast, where we stayed on our honeymoon. Lucy loved the purple, of course.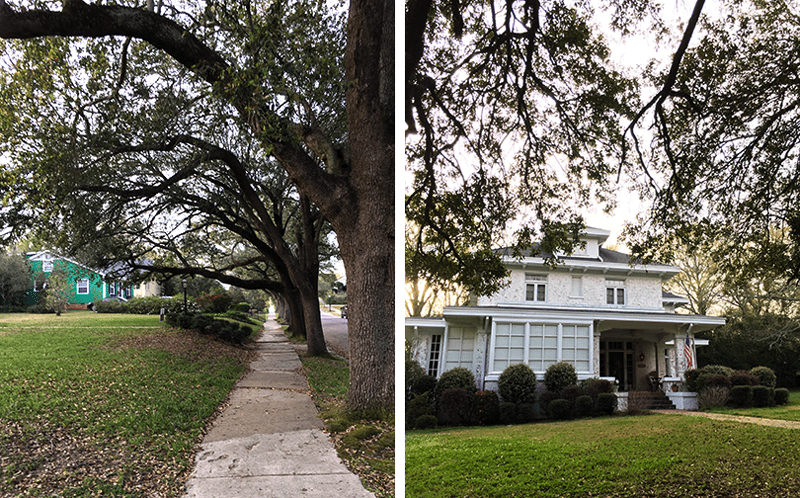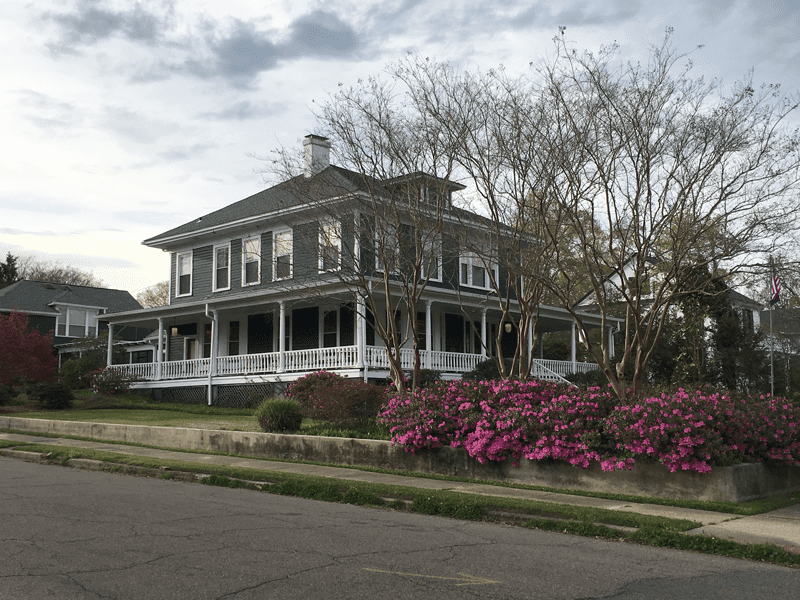 With beautiful historic homes at every turn, we could have spent hours walking around just admiring them. Even since we were here five years ago, there are so many that have been restored with loving care, including a few from the show. I always find walks like this give me inspiration when it comes to our own 116-year old farmhouse.
Play at the Park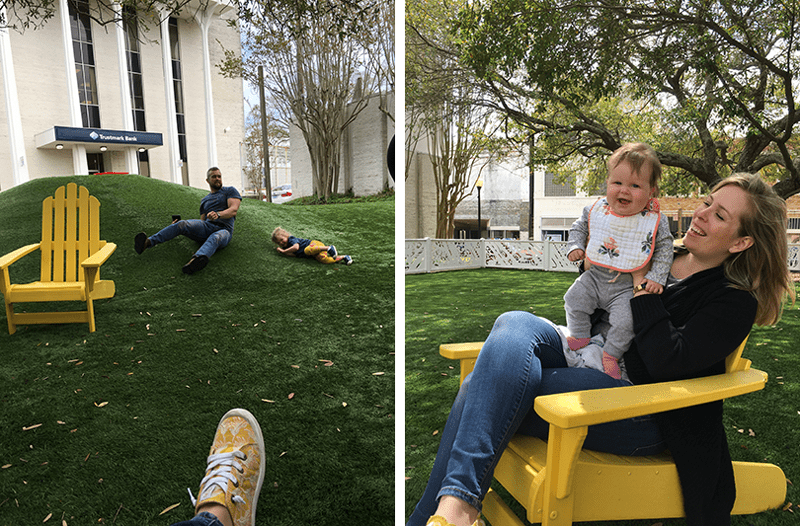 If there is one thing that we do differently when we travel, now that we have little kids, is we're always keeping an eye out for parks. Right downtown there is now an amazing turfed park, with the perfect hill to roll down and comfy lawn chairs.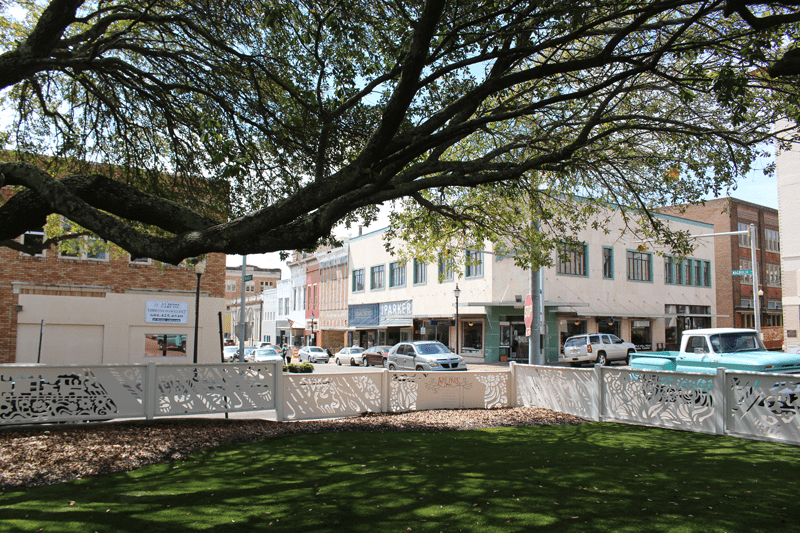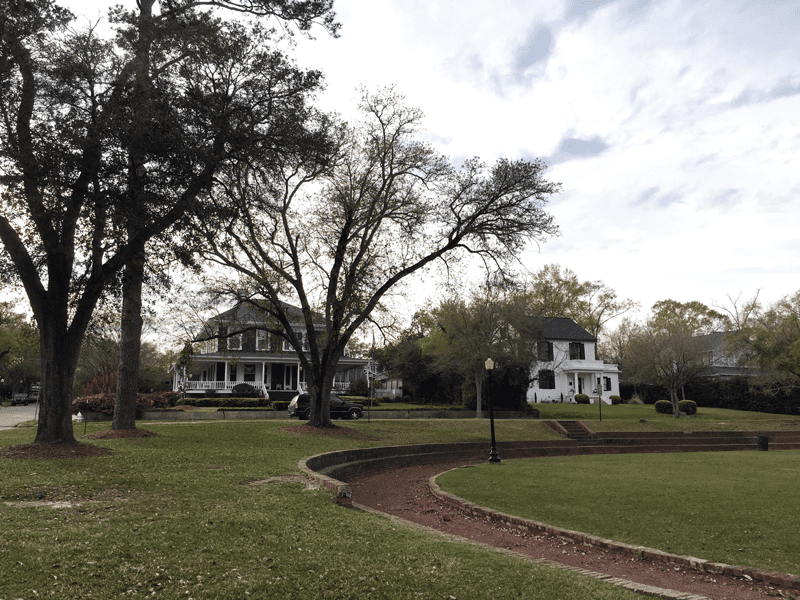 A trip to Laurel needs a drive by, if not a stop, at Gardiner Park. It was designed by Frederick Olmstead, the same man who did Central Park in NYC and the grounds of the Biltmore Estate in Asheville, NC (which we visited on our honeymoon too).
Ice Cream and Sodas at PDI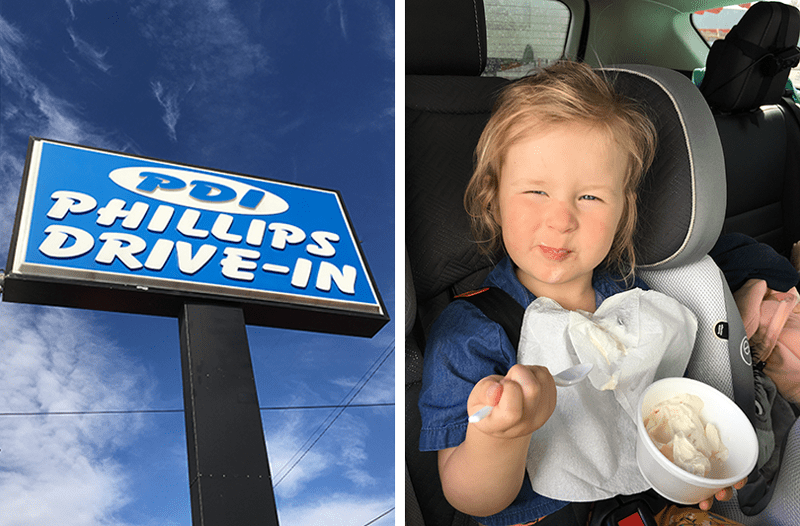 If there was one thing on Garrett's list for this stop of the road trip, it was a visit to the famed PDI for a few treats. We ended up going here TWICE before we left just so he could get his fix, ha!
Where To Stay – Laurel Cottages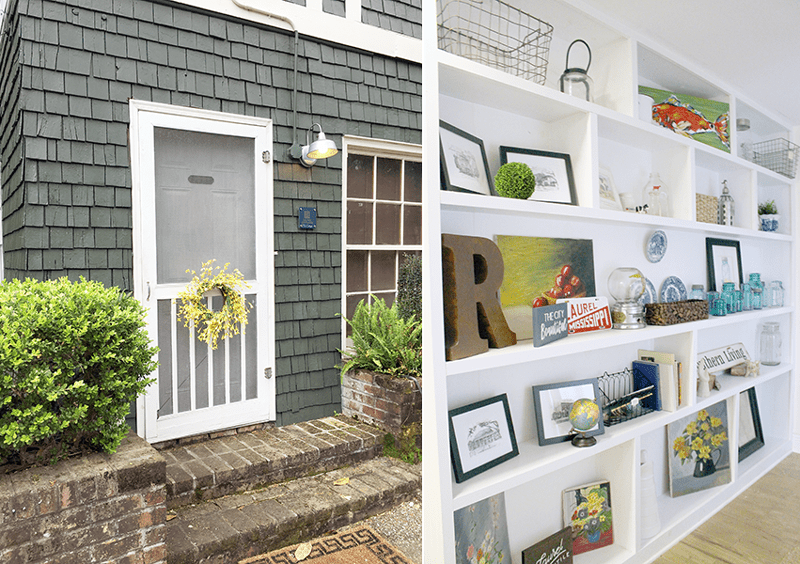 My friend Mallorie and her husband Jim, have the loveliest Airbnb properties, and I was so glad one was available when we planned to be there. I've always admired her style and attention to detail.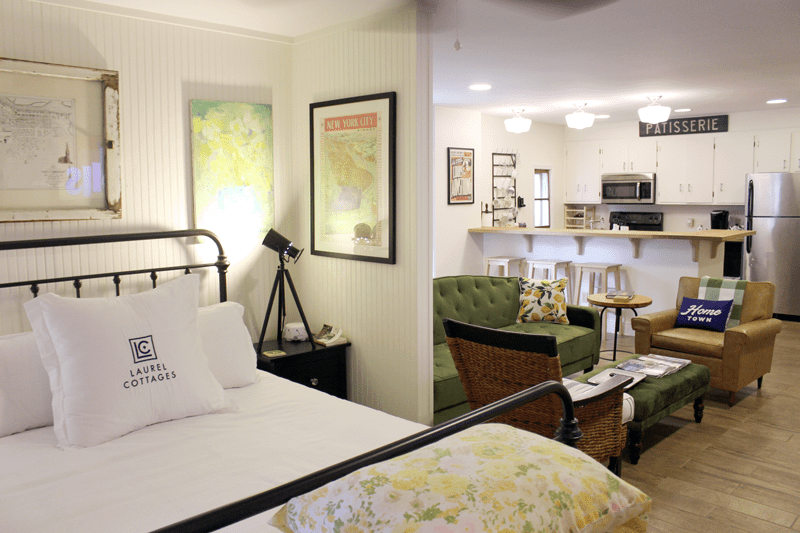 We stayed in The Home Town Cottage, but they also have The Carriage House and an Airstream Trailer available too. The cottage ended up being the perfect place for us with two little ones. There was plenty of space for Rosie's travel cot and Lucy's inflatable bed, and the bedroom nook made it feel nice and cozy for us too.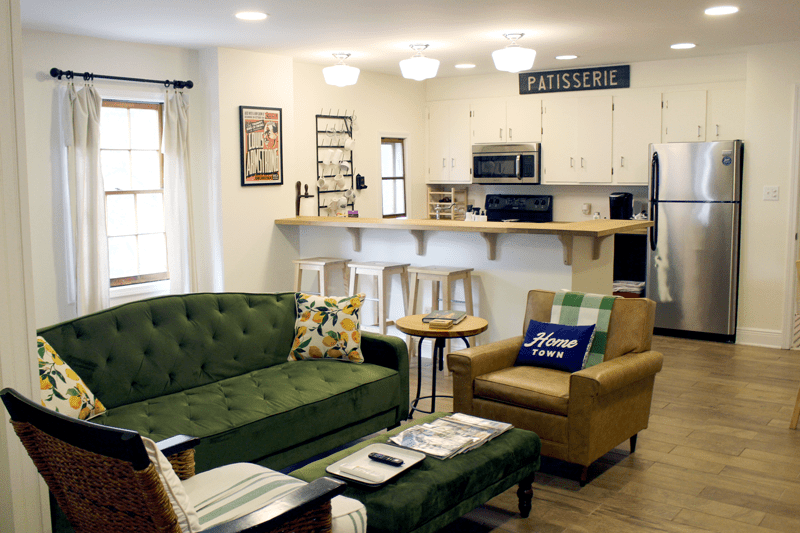 The main living room/kitchen/dining area was bright and homey, with lovely little touches throughout. Mallorie was the best hostess too, leaving out treats for our road weary family and a few adult beverages for us to enjoy when the kids crashed too.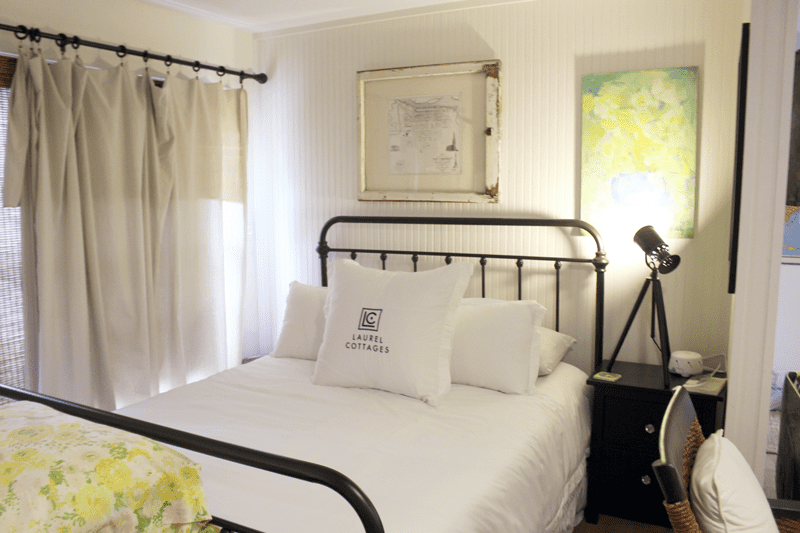 Everything, right down to the embroidered logo on the pillow sham, felt well thought-out and carefully curated…but nothing too precious that I was worried the kids would break something.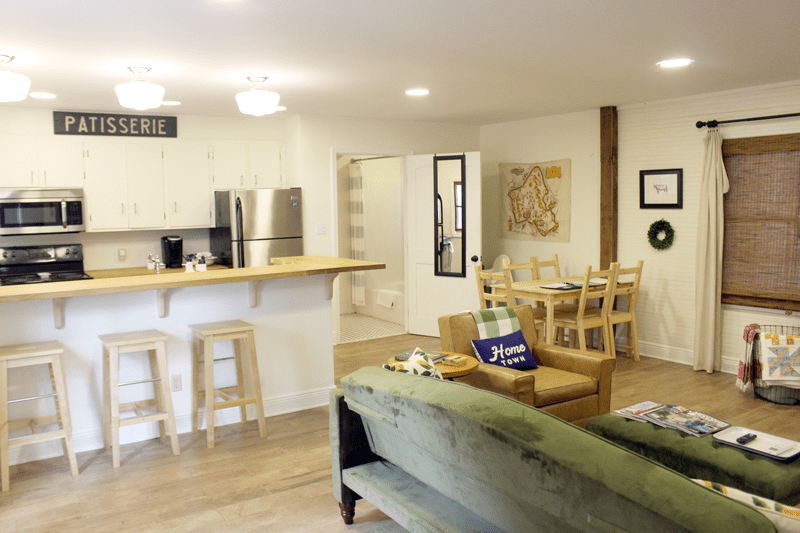 I much prefer this over a hotel room. We felt right at home and totally relaxed. The kids could play on the floor and we could put our feet up. Perfect.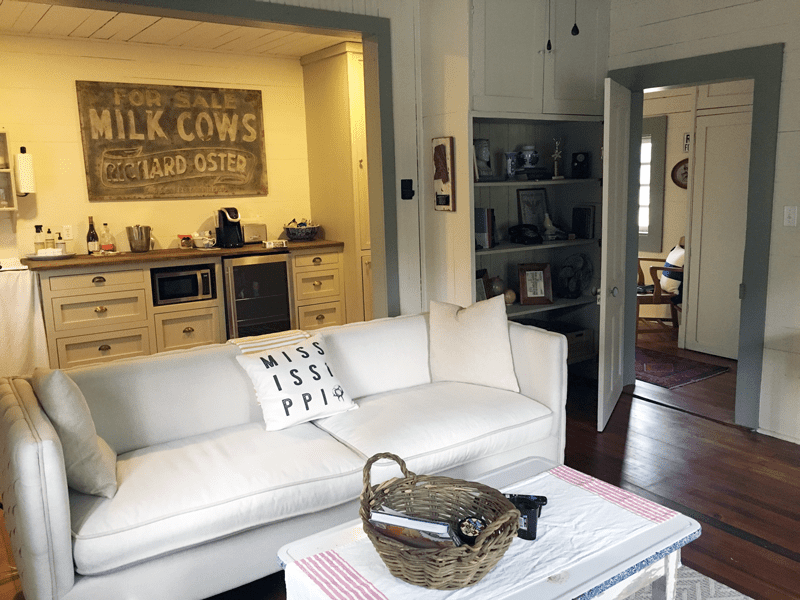 Mallorie also let me sneak upstairs to see the newly finished Carriage House for a look around there too. If we didn't have all the kids stuff to schlep up and down, I could have totally gone for this space too. It was bright and open, with a great vintage vibe.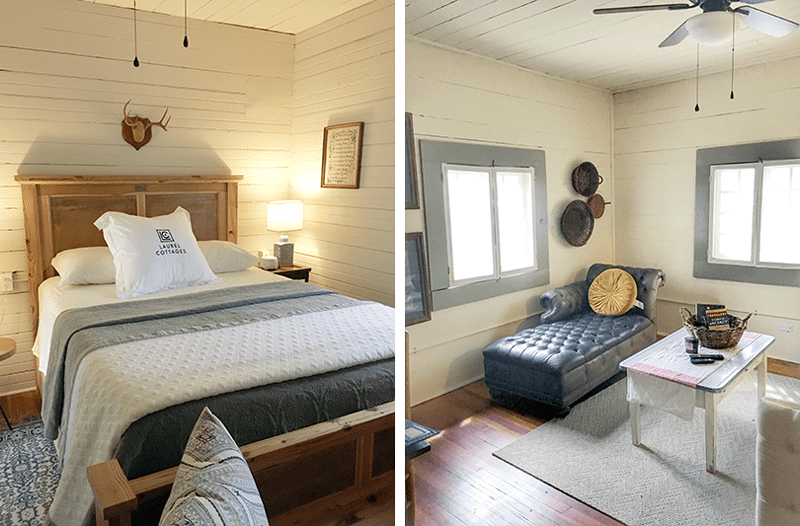 Every room was tastefully decorated, with layered textures and interest throughout. If you're visiting Laurel, a stay at Laurel Cottages is a must.
/ / /
I hope it's not another five years before we're able to visit our friends in Laurel again. From the Southern hospitality and historic homes to the inspiring shops and delicious food, there is something there for everyone. Add it to your next road trip!